Welcome to our Lane Cove Week in Review for 4 to 10 December 2017.
Clearways on Centennial Avenue and Burns Bay Road
Lane Cove West residents have launched an online petition asking the RMS to review the proposed clearway times and to investigate fixing up light timings and other factors that impact commute times.  They would also like your support Lane Cove Council meeting on Monday 7.00 pm 11 the December.  Find out more here.
Greenwich Community Reacts to St Leonards Master Plan
The Greenwich Community Centre was packed with Greenwich residents concerned about the impact of the proposed St Leonards South Master Plan. The St Leonards South Plan which will result in over 2400 new units.  The master plan impacts ALL Lane Cove residents due to the increased traffic on River Road.  You can read about the plan here and how it will impact Lane Cove.
Light Up Lane Cove
The Lane Cove Council has now released the online map of the houses that have entered the Light Up Lane Cove comp.  You can find all the details here.
Official Lighting of the Christmas Tree
The Lane Cove Plaza was packed on Friday night with the official lighting of the Christmas Tree.  Well done Lane Cove Council and their sponsor Aussie Lane Cove for putting on a great night.
ITC Loves a Comp
Lane Cove Market Square has a new competition where you can win back your Christmas Spend.
You can win $1500 worth of prizes from Lane Cove Market Square!
Spend $30 in Lane Cove Market Square retailers or $60 in Woolworths to enter. Attach your receipt to an entry form and drop it into the entry barrel located opposite Priceline.
Entries close Christmas Eve.
For more details go to http://lanecovemarketsquare.com.au/offers/ 
Santa is also coming to Lane Cove Market Square on 18th December until 22nd December 2017.  Get those phones out ready to take a photo.
Return and Earn
The Return and Earn system started on 1 December 2017.  This week was the first week of its operation.  ITC was purchasing a Christmas Gift from About Life and at the same time returned one container and it all worked seamlessly.  The amount refunded is taken off your shopping bill at About Life.  You can find out all the details here.
New Range of Tea Towels Introduced
You asked for it and ITC has done it. We now have Northwood, Longueville, Riverview Tea Towels (as well as Greenwich and Lane Cove).
All you need to do is either email ITC or hit the Shop Now button on our Facebook Page.  But hurry as there are only very limited supplies of Riverview and Longueville and even more limited supplies of Northwood. If they sell out we can't guarantee that we will be able to order any more before Christmas.
The good news is that you can buy Lane Cove and Greenwich Tea Towels at The Burns Bay Bookery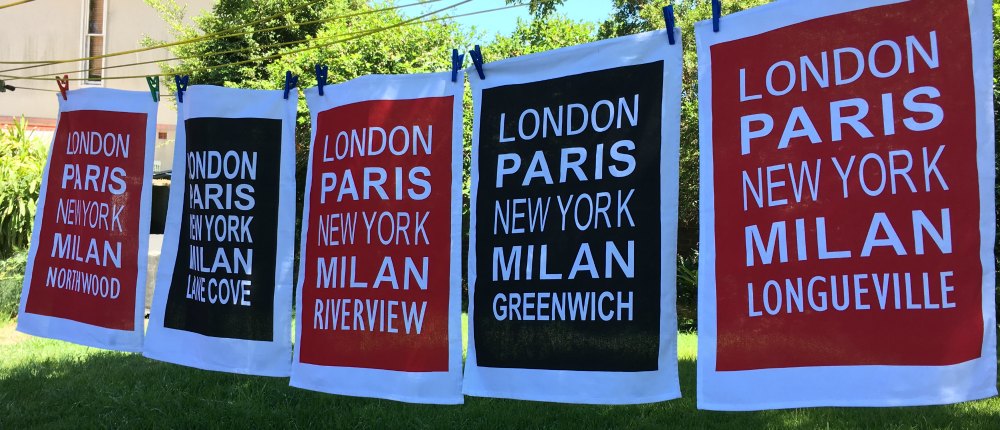 10 000 Reasons To Celebrate with ITC
In the Cove has hit over 10 000 followers, we have relaunched our website and we have a few other initiatives. On Saturday 16th December ITC will be in the plaza in the morning from 9.00 to 12.30 pm.  We will be giving away prizes every 30 minutes and we woul love to see you.
Shop Local This Christmas
We are encouraging all Lane Cove residents to shop local and support our local businesses.  ITC has been shopping up a storm. Check out our Christmas Gift Guides for some local gift ideas.
In the Cove has put together a special Christmas Feature on our website.  Just click on this link and you will be taken to the Christmas Section.  In this section you will find:
Crime and Incident Report
Around 5.50pm Sunday the 3rd December police were called to Northwood Road, Northwood after receiving a number of calls that a vehicle had collided with a parked car there.
Upon arrival, police spoke with a 34-year-old Rhodes man who police will allege was the driver of a white BMW sedan that collided with another vehicle at that location causing a large amount of damage to both vehicles.
The male was submitted to a breath test which returned a positive result, as such he was arrested and conveyed to Chatswood Police Station for the purpose of a breath analysis.
In relation to his alcohol consumption throughout the day, the male stated he had consumed approximately 10 glasses of wine. The male was submitted to a breath analysis which returned a reading of 0.174 grams of alcohol, equating to a high range prescribed concentration of alcohol.
The male was charged with Drive with High Range PCA. His licence was suspended immediately and he will face Hornsby Local Court in January.
Our Weekly Newsletter
Each Wednesday evening, we email out a newsletter to subscribers. It is full of events, news and more! You can read this week's newsletter HERE.
Subscribe for next week HERE.
Do you have a local issue you would like help with? ITC is here to help just email us at [email protected]