Julie Furlong is a very successful Lane Cove businesswoman and mother of 2 boys.  For the last 17 years, along with her team of 12, her design and marketing company has provided creative and marketing services to a number of large multinational organisations, specifically in the property industry.  Her business, Design & Marketing (D+M), is located in Lane Cove in the Anytime Fitness building.
With a career spanning over 28 years in London and Sydney, Julie has an interesting and diverse background.  You don't get far in marketing without being a mover and a shaker!
In July this year, Julie decided to expand and continue her desire to be creative by launching Julie Furlong Notes. Notes is a monthly blog supported by regular social media posts and illustrations, communicating simple helpful hints, throughout your working week. The concept and format is all about keeping good habits, a unique approach to inspire people to be mindful of what is truly important in life and make an investment in themselves.
Her aim is to share, reflect and hopefully encourage others to smile a lot more, and turn the negative into a positive.  Sometimes we all need a reminder that life does not always go our way, and is not always black or white, however, you control your thoughts and you can always take steps to make the most of any situation.
Julie explained to ITC that our natural instincts are usually to always look at the negative of the situation.  Notes provide tips to encourage you to empower yourself to continue to learn, believe, evolve and make a difference and accept that some things will not always go your way.
Julie's first blog for 2018 is very apt.  It is all about detaching and decluttering.  Start 2018 with a bang and be inspired by Julie's blog.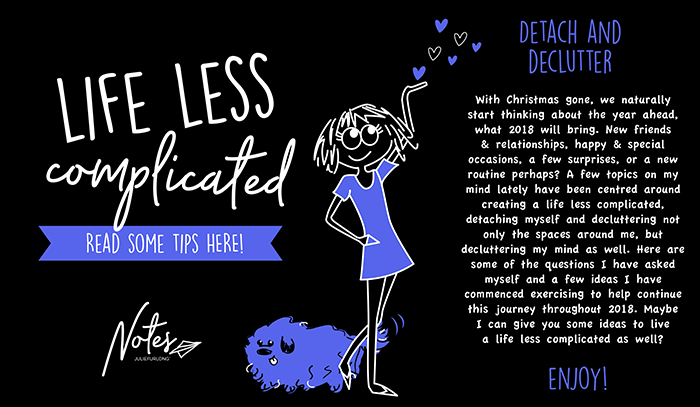 ITC highly recommends you subscribe to Julie Furlong Notes.  Each month you will receive the note of the month which explores a new topic.  To keep you on track you will receive reminders and helpful hints during your working week (via your preferred social media).
This is not a commercial venture for Julie, it's a hobby that fulfills a creative desire, reflecting on past experiences and research. Hopefully, it will inspire you and motivate you.  We all need someone cheering in our corner.  Think of Julie as your very own online personal coach!
Website: Julie Furlong Notes
Instagram: JulieFurlongNotes
Facebook:  JulieFurlongNotes
---
Do you have a local issue you would like help with? ITC is here to help just email us at [email protected]