Welcome to our Lane Cove Business monthly round-up of all business happenings during March 2018. If it opened, closed, rebranded, refurbed or anything else, we've (hopefully) covered it here!
Opened/New Business
D's Damat
A new international menswear business has opened in the old D'Kor Interiors site on Longueville Road. They stock casual, business wear and formal wear.  They have you covered from head to toe, with a large range of suits, shirts, ties, belts, pocket squares, socks and shoes.  We are pleased to announce that they have come on board as an ITC Platinum Sponsor.  You can read more about D's Damat here.  Please pop in and see them and thank them for supporting ITC.  Without sponsor support, we could not undertake the community work we do.
There is a new electrical business based in Lane Cove.
Hertz Electrical NSW offers a range of services available for any residential, commercial or industrial electrical and data requirements in the Sydney Metropolitan area. For all your electrical needs, new home and office installations, from fuse box upgrades and troubleshooting, to commercial or industrial rewiring, surge protection, new power points and switches and all lighting, Hertz Electrical NSW can help.
Hertz Electrical NSW is a family owned business located in New South Wales and offers free no-obligation quotes and advice, as well as friendly service and reliability.
Stephen Miller has been happily married for the past thirty years, I can also lay claim to knowing a fair bit about making marriages successful. Fast forward to today, I'm now a fully registered marriage celebrant, enjoying utilising my organisation skills, a love of public speaking and writing about people's stories. I really didn't just want to be another 'run-of-the-mill' celebrant so if you are looking for fresh and interesting then look no further. By choosing me I know you will look back fondly and remember how your celebrant not only presented a beautiful ceremony but also genuinely cared as much about your big day as you did yourself. So if you need a celebrant for a wedding ceremony, naming ceremony or commitment ceremony give Stephen a call.
Dr Con Vasili
Dr Vasili is an orthopedic surgeon, managing disorders of the adult spine, arthroplasty, both hip and knee, and acute trauma presentations.  He has opened a surgery in Central Arcade (just across from Bella Cove Lingerie).
Matt Fisher – Handyman
Matthew Fisher is a handyman based in Lane Cove. His main goal is to offer affordable workmanship with an attention to detail and customer service that is both professional and friendly.He specialises in all kinds of home maintenance and repair work, and has a degree in Architecture and a Master of Sustainable Building.
For further details you can look at his website at www.mattfisher.com.au or call him on 0413 414 926.
Does your dog need some training?
K9 Culture is based in Lane Cove,  and is owned and run by Mary Lumsden providing professional dog training services for all dogs. Having previously worked as a veterinary nurse in the US and Australia for over 10 years, Mary obtained a Certificate III in Dog Behaviour and Training from the National Dog Trainers Federation. Mary has helped many owners to train and correct behavioural problems. In addition to her own experience and training she has gained invaluable experience and knowledge working with the most respected trainers in the US using proven training methods.
Their mission is to motivate and provide practical tools and knowledge to help you improve your relationship with your dog. Whether it be behavioural issues, general obedience or puppy training we offer a range of programs to suit your needs and set your dog up for success.
Opening Soon
Four Frogs
Four Frogs is looking to hire local staff.  Their chef currently works in their Mosman store, but he lives in Lane Cove and is looking forward to working in Lane Cove.
Lillah Kitchen
We are also looking forward to Lillah Kitchen opening in May.
Guzman Y Gomez
Guman Y Gomez will also be opening in May and they are looking for team members.
Businesses We Just Found Out About
Ask Billy is a Lane Cove based limousine company.
Ask Billy offers a range of luxury chauffeur driven vehicles such as corporate hire, events and airport transfers for business or holiday travellers.  Their prices might suprise you, for just a little more than a city Taxi, you could be travelling in style, safety and comfort and we will even help you with your luggage.
Business Changes
Unwined Espresso Bar has a new chef and a new breakfast/brunch menu – pop in and check the menu out.
4 Beans Coffee Co in Greenwich has been sold and rebranded as Cafe 2065.
The Beautician at the Figtree Shops has undergone a refurbishment.
The Lane Cove Club is currently closed for MAJOR renovations.  The club is now part of the Norths Group (the group that operates the Greens).  There will be a completely new menu and drinks selection. The club will reopen in June and you will NOT recognise it.
Akira LaneCove will be closed for 3 weeks due to work being done in their kitchen. It will be re-opening on 9 April.
Asian grocery store Mori Mart is currently closed due to personal reasons and will re-open in Mid April.
We don't normally promote businesses outside Lane Cove (unless there is no Lane Cove equivilant) but Doughboy at Artarmon is under new management and wanted to offer ITC followers a deal. Just use this menu link ofr a 20% discount and use the promo code ART1
https://ordermate.online/doughboy/menu?locationID=487413
The mobile phone store located in the Village Shopping Centre has changed its name to iStudio.
Congratulations to Bella Cove who has now opened a store in Newport to complement their Lane Cove store.  If you know anyone in Newport make sure you let them know that Bella Cove has opened in Newport.  They are located at 2/371 Barrenjoey Road Newport.
Closed/Closing Soon
Suzie's Lane Cove has closed. We tried to contact them for a comment but their telephone line has been disconnected.  We will let you know what is happening in this space.
Massage Envy has closed its Lane Cove store and relocated to 366 Darling Street Balmain.  This will complement their central Sydney CBD clinic, which opened in November last year. Both clinics offer 10 fully-equipped wellness rooms and state-of the art facilities.
MLC Lane Cove has relocated to Chatswood.  Goodbye to the big golden egg.
For Sale
One of Lane Cove's popular cafes is for sale – find out about it here.  Fancy owning an Italian restaurant in the heart of Lane Cove? – details are here.   If you want to sell Frozen Yoghurt, there is a Lane Cove business with your name on it – details here.
Milestones and Awards
Congratulations to Soulful Fitness being a finalist in the Australian Small Business Awards (their 3rd year in a row).
Congratulations
Congratulations to Chelsea at Burns Bay Dance Studios who has welcomed a beautiful baby girl to the world.
Congratulations to Magdelena from Mums Going Strong Fitness who welcomed a gorgeous baby girl over Easter.  Magdelena is all about the pelvic floor, so she is probably already exercising – what a woman.
CONGRATULATIONS TO Marcela and Cameron Stow-Smith from F45 Artarmon who also welcomed a little one recently – already helping mum and dad out with advertising.
New Listings In Our Business Directory
PosAbility is a unique child educational and psychology clinic combining the knowledge and skills of special educators, teachers, psychologists, occupational therapists and speech pathologists. We are a group of passionate teachers and therapists who aim to support children through POSITIVE methods to maximise their natural ABILITIES.   The team at PosAbility have a school holiday programme for kids who may need a bit of help – more details here.
Dance Sensation Performing Arts School is a community based dance school with three studios in Lane Cove, Ermington and Lindfield East Public School. The school has been operating for 20 years with an energetic and exciting family atmosphere – many of our students have been dancing with us for over 15years! We offer classes to ages 18mths-adults in Funky Jazz/Hip Hop, Acrodance, Ballet, Contemporary/Lyrical, Musical Theatre, Tap, Boys Hip Hop/Breakdance, Twinkle Jazz (for mums and bubs) and Stretch & Strengthening. We are a strong supporter of age appropriate choreography and music.
Translating to "at home", ENCASA operates with the vision of providing Sydney with 100% authentic Spanish food – just as you would find on the streets of Spain.
Operating in a number of locations in Sydney!
Authentic Spanish cuisine at our restaurant and deli! At ENCASA you'll find attentive staff & a friendly & relaxed ambience.
ENCASA is a vibrant and inviting restaurant offering a relaxed and friendly ambience – perfect for any occasion, be it dinner for two or a large party. Specialising in Spanish cuisine including tapas, but also offering pizza and pasta dishes.
A blackboard with daily specials always provides something new, in addition to our menu, for you to come back for.
Licence: Fully licensed including Spanish and South American wines and spirits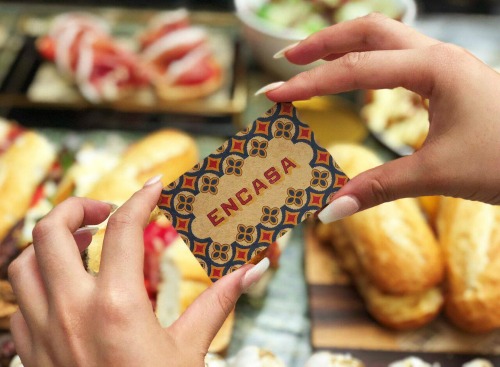 At Red Shoes Dance our aim is to excite, encourage and enrich each child – nurturing their individual qualities while fostering confidence and developing a sense of community. For over 30 years we have had the privilege of helping to extend the creativity of countless young dancers at our Lane Cove studio.
Specially tailored for 3 to 5-year-olds, our Angelina Ballerina Academy classes will take your little one on a magical journey into dance, following the adventures of the world famous ballerina mouse! Designed by internationally recognised teachers and child development experts, these delightful classes incorporate dancing, singing, pretend play and creative movement.
We also offer classes in RAD Classical Ballet, Jazz, Tap and Contemporary for all levels – from tiny tots to teens, from beginner to advanced.
Do you have a local issue you would like help with? ITC is here to help just email us at [email protected]