Lane Cove West is a fabulous suburban satellite shopping area.  It is located at Burns Bay Road (just after the River Road West and Centennial intersection).
It's easy to find a park and there is something for everyone.  If you love gourmet foods, these shops are a must visit.  It's also pet central. Here is a rundown of the shops you will love.
The boys at Hummerstons have a real following. If you are time poor, they have some brilliant easy to cook meals (which even come with their own baking dish). Their slow roast lamb is legendary. This butcher shop is so popular that the last time the Pope was in Sydney they supplied all the meat. The Pope and his entourage chomped through 30 shanks, 30 chicken breasts, 8kg of turkey breast, about 10kg of pork fillets and about 3kg of mince. If you have not tried Hummerstons, do yourself a favour and pop in and see the boys.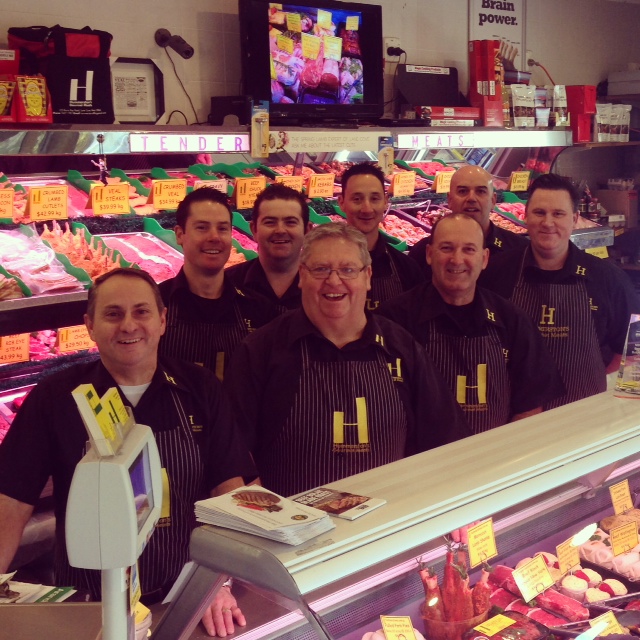 Fink Chocolate Cafe is the place to go if you like a good cup of coffee or an extravagant hot chocolate (swiss or dark). They also have some very tasty sandwiches, burgers and salads. In winter, their soups are sublime (and in fact made our list of tasty soups in Lane Cove)
The Beautician is one of In the Cove's Foundation Sponsors. Zena and her team are very skilled beauticians. They offer a full range of services and their St Tropez Spray Tan is very popular. You can choose from three types of tans:
Classic Bronzing Mist  – whatever your skin type this is the most natural looking, ultimate tan.
Express Bronzing Mist –  is St Tropez's most revolutionary tan yet. It lets you select how dark you want to go by choosing when you shower. The formulation contains fast-acting ingredients that absorb quickly into the skin allowing you to select your depth of colour; For a light, sunkissed glow – shower after 1 hour. For a golden-bronze tan – leave on for 2 hours. For a deeper, darker result – wait 3 hours or more.  After showering your skin is left smooth and silky.
Dark Bronzing Mist – For a spray tan which gives the wow factor leaving you with a deep bronzed look.
Their brands include Sothys, St Tropez, OPI, Clear Start and Becca.
Infinity Hair
is another ITC Foundation Sponsor. You can walk into Infinity hair with frizzy fly away hair and walk out looking fabulous. Nothing is too much hassle at Infinity. They stock a wide range of retail products such as Moroccan Oil, GHD and De Lorenzo.
Poseidon's Catch
This is Lane Cove's newest fish and chips shop. ITC can highly recommend the Chicken Schnitzel burger.
Door to Door Drycleaning
Pop in your laundry at Door to Door Drycleaning.
Lane Cove West is Pet Central.  The bottom floor of the Lane Cove West building houses a vet, a groomer and a pet supply store
Figtree Veterinary Clinic
Figtree Vet Clinic has been part of the local community for over 35 years.  The team of highly experienced vets and nurses offer top-quality preventative, diagnostic, medical and surgical care for Lane Cove pets. Figtree Vets are a fully equipped practice, with in-house laboratory testing, full dental suite, digital xray and dental xray and ultrasound. They also work closely with local specialists and 24 hour hospitals to provide every element of care your pet may require. Figtree Vets' puppy preschool is the best in the area!
The staff at Figtree Vets treat each patient with loving and compassionate care, caring for every pet as if it were their own. Their customer service is second to none, they want you to feel comfortable leaving the care of your beloved pets' health in the hands of their wonderful staff. The handy location and convenient parking make a visit to the clinic stress-free for owners and their pets.
Contact Details
Phone: 9428 4700
Address: 10/225 Burns Bay Road, Lane Cove West, NSW 2066 (rear of Figtree Plaza)
Website: www.figtreevet.com.au
Online Booking:  Book Now
Facebook: https://www.facebook.com/FigtreeVet/
Opening Hours: Monday-Friday 8am-7pm, Saturday 8am-4pm
Pet Design Dog and Cat Grooming
Very popular on the weekend.
Oliver Barkley is not just a pet store, it has some really unique items for your pets. If you love spoiling your pets this is the place to go.  It is now under new management.
Figtree Greengrocer offer a very extensive range of fruit, vegetables, dairy products, meat products, nuts, sweets, ice cream, pasta and much more! Family owned and operated for more than 25 years! Twice a year they hold a Fine Food Fair.  Figtree Grocer was recently awarded best Small Fruit and Vegetable Grocer in NSW – find out more here.
You can choose from a range of traditional favourites, small tarts and slices, block cakes, pies and quiches.
Figtree Cellars
Figtree Cellars was once an independent liquor outlet. It is now part of the Woolworths.
Lane Cove West has also become an exercise zone.  You have your choice of Pilates, or F45.
Pure Class Health and Fitness Pilates is a dynamic workout that infuses traditional Pilates with weights training and cardio exercise to give you lasting results.
With highly qualified and experienced trainers, classes to suit all individuals and levels of experience and the option of private sessions tailored to your personal goals, Pure Class Health and Fitness is the ultimate exercise experience.
F45 is an innovative, challenging and systemised team training workout.
Burns Bay Dance Studios was founded over 20 years ago.
At Burns Bay Dance Studios, our teaching team consists of many talented and professional teachers. These teachers aim to pass on their knowledge and talent and provide a fun, learning and creative environment through the art form of dance.
Burns Bay Dance Studios provides a professional, fun filled atmosphere for students who may wish to learn the creative skills of dance or merely for the purpose of fitness. Here at Burns Bay we also provide classes for students who want to take dance a little more seriously and maybe one day, aspire to dance or teach professionally. Whatever your dance requirements may be, you're in safe hands!
Classes
BBDS offers classes in Ballet, Jazz, Hip Hop, Boys Only – Hip Hop, Tap, Contemporary, Solo and Group Eisteddfods, RAD Ballet Exams for ages 2 years to Adults. Private coaching available on request.
Burns Bay Dance Studios provides classes for students who just want to have fun, keep up their fitness and learn creative skills of dance. We also provide classes for students who want to take dance a little more seriously. For those students who one day may wish to dance professionally we can offer the following classes:
They are located at Suite 6/47a Penrose St, Lane Cove NSW 2066 (the old inflow yoga premises).  Easy parking behind the studio.
---
Do you have a local issue you would like help with? ITC is here to help just email us at [email protected]
Sign up for the weekly In the Cove Newsletter
Like us on Facebook
Follow us on Instagram @inthecove
Tweet us on Twitter @InTheCoveITC
Pin us on Pinterest inthecoveITC
Tell your friends about ITC (they will thank you!!). Remember to tell them that ITC is a website and they do not have to have access to any Social Media to enjoy ITC – we often speak to people who tell us they want to follow ITC but don't have Facebook or Instagram account (you don't need them)