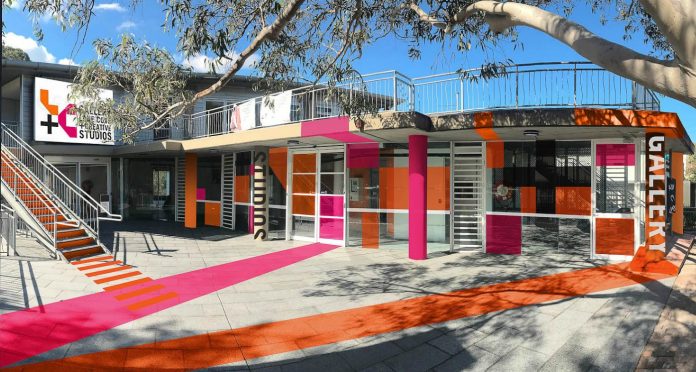 Lane Cove's exciting new cultural facility, Gallery Lane Cove + Creative Studios, will open on 23 June 2018.  Gallery Lane Cove + Creative Studios is located in the building directly across from the Lane Cove Library.  Melbourne might have the Paris End of Collins Street, but Lane Cove now has the Cultural Precinct in Longueville Road (Gallery Lane Cove + Creative Studios,  Lane Cove Library and the Living and Learning Centre all located on Longueville Road).
Gallery Lane Cove will continue to run professionally curated exhibitions throughout the year and the Creative Studios will provide the whole community with opportunities to attend workshops and term classes in printmaking (including screen printing), sewing, jewellery making, knitting, life drawing, painting and pottery.  Miss ITC is especially excited about the pottery classes (she became obsessed with pottery after watching the Great British Pottery Throwdown – like MasterChef for potters).
Rachael Kiang is the new manager and curator of Gallery Lane Cove + Creative Studios and she has big plans for the new facility.  Rachael is familiar with the art world.  She has previously worked in the exhibition team of the Biennale of Sydney, then UNSW Art & Design (formerly College of Fine Arts)  in various departments : first iCinema Centre for Interactive Cinema Research, then the National Institute for Experimental Arts, including program management of multidisciplinary, multi-form exhibition/lab/events in UNSW Galleries, managing a suite of research laboratories and their programs such as the Creative Robotics Lab and the Laboratory for Innovation in Galleries, Libraries, Archives and Museums (iGLAM) and most recently, managing programs, operations and producing a number of key commissions for The Big Anxiety Festival.  We asked her a few questions:
What is Your Vision for Gallery Lane Cove + Creative Studios?
I have been a Lower North Shore resident for 15 years. Having worked many years in the arts in the heart of the action, the time has come for me to give back to my local community. I am of the firm view that much growth can occur in the Lane Cove and greater North Shore arts scene. The general sentiment is that the arts in the North is conservative. I am interested in challenging the status quo and engendering change; to introduce and promote contemporary and new, emerging art forms alongside sustaining traditional visual arts practice. In acknowledging the place of traditional fine arts in art history and visual culture, I would situate them in a contemporary context. For instance, programming exhibitions and workshops that focus on the use of traditional media like textile, ceramics and painting as tools to create Contemporary Art, addressing contemporary aesthetics or issues. Through programming, I hope to encourage greater receptiveness to Contemporary and Experimental Art.
Importantly, I am invested in social practice, art that actively engages the community through collaboration and co-creation. It privileges participation and interaction over passive audience reception. Of particular interest are art projects that encourage social engagement and directly involve the community, exploring relationships and the character of Lane Cove. Case in point is my recent work and collaboration with Cee Egan (our local Lane Cove Yarn Bomber). The exhibition allowed people to drop in, chat, knit or crochet. It was part experiment, part exhibition, and part social space.  In relation to community centred programming, I am in the process of investigating workshops and activities that would engage the Mums and Bubs that visit the Lane Cove Early Childhood Health Centre. In so saying, I am squarely positioning arts as an agent of social engagement and its aesthetics, an inclusive and practical one. 
Why is the New Creative Arts Centre (Gallery and Studios) important for Lane Cove? 
This facility has been many years in the making. It is the culmination of years of community advocacy, the generous support of Lane Cove Council and the untiring work of the new Centrehouse management committee, especially our President Councillor Karola Brent and my predecessor Felicity Martin.
With this new infrastructure, we are able to fit it out, as best we can for now, equipment that enables us to run classes across the disciplines of Painting, Drawing, Textiles (Sewing, Knitting, Embroidery etc), Printmaking (including fine art ScreenPrinting), Ceramics and Jewellery Making. 
We are fortunate to have the support of Bernina which has come on board as a corporate sponsor. They have fitted out our Textiles studio with sewing machines and overlockers. As Greg Alexander, managing director of Bernina said " BERNINA is a family owned company and this sort of community-based project fits into our core company values. We are very proud to support such a wonderful concept for the Lane Cove community and surrounding areas." We are also grateful to Lane Cove's Men Shed, particularly Ted Donnelly, for their laborious contribution in the making of sturdy workbenches for the new Print and Ceramics studios. 
For the first time in Lane Cove, there is a cultural facility with a gallery, artist residency studios and making spaces all under one roof. This is exciting and important at the same time as it provides a platform to foster a creative community. All four pillars of art practice are covered here – learning, making, creative exchange (residencies) and exhibiting. 
The Lane Cove area is known for its Northwood Group of artists led by Lloyd Rees. We see it as part of our mission to provide a creative, nurturing platform for the next generation of prominent Contemporary artists.
Not only are we keen on cultivating new professional art talent, we would like to make visual arts a part of everyday life in Lane Cove. The role of visual arts in today's image driven society cannot be overstated. Image making, whether two or three dimensional, object based or virtual, is a vital means of communication. Art acts as foil and fodder to visual culture. Artistic endeavours promotes lateral thinking, which is so vital to modern existence. It is with this in mind that we would like to serve as a centre that promotes visual arts for everyone. 
Our doors are open to everyone – novices, hobby artists, professional artists – anyone with an interest in and would like to learn about the arts and grow with us.
Will the Facilities be Available for Use Outside Classes/Workshop times?
The Creative Studios provide a learning space for budding, emerging, mid-career and experienced artists alike. Other than term class, workshop and masterclass programs, the printmaking, ceramics, painting and sewing facilities will also be available for hire. This is coupled with the capacity to run three concurrent artists residencies with three artist studio spaces to develop new work. We will also work with other organisations to offer special programs and events. One such example is our plan to deliver a Life Drawing evening event in partnership with In the Cove. [Note this will be interesting as ITC cannot even draw a straight line with a ruler]
As we continue to look to expanding our exhibition and course programs, partnerships are being sought and developed across the arts and corporate sectors. We are also planning to roll out new donors and volunteers program, so people can be involved in the Gallery and Studios in different ways suited to their circumstances. 
Open Studio Day 23 June 10 am – 4 pm
To celebrate the opening of Gallery Lane Cove + Creative Studios, a jam-packed Open Day has been planned.  The Open Studio Day has a free programme of demonstrations in each of the four new studios in different art forms. A taster of activities for the day – ceramics hand building, printmaking, textile dyeing,  stitch drawing, still life drawing, pastel and watercolour demos and painting. Everyone is welcome to visit and be involved in the activities. Lane Cove Rotary will be joining us and running a sausage sizzle stall. Details of the day's program will be available on the gallery's website from 19 June.
Exciting new Children's Holiday Programs, Term Classes and Workshops for Adults will be announced at the Open Day. 
Upcoming Workshops
INTERPRETING THE ANCIENT: INDIGENOUS SYMBOLISM AND CONTEMPORARY ART WITH TRAVIS DE VRIES
10am -1pm Saturday 30 June
Cost: FREE – BOOKINGS ESSENTIAL
Location: Upper Level, Gallery Lane Cove + Creative Studios
Led by Gallery Lane Cove + Creative Studios' Artist in Residence and 2018 Create NSW Aboriginal Arts Fellow Travis de Vries.
Utilising a rich source material of Australian Indigenous lore and drawing from the tropes and techniques of comic book, video game and pop culture creators this workshop will provide a unique insight into the methods Travis has used to create his work. This workshop is suitable for both Indigenous and non-indigenous visual artists or even storytellers and writers.
INTRODUCTION TO DRAWING & PAINTING with David Pavich
10.00AM -4.00PM Sunday 1 July 
Cost: $121 (GST included)
In this course, we will explore expressive drawing and painting techniques as well as covering the fundamentals of tone, form, and perspective with the still life. Be guided through the versatile qualities of drawing & painting mediums in this fun and adventurous course with a number of demonstrations, whilst developing your own individual style. Suitable for beginners or advanced students.
Further info: https://www.gallerylanecove.com.au/workshops
HOW TO OVERCOME THE CHALLENGES IN WATERCOLOUR
A WORKSHOP WITH JOSEFIA LEMON
9.30-3.30pm Saturday 14 July  
Cost: $121 (GST included) 
This workshop aims to simplify some of the fundamental techniques of painting with watercolours and to achieve a sense of distance using tonal values, colours and shapes including composition.  Demonstrations will be given throughout the day and students will aim to do at least 3-4 paintings in a day.  References will be provided.  It is suitable for intermediate to advanced students who will be encouraged to work fast confidently.
Further info: https://www.gallerylanecove.com.au/workshops
In the Cove will let you know when the new courses and workshops kick off.  It will be exciting to be able to participate in art classes in Lane Cove in a convenient location.
Contact Details
Address:  164 Longueville Road NSW (opposite the Library)
Phone: 9428 4898
Website: www.gallerylanecove.com.au
Email:  [email protected]
Facebook: @gallerylanecove
Opening Hours
Monday – Friday 10 am – 4.30 pm
Saturdays 10 am – 2.30 pm
Closed Public Holidays
Cover Photo:
Designer's Impression of Facade. Courtesy of Bespoke Creative
---