Welcome to our June 2018 Lane Cove Business Round-Up.  If a business opened, closed, rebranded, was refurbished or achieved a milestone we will tell you about it.
New Businesses
Lane Cove is becoming a foodie destination and another new restaurant  has opened (with more on the horizon)
Foogoo has opened on Longueville Road.  It's located in the old Suzie's Restaurant site (which before that was Le Simpatico).  They are open for lunch and dinner at 94B Longueville Rd, Lane Cove NSW 2066. They serve Yum Cha and modern Chinese and some of your favourites like Kung Pao chicken.
AMZ Timber Flooring is now located on Longueville Road (in the old MLC office – where the big golden egg used to be).  They sell laminate timber flooring, engineered timber flooring, solid timber flooring and vinyl flooring.  We must like timber flooring in lane cove as this is our second timber flooring showroom in Lane Cove.  The other showroom in located in Rosenthal Arcade.
New Management/New Owner/New Staff
Bespoke Catering
Bespoke Catering (located in Northwood) has new owners. Fabio Funai and his wife Daniela along with their two boys moved to Australia almost 5 years ago.  Fabio was born in Germany and moved to a tiny island off the Sicilian coast where his early years were spent amongst the heady environment of his parents pizzeria.  
As a young man he moved to London where his passion for hospitality lead him to high end hotels where his customer service orientated personality had him managing teams of event staff as well as being ever present in the kitchen to watch, taste and learn.   In 2013 The W Hotel in Barcelona seconded him to The Westin Sydney to run the catering service team and it was here he continued his culinary training.  A serendipitous meeting with Bespoke Catering's previous owner afforded him the opportunity to follow his passion and he found himself the proud new owner of Bespoke Catering.   
Fabio continues to follow the W Hotels philosophy of 'Whatever/Whenever' (so long as it's not illegal!) and to that end Bespoke Catering pride themselves on their menu flexibility – it's not uncommon for a client to send their personal recipes for Bespoke to deliver.  Whether your event is a wedding, a large corporate or school function, an intimate dinner or a milestone celebration, Fabio and Bespoke are passionate about bringing you the finest food and the most skilled team of drinks and wait staff.   You are welcome to visit Bespoke Catering's kitchen to talk food with Fabio anytime.
You may have noticed some changes at Super Mix Juicery.  One of the big changes is the new owner, Tory Thrift.  He is so excited about being in Lane Cove and his passion is a delight to see.  Super Mix Juicery has always sold soup during winter and Troy's soups are worth the visit.  Please pop in and say hi to Troy.
La Provence has been sold.  The new owners may look a tad familiar to you.  For many years they owned The Greenwich Village Espresso Bar.  A new menu has been launched and there is more seating inside.
Mori Mart
Mori Mart is now called Big Mart and the new owner is Jay.  The store not only has Korean groceries, but is now expanding their range to become the place in Lane Cove to pick up some Asian cooking ingredients.  Their number one seller is still seaweed.  Mori Mart is located under Coles next door to Lime Leaf Fruit Market.
McGrath Real Estate Lane Cove
The team at McGrath has expanded.  Meet Ethan Hawkins.  Ethan aptly describes Lane Cove as offering "the perfect juxtaposition of thriving business opportunity, mixed with a generous amount of community focus." Ethan loves that Lane Cove offers a unique experience for visitors and residents alike. Ethan really believes that Lane Cove is a superb location to live, work, invest or visit. Please welcome Ethan Hawkins to Lane Cove.  You can contact Ethan on 0412 164 433 or email him here.
Meet Jamie the new manager at Jack & Co Northwood.  Jamie has taken over from Jo and is eager to meet all his customers.  Grab a barista coffee and a Zumbo delight and say hi to Jamie. (ps ITC's personal favourite are the Zumbo Nutella Donuts – OMG)
Gymbaroo Lane Cove and Greenwich will have a Saturday morning class which is great for parents who can't make classes during the week.  The class commences in Term 3.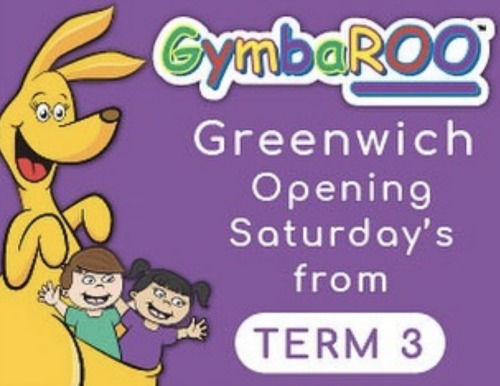 Little Learning School Lane Cove is now owned by Bliss. Bliss Early Learning School is located in the old Mandalay function centre (very convenient to Lane Cove Village). Bliss would like to welcome you to the next generation in Early Learning for children up to five years old.
Bliss are a family owned, Australian company, with a wealth of experience in designing the ultimate environments and programs for learning and fun.
Bliss believe they have taken all of the best bits and brought them together to give you Bliss Early Learning. The most blissful place on Earth!

Coming Soon
Louisiane
Louisiane will be opening in the first or second week of July.  You may have seen the new green paint on the outside of the old Lodge restaurant.  Louisiane will be open 7 days a week.  The food will be American Grill mixed with Asian Fusion.  They will be serving Grounds of Alexandria coffee. 
The High Tea Garden will open on 14th July 2018. It will be your chance to experience high tea served on Royal Albert Tea ware with delicious sweets, sandwiches and fresh scones.  They are opening in the old Ziera Shoes store on Longueville Road in June.  Check out there sandwiches below.  You can choose the sandwich you prefer for your high tea. Suzy from The High Tea Garden said they serve generous portions, so make sure you have an appetite. If you can't fit another bite in they will pack everything up fo you  to enjoy at a later time.
The High Tea sandwich options include:
Salmon cream cheese rocket and capers
Turkey Swiss cheese rocket and cranberry sauce
Grilled eggplant Brie cheese sun-dried tomatoes and rocket
Grilled pumpkin goats cheese and rocket .
The Alcott

The Alcott is opening on 20 July 2018. How exciting!! It will be so nice to see the Lane Cove Club updated and refurbished. The Alcott have exciting plans in store for Lane Cove. You can expect a modern Mediterranean inspired eatery, a vibrant spritz bar, and a charming outdoor dining terrace. Our Cover Photo is a taste of their highly anticipated Spritz Bar.
Richard Slarp, has been appointed as Head Chef and will deliver a menu that complements the alfresco dining setting. Richard brings with him a rounded background having worked in various notable venues including Sake, Aria Catering, Est, and Slip Inn, as well as winning the 2005 Merivale Chef of the Year award.
Richard Slarp said "I am excited to bring Lane Cove a new dining experience that will feature delicious Mediterranean food made with sustainable, local ingredients".
If you've not already done so, go over and like  The Alcott  Facebook Page so you can keep up to date with all the exciting things that will be happening at The Alcott.
The Alcott is keen to hire local staff. If you are an amazing food & beverage professional? Have you got a bubbly personality? Are you super reliable? … If so, the Alcott wants to meet you!
The Alcott is currently recruiting for a variety of roles including floor staff, wait staff, food & beverage managers. Please email your CV to [email protected] and tell them why you would like to work for them
Flannerys
About Life is leaving Lane Cove.  Crows Nest About Life has been rebranded as Flannerys Organic & Wholefood Market.   Lane Cove is the next to be rebranded.
Little Red Robin Restaurant and Wine Bar
Another new small wine bar and restaurant is coming to Lane Cove – It is called Little Red Robin.  Little Red Robin will offer an edgy, moody ambience, with a welcoming and intriguing dining experience.
Taking inspiration from the traditions and culinary riches of the mediterranean, this modest restaurant & wine bar aims to treat patrons by re-imagining classic recipes in a contemporary aspect. Nestled in a lane way, off the beaten track, Little Red Robin will be a cosy place to enjoy small sharing plates at the bar or in the dining area, accompanied by some of the most intriguing, indigenous grape varieties and unusual wine styles the old world has to offer.
Businesses We Have Just Heard About
Homemade cake by Sweet Moments.  They are located in Lane Cove and offer free delivery in the Lane Cove area.
Order via:

Closed
Priceless Pet Photography Studio
Priceless Pet Photography has moved out of their Lane Cove premises. We have been unable to ascertain their new address.
Martial Arts Sydney
Martial Arts Sydney opened their studio in the Village Shopping Centre in February and unfortunately it closed in June.
Milestones and Awards
Congratulations to Pure Flowers who are finalist in the Sydney Market – Fresh Awards in two categories – Service excellence and Merchandising and Branding. Sydney Markets Fresh Awards are a platform for encouraging and recognising best practice and innovations in fresh produce and flower growing and retailing.
Fitness Revelation
This month Fitness Revelation is celebrating its 14th Birthday.  Ben Delhunty as a 24 year old had a grand plan to build a facility that was an all encompassing health solution for the local community. A non-intimidating place where the community could get fit, be educated, meet new people, and do it all in a safe, supportive and friendly environment.  Fitness Revelation have many clients who have been with Ben and the team for over 10 years. In Fact Fitness Revelation is the longest running fitness facility in Lane Cove.
Heard On the GrapeVine
Modern Izakaya
Another Japanese or Korean Restaurant called Modern Izakaya is coming to Lane Cove on Longueville Road.  They will take over the old Laughing Ganesha Restaurant.
Businesses for Sale in Lane Cove
A Lane Cove cafe/patisserie is for sale.   Do you want to run a dry cleaning business?  There is one for sale in Lane Cove – read more here.
Bridget Kennedy Jewellery Designer
Bridget is a contemporary jewellery artist living and working in Lane Cove. She currently works from both her studio at home and her gallery 'Bridget Kennedy Project Space' at 53 Ridge Street North Sydney where she handmakes bespoke jewellery and commissions, including wedding and engagement rings, combining precious gems and metals with alternative materials.
The combined jewellery gallery/workshop in North Sydney reflects a continuing commitment to community activation and support with an ongoing exhibition program, whilst also showcasing handmade jewellery by a talented selection of emerging and established contemporary Australian and New Zealand contemporary jewellery designers.
A main focus of her practice is to refashion tired, broken and little used gold jewellery into new heirlooms. She's sensitive to the idea that jewellery can embody so much meaning. Inherited jewellery is often stored, hidden from view, filled with memory of loved ones but never worn because it's not to our taste. It's such a waste to have these memories and materials locked away. Bridget can help you utilise your existing gold and gemstones in a new way, creating new memories and meaning.
She also holds classes where you can make your own simple piece of jewellery from your heirloom gold, and learn jewellery making skill.
Diamantina Design coordinates design for interior & landscape spaces.  We provide beautiful, practical & innovative design solutions to bring your vision to reality. We work with both residential and commercial spaces.
landscape plans new builds or requiring council approval

garden renovations to re-invent your space

Street Appeal' for property market

Planting Plans for DIY
Interior Design:
material palettes for renovations & new builds

colour schemes for interiors & exteriors

curtains for modern spaces

furniture & styling stories

space planning

My name is Melody and I'm a lifestyle portrait photographer specialising in maternity, newborn, kid and family photography. My dedicated natural light studio is located in Artarmon, Sydney.
At Aido, I am a big fan of natural, simple, and lifestyle photography. I am great at using natural lighting by which creates soft, beautiful and natural images. I like my photography to express emotions, to capture interactions and to tell stories such as the excitement and nervousness of being a new mum, the joy and cherish of holding a newborn and the love and happiness of being with family. I am daring in trying different angles that best represent the unique individual and I like my images to be clean and warm and also to be creative, playful and sexy.
People can sometimes gets nervous in front of a camera, but with my easy going personality, lots of my clients have credited me for making them comfortable, calm and confident in their sessions. At Aido, I do not only deliver high quality images but I also want to make your whole experience smooth, relaxed and stress-free.
Established in 2013, I have recently relocated our dedicated studio to Artarmon with plenty of street parking available in front. I would love to meet you to hear your story. If you like my work please do not hesitate to say hi.

Willoughby Glass has been established for 65 years.  Our owners live in Lane Cove. Over this period we have gained a sound reputation for honest and reliable work. All of our staff at Willoughby Glass are qualified glaziers with many years experience.
Our main focus is domestic work including, glass repairs, shower screens, mirrors, table tops, painted splash backs, glass roofs, pool fencing, glass balustrade, stained glass, lead light windows, breezeway louvered windows, sand blasted and etched glass, sash cords & spiral balances and currently service a large number of local real estate agents for various repairs and maintenance, local builders and architects
All types of Glass Repair
Mirrors
Frameless Shower Screens
Semi Frameless Shower Screens
Framed Shower Screens
Table Tops
Kitchen Splashbacks
Leadlights

Sarah Folwell Massage Therapy
SARAH FOLWELL is a Traditional Chinese Medicine Practitioner and Remedial Massage Therapist. Sarah utilizes various acupuncture, massage and herbal techniques to help optimize your total well-being. During her many year's experience as a health practitioner, she has achieved measurable positive results for her clients. Why not let her skills and enthusiasm benefit you?
Sarah's career in massage began in 2000. Although using a combination of massage techniques tailored to the specific needs of each client, she predominantly utilizes Remedial Massage techniques such as Trigger Point therapy. Also specializing in Pregnancy Massage, she has many years experience in that area. The pregnancy massage is performed sidelying, often incorporating appropriate acupressure points.Massage can be combined with Acupuncture (TCM) in a one and a half hour Acu-Massage combo treatment. This can be an extremely effective approach to Musculo-skeletal dysfunction, including but not limited to:
Rotator Cuff injuries, Frozen Shoulder and Impingement syndromes
Tendonitis (Achilles Tendonitis, Tennis Elbow)
Knee injuries
Lower Back pain

Support Local Business
It is more important than ever to support local businesses, a vibrant Lane Cove is a great Lane Cove.  Please support those businesses that list in ITC's business directory as they help fund our community work.
There are also some amazing local shops located in other parts of Lane Cove – we list those satellite shopping centres here.
Do you have a local issue you would like help with? ITC is here to help just email us at [email protected]