Margaret Tanner is an amazing Lane Cove resident and last year, ITC had the pleasure of meeting this Lane Cove's living treasure.  She is a wonderful person and an inspiration to many.  Recently Margaret celebrated her 99th Birthday at the Lane Cove Golf Club.  She still plays golf once a week.  She is such an amazing lady so we thought that in honour of her 99th birthday we would republish our article about her.  If you want to have your spirits lifted, read about Margaret.
Margaret Tanner
We all know that it is impolite to ask a lady's age, but in this case, Margaret Tanner wants you to know her age.  She will proudly tell you that she has just turned 97.  She contributes her good health to regularly playing golf, yoga and constantly being active.
Margaret and her son moved to Lane Cove in 1950 (not long after her husband had passed away due to a War related illness).  Lane Cove was a logical choice as her parents- in-law lived in Greenwich and her sister lived in Willoughby. Greenwich holds a special place in Margaret's life as she met her husband at the Greenwich 16Ft Sailing Club.
Margaret had to work hard to support her son.  As a war widow she only had limited support from the government.  When her son was younger, she worked at home typing up reports.  Once he started school at Lane Cove Public, she worked part time for a while and then eventually she took a full time job in the city.  She worked for the same accounting firm for 30 years.
Every day Margaret would travel to the city on the 295 bus. This was a double decker bus which travelled down River Road and through Greenwich.  When the bus approached the River Road/Greenwich road intersection, it was not uncommon for the passengers to hop off the bus, and walk up the hill.  They would get back on the bus once it had managed to make its way up the steepest part of the hill.  Margaret can still remember one of the double decker buses turning over on River Road West (just on the bend near Bridge Street).
In 1958, Margaret started to play golf at the Lane Cove Golf Club.  At that stage, the Lane Cove Golf Club was located in Riverview (where the St Ignatius junior campus is now located).  A couple of years later the Lane Cove Golf Club closed to allow construction of the junior campus.  By this time Margaret had the golfing itch and she was determined to still keep playing golf.  So for many years, Margaret would walk a mile up the hill to get the bus to the Northbridge Golf Course.
When Margaret heard that some Lane Cove locals were keen to start the Lane Cove Country Club she became a foundation member.  You can read about the history of the Lane Cove Club here.
In 1964, Margaret was the first Sunday golfer to hit a ball off the tee in competition, 52 years later she still plays competition golf, and walks the entire 9 holes.  Margaret has a very groovy motorised buggy (note a buggy not a golf cart).  Margaret has some very sage advice for golfers, she notes that people stop playing golf when they stop playing well, her advice is just keep golfing as it is terrific for your health.  In 1997 on the sixth hole at the Lane Cove Country Club Margaret scored a hole in one (how many people do you know that can claim they have had a hole in one?).
Not only does Margaret play golf, she also packs in numerous activities during the week.  This is what an average week looks like for Margaret:
Walking every day;
Volunteering once a week at the Glaucoma Association;
Yoga at St Columbus;
Gardening (Margaret provides the blooms for the ladies golf functions at the Lane Cove Country Club);
Golf.
She is a member of Legacy and Vice President and life member of the War Widow's Association.
Margaret Tanner has never held a driver licence, she has always used public transport.  In Margaret's opinion, public transport in Lane Cove has declined.  She used to have access to a bus near her home every 30 minutes.  Now she only has an hourly service.
Here are just some other highlights of a packed life:
In 1932 she witnessed the Opening Ceremony of the Sydney Harbour Bridge;
She worked as a pink lady at Concord Hospital;
In the 1970's the Lane Cove Country Club was experiencing financial difficulties – Margaret and other members lent the club funds. She is a member for life.
Just meeting Margaret is inspirational; you can learn so much from this 96-year-old Golf Pro.  She is very keen for others to follow in her footsteps and take up golf.  She highly recommends, that if anyone would like to take up golf, they should book in with Kasey Dive, Head Professional at Lane Cove Golf Course.
Just recently the following story appeared in the Lane Cove Golf Clubs Link newsletter – just showing how amazing Margaret is:
Sunday 6th May was a beautifully sunny day, and Margaret Tanner, one of the original members of our Club, set out to play 9 holes in the Ladies' Comp. All was going well, till on the 6th hole, her buggy started to roll down the hill. Her playing partners, Margaret Collins and Margo Vaughan, yelled, "Fore! Fore! Look out for the buggy!" As you would, Margaret chased it, till it ended up all the way down the hill, in the hazard. Then, as you would, she decided to go down into the hazard to retrieve it, disappearing very quickly from her worried partners' view. They were extremely relieved to see her clamber back out, but not, alas, with the buggy. Then along came three good Samaritans…….. Club member Peter Siapos, together with Daniel and Graham, who managed to pull the buggy out of the hazard. Miraculously, it seemed to be okay, but..uh oh.. the battery was missing. So the Samaritans went down again, to slosh around in the water to retrieve the battery. Surprisingly, though it was dripping wet, it worked perfectly and Margaret was able to finish her nine holes. The only thing she lost was her sand bucket! Picture shows the unfazed, unsinkable Margaret checking her card at the end of her incident-filled round. And what will this remarkable lady do in just a few days, on 8 May? SHE WILL TURN 98 YEARS OF AGE! Happy birthday Margaret. Yep. We wanna be like her!
Why not pop down to the Lane Cove Country Club and find out more about men's, ladies' and mixed golf competitions?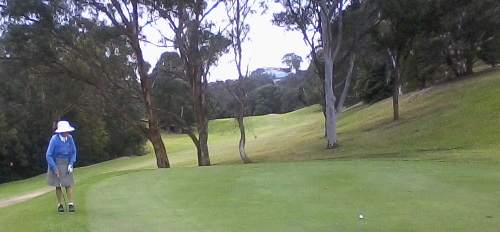 ---
Do you have a local issue you would like help with? ITC is here to help, just email us at [email protected]