Lane Cove was busier this week, with kids back at school.
Back To School
The NSW Premier asked parents to either drive their kids to school, walk, bike or take a dedicated school bus.   Police were out and about near school zones.
Assistant Commissioner Michael Corboy of the state's Traffic and Highway Patrol Command said:
"All road users, including pedestrians, need to consider their own behaviour in school zones; pay attention to the flashing signs, comply with requests from school crossing supervisors, and keep everyone safe on our roads."
Penalties for school zone offences include:
Drive on path – $457 / 4 demerit points
Drive without proper control – $572 4 demerit points
Drive using mobile phone – $457 / 5 points
Drive with animal on lap – $572 / 4 points
Stop in bus zone – $344 / 2 points
Exceed speed >45kph – $2636 / 7 points
During the homeschooling period, parents and kids kept busy with the bear hunt.  One "bear" was very popular. He was in fact a monkey in College Road South Riverview and everyday monkey was kept busy with different activities.  Monkey had the following message for his followers.

COVID19 Changes
On 1 June 2020, COVID19 restrictions will ease even further.  What does this mean for Lane Cove…
The Lane Cove Library will reopen on 1 June 2020. It will be a limited reopening with click and collect services only. Greenwich Library will not reopen at this stage. Further details here (including information on how you must book).
Lane Cove Cafes and Restaurants will be able to take up to 50 people but must adhere to the 4 square metre rule.
Lane Cove Pubs and Clubs are permitted to open from 1 June 2020 with 50 people per eating area.  At this stage, the only pub/club to announce it will open on that date is The Alcott.
The Alcott has advised:
"We are so excited to be reopening our doors from Monday!
As we look to welcome you back in the venue, we have worked on introducing some new procedures to ensure a safe environment for both our staff, members and patrons:
* 1.5m social distancing throughout the venue
* visitor information collected on arrival
* capacity restrictions per area (4m2 practice)
* group size limitations (10 people per booking)
* seating for consumption (table service only)
* controlled traffic flow
* disposable menus
* increased venue sanitisation (we are closing daily between 4 pm – 5 pm for a deep clean)
*additional sanitisation stations throughout the venue
These measures have been implemented under Government guidelines and are for the safety of staff and patrons alike.
The reception will be open from midday on Monday 1 June, so for any enquiries, please call 9428 5155."
The Lane Cove Golf Club will open on 3rd June. Their opening hours are below.
| | |
| --- | --- |
| Day | Open Hours |
| Monday | Closed |
| Tuesday | Temporarily Closed |
| Wednesday | 3.00pm – 6.00pm |
| Thursday | Temporarily Closed |
| Friday | Temporarily Closed |
| Saturday | 10.00am – 6.00pm |
| Sunday | 10.00am – 6.00pm |
From 1 June 2020 more people can attend weddings (up to 20 people), religious services and funerals (Up to 50 people).  Worshippers are asked to maintain social distancing and changes to communal practices. Communal singing and chanting should not occur due to medical evidence that this is a high-risk activity.
The Canopy Park Opening Sooner Than Expected
The Canopy playground is opening sooner than expected on 13 June 2020 (the same day as ALDI. Coles has delayed their opening to 8 July 2020.  Read more here.
Cameraygal Park Now Finished
Lane Cove Council's newest park is now open! Cameraygal Park, on the corner of Longueville and Epping Road, provides a fresh look to the entrance of the village with its Indigenous-inspired garden design.
It was opened last week – during National Reconciliation Week; Aboriginal themes have inspired a variety of materials, shapes and native plants in the park such as the six varieties of bush tucker plants and 14 native plant varieties.
You'll also notice several signs throughout the park, which showcase the history of Cameraygal Country, which the park and Lane Cove are located on. The large number of cyclists passing the park while riding to and from the CBD each day will benefit from the bike repair stand while members of the public will be able to enjoy a place to relax on the new seating.
Electrical Fire in Greenwich
On Tuesday morning, at approximately 6.30 am high voltage power lines were on fire close to houses. The fire was at the entrance of the Lane Cove Bushland Park.
A neighbour told ITC:
"It was caused by a branch which had landed on the high voltage power lines running through the bush about 3 weeks ago. I had alerted Ausgrid to this on 3 occasions, but nothing had been done to remove the branch, despite an Ausgrid employee turning up to investigate a couple of hours after my initial phone call. Ausgrid agreed that a dead overhanging gum needed to be removed & that they would do so.
An Ausgrid employee turned up after the fire and said the dead tree is scheduled to be cut down, but he doesn't know when.
I have often been concerned about dead gum branches hanging over these high voltage power lines."
Old Uniting Church Development Application Withdrawn
For the second time, the Redevelopment Plans for the old Uniting Church at 518 Pacific Highway (corner of Mowbray and Pacific Highway next to the Great Northern) have been withdrawn. The site does overlook an old cemetery.  Background information here.
Let There Be Light
To help extend the opportunity for residents to exercise safely, the lights at Blackman Park, Pottery Green Oval, Bob Campbell Oval and Tantallon Oval are being turned on each evening from 5:00 pm – 7:30 pm.
Also, as part of the ongoing easing of social distancing restrictions, Lane Cove Council has contacted sporting clubs to provide them with information on how to recommence the booking of local sports fields.
A reminder to anyone using ovals and sporting fields to observe the latest advice from NSW Health.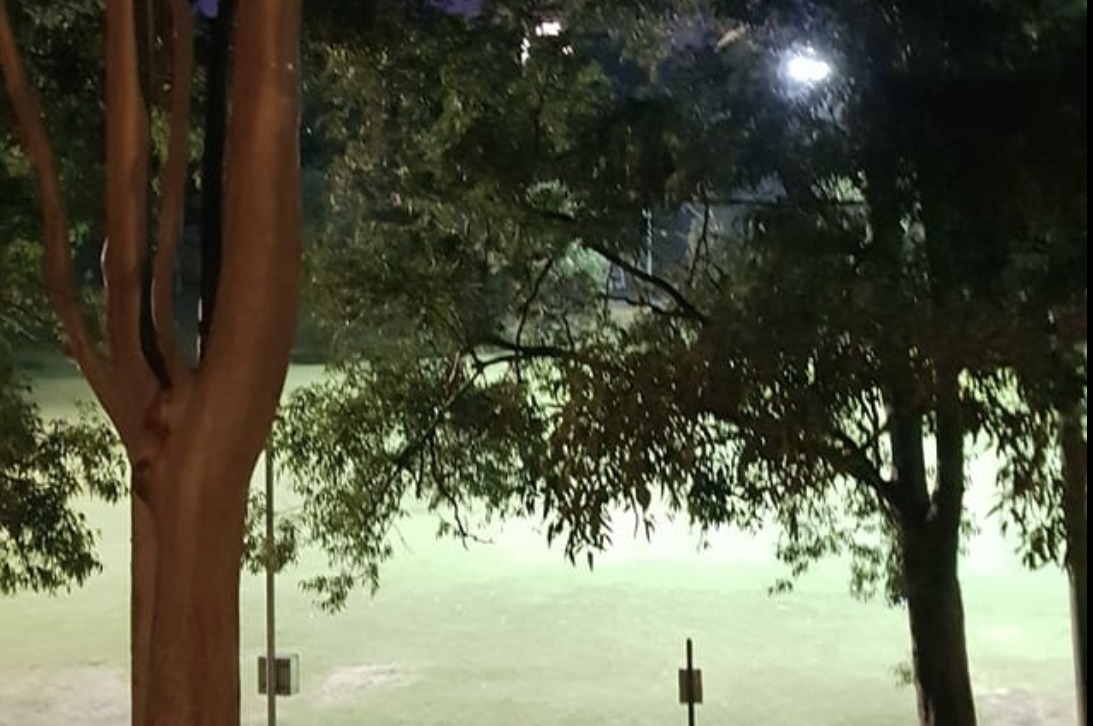 DIY Vivid
Vivid might be cancelled, but one house in Sofala Avenue Riverview is participating in a  DIY Vivid.  Details here (see our cover photo).
 Coffee Cart for Kingsford Smith Oval
Lane Cove Council is continuing its rollout of coffee carts/kiosks around Lane Cove Parks, Ovals and Playgrounds.  A coffee kiosk has been installed at Blackman Park (will open in a few weeks) and now the Lane Cove Council has advised Longueville residents that a coffee van will be at Kingsford Smith Oval for a trial period.  Pick Me Up Cafe sets up at Mindarie Park on weekends and school holidays.
Lane Cove Historical Society Needs Your Help
Help the Lane Cove Historical Society document life in the community during COVID19
Scientists, medicos, economists and other experts will have their say on the COVID19 lockdown, but the little things, the daily minutiae, will be forgotten – especially on social media.
The Lane Cove, Hunters Hill and Ryde Historical Societies have joined to ask that you please add to our archives with your feelings in the lockdown. Write even just half a page or record 30 seconds telling us of some of your experiences.  Read more here.
Thank You
Our week in review is sponsored by Rebecca Mitchell Rain Horne Lane Cove.  Rebecca has supported In the Cove since we started and was a foundation sponsor.  Thank you, Bec!!
Check out this Beautiful home being currently for sale by Rebecca Mitchell Raine & Horne. 
Private c1920s family home at 11 Matthews Avenue Lane Cove
Beautifully restored and sympathetically extended to suit the changing needs of a growing family, this wonderfully private c1920s residence is set amid vibrant, expansive gardens in a whisper-quiet cul-de-sac locale. Complete with a coveted rear to a north aspect, it boasts a choice of three distinct living areas, spread across two light-filled levels. It's convenient, highly sought-after address is footsteps from express city buses and Fig Tree village shops and cafes.
Be a Lane Cove Legend and Know All the Lane Cove Info
To make sure you don't miss Lane Cove info sign up to our newsletter. It comes out every Wednesday Night at 7.30 pm and includes a wrap up of everything posted on our Facebook site in the previous week.
Did you know that In the Cove has an Instagram page? Yes, we do, and we feature pictures from our roving reporters and our ITC team that do not appear on our Facebook page. Follow us on @inthecove