The Walk-in Specialist Emergency Clinic (WiSE) is located at Macquarie Park.
WiSE is the first of it's kind in Australia to provide emergency medicine outside the hospital environment.  With seven out of ten Emergency Department presentations not resulting in hospital admission, the need for a community-based specialist emergency medical service in the community is evident.
In December 2019, during the bushfire crisis, ITC was eating out with friends at an outdoor restaurant.  After sitting down for about 10 minutes, I started to cough and could not catch my breath.  I thought it was because I was so unfit just walking up some stairs caused me to start coughing.  The coughing eventually stopped, but then my chest and back felt incredibly tight.  Everyone could see that I was not my usual charming and witty self (said with tongue firmly planted in my mouth).   It was about 9.00 pm on a Saturday Night.  I decided to go to WISE.
The process was so easy.  They saw me straight away.  They put my mind at ease and got me on a nebuliser.  I won't bore you with my medical history, but by seeing WiSE, I now know my medical issues and have seen the appropriate specialists.  Who knew I needed an Asthma Management Plan as I now had Adult-Onset Asthma.
Fast forward to March 2020; if the same instance had happened, I would have thought twice about going to an emergency centre. I would wait until Monday morning and then try and get a telehealth appointment.  I would have spent the rest of the weekend, worrying about what to do and why I was not feeling 100%.
I am not the only one who is thinking twice about seeing a medical professional.
Pre COVID19 WiSE was seeing up to 50 patients a day.  These patients were presenting with sub-acute injuries and illness. Now, WISE is seeing fewer patients.
Dr Pankaj Arora, Emergency Consultant and CEO of WiSE said,  "The patients we are seeing are presenting five days later than usual with nearly ruptured appendicitis, raging skin infections requiring days of intravenous antibiotics or psychological trauma from sustaining ongoing acute pain."
What is WiSE's advice?
Do not put off your health for fears of contracting COVID19.
Australia's healthcare system is easily one of the most advanced and successful in the world. A grand average life expectancy of 80.4 years.
However, this fear that is encapsulating patients will compromise the state of our health profile. Our efforts should go towards a new design, where health, design and technology are interconnected. Better access via Telehealth is a step in the right direction. A step forward that hopefully, we will not be retracted. However, it is not to undervalue the benefit of face-to-face care.  WiSE has strategically designed their physical layout to eliminate the spread of disease so their emergency doctors can assess, diagnose and treat you on the spot.
Dr Arora said: "I fear the collateral damage from this pandemic. As we fight this disease, we must also be smart and sensible during this time."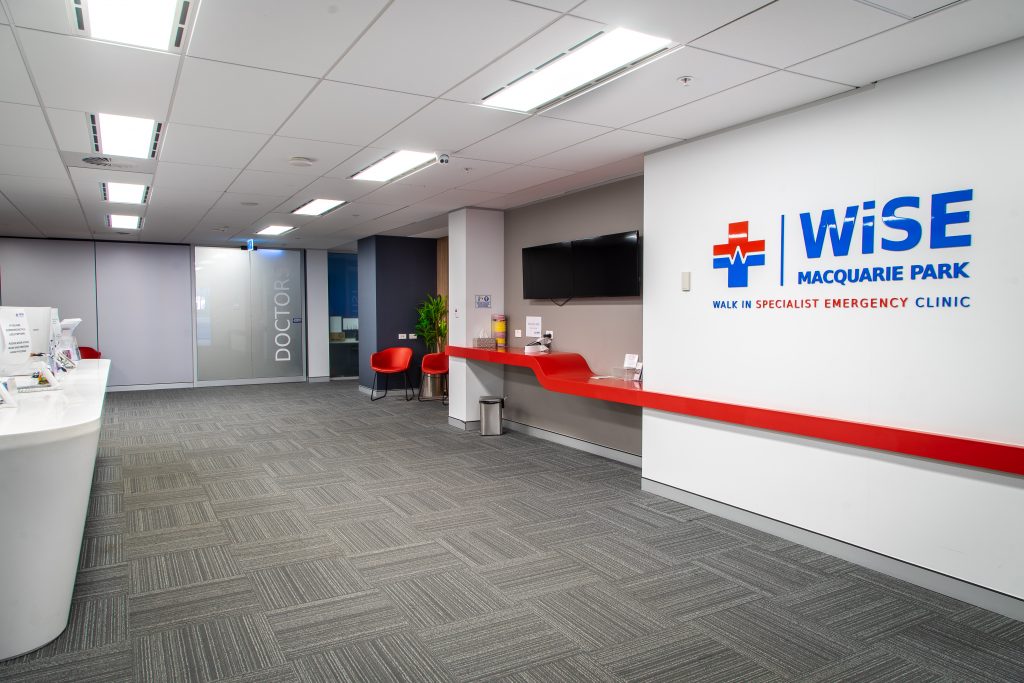 Who is the WiSE Emergency Clinic?
The WiSE Clinic is staffed by Emergency and Specialist Emergency Doctors. Emergency medicine is a recognised speciality within medicine where the focus is on immediate diagnosis, resuscitation, and treatment of patients with an acute medical condition.
Working alongside the Specialist, Emergency Doctors at the WiSE Clinic are highly experienced and trained Registered Nurses, Radiographers, Sonographers and Pathologists.
When Would You Use WiSE Emergency Clinic?
If you are experiencing any of the following, but not limited to
Cuts, fractures, falls, other injuries
Early pregnancy complications
Infections and cellulitis
Abdominal pains & suspected appendicitis
Atypical chest pains
Migraines/headaches/vertigo/ENT
For all life-threatening or severe conditions, please call 000 or attend your local hospital.
What Happens When You Go to WiSE Emergency Clinic?
WiSE's emergency doctors and clinical team have access to on-site diagnostics, with immediate results.
X-ray
CT
Ultrasound
Blood testing
This allows their doctors to provide comprehensive treatment on the spot, including:
Intravenous antibiotics and fluid therapy
Stitching and wound management
Plastering and splinting for fractures and injuries
Relocations
Abscess drainage
Migraine therapy.
Oxygen and nebuliser therapy
Vertigo and dizziness treatment
Iron infusions
How Do You Access WiSE Emergency Clinic's services?
WiSE accepts walk-in patients or patients referred by a GP/Specialist.  They are open 10 am-10 pm, seven days, 365 days a year.  Services cost a flat $200 facility fee.  This fee is not covered by Medicare or Health Funds.
For further information about WiSE and their services see here.
Do They Treat Sports Injuries?
As we start to head back to our routine of Saturday sport for the kids and going to the gym, that will also, unfortunately, mean sporting injuries.  Don't wait for hours in a public hospital emergency room head to WiSE.
WiSE can diagnose and treat all kinds of sports injuries such as:
Sports Injuries
Hand injuries
Joint sprains and strains
Dislocations
Suspected Fractures
Minor head injuries and concussion
Rib injuries
Shoulder injuries
Back injuries
Knee, ankle and foot injuries
WiSE's Radiology service includes diagnostic radiology (X-rays, CT, PG, Ultrasound) and Specialists can organise MRI's where appropriate.
When is this Service Available?
WiSE  Emergency Clinic is open seven days a week from 10 am to 10 pm and open on public holidays (including Good Friday, Easter Sunday, Christmas and New Year's Day).
No need to take time off work for blood tests or Radiology (x-ray, CT, Ultrasound) – these services are available until 10 pm every day, including Saturday and Sunday.
You do NOT need an appointment. However, if you call before arrival on 9216 7676, they will be ready for you.
WiSE offers a seamless, holistic approach to your follow up care. WiSE Fracture Clinic is run by  Specialist Orthopaedic surgeons each week or referrals can be made to an Orthopaedic surgeon of your choice.
Physiotherapists on-site for plastering, acute management and rehabilitation
If your condition requires admission for surgery or further monitoring and management,  can facilitate direct admission to local private and public hospitals via our network of on-call Orthopaedic Surgeons and acute Specialists without you having to re-present to a hospital emergency department.
North Shore Private Hospital
Macquarie University Hospital
Sydney Adventist Hospital
Local public hospitals
Where is WiSE Emergency Clinic?
WiSE Emergency Clinic is located near Macquarie Shopping Centre in Macquarie Park.  Their address is  17 Khartoum Road, Macquarie Park NSW 2113.  That is around a 15-minute drive from Lane Cove Plaza.
Contact Details
Phone: 02 9216 7676
Email: [email protected]
Website: www.wisemedical.com.au
This is a sponsored article.