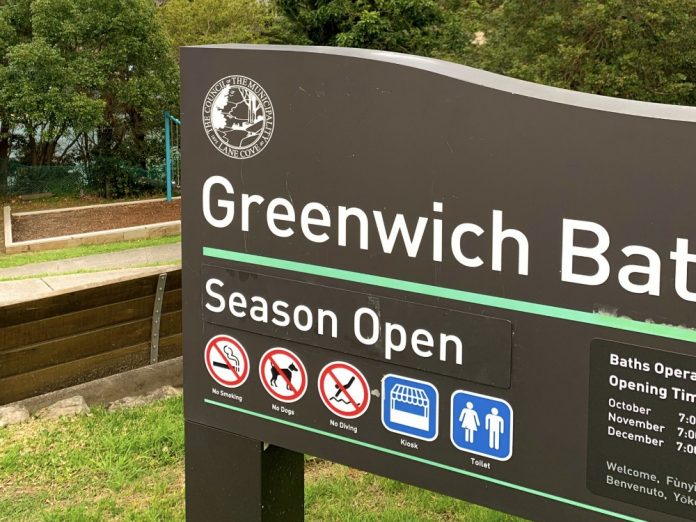 Each year the NSW Government releases a water quality report which monitors the water quality of 228 NSW swimming sites. You can read the full The State of the Beaches Report 2019 – 2020 here.
The good news is that Sydney's Northern ocean beaches Manly to Palm Beach were rated good or very good.
The report also looks at harbourside beaches.
Greenwich Baths, Tambourine Bay and Woodford Bay were rated good.
Lane Cove Council maintains a number of Gross Pollutant Traps in the catchment area to reduce the impact of stormwater on the waterways.
Greenwich Baths is a popular swimming spot in the Lane Cove Council area and they also run a beach safety programme. The Baths have a netted swimming area and a sandy beach.
Greenwich is now open for the summer season Monday to Sunday 7 am to 6 pm
Tambourine Bay
Tambourine Bay is in the lower Lane Cove River. The swimming enclosure has been removed and there is now a beautiful picnic area.  In previous years, Tambourine Bay had a poor rating.  In the last couple of years, it has been rated good.  This is good news for the Tambourine Bay Scouts who regularly undertake water activities in the bay.
Woodford Bay
Woodford Bay is another popular swimming spot for kids.
The first record of contact between the British and the Cameraygal people took place at Woodford Bay on 14 February 1790.
Woodford Bayis one of the 3 remaining examples of timber "shark" paling harbourside baths left in Sydney.
This site is a 20 by 25 metre swimming enclosure on the western side of Woodford Bay in the lower Lane Cove River.
Northbridge Baths
Many Lane Cove families like to swim at Northbridge Baths.  It only received a fair status.
Swimming After Rain
The most important fact to take away from this report is that swimming in harbourside water areas after rain is not a good idea.
Cover Photo:  Credit Source Greenwich Bath Facebook Page
---
Do you have a local issue you would like help with? ITC is here to help just email us at [email protected]