Welcome to another instalment of the Hidden Arcades of Lane Cove. Today we are exploring Lane Cove Arcade.
Lane Cove Arcade is situated at 115- 19 Longueville Road, Lane Cove. If you're on Longueville Road, the two shops at the arcade entrance are Eyes on Lane Cove and Four Frogs Creperie.  If you are at the back entrance, two shops located at this entrance are Laminat8 Patiserrie, an empty space (rumoured to be a Vietnamese restaurant) and Masterpiece Alteration and Designs.
Jason is well known in Lane Cove for his service standards and his ability to repair dropped and broken glasses urgently. ITC can tell you from experience that they do very comprehensive eye tests.
Contact Details
Address: Shop 8, 115 Longueville Road, Lane Cove NSW 2066
Phone: 9418 3329
Website: Eyes on Lane Cove
Four Frogs Creperie
Four Frogs Crêperie joined the Lane Cove community in May 2018, bringing authentic crêpes and galettes to our neighbourhood.
Founded by four friends, Four Frogs Crêperie offers a relaxed dining experience with a huge selection of sweet & savoury crêpes, along with traditional French cider and a selection of French champagne, wines, premium spirits and beers.
They brought their traditional recipes over from France, and mill their Buckwheat flour in the store. This maximises the taste, freshness and nutritional content of the buckwheat, and it's naturally gluten-free.
They also have vegetarian options and a kids menu with entertainment.
Contact Details
Address:  115 – 119 Longueville Road NSW (next to Eyes on Lane Cove)
Facebook: @fourfrogscreperie
Instagram:  @fourfrogscreperie
Email:  [email protected]
Licensed:  Beers, Wines, Cider, Champagne and Premium Spirits
Opening Hours
Tuesday            11 am till 9.30 pm.
Wednesday       11 am till 9.30 pm.
Thursday          11 am till 9.30 pm.
Friday               7.30am till 10 pm.
Saturday           7.30am till 10 pm.
Sunday, 7.30 am till 9.30 pm.
Monday            Closed
Cutting at the Cove
Drop-in and see Giuseppe, Roy and Nino – they are always up for a laugh while you get your hair cut.  This is the place where kids get their hair cut. It is usually bustling after school and the day before school starts back.
ITC has always said you never know what you'll find at Found Gifts and Homewares!
Meris and Carla opened Found over four years ago. Both share a passion for delivering quality products while providing friendly customer service, making it a truly enjoyable shopping experience.  They have a large selection of gifts for babies, children, men and women. If you're looking for wallets, bags, jewellery, homewares and a great selection of clothing – drop into Found.
Their four main clothing brands are The Ark, Verge, Lounge the Label and Imagine.
Contact Details
Address: Shop 3, 115 Longueville Road, Lane Cove NSW 2066
Phone: 0411 427 670 – Carla, 0411 731 009 – Meris
Website: Found
Facebook: Found
Bec and Bel – Designer Consignment Store
Late last year, Australian Vogue declared the future of fashion is circular.  Consumers all around the world are shifting from a possession culture to a usage culture.  Now Lane Cove locals can get involved in the fashion circular economy by buying and selling pre-loved or unworn designer clothes and accessories.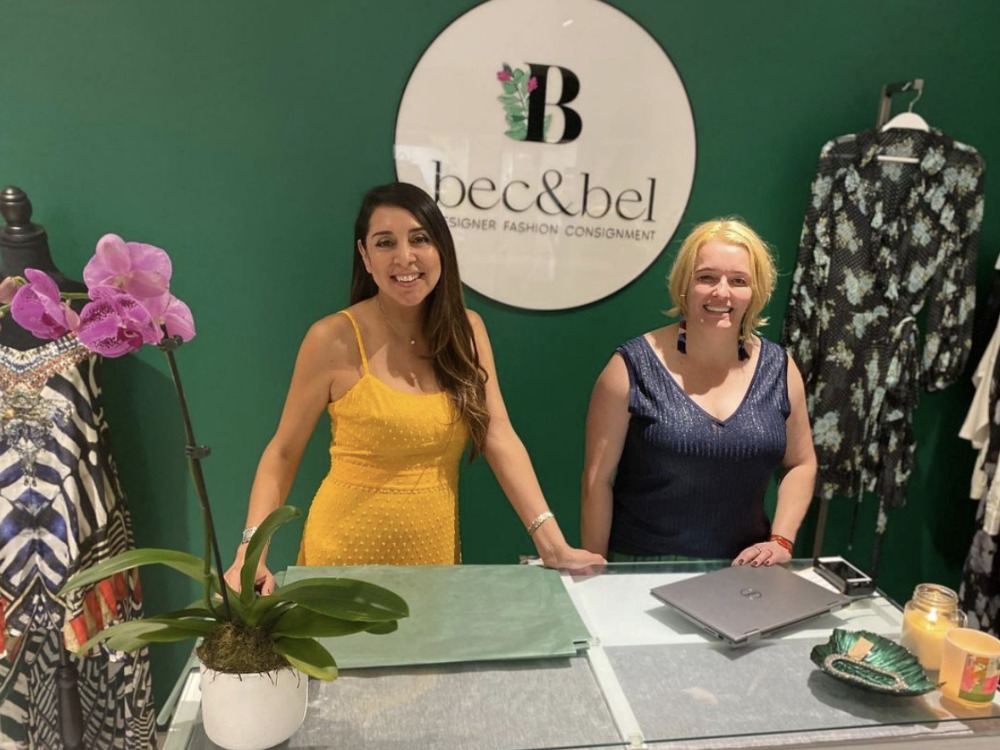 Two local mums, who are passionate about fashion and sustainability, have opened Lane Cove's first designer consignment store called Bec and Bel.
Their store is one of only a few designer consignment stores located on the North Shore.
Bec and Bel curate luxury and high-end fashion including clothing, shoes, designer handbags and accessories.  Their stock includes "pre-loved" fashion as well as brand new, unworn items.
Bec and Bel offer a full range of designer brands including international brands such as Gucci, Dior, Chanel, Jimmy Choo and Prada to local outfitters such as Zimmerman, Camilla Franks and more.  Read more here.
Contact Details
Address: Shop 5 115-119 Longueville Road Lane Cove
Website: http://www.becandbel.com.au/
Email: [email protected]
Instagram: @becandbel
Facebook: @becandbel
Be.U Natural
Be.U. Natural is the home of natural, sustainable and organic products for face, body, home and play.
Be.U has so many gorgeous natural, sustainable and organic products for face, body, home and play.
Gifts that are suitable for all members of your family, including babies, kids and teens.
Beautiful gifts for friends, family, teachers and those you love.
Our team of health professionals individually and thoroughly researches Their products, so you can be confident that only the highest calibre of truly natural and health-positive products find their way into your open arms.
Simple, easy and organic – like caring for you and your family should be.
Contact Details
Lane Cove Shoe Repairs
This shop repairs shoes, cuts keys, sharpens knives and has all you need to waterproof shoes. If you want to fight with a tired toddler, take them past this shop at around nap time. They will insist on a ride on the helicopter toy, and they know it is meant to move.
Lamin8 Patisserie
Lamin8 Patisserie is Lane Cove's new patisserie specialising in viennoiserie.
Lamin8's range includes pastries including croissants, danishes, palmiers alongside a selection of sourdough bread, cakes, macarons, pies and petit fours.
All the classics are available plus Lamin8's own creations including matcha palmiers and raspberry croissants.
Masterpiece Alterations and Designs
With more than 50 years of experience as a dressmaker/tailor, Mrs Moon provides a complete range of clothing alterations and tailoring services.
Our Services
Special costume restyling service
– Bridal and formal dress
– Men's suits and tailoring
– Christening gowns
– Mother and babies matching clothes
Performing art costume design&restyling
– Dance costumes design and repair
– Performing art costume design and repair
General clothes repair&restyling
– Personalised dressmaking for all body shape
– School/work uniform repair
– Personalised dressmaking for all body shape
– General clothes repair and restyling
Contact Details
Address: Shop 15, 115 Longueville Road, Lane Cove NSW 2066
Mobile: 0415 993 210
Facebook: masterpiecedressmaker
Instagram: masterpiecedressmaker
How to order: Head in-store to purchase. Online ordering available soon.
Upstairs
At Vision, Personal Training Lane Cove, our friendly and motivated staff will help you reach your individual fitness or weight-loss goals – the fast, friendly and fun way! Vision Personal Training is unlike any other fitness studio – so come and experience the Vision Personal Training difference today!
The Vision Promise
Vision Personal Training is unique in the Health and Fitness industry being one of the few who offer a money-back guarantee if you follow your program exactly and don't achieve your agreed result*
Whereas other typical gyms base their success on having as many members as possible who then don't, in fact, show up, Vision is the opposite. Our success is based on you achieving your goals.
We celebrate transformations, not member numbers.
Your program is completely personalised to your goals, lifestyle, body type, and even your nutrition plan is centred around foods that you enjoy!
Transform your health and your life with us!
Contact Details
---
Local News At Your Fingertips
In the Cove is run by locals. It is the only online hyperlocal news and media business based in Lane Cove.  We provide local free news – we do not have a paywall and will never have a paywall.