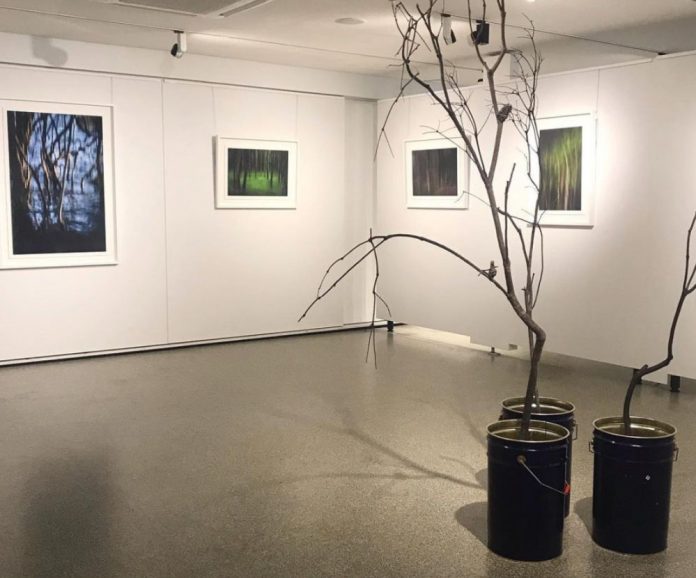 Gallery Lane Cove + Creative Studio has a new exhibition called Rewilding which gives seven Sydney-based artists, several of them local to Lane Cove, an opportunity to interpret the exhibition theme.  The exhibition runs from 3 March 2021 to 3 April 2021.  Gallery Lane Cove is open with extended hours for Art Month Sydney. Come visit between 10 am-4:30 pm Monday – Saturday. Completely free to visit, all welcome. 
What is Rewilding?
The concept of rewilding brings together some important topics of current concern – the wild and the local. It encapsulates the idea of returning habitats to their natural state and thus eliminating, or lessening, the dire impacts of the Anthropocene age. It also helps us explore human impact on the Earth's landscapes, atmospheres, oceans and biodiversity.
The result is thought-provoking and inspirational, as the work of these artists embodies natural forms, focusing especially on the qualities of rewilded landscapes in a human context.
There is nothing easy about moving toward a rewilded world, but it is a banner under which urban societies may gather to improve both their social lives and the environment they occupy. Around the world, rewilding initiatives have been underway for decades, as exemplified by the restoration of ecosystems and landscapes when wolves were reintroduced to Yellowstone National Park in the United States.
A proponent of rewilding, the environmental activist and writer George Monbiot, described rewilding paleoecology in a TED talk (2013) as "a portal by which you may pass to an enchanted kingdom". If a little of that magic is conveyed in Rewilding the curators have achieved more than they hoped.
Whether it be in the immersive world created by Barbara Doran, where the audience as alchemical shapeshifters are free to conjure their own meanings; the delicate patterning and colouring of natural forms in the ceramic pieces of Alyson Hayes; the abstraction of colour and form in the striking painterly slow-exposure photographs of Kat Seward; or Penny Cain's mixed-media installation exploring landscapes and the damage done by human intervention, the exhibition provides glimpses of "Nature, red in tooth and claw".
The ancient Indigenous presence on all Australian land is acknowledged in the works by Wirangu artist Greg Hodgkinson; and the power of the mythical alluded to in the sensuous shapes of papier-mache sculptor Wendy Bishop. Humans have become the most influential species on the planet, causing significant impact and accelerating changes. Bishop's work situates the human in the landscape inviting us to remember our relationship with it. Susie Pratt's installation of burnt banksia with accompanying sound gives us pause to recognize the biological adaptations of native plants to survive and thrive through fire.
The Exhibition is also the first manifestation of a new Sydney Art Collective which aims to provide exhibiting opportunities and community support for local artists who have not previously had ready access to local art spaces.
The Curators are Ann Proudfoot and Sky Hugman.
Artist Biographies
Wendy Bishop
Wendy has a background in Library and Museum Studies and worked in these fields whilst travelling overland, contemplating once-great civilizations and reflecting on what remains as hollow ruins in a resurgent landscape. Her early training in commercial art sparked a lifelong interest in graphic communication on environmental and sustainability issues.
An abiding interest in artisan traditions and material studies led to studies in Handcrafted Footwear and sculpture. She has exhibited with the Australian Society of Miniature Art, Gauge Gallery, and ArtSpace. She has also been part of the Lane Cove Open Garden Scheme, encouraging visitors to experience her 'compostable' sculptures in her permaculture garden. Wendy exhibits regularly with Willoughby Art Centre in group shows and has received numerous awards for her paper works in sculptural form.
Penelope Cain
Landscape in its widest terms is central to Penelope's practice. She is especially focused on the occupied, extracted, transformed and emergent landscapes of the Anthropocene. In this she draws equally on her art practice and research-science background, working interstitially between science and art, in an expanded storytelling modality.
She was awarded the Fauvette-Lauriero Travelling Scholarship in 2018 and the Glenfiddich Contemporary Art Residency, Scotland in 2019. She had a solo commissioned exhibition for Casula Arts Centre (Interregnum, 2019) reflecting on the history of the site of a decommissioned coal-fired power station.
Barbara Doran
Barbara Doran is a Sydney artist born in Wagga Wagga, Australia. She grew up in Swaziland and Zimbabwe, in southern Africa. Her interests pivot around shifting global understandings, their values, histories, and the realities they bring forth. Her artworks explore what the art of living might mean by examining how personal, collective and environmental dynamics interact through macro and micro relationships.
Increasingly her work focuses on collaboration, well-being and building virtuous systems of resilience. Awards include UNESCO Art and Bioethics Award for photography (2013 & 2015), She National Award (winner 2009 & 2010) and finalist selection in national competitions including the Olive Cotton Award, Redlands Westpac Art Prize, the Moran Photographic Award, and Sunrise Film competition. She currently works with the Faculty of Transdisciplinary Innovation, UTS.
Alyson Hayes
After completing a Design degree at the College of Fine Arts (Sydney) and travelling for a year around Australia, Alyson settled in Perth. There she worked with the ceramic artist Angela Mellor, and joined Clay Feet, an exhibiting group for emerging artists.
Her ceramic sculptural work explores the interconnectedness of natural things. Different aspects of nature are merged through texture, pattern and form, invoking memories depending on the viewer's personal experiences in nature. Through this remembering, she hopes to foster a connection with nature and to evoke different reactions from the viewer. This is an extension of her earlier work which involved "lighting up" thinly slip-cast porcelain and bone china to create translucent, sculptural ceramic pieces. By illuminating nature, its most intimate secrets may be revealed.
Greg Hodgkinson
Greg is a proud Wirangu Aboriginal artist from South Australia who has been honing his artistic skills for the past several years. He likes to explore his creative side through visual artwork, writing, stand-up comedy and supporting others to develop their own creativity. His artwork is an expression of his journey through life, an outlet to express himself, his feelings and the world around us. Greg uses different mediums and styles in the creations of his artwork.
Greg is involved in teaching and empowering artists, young people and the community to develop and tell their story through different mediums, in particular visual artwork. In 2014 Greg exhibited in Our Mob, a show part of the Tarnanthi Festival of Contemporary Aboriginal and Torres Strait Islander Art. In 2015 and 2016 he exhibited at Awakening Connections, part of the Adelaide Fringe Festival and participated in the Playford Council Aboriginal Reconciliation art exhibition.
Susie Pratt
As an artist, researcher, educator and techno-scientific muser, Dr Susanne Pratt explores how creative practice can foster social and environmental responsibility, with an emphasis on improving environmental health, mutual learning and collective flourishing. She is currently a Lecturer in the Transdisciplinary School at the University of Technology Sydney.
Pratt's creative work has been internationally exhibited in various forms, including digital storytelling, multisensory installations, walkshops, experiential futures, site-specific sound works, urban design proposals and participatory events. She has exhibited in a variety of contemporary spaces such as West Space, Next Wave Festival, Kudos Gallery and Serial Space in Australia and RM Gallery (rm103), Christchurch City Gallery, Wellington City Gallery and The Physics Room in New Zealand.
Kat Seward
Kat Seward is a photographic artist who lives and works in Lane Cove. The area's natural bushland and estuaries form the subject of a major part of Kat's work.
Educated at Melbourne's RMIT, Kat received her Bachelor of Arts in photography in 1995. During this time, she was awarded a scholarship to study at Brooks Institute of Photography in California, where she made the Honour Roll. She then travelled to Europe, and, following her passion for travel, photography and nature, made wildlife films in Bristol, UK. Upon returning to Australia, she continued her film making and photography career, mainly working in portraiture. This is her first exhibition in Sydney.
Workshops and Talks Associated with the Exhibition
Reinvent, Reuse and Relax: Working with Paper Workshop
with Wendy Bishop and Barbara Doran
12 March 6:30-8 pm book here
The Lure of the Local: Thinking Rewilding in Lane Cove Discussion with the artists, curators and local bush conservation experts 20 March 11 am book here
Closing ritual with Susie Pratt 3 April 11 am book here
Adult Art Classes
Gallery Lane Cove provides the whole community with opportunities to attend art workshops and term classes in printmaking (including screen printing), sewing, jewellery making, knitting, life drawing, painting and pottery.  ITC is especially excited about going to pottery/ceramic classes (ITC became obsessed with pottery after watching the Great British Pottery Throwdown – like MasterChef for potters).
If you would like to know the courses coming up and be notified when there is a new course Email Gallery Lane Cove and put 2021 Workshops in the subject line.  They will then get back to you and let you know what is coming up.  More details here.
Contact Details
Address:  164 Longueville Road NSW (opposite the Library)
Phone: 9428 4898
Website: www.gallerylanecove.com.au
Email:  [email protected]
Facebook: @gallerylanecove
Help In the Cove Grow
In the Cove wants to employ local people, we want to bring even more news to you, and we need your help. Become an In The Cove member, and we have a little gift for you (our very own reusable masks sourced from a Lane Cove business). To find out how to help here and how to get your reusable mask, hurry as stocks are limited. 
Local News At Your Fingertips
In the Cove is run by locals. It is the only online hyperlocal news and media business based in Lane Cove.  We provide local free news – we do not have a paywall and will never have a paywall.