Last year, ITC met with members of the Lane Cove Sustainability Action Group to discuss how we could support some of their programmes.  The Lane Cove Sustainability Action Group (LCSAG) are a committed group of volunteers who have been at the forefront of sustainability for years.
One of the programmes that LCSAG supports is the REDcycle soft plastic recycling programme.  LCSAG would love you to buy plastic wrap free products, but they recognise that this is not always an option.  So they work hard to promote soft plastic recycling in Lane Cove.
Sometimes it can be hard to work out which plastics are "soft" and can be recycled via REDcycle and which products are "hard" plastics which need to be recycled via the Lane Cove Council yellow lidded bin.  In fact, soft plastics are not permitted to be included in the Lane Cove Council yellow lidded bin.
Lane Cove Council guidelines for plastic in the yellow lidded bin are:
"Plastic drink and milk bottles and lids, berry and tomato type punnets, margarine containers, coffee cup lids, hard plastic biscuit and cake trays, empty plastic containers (liquid soap, shampoo and conditioner containers), empty plastic medicine bottles, and empty washing detergent bottles.
Council does not accept plastic bags or other soft plastics that are scrunchable. These include chip wrappers, plastic bread bags and plastic biscuit packets."
Food and Grocery manufacturers have recently launched a new campaign encouraging Australians to check the Australasian Recycling Label (ARL) when disposing of packaging. Always following the ARL ensures packaging is disposed of correctly and can be recovered for future use in new products.
So How Do You Check it Before You Chuck It?
There are three different images (sometimes you will see one or all three on a label – if the packaging has components):
If you see the middle image, this means you can drop the packaging off at bins located at either Woolworths Lane Cove or Coles Lane Cove.
An example of packaging with component parts is below.
Find Out More – An Extra Way to Recycle
Find out how easy it is to recycle your soft plastics with this free online presentation featuring Rebecca Gleghorn from REDcycle. Discover how REDcycle soft plastics recycling works, what their program achieves and have all of your soft plastics recycling questions answered. You'll gain a deeper understanding of how soft plastics recycling works so you can recycle with confidence.
Woolworths Lane Cove REDcycle Bin
The bin is located near the escalators that allow access from Lane Cove Market Square Car Park on the Lane Cove Woolworths level.
Coles Lane Cove REDcycle Bin
The Coles REDcycle bin is located near the exit at Coles Lane Cove.
What Happens to Recycled Soft Plastic?
REDcyle works with Australian manufacturers to reuse the plastic.  Below are three examples of their partnership with Australian manufacturers.
Since 2010, RED Group has collaborated with Victorian manufacturer, Replas – www.replas.com.au – who produce a range of over 200 recycled plastic products such as benches, decking, and signage using the recovered REDcycle plastic as a resource. As part of their partnership with REDcycle, both Coles and Woolworths have committed purchasing Replas recycled plastic customer benches for stores, resulting in the manufacture of over one thousand units since the REDcycle Program launched. Replas' client base includes councils, parks and gardens, universities, sporting venues, and other municipal facilities. The Replas primary processing facility is located in Ballarat with a showroom and fabrication plant in Carrum Downs, Victoria.
In 2018, RED Group partnered with Close the Loop, enabling processed REDcycle plastic to be blended with waste printer toner to create a high-grade asphalt additive, TonerPlas – https://www.closetheloop.com.au/tonerplas/. Close the Loop is based in Somerton, Victoria with international facilities in both the US and Belgium.  Downer Group, a major roads infrastructure provider, mixes the TonerPlas product with recycled glass to produce the final product, Reconophalt. The first road containing Reconophalt was laid in the Victorian suburb of Cragieburn in May 2018. Every 1 km of road paved with Reconophalt uses approximately: 530,000 plastic shopping bag equivalents; 168,000 glass bottle equivalents; Waste toner from 12,500 printer cartridges; 20% reclaimed asphalt pavement (RAP)
In 2019, RED Group also partnered with Plastic Forests who use the REDcycle plastic as a component of their new Mini Wheel Stops (https://plasticforests.com.au/product/mini-wheel-stops/), I beams for transport, garden edging, and cable covers. Plastic Forests is the first REDcycle manufacturing partner to launch recycled products available to the consumer market, such as the Mini Wheel Stop and mounting blocks for home air conditioners. Plastics Forests processing facility is based in Albury, NSW.
Many local councils and schools are now using Replas products in their landscaping. Miller Technology High School in New South Wales has installed recycled plastic Tree Guards for their new feature garden, designed to be sustainable and environmentally friendly (see below)
Check out the catchy tune for the Check It Before You Chuck it campaign below.
Find Out More About Recycling on ITC's Website
A to Z of Recycling in Lane Cove – click here.

Community Recycling Centre (E-waste and other hard to get rid of items like paint and oil) – click here.
Lane Cove Return and Earn – encourage your kids to collect bottles and can then take them to the earn and return depot in Lane Cove Business Park.  They can watch the machine sort out the bottles and count out the money the kids can make on returning bottles and can. – click here
Are You Looking to Buy or Sell in Lane Cove?
In The Cove is now producing a weekly Lane Cove Property Update. See our latest update here. 
If you are selling, ask your agent if they are an ITC Lane Cove Property Guide supporter.

In the Cove is on Instagram
If you would like to follow ITC's travels throughout Lane Cove and see some beautiful pictures of where we live, follow ITC on Instagram
 here.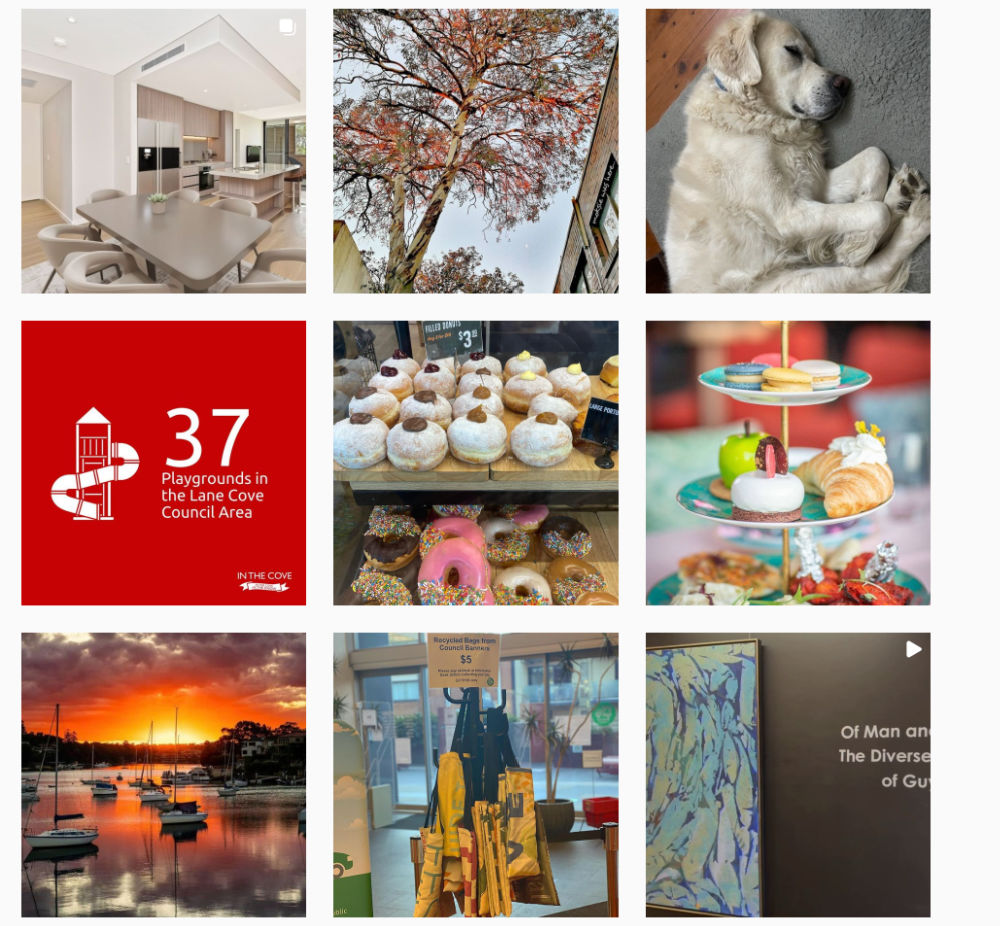 In the Cove Weekly News Blast
Have you ever heard people talking about a hot Lane Cove issue and wondered how they knew about it?  More than likely, they get our newsletter every Wednesday Night at 7.30 pm, and it has all the info that was on any of our social media platforms and more – so sign up now and never have FOMO (fear of missing out). SIGN UP HERE