Welcome to our Week in Review.  The weather this weekend, was stunning and ITC follower and local Mark Massingham is the photographer behind our cover photo of Burns Bay Reserve.
Portrait of Local Living Legend Artist Guy Warren Wins the Archibald Prize
Congratulations to Artist Melbourne-based artist Peter Wegner has won the 2021 Archibald Prize and $100,000 for his portrait of Lane Cove Living Legend artist Guy Warren AM, titled Portrait of Guy Warren at 100. Read more about the winning painting and Guy Warren here.
In May 2021, Gallery Lane Cove + Creative Studios presented a successful major centenary survey exhibition of Guy Warren's artworks, spanning his creative arc as a painter from the 1940s to his self-proclaimed time of great productivity 2020. The exhibition was initiated and curated by Gallery Lane Cove + Creative Studios.
NSW Fire and Rescue in Lane Cove
On Friday this week, Lane Cove kept our local fire crew busy.
Mid-afternoon on Friday (4th June 2021), Elizabeth Parade Lane Cove was closed. NSW Fire and Rescue Media advised a Nitrogen Gas bottle dropped off the back of a truck (we kid you not).  When it hit the road, it cracked and started leaking.  Fire and Rescue left the bottle to empty on its own and monitored the situation.
As a few ITC followers noted, nitrogen is an inert gas and is generally not combustible. However, one of the special circumstances in which nitrogen can combust occurs during a thunderstorm. Lightning causes some nitrogen to react with oxygen to form nitric oxide.
Residents were not evacuated.
At around 3.20 pm on the same day, Lane Cove Market Square was evacuated due to a fire alarm.  This used to be a very regular occurrence.
ITC followers were querying why so many shops and the Library were evacuated. The library is technically part of the Lane Cove Market Square complex and must be evacuated simultaneously with the shops.
It was a false alarm. However, the fire crew did spend some time in Austin Street checking water pressure and fire hydrants before giving the go-ahead for people to return to the shops.
Update on Traffic Lights Construction Burns Bay Road and Tambourine Bay Road Lane Cove
On Lane Cove Chat by ITC, several residents have queried why it is taken so long to construct the new traffic lights at this intersection.  The current delay is due to underground telecommunications and electricity supply upgrades required for the works.  There have been a few incidents of road rage at this intersection with some drivers (who may not use this intersection regularly) not understanding that the roundabout road rules still apply.
Business Alerts
SP Phones
We have had quite a few ITC followers ask us about the vacant premises at Lane Cove Market Square – where AL the Barber was located.
SP Phones (currently in a shop in The Village Shopping Mall near NiBu Cafe) are moving to Lane Cove Market Square.
Birdwood Lane Cellars
The Little Red Robin team has developed Birdwood Lane Cellars, so if you love their restaurant wine list, you'll love this collection!  The store is located at 4/79-83 Longueville Rd, Lane Cove 'Rosenthal Arcade' with entry best via Birdwood Lane (opposite MBE). More info to come re wine tastings and events!  The store is open Wed to Sat from 11 am.  The team want you to discover a range of unique wines from around the world, offering unusual winemaking styles and different varietals that will take you on a true wine journey. Good wine does not have to be expensive, and there is something to suit all budgets; come and find a bottle just perfect for you or to gift someone special.  Little Red Robin Restaurant is currently closed while they refurbish and re-open as a Modern Italian Dining Experience.

Local Sport
It is rep squad time for local rugby players and well done to the following:
Xavier Johnson and Ted Forsey made the Gordon Junior Rugby Under 10 rep squad.
Saxon Parker, Ryan Leckie and Aaron Donohoe have been selected in the Under 11 Gordon Junior Rugby rep squad. If you visit Porters Liquor Northwood you will see that Ryan Leckie has a doppelganger.
Hugh McGrath, Archie Ferguson, Tom Green and Oscar Tremlett made the Under 13 Gordon Junior rep squad.   Oscar is the grandson of Ron Graham AM.  In 2018 Ron received the very special Joe French Award for his service to Rugby. Ron is the father of Sally Tremlett who is LCJR Club's first female president.
If you're involved in local sport and would like to tell ITC about one of your players, coaches or volunteers, please email [email protected] with their story.
Fireworks
On Saturday night, many residents heard fireworks coming from the Botanic Gardens; this is usually when ITC is inundated with missing dog (and sometimes cat) reports.  Firework season is coming up.  There will be fireworks at Darling Harbour on 10 – 13 June and 17 – 19 June at 7.30 and 9.00 pm.  Make sure your pets are secure during these times.
Vandalism
A bus shelter on Burns Bay Road was vandalised on Saturday, 5th June 2021.  The shelter was one of the shelters installed over the last year in Lane Cove.
July School Holiday Activities
School Holidays are fast approaching, and ITC has just released our school holiday activity guide.  There is something for everyone with writing workshops, sports camps, dance camps, drama camps, art and craft workshops and more.   Read more here.
Crime/Incident/Accident Report
Luxury Car Warning
There have been quite a few luxury cars and 4WD stolen around the North Shore lately (including the Lane Cove Council Area). Make sure your keys are hard to find. The North Shore Police Command Police advised ITC of the following incident in Cammeray.
"A Mitsubishi was stolen from Churchill Crescent on Thursday night. The owner parked the vehicle on the street on Thursday night and noticed it was missing on Friday morning. A Volkswagen, owned by the same person parked nearby, was found with the door ajar. A spare key to the Mitsubishi was stolen from the Volkswagen."
Car Stopped in Middle of Road Mowbray Road Lane Cove – Saturday 5th June 2021
Both NSW Police Media and NSW Ambulance have confirmed an incident on Mowbray Road near Lynvale Close.
A car was stopped in the middle of the road.   Another driver stopped behind the car to see if the occupants needed assistance.  The passenger and driver appeared to be under the influence of drugs.  Both police and ambulance were called.  One of the passengers was taken to Royal North Shore Hospital in a stable condition.
Police Charge Driver After Road Side Breath Test
Police were patrolling on River Road West on Friday evening when they observed a Holden Astra accelerate quickly and fail to stay within its lane. Police stopped the vehicle, and the driver was arrested after producing a positive roadside breath test. The driver, a 41-year-old Longueville man, was taken to Chatswood Police Station, where a breath analysis produced a result of 0.099. He was charged with mid-range Prescribed Concentration of Alcohol and is due to face Hornsby Court in July.
Three teens arrested after crash; officer assaulted – Crows Nest
Three teenagers have been arrested after a multi-vehicle crash – and the alleged assault of an officer – on Sydney's north shore overnight. Before 12.20 am today (Saturday 5 June 2021), police observed a blue 2015 Mazda CX-5 station wagon make an illegal turn from Willoughby Road onto the Pacific Highway at Crows Nest.
Officers attached to North Shore Police Area Command activated warning lights intending to speak with the driver. The Mazda then allegedly veered sharply across two lanes, colliding with a taxi, before crashing into two parked cars. All vehicles sustained significant damage.
The taxi driver was not injured.
Three people exited the Mazda and were spoken to by police. The driver, a 16-year-old boy, allegedly assaulted an officer by punching him in the head and headbutting him before being arrested.
The officer, a senior constable, sustained minor facial injuries during the assault.
Two girls, both aged 17, were also arrested at the scene. Further inquiries revealed the Mazda had been reported stolen yesterday (Friday 4 June 2021) from a Lindfield address.
All three young people were taken to Chatswood Police Station.
The boy was charged with two counts of assault police officer in the execution of duty, take and drive conveyance without consent of the owner, unlicensed for Class, Class C, R, LR or MR – first offence, and disobey no right turn sign-motor vehicle.
He was refused bail and appeared at Parramatta Children's Court tomorrow on Sunday 6 June 2021.
A 17-year-old girl was charged with being carried in conveyance, taken without consent of the owner, and a breach of bail conditions. She was refused bail and will appear tomorrow at Parramatta Children's Court.
Another 17-year-old girl was charged with being carried in conveyance taken without the consent of the owner. She was given conditional bail and will appear at Surry Hills Children's Court on Tuesday, 13 July 2021.
Seafood Chowder Time
This week in review is sponsored by Garcon Lane Cove.  They are located in The Canopy.  ITC tried out the french inspired Seafood Chowder this week and it is very tasty.  Cold weather is soup time and this hit the spot.
Are You Looking to Buy or Sell in Lane Cove?
In The Cove is now producing a weekly Lane Cove Property Update. See our latest update here. 
If you are selling, ask your agent if they are an ITC Lane Cove Property Guide supporter.

In the Cove is on Instagram
If you would like to follow ITC's travels throughout Lane Cove and see some beautiful pictures of where we live, follow ITC on Instagram
 here.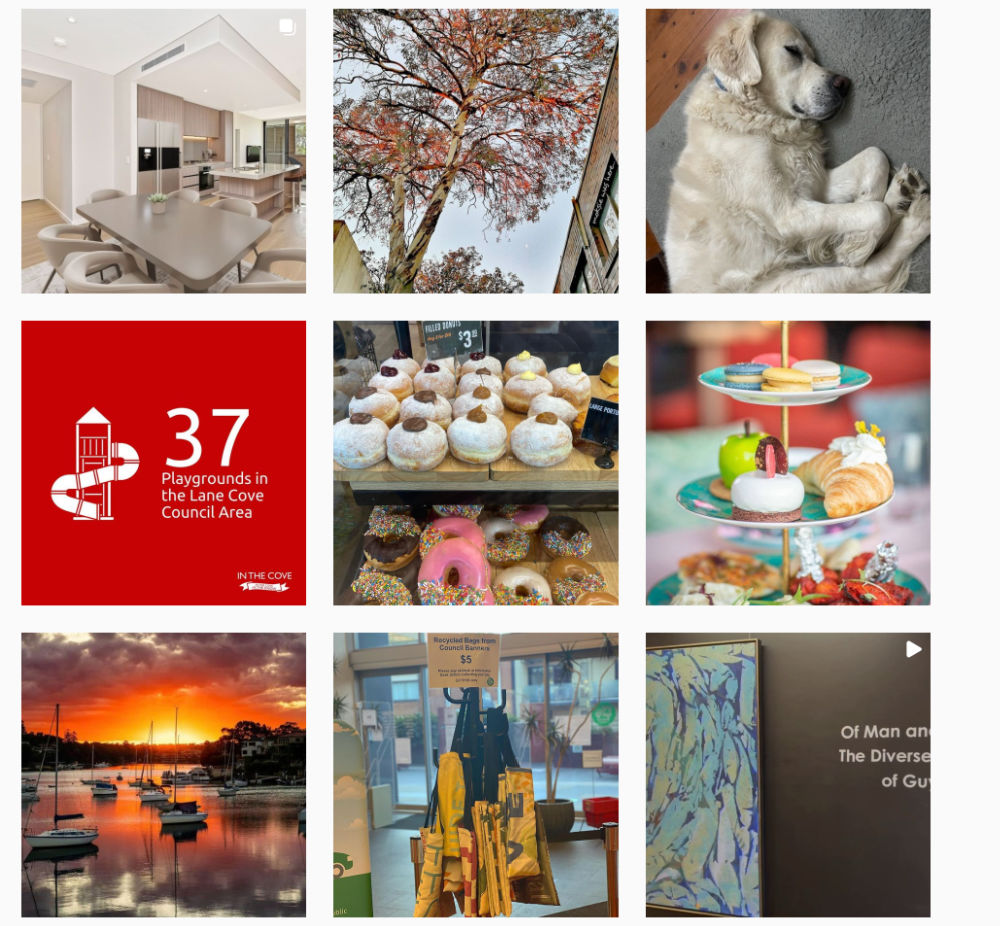 In the Cove Weekly News Blast
Have you ever heard people talking about a hot Lane Cove issue and wondered how they knew about it?  More than likely, they get our newsletter every Wednesday Night at 7.30 pm, and it has all the info that was on any of our social media platforms and more – so sign up now and never have FOMO (fear of missing out). SIGN UP HERE