The Lane Cove Council has lodged a development application (DA 64/2021) for the new Lane Cove Sports and Recreational Facility at the Lane Cove Golf Course.  It will be a two-level multi-sports facility (with a partial third level mezzanine) and will cost nearly $52 Million to build.
All existing structures will be demolished (such as the clubhouse, pro shop, greenkeepers cottage, River Road Tennis Centre and courts).   At this stage, the Lane Cove Golf Course will remain (with the first hole being reduced) while further community consultation is undertaken (see below for more details).
Where is the Lane Cove Golf Course?
The Lane Cove Golf Course is at 180 River Road.  The course is open to members of the public to play and is also home to the Lane Cove Golf Club.  You do not need to be a member of the club to play on the course, but the advantage of membership is that you can qualify for a handicap.
Multi-Sports Building – What's Included?
The building will be 6 800 sqm with a maximum height of 16m (RL44.8) and will include:
4 020 sqm of indoor multi-sports halls (5 courts located in two halls);
249 sqm Bistro (including additional 115 sqm for outdoor seating);
774.9 sqm of multipurpose space shared between 6 rooms;
108 sqm of function space and 58 sqm meeting rooms; and
479 sqm of centre amenities, staff facilities and administration.
Level 1 includes two multi-purpose rooms to provide an opportunity for uses such as a gym and minor retail.
There will also be an arrivals plaza (aka a forecourt).
Outdoor Multi Sports Courts
There will be four outdoor multi-sports courts (3 158 sqm).
Landscaping
There will be extensive landscaping associated with the site and the removal of 84 trees. The Statement of Environment Effects notes that there will be tree planting to replace trees.
Will There Be Car Parking?
The Lower Ground floor of the building will have car parking spaces for 233 parking spaces, 6 accessible parking spaces, 12 bicycle parking spaces and 17 motorbike parking spaces.
The Statement of Environment Effects mentions that bulk excavation will be undertaken to construct the lower ground carpark.
How Will Visitors Access the Carpark?
The entrance to the carpark will be via Stevenson Street.
In April 2021, Lane Cove Council noted on their website:
"TfNSW has given its approval for the proposed roundabout on River Road/Northwood Road. This project will address long term safety issues at this intersection. Funding has been included in the 2021/22 Draft Budget to construct the roundabout and acquire the property at 194 River Road, which will include the realignment of the former Stephenson Street access road; refer below. These negotiations are close to finalisation and will allow the project to proceed in the early part of 2022. The new Stevenson Street will include existing connections and or new connections to the sport and recreation facility should this project proceed to construction; the new Road will be delivered in stages and extended down to the new public car park."
The Northwood Road/River Road intersection is a traffic blackspot.  Local residents have expressed concern over the roundabout construction as they are not convinced the roundabout will result in fewer accidents.
Has a Traffic Impact Study Been Undertaken?
Lane Cove Golf Course is situated on River Road.  In 2017 a detailed traffic survey was undertaken, and over 20 000 vehicles a day (7 days a week) use this road.
The traffic survey was performed on 9 April 2020. The report does seek to include a discussion of COVID-19 adjustments using the 2017 traffic figures.
Lane Cove Council commissioned a traffic impact assessment statement.  The report concluded:
"Detailed parking demands have been calculated based on operational forecasts provided by the Lane Cove Council and compared for reference against the most appropriate DCP category for each land use.
Overall parking demands on this basis are calculated at the demand of 103 spaces during typical weekdays, 224 spaces during weekend peak periods, and 245 spaces during special events.
The proposed provision of 233 spaces (including 6 accessible parking spaces) would provide full weekday usage and provide some buffer for weekend peak periods, thereby allowing for some changeover period.
During special events, the minor overflow of formal parking demand could be accommodated with temporary managed parking within the loading dock area. Transport operations during special events would be fully managed.
The trip generation has been calculated based on the overall parking demand and the potential movements of this capacity within a peak period.
The maximum trip generation of the site is estimated at a total of 280 trips, comprising 180 arrivals and 100 departures during a peak hour period, representing approximately 118% of the car park capacity moving within the peak hour period.
Modelling has been undertaken for the future roundabout intersection at Northwood Road and River Road, which is being provided by Council outside this DA. This modelling demonstrates satisfactory performance under background growth conditions both with and without the addition of development traffic.
Modelling of a two-lane roundabout on Northwood Road and River Road intersection demonstrates acceptable performance in 2020 and through to at least 2031."
This Traffic Assessment Report is based on using the land as a multi-sports facility and golf course.  It does not consider any other traffic generated if the golf course land was to be used for another purpose.
What Will be the Operating Hours?
The following hours of operation are proposed:
Tennis use/Outdoor Multi-courts: − Monday to Friday: 6 am to 10 pm − Saturday and Sunday: 6 am to 5 pm
Restaurant and Café – Liquor License 7 days a week: 10 am, and 12 am
Café offering within Restaurant: Thursday to Friday: 12 pm to 3 pm o – Saturday and Sunday: 10 am to 4 pm
Multipurpose sports hall − General operating 7 days a week: 6 am to 10 pm
Function rooms 7 days a week: 6 am to 12 am
How Many Staff and Visitors are Expected?
260 visitors (daily) weekdays
650 on weekends (80% occupancy rate)
Staff numbers are proposed at:
Facility: 5
Bistro/ Restaurant: 4
Groundskeeping: 4
Security: 1
The operating hours and staff/visitor information above was included in the Statement of Environmental Effects.  However, this information does not include staff and visitors numbers if the facility included a gym and a retail offering.  It does not consider any other traffic that may be generated if the golf course land was to be used for another purpose.
How Do I View the Plans?
If you are interested in reviewing DA 64/2021 and the associated plans and documents – click here.
You can view a 3D model of the Sports and Recreational Facility here.
How Do I Comment on the Plans?
The Sydney North Planning Panel will assess the Development Application.  The Public can comment on the plans by submitting your comments in writing and emailing them to [email protected] by 30 June 2021.  You must quote DA 64/2021 when submitting your comments.
What's Happening to the Lane Cove Golf Course?
In July/August 2020, the Lane Cove Council asked for feedback on both a new multi-sports facility and changes to the golf course layout.
Regarding the golf course layout, there were two options:
Leave the course layout basically as it is with only minimal changes to the first hole to accommodate the multi-sport indoor and outdoor courts; or
Amend the course layout to include a putt-putt golf area and a driving range.
Feedback was obtained via an online survey, a phone survey and submissions.  Issues raised via submissions included – light and noise pollution; traffic; flora and fauna; impact on tennis capacity, wrong location; and economic feasibility (including funding of the proposed redevelopment).
A Lane Cove Council briefing paper prepared for the November 2020 council meeting stated:
"The multi-sport facility has considerable community support and will make a significant contribution to diversifying the sport offering in our LGA. As it is not interdependent with the future of the golf course space, further work on the multi-court indoor facility can progress. There is clearly a lack of support from the existing golf club for the solution that has been proposed to make golf sustainable at the site despite it being supported by Golf NSW. At the same time, a new option has been proposed through the consultation process to explore alternative uses of the space for parklands.
This consultation has occurred at the start of the process, and therefore there is no urgency to determine a solution at this time. There is an opportunity for further community consultation to identify if there are further options/components to options and provide further information on all options before ultimately determining the broader community's preference for the future use of what is the largest piece of open space in the Local Government Area."
The Community Panel
Further consultation has taken the form of a  'deliberative democracy' process.  Residents were randomly selected to put their hand up to be part of a community panel.  The Community Panel has been asked to discuss "What is the best use of the outdoor areas on the site to meet our community needs now and in the future?".  They will then produce a report with the panel's recommendations for discussion at a Lane Cove Council meeting.
The Lane Cove Council may seek to implement all recommendations, some of the recommendations, or none of the recommendations.
The Community Panel has met twice, starting with a golf course tour and face-to-face meet/greet session and, more recently, an online session. At the end of the session, the group identified additional information they needed.
Watch the video below to find out what some community panel members are saying about the process.
The Panel will next meet on 15 June 2021. The Public is permitted to observe the majority of the panel sessions. To register your expression of interest in observing any of the sessions, register online here.
Lane Cove Golf Club Members
Lane Cove Club Members want the course to remain as is. According to Golf Australia, as a result of COVID19, golf has seen a resurgence – read more here.  This report corresponds with the increased social golfing noticed by the Lane Cove Golf Club members.
A petition signed by 500 people, including Lane Cove Golf Club Members, neighbours, and residents who walk around the golf course for exercise, was presented to the NSW Parliament on 14 December 2020 requesting the Minister for Planning and Public Spaces to oppose the redevelopment of the Lane Cove Golf Course.  Minister Stokes declined to get involved saying it was a local matter.  You can read the petition and Minister Stokes' response here.
Dermot Duncan is the Lane Cove Golf Club, president and he told ITC that they are continuing to work with the Lane Cove Council to discuss keeping the golf course as it is.    He noted that the course is very popular for walking, jogging and families with dogs.
They are also keen to discuss how members of the public can interact even more with the course. The Lane Cove Public School has used the golf course to hold Fairway Flicks and will hold more events later this year; this is a great example of how the course can be used.
How many people currently use the Golf Course?
This is a hard question to answer.
Lane Cove Golf Course neighbours have told ITC that they regularly see members of the public hop on the golf course and start playing golf or practising golf from the back tees.  So usage is hard to quantify.
According to Golf Australia, as a result of COVID19, golf has seen a resurgence – read more here.
The Golf Course is also a popular place for walking.
Lane Cove Residents' Discussion Group
Adrienne Cahalan OAM is a Lane Cove mum and a highly accomplished sailor.  She is also a meteorologist.  She will be hosting a resident's discussion group in the Lane Cove Plaza village green at midday on 19th June 2021.  She is concerned about the destruction of pristine bushland and the future of the golf course parklands.  If you would like to join the discussion, Adrienne welcomes you to come along and talk about the future of the golf course.  Adrienne is not a member of the Lane Cove Golf Club; she pays for her golf rounds via the pro shop and is purely a social golfer.  You can read more about Adrienne and her sporting achievements here.
Adrienne was at the Lane Cove Golf Course last Sunday and took the pictures below.
History of the Lane Cove Golf Club
In the late '50s and '60s, a Lane Cove Golf Course Committee requested the Council to rezone the river road land (part of it was being used as a rubbish dump and an illegal panel beater), thereby preserving green space for future generations.  This also stopped housing developments on the land.  You can read more about the history of the Lane Cove Golf Club here.
Disclosure:  The Lane Cove Golf Club is an ITC Business Member Supporter, and ITC  has held a fundraising Australia's Biggest Morning Tea at the club and attended club functions.
Are You Looking to Buy or Sell in Lane Cove?
In The Cove is now producing a weekly Lane Cove Property Update. See our latest update here. 
If you are selling, ask your agent if they are an ITC Lane Cove Property Guide supporter.

In the Cove is on Instagram
If you would like to follow ITC's travels throughout Lane Cove and see some beautiful pictures of where we live, follow ITC on Instagram
 here.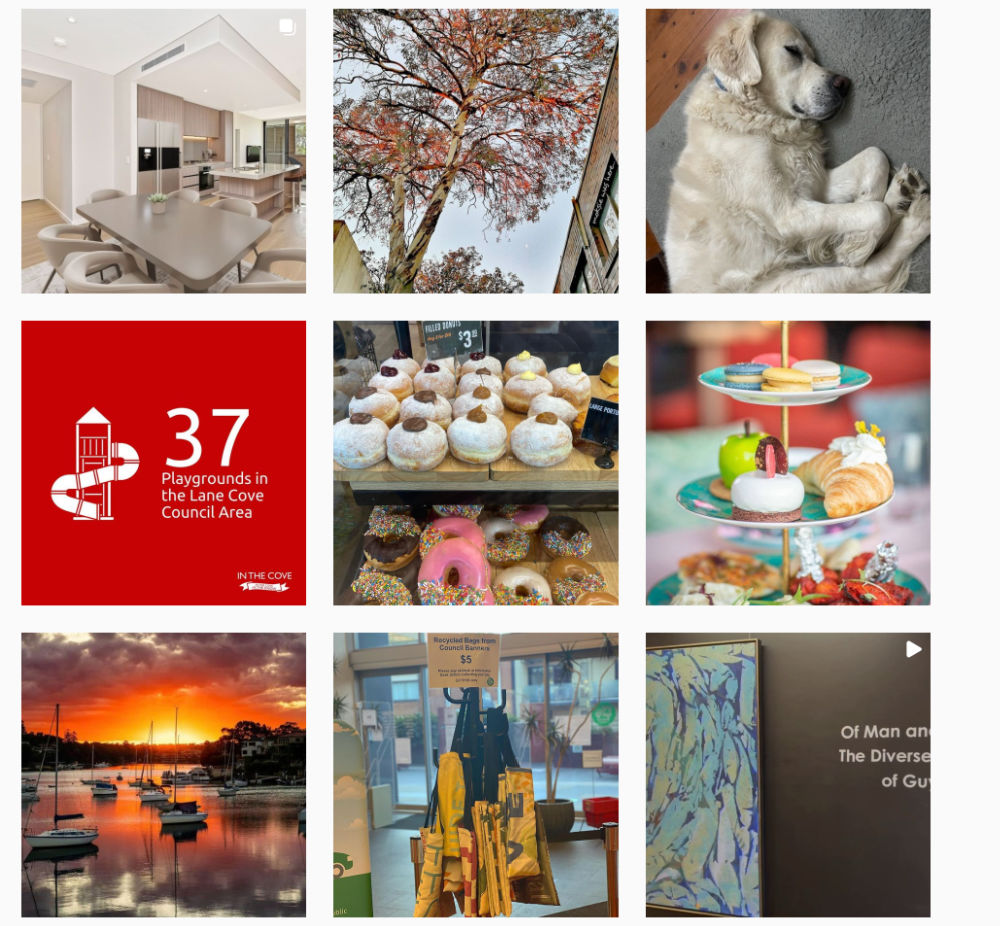 In the Cove Weekly News Blast
Have you ever heard people talking about a hot Lane Cove issue and wondered how they knew about it?  More than likely, they get our newsletter every Wednesday Night at 7.30 pm, and it has all the info that was on any of our social media platforms and more – so sign up now and never have FOMO (fear of missing out). SIGN UP HERE