We have found another online entrepreneur who has created a share economy app that will assist with Collaborative Consumption. In the Cove's likes to help promote Lane Cove businesses/initiatives of all types. That includes bricks and mortar businesses and online businesses run by Lane Cove locals or apps created by Lane Cove locals.
Lane Cove Local Martin Mambraku has created a share economy app called Hoo-haz.
We asked Martin to tell us all about the app.
What is Hoo-Haz?
Hoo-haz is a share economy app that allows you to search for any household item you may need to use for a short period of time without the need to spend unnecessary funds purchasing it.
I like to use the example of a ladder. Most households own a ladder because it is the sort of item you need once in a while but then predominantly sits in the garage, gathering dust.
By typing "ladder" into the search field in the Hoo-haz app and setting your desired search radius from your current location, Hoo-haz then identifies all the households (we refer to these users as "the Hazzers") in your neighbourhood/community who have a ladder for rent.
This becomes a far more cost-effective way to obtain a ladder by renting it from someone who already owns one instead of purchasing a ladder outright or renting from an expensive hire company. We call this "Collaborative Consumption", which by definition is the  "economic arrangement whereby individuals mutualise the access to products rather than having individual ownership".
What we love about Hoo-haz is that by encouraging collaborative consumption of consumer household goods it will have a direct impact on manufacturing by reducing demand and, therefore, a positive impact on our environment.
Just as exciting is the flip side of this transaction. The Hoo-haz platform allows anyone to create an ongoing revenue stream from all the items gathering dust in their house, garage, storage unit etc.
Unlike eBay, where you may sell your under-utilised ladder once, with Hoohaz, you (the Hazzer) can generate an ongoing cash flow from constantly renting out your ladder to others who may not have the financial means or storage space to own a ladder. In this covid period of economic uncertainty, Hoo-haz is a ready-made, plug and play business platform for student, retirees, parents, teenagers, homemakers, anyone for that matter to start earning extra cash from the items they already own.
What Gave You the Idea for the App?
True story… I dreamt of the idea back in December 2016. I woke up, said to my wife Brit, "I have a brilliant business idea! I need to write this down straight away before I forget it." At the time, I was working for Parramatta Council. I saw a presentation about how neighbourhoods in Sweden connect their power requirements together and then share the power bill, so maybe this is where I got the subconscious inspiration.
How Long Did it Take to Develop?
We started in 2016 and finally released the app onto the Appstore and Google Playstore in early 2021 – so four years.
I did have a break for 12 months in 2017, but after reading Richard Branson's books, Losing My Virginity and Finding My Virginity, I was inspired to push through and get it done.
After many months of wireframes and screen designs, one failed attempt to pay an overseas developer to build the app and then finally bite the bullet and engage a local Surry Hills developer, Rocketlab, we finally got there. Like all entrepreneurs, I already have a long list of upgrades to implement once we raise the required funds.
What were the Stumbling Blocks?
While I had developed and sold another website called www.propertyhq.com.au back in 2012, the main stumbling block was having no real idea about developing an app or having any technical skills in coding or computer science.
We made the mistake of doing it "on-the-cheap" and engaging an overseas developer, which resulted in getting an app built but based on a ten-year-old coding language that no one uses, had constant bugs and was not scalable.
I should have decided to use react native (Facebook open source) to build the app the first time but went the other way. We paid dearly by engaging a local developer to build Hoo-haz properly from scratch a second time. Also, due to this delay in time, app design and user experience had changed, so I had to go through the UX/UI process and completely re-design the screen again.
What's the Response to Hoo-Has Been?
Slowly – probably best describes it. Largely due to having no real budget to do any marketing because we have spent all our money on development.
After four years of development, we were so pumped. Then realized that marketing Hoo-haz and getting it out there is even harder.
I liken Hoo-haz to UBER. It took me two years to use UBER as "there was no way I was getting into a stranger's car". Now I can't live without it.
Similarly with Hoo-haz, getting people used to the concept that they can rent out any item in their household and start making recurring income from the items they own or renting that item they need for an hour from their neighbour rather than buying it is also a new concept and takes time to get used to.
How Long Have You Lived in Lane Cove?
We first bought our house in Garling St in December 2002.
Our kids went to Lane Cove West, and life was rosy until we lost our house and everything due to the GFC in 2010.
Our family was in property development and construction at the time. After that experience and at the age of 40, I decided that the next time I have a business, it needs to have the following attributes:
Require minimal capital;
Require less staff and admin as a percentage of revenue;
It does not require me to commute to an office every day; and
It makes a positive impact on the environment and builds community.
Hoo-haz ticked all the boxes.
We haven't been able to afford to buy back in Lane Cove yet, but we are delighted to say we moved back to Lane Cove North in April so our three other sons can attend Mowbray Public School next year.
What's Your Favourite Lane Cove Thing To Do?
My favourite thing is by far to take the kids to the Canopy on a sunny Sunday arvo and let them run loose in the sandpit while my wife and I enjoy sitting in the warm sunshine drinking a coffee or vino. This activity is closely followed by taking the dog and the kids down to Blackman Park at around 5 pm during the week so the dog can have a run and the boys and zoom around on their bikes.
What's Your Favourite Coffee Place?
"Story", hands down.
Thanks, Martin.
If you have some items you can lend out to your neighbours; you might want to download the app.
Get Appy Here (boom boom)
Google Play Hoo-Haz
Apple App Store Hoo Haz
Connect Here
Website: hoo-haz.com
Instagram: @hoohazhq
Facebook: @HERALD2015
Email: [email protected]
Give them some Lane Cove love and download the app or follow them on Insta or FB.
If you love this idea but are downsizing or have no space in your garage or apartment, why not donate an item to The Sydney Library of Things?  This is a library where members can borrow everyday household items.  Hoo-Haz and The Sydney Library of Things are part of the circular economy.
If you like the circular economy, you might want to look at Bec & Bel – they are located in Lane Cove, and you can sell on consignment designer and vintage items or grab some lovely clothes.  They have just started Bec & Bel kids.  More details here.
Are You Looking to Buy or Sell in Lane Cove?
In The Cove is now producing a weekly Lane Cove Property Update. See our latest update here. 
If you are selling, ask your agent if they are an ITC Lane Cove Property Guide supporter.

In the Cove is on Instagram
If you would like to follow ITC's travels throughout Lane Cove and see some beautiful pictures of where we live, follow ITC on Instagram
 here.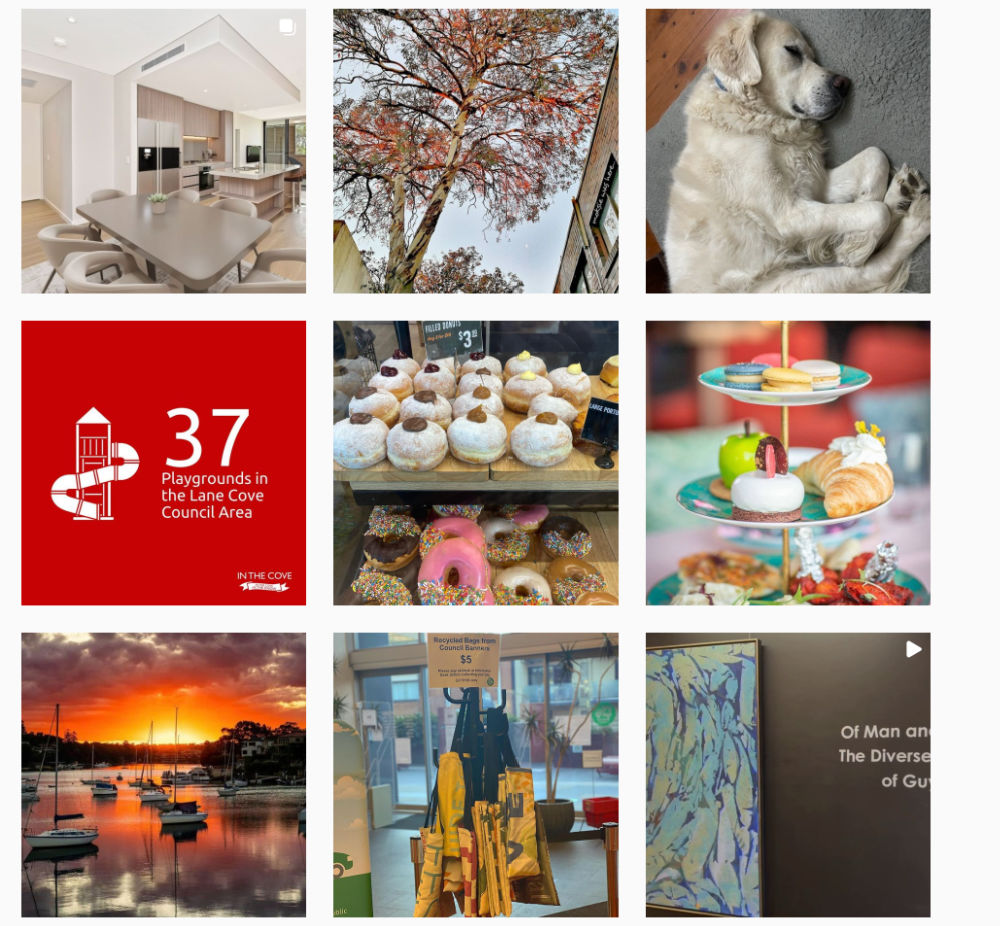 In the Cove Weekly News Blast
Have you ever heard people talking about a hot Lane Cove issue and wondered how they knew about it?  More than likely, they get our newsletter every Wednesday Night at 7.30 pm, and it has all the info that was on any of our social media platforms and more – so sign up now and never have FOMO (fear of missing out). SIGN UP HERE