On 30 May 2021 five new gardens were opened at 'Greysland'; Greyhound Rescue's Rehabilitation and Rehoming centre at Bargo, NSW.
The life of a Greyhound in the racing industry typically involves training, racing, and lots and lots of hours left on their own with little stimulus. When they arrive at Greysland they experience human kindness, often for the first time, and positive techniques to help them come out of their shell and prepare for adoption in their new forever home. It's important to have the Greyhound Rescue centre set up so that the dogs feel better both physically and mentally and that is why sensory gardens are important.
Unique Sensory Gardens
Lane Cove Local Nat Panzarino, Greyhound Rescue's President, explains: "These unique gardens are a major component in enabling Greyhound Rescue's staff and volunteers to rehabilitate hounds. The more that we can do to rehabilitate them, the more easily they can be rehomed."
Natalie says "More hounds rehomed means more hounds saved from euthanasia."
The gardens were opened in a ribbon-cutting ceremony by Michael and Kim McTeigue, the founders of SavourLife, who donated $50,000 to make the gardens possible – the biggest single grant the company has made. SavourLife is a family-owned Australian company that donates 50% of profits to pet rescue organisations.
The five purpose-designed gardens were created at Greysland by Longueville Local Tim Nichol from Great Southern Landscapes; three sensory gardens, one training garden and one 'Buddy Garden' named after Michael and Kim's rescue dog who was the inspiration behind the SavourLife brand.
The three Sensory Gardens – Splash, Explore, and Adventure – are designed to gently expose the hounds safely and slowly to new things while unlocking their problem solving and critical thinking skills, which have often not been activated in their previous lives.
Nat Panzarino says: "Building a Greyhound's confidence in themselves and in humans and human kindness is key to their success as a family pet.
These spaces are also used for desensitisation and counterconditioning with other dogs, as many Greyhounds have only been socialised with other greyhounds."
According to Kira Booth, Greyhound Rescue's Kennel Manager: "A study published last year revealed that dogs that are given more opportunity to forage and use their sense of smell become more optimistic and confident, directly improving their welfare.
These sensory gardens will provide greater 'nosework' opportunities for our kennel kids as well as opportunities for them to use and boost their other senses in a safe environment."
The Training Garden will further Greyhound Rescue's education programs and support the community and their dogs. Nat Panzarino explains: "At Greyhound Rescue we run GO! (Greyhound Obedience) classes to educate new adopters on how to work with their new dog using positive and force-free techniques.
Having recently launched the GO! courses in the uncertain times of a global pandemic, we have been impressed by the number of people wanting to attend and we now have an extensive waiting list of participants and a mountain of positive feedback from attendees."
The 'Buddy Garden' is a calm and wonderful space that sets the stage for a beautiful new relationship; this is where rescued Greyhounds are first introduced to their forever family and the beginning of their incredible new life.
 Create Your Own Sensory Garden
You can create a sensory garden at home for your dog and it does not matter if you have a small or big backyard.
Sensory gardens and trails for dogs can be created in a range of public and private settings such as:
Private gardens – back and front yards and apartment balconies
Street verges – along quiet streetscapes
Fenced dog parks – in a dog park or on the approach to a park
The RSPCA believes a sensory garden is a good way to keep a dog's mental health in check.
A sensory garden is one of the best ways to ensure your precious pup is getting all of the mental and physical stimulation they need to live a happy, healthy life.
RSPCA's Dog Care and Behaviour Team Leader, Sam Margrave, has shared her top tips on setting up a sensory garden in your own backyard – read more here.
As Sam highlights, "It's important to look at what recent research shows. Dogs need mental stimulation, it shouldn't just be about exercising your dog."
You know that something is a big thing when there is Pinterest board dedicated to it – see more here.
What is Greyhound Rescue and How Can You Help Them?
Greyhound Rescue relies on fundraising and donations to continue to rescue, rehabilitate, and rehome Greyhounds. The organisation is staffed predominantly by over 250 active volunteers who give their time regularly to care for the hounds at the Greyhound Rescue Centre.
Greyhound Rescue was founded in 2008 in the backyard of a private home. Over the years the organisation's activities have expanded, and it now rehomes around 300 Greyhounds each year. This is the largest independent Greyhound rehoming organisation in Australia and the only independent rehoming organisation in NSW to operate a kennel facility.
The kennels provide a safe environment that enables Greyhound Rescue to take hounds that other organisations reject, and who would otherwise be euthanised.
Greyhound Rescue Contact Information
Website: www.greyhoundrescue.com.au
Instagram: @greyhoundrescue
Facebook: @greyhoundrescuensw
Donate Here:  www.greyhoundrescue.com.au/how-to-help/#donate
Are You Looking to Buy or Sell in Lane Cove?
In The Cove is now producing a weekly Lane Cove Property Update. See our latest update here. 
If you are selling, ask your agent if they are an ITC Lane Cove Property Guide supporter.

In the Cove is on Instagram
If you would like to follow ITC's travels throughout Lane Cove and see some beautiful pictures of where we live, follow ITC on Instagram
 here.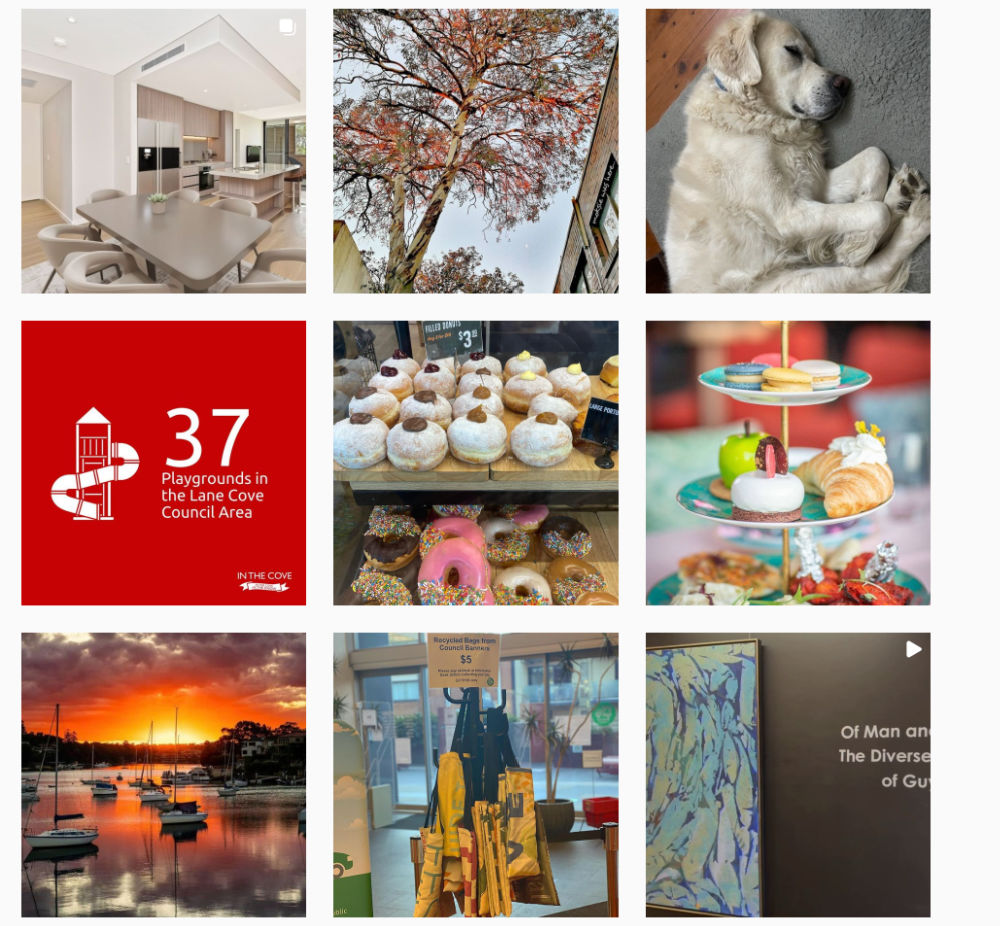 In the Cove Weekly News Blast
Have you ever heard people talking about a hot Lane Cove issue and wondered how they knew about it?  More than likely, they get our newsletter every Wednesday Night at 7.30 pm, and it has all the info that was on any of our social media platforms and more – so sign up now and never have FOMO (fear of missing out). SIGN UP HERE