Welcome to our week in review.   A wet ending to a week in which COVID19 positive cases visited sites in the North Sydney/Ryde/Macquarie Area, and masks became mandatory again on public transport again.
Our cover photo shows just how windy it has been with live wires coming down in William Edward Street Longueville.
COVID19 Update
This week NSW Health listed exposure sites near Lane Cove.  They include Macquarie Park, North Ryde, North Sydney and Drummoyne (Birkenhead Point).  There are also numerous exposure sites in the CBD.
NSW Health has upgraded advice for anyone who was in Westfield Bondi Junction (including the car park) on June 12 and June 13 2021. Now, anyone who was in that location at any stage on those days must get tested for COVID-19. Only people with symptoms and those in specific exposure venues are asked to test and isolate at the listed times.
If you have any symptoms, please get tested –  the closest and quickest testing turnaround centres near Lane Cove are here.
NSW Health's ongoing Sewage Surveillance Program has detected fragments of the virus that causes COVID-19 at the Camellia North and Camelia South pumping stations in Sydney's western suburbs.
These catchments serve about 109,600 people and covers suburbs including Camellia, Harris Park, Granville, South Granville, Mays Hill, Merrylands, Merrylands West, North Parramatta, Parramatta, South Wentworthville, Westmead, Guildford West, Sydney Olympic Park, Newington, Holroyd, Clyde, Auburn, Old Guildford, Guildford, Silverwater, Rosehill, and Rydalmere.
Further venues of concern are being identified as case investigations continue, and the list of venues is continuing to be updated. Please check the NSW Health website regularly and follow the relevant health advice if you have attended a venue of concern.
Revised Advice on AstraZeneca COVID-19 Vaccine from the Australian Government
Recommendations around the use of Pfizer and AstraZeneca COVID-19 vaccines for people aged under 60 years have changed.
Pfizer COVID-19 vaccine is the preferred vaccine for people aged 16 to under 60 years.
AstraZeneca COVID-19 vaccine can be used in adults aged over 60 years or for those under 60 years where the Pfizer COVID-19 vaccine is not available. If you are under 60 years, speak to your GP (doctor) to understand the risks and benefits.  Doctors
Australians over 50 will have access to a free doctor consultation to discuss getting vaccinated for COVID-19.
The new measure, announced by Federal Health Minister Greg Hunt on Friday, has been welcomed by general practitioners.
"To assist our GPs, to assist and support those who are coming forward for vaccinations, there will be a new Medicare item for over-50s to allow for a general practice consultation," Hunt said.
People of any age without contraindications who have had their first dose of the AstraZeneca COVID-19 vaccine without any serious adverse events should receive the second dose.
Car Linked to CBD Shooting Found in Northwood
A Black AUDI that police believe was used as a getaway car after a CBD shooting was dumped in Fleming Street Northwood and set alight.   A crime scene was set up as national media descended upon Northwood.  Read more here.
Lane Cove Business Alerts
PetO
PetO is coming to Lane Cove. They will be leasing the old Flannerys/About Life/Thomas Dux store. They will be located next to the new Lane Cove Central where Harris Farm Markets is going and right next door to Len Wallis Audio.
Wow, that end of the Lane Cove Village is really going to be reactivated.
Lane Cove Central
This week ITC was invited to the unveiling of artwork on the hoardings on the property that is now called Lane Cove Central (the old Coles building – 60 Burns Bay Road). Well done to the Lane Cove Council, who worked with the Sun Property Group and the Architect to develop some appropriate artwork for the hoardings. Tony Leung, who is the architect (and has lived in Lane Cove), drew a treasure map of Lane Cove Village and all the well-known buildings around Lane Cove. Nice to see something different on hoardings. The signs also reveal that Harris Farm Markets will be opening in late 2021.
Little Red Robin
A new modern Italian inspired dining experience will be Little Red Robin's new direction come Friday 25th June.
Modern Italian food, great service and fabulous wines will be what customers can enjoy when the doors reopen after a short break for menu development & refurbishment.
Alessandro Nelli, the owner of Little Red Robin, says the decision to move away from fine dining degustation to modern Italian doesn't mean we are going to drop the ball on our quality produce and service, we will be just as good as ever, but it means we are reaching out to a wider audience offering the world's most loved cuisine, with our modern touch and a more relaxed dining experience.
Alessandro grew up on a Tuscan vineyard and olive grove himself in the town of Montecarlo, near Lucca, so he gets the simplicity of Italian food and wine and knows the joy of eating around a table with loved ones and celebrating the good things in life.  And a fact many are not aware of, the name of Little Red Robin comes from fond memories of watching the little red European robins singing and darting among the vines in the warm Tuscan afternoon sun-filled with delicious food, luscious wine and laughter.  It's where the story began.
Alberto Ranalli, Head Chef, is a master at selecting the best produce and creating pure joy on the plate with his modern touch colliding with classic dishes; the results are creative and full of flavour and joy.  Authentic will not be the norm, but modern Italian with the Ranalli touch will be.
Think elements such as Stracciatella with smoked beetroot, or salt-baked celeriac with koji banga cruda and roasted buckwheat, spaghettini, spanner crab with nduja and a wattleseed tiramisu..plus more and an ever-changing menu based on seasonality as well.
The dining room and overall ambience have been redesigned with more space, the colour scheme more foodie and light, the furniture more European and modern, and the vibe will be more relaxed than before.
For reservations, please visit www.littleredrobin.net.au  phone (02) 9418 9529.
Bec and Bel Kids
The ladies at Bec and Bel, your local pre-loved designer clothing boutique in Lane Cove, are thrilled to present you with Bec&Bel Kids! Available on Instagram, Bec&Bel Kids – https://www.instagram.com/b.b.kids/ – is ready to receive your mid to high range kids clothing – Country Road, Seed, Industrie, Nike, Chloe, Stella McCartney and more!
Pop into Bec and Bel with your preloved kids clothing on Fridays between 10 am – 12 pm. Bec&Bel Kids will do the work for you – assess items, price and advertise on Instagram.
Additional appointments and purchases may be made via direct message https://www.instagram.com/b.b.kids/. Purchased items may be picked up in-store or posted directly to you.
Circular fashion, preloved clothing circulated responsibly for the lifetime of a garment, is a concept here to stay. Great for your pocketbook and even better for our planet!
Lane Cove Local Event News
Lane Cove Council has announced they will be presenting Winter in the Village. The events will include the Screen on the Green, live music, and a Winter Makers Market with stalls located in The Canopy and the Lane Cove Village.
But wait, there's more. Have you ever watched a Christmas Movie and seen people skating around Rockefeller Plaza? It looks like so much fun (and a bit romantic). Guess what? Lane Cove residents can have a go at skating with an ice skating rink to be located in The Canopy. More details here.
Lane Cove Council News
Have your say on how a Local Council's General Manager's Remuneration is decided.
Currently, local councils are free to determine the remuneration they pay to their general managers and senior staff based on a range of considerations, including the skills and experience applicants bring to the role, the size and operational complexity of the council, market conditions and industry benchmarks. Councils are required to publicly report on the remuneration they pay to their general managers and senior staff in their annual reports.
A consultation paper has been released which examines how executive remuneration is set in other jurisdictions and at other levels of government. It considers a range of options from maintaining the status quo through to introducing greater regulation of the remuneration councils may pay to their general managers and senior staff.
It has always been difficult to establish how much Craig Wrightson, Lane Cove's GM, is paid as salaries have been reported on a GM office structure basis, including Mr Wrightson and 4 to 5 senior staff. The Office of Local Government report states in relation to the Lane Cove GM:
"General managers remuneration for 2019-2020 could not be determined from the council's annual reports. This figure is the remuneration paid to the general manager during 2018-2019 as reported on the NSW Your Council website." ITC checked the 2019/2021 report for four neighbouring councils, and they all disclose the GM's remuneration separately and then report on senior staff.
There have been several media reports about how some local council GM's are paid more than the Prime Minister and The NSW Premier.
For Comparison, the Prime Minister's Salary as of July 1, 2020, was $211,250 (base salary), while the additional salary comes to $338,000 – taking the prime minister's combined annual pay to $549,250, or just under $1505 per day.
Publicly Listed companies and other government departments are required to disclose salaries for their higher-level executive.
You can read the paper here https://www.olg.nsw.gov.au/…/review-of-general-manager…/
You can send your comments Post: Locked Bag 3015, NOWRA NSW 2541 or
Email: [email protected]
Submissions should be labelled 'Review of General Manager and Senior Staff Remuneration' and marked to the attention of OLG's Council Governance Team.
Submissions should be made by COB 9 August 2021.
Below – extract from the consultation paper showing the remuneration of metro councils and an extract from Lane Cove's Annual Report and Extract from Mosman's Annual Report.
Residents Sign Petition Against Lane Cove Plans to Construct Sports and Rec Centre
Lane Cove Local Adrienne Cahalan AOM was born and lives in Lane Cove. On Saturday 19th June 2021, she organised a Petition Signing about the recently lodged DA for the sports and rec facility where the Golf Club building and River Road Tennis is. She is concerned about puncturing the green lung and also that 84 trees will be removed as part of the DA and the impact on the watercourse. Adrienne has set up a group called SOS – Save the Lane Cove Golf Parklands – you can read more here.
Lane Cove Property News
Big Sale in Lucretia St Longueville
Recently one of ITC's property of the week was an amazing house in Lucretia Street Longueville. It went to auction on Saturday 19th June 2021 and sold for a whopping $7.415 million!!!!!!!!!!
Stuart Kirkby from LJ Hooker Lane Cove was the auctioneer and agent.  Read more here.
According to new data released by the National Australia Bank on Friday, Surrey Hills, Rhodes and Lane Cove are the areas with the most surge in first-time homebuyer activity in the past six months.
If you are looking to buy or sell in Lane Cove, check out ITC's Property Update that is released each Monday – See our latest update here.
Lane Cove Council June Meeting
The next Ordinary Lane Cove Council Meeting will be held on Monday, 21st June 2021.  Due to COVID19 recommendations, the meeting will be held online.
Public Forum
The deadline for all registrations is midnight, 20 June 2021.
The public forum will be conducted online, using the online meeting platform, Zoom. Should you wish to speak at the public forum via Zoom, please register by using the online form no later than midnight on the day before the meeting. A Zoom meeting link will be emailed to the provided email address.
A time limit of three (3) minutes per public forum address applies.
Members of the public can still submit their written address via email to [email protected]. Written addresses are to be received by Council no later than midnight on the day before the meeting. (500 words maximum).
The meetings will continue to be live-streamed. Ordinary Council Meetings will be viewable via the webcasting page on this website.  
Lane Cove Council Meeting Agenda Items
Officer Reports for Determination
Liveability Census
Lane Cove ​Council is inviting Lane Cove residents to participate in the 2021 Australian Liveability Census.
The online survey will capture community values and measure performance from the perspective of the communities who live in neighbourhoods across Australia.
Lane Cove Council is keen for as many locals to participate in helping them better understand how liveable our neighbourhoods are and how we can help make our local government area a place for everyone to enjoy.
The Census survey​ will take less than 15 minutes to complete.
The first part of the survey is about your ideal neighbourhood and what is most important to you – it will take about 5 minutes. In the second part of the survey, you will get to rate the neighbourhood you live in now – that will take less than 10 minutes.
To complete the online survey, visit placescore.org/dc by 30 June 2021.
Lane Cove Local Sports News
AFL
Well done to Lane Cove Locals Felix Rogers and Pierce Roseby, who have been selected in the Allies squad to play in next month's National AFL Under 19 Championships.
The Allies will go into a three-day camp next week and then play against Vic Metro, Vic Country, South Australia and Western Australia during July as the best youngsters in the country try to catch the eye of AFL recruiters.
Mr ITC is so excited as he was their first coach when they were in Auskick (the Auskick programme turned into the Lane Cove Cats AFL Club ) – read more here.
Steve Chisholm, the man who pushed for a local junior AFL team, would be so proud.
Swimming
This week the Lane Cove Swim Club was NSW Swimming's featured club. Find out more about the club and how you can join the club here. It caters for all swimmers and ages.
We will let you know when they have their come and try days later in the year.
Rugby Union
Big news out of the NSW State Championships, the @gordonjuniorrugbyclub Under 16s team won the title!
Below are Lane Cove Juniors Cormac Kelly, Jake Mulcahy and Josh Kingston.
The team beat Norths 29-19 in the grand final at Narrabeen.
They were coached by Gordon players Will Bremner (also a Lane Cove junior) and Dom Easy.
This is Cormac's second title after winning with the Under 14s 2 years ago.
Well done, boys and team!
All results are at https://www.nswjuniors.com.au
Soccer
Last weekend two passionate soccer teams and their devoted coaches from the Lane Cove Football Club competed for the first time in a Western Sydney gala day. The hungry U7s team won the championship, undefeated in all five games. The U10s played undeniably the most compelling nail-biting football, bringing home the Silver. Congratulations to both teams, pictured below.
Left to Right: Charlie Rothheudt, Ziggy Pereira, Rowan Neelan, Morgan Ashford, Emerson Koorey, Charlie Pitt, James Metcalf, Coaches: Neelan Sornalingam and Daniel Ashford
U10s Team Left to Right : (Back) Xavier Mitchell, Harrison Shu, Edward Callaghan, Oliver Stojanovic; (Front) Taebin Nguyen, Ethan Rothheudt, Mason Juda, Coaches: Stacy Mitchell, Tony Callaghan.
If you're involved in local sport and would like to tell ITC about one of your players, coaches or volunteers, please email [email protected] with their story.
School Holiday Activities July 2021
Lane Cove Crime Police/Incident and Accident News
You may have heard sirens in Lane Cove early morning on 14 June 2021. There was a police chase through several North Shore Suburbs, including Lane Cove. The drivers were teenagers.  Police report below.
Five teens arrested following pursuit – St Ives
Monday, 14 June 2021 04:40:39 AM
Five teens have been arrested following a pursuit with a stolen Land Rover Discovery overnight.
About 12.55 am (Monday 14 June 2021), The Hills Highway Patrol officers noticed a grey Land Rover Discovery travelling at speed on the M2 Motorway, North Ryde.
Officers attempted to pull the vehicle over. However, it failed to stop, and a pursuit was initiated.
Police pursued the vehicle through North Ryde, Lane Cove and Gordon before road spikes were successfully deployed on Mona Vale Road, St Ives.
The Land Rover eventually stopped on Palm St, St Ives, about 1.10 am (Monday 14 June 2021), before five teens fled on foot.
All five males – three aged 15, one aged 16 and one aged 17 – were arrested a short time later and taken to Hornsby Police Station.
Following routine checks, police established the vehicle was stolen.
Inquiries are continuing.
This incident follows another recent incident in Crows Nest where teenagers stole a vehicle.
Three teenagers have been arrested after a multi-vehicle crash – and the alleged assault of an officer – on Sydney's north shore overnight. Before 12.20 am today (Saturday 5 June 2021), police observed a blue 2015 Mazda CX-5 station wagon make an illegal turn from Willoughby Road onto the Pacific Highway at Crows Nest.
Officers attached to North Shore Police Area Command activated warning lights intending to speak with the driver. The Mazda then allegedly veered sharply across two lanes, colliding with a taxi, before crashing into two parked cars. All vehicles sustained significant damage.
The taxi driver was not injured.
Three people exited the Mazda and were spoken to by police. The driver, a 16-year-old boy, allegedly assaulted an officer by punching him in the head and headbutting him before being arrested.
The officer, a senior constable, sustained minor facial injuries during the assault.
Two girls, both aged 17, were also arrested at the scene. Further inquiries revealed the Mazda had been reported stolen yesterday (Friday 4 June 2021) from a Lindfield address.
All three young people were taken to Chatswood Police Station.
The boy was charged with two counts of assault police officer in the execution of duty, take and drive conveyance without consent of the owner, unlicensed for Class, Class C, R, LR or MR – first offence, and disobey no right turn sign-motor vehicle.
He was refused bail and appeared at Parramatta Children's Court tomorrow on Sunday 6 June 2021.
A 17-year-old girl was charged with being carried in conveyance, taken without consent of the owner, and a breach of bail conditions. She was refused bail and will appear tomorrow at Parramatta Children's Court.
Another 17-year-old girl was charged with being carried in conveyance taken without the consent of the owner. She was given conditional bail and will appear at Surry Hills Children's Court on Tuesday, 13 July 2021.
More Mailbox Theft
A roving reporter advised that a parcel was stolen from their mailbox in Lane Cove North.
Casing Out the Joint?
This week, a Tambourine Bay Road Resident's CCTV picked up a well-dressed man looking around their house for about ten minutes during daylight hours. The incident was reported to police, who said they had had several reports like this from Lane Cove.
Thank You to ITC's Foundation Sponsor Rebecca Mitchell from Raine and Horne Lane Cove
ITC was having a sticky beak at a property for sale at 362 Pacific Hwy. While we were there we had a lovely chat with locals @rebeccaraineandhorne and @simonedatechong. Such interesting history in these federation semis that line a section of Pacific Hwy. Apparently, they were built to house some of the workers who built the harbour bridge! Since then they have been updated/ renovation and are surprisingly quiet, set down below the main road with rear access!
Rebecca is a big supporter of ITC and ALWAYS has been! ITC is so grateful for her support even when ITC has a tiny following, Bec believed in us!
Are You Looking to Buy or Sell in Lane Cove?
In The Cove is now producing a weekly Lane Cove Property Update. See our latest update here. 
If you are selling, ask your agent if they are an ITC Lane Cove Property Guide supporter.

In the Cove is on Instagram
If you would like to follow ITC's travels throughout Lane Cove and see some beautiful pictures of where we live, follow ITC on Instagram
 here.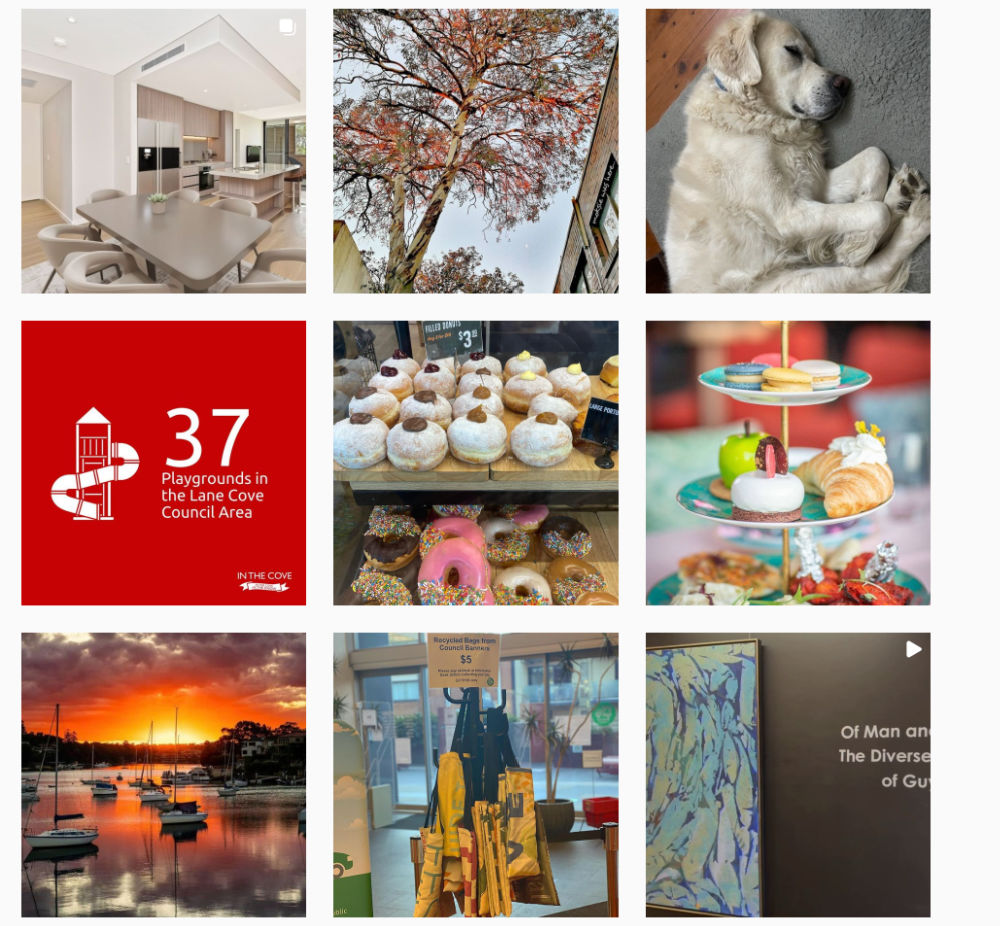 In the Cove Weekly News Blast
Have you ever heard people talking about a hot Lane Cove issue and wondered how they knew about it?  More than likely, they get our newsletter every Wednesday Night at 7.30 pm, and it has all the info that was on any of our social media platforms and more – so sign up now and never have FOMO (fear of missing out). SIGN UP HERE