Due to the COVID19 lockdown and the numerous questions we were being asked about the lockdown, we had to delay our week in review that we normally publish on Sunday Night.  This article is up to date as of 30th June 2021.
COVID19 Update – Lane Cove Exposure Site
If you were at the Ampol Service Station on Burns Bay Road on Friday 25 June 1.45 pm – 2 pm, you are considered a casual contact. You must immediately get tested and self-isolate until a negative result is received. Please continue to monitor for symptoms and immediately isolate and get tested if they develop.
The closest testing centres with the quickest turnaround times information can be found here.  Please note that before this latest lockdown, results were coming back from private testing centres within six hours – they are now taking longer to come back but usually within 15 – 20 hours after being tested (if you use a private testing centre).
Royal North Shore – Positive COVID19 Case – Student Nurse
NSW Health has advised that the RNSH case announced today is a healthcare worker who worked at Fairfield Hospital and Royal North Shore Hospital while infectious from 24th June to 28th June 2021
The healthcare worker is now in isolation.
Patients in the affected wards and those who have been discharged from those wards are being notified and tested. Those wards are not admitting any new patients.
More than 100 staff and patients have been identified as close contacts to date, with investigations and contact tracing ongoing. Testing is in progress, and to date, all have returned a negative result.
All steps to protect staff and patients have been taken to prevent any transmission.
NSW Health is contacting patients' families who may have visited these wards and identified close contacts of this case to advise them of any action they need to take.
The affected areas of both hospitals were cleaned, and the hospitals remain open, with services continuing to be provided safely.
Under the NSW Government restrictions introduced on Saturday 26 June for all hospitals, the public has been asked not to visit healthcare facilities at this time.
Visitors are restricted unless in exceptional circumstances.
QR Codes
Remember to check-in and check out of retail premises by scanning the Service NSW QR Code.  People are great at checking in but forget to check out.  It's important to check out; if you don't, you will be recorded as being on the premises until your next check-in, or if you don't check in to another place during that day, you will be recorded as being at the premises for the entire day.  This creates problems for contact tracers and for you – as you will be deemed either a close or casual contact and will need to be tested and isolate.
To help you check out, you can set a reminder in the Service NSW App.  For an iPhone, go to Settings on your phone, choose the NSW Service App, and select Allow Notifications.
In the Service NSW app, tap Settings (the wheel on the top right-hand corner of the home page), go to Notification Preferences and select Check Out Reminders.   Switch the checkout reminders on and then set a time frame when you want to be reminded.
From 12 July 2021, it will be mandatory for most retail premises to have a QR Code to enable a client/customer to check in via the Service NSW app.
Dine and Discover Vouchers
Dine & Discover NSW has been extended until 31 August 2021.  Now you can also use your vouchers on takeaway food (previously, you were required to dine in).   The NSW Government made the following announcement:
"Dine & Discover NSW Vouchers will be able to be used for takeaway from eligible and registered Dine businesses during the restriction period.
Delivery direct to the home by the restaurant or café is recommended. Food may be picked up from the venue, but check in with a QR code is required.
Dine & Discover NSW Vouchers cannot be redeemed for takeaway using third party delivery platforms."
The Canopy Car Park
The Canopy Car Park has been undergoing some resealing work for the last four weeks.  This week P1 is closed.  The Click and Collect is still in action, and you must follow the directions of traffic control staff who will direct you to levels P2, P3 and P4. This is the final week of the resealing works.
Last week Level 2 of The Canopy was closed for resealing.  The work also involved some steam cleaning with water seeping through the ceiling cracks on Level 3. This concerned some car park users whos contacted Lane Cove Council and sent photos to ITC.
Lane Cove Council provided the following statement:
"The current rectification works within The Canopy relate to the sealing of the floor slab within the car park – the works do not relate to structural issues or safety. Cracks in the slabs are common in post-tensioned concrete slabs and do not pose a structural or safety issue. Structural engineers have reviewed the cracks on a number of occasions, the most recent inspection being last week, and the only recommendation is to apply a sealant to the cracks to prevent water seepage between the car park levels. The application of the sealant is not part of the current work and will be done at a later date."
Emergency Services to the Rescue
An ITC follower wanted to thank neighbours and emergency services for rescuing her cat today. This is what we were told:
I want to record my grateful thanks for the assistance and support of several Fire and Rescue officers and police officers who came to my assistance early on Sunday morning. (27th June at 8.00 am)
My Ragdoll kitten called Milo escaped from me and his harness and lead that I had put on him, so he immediately raced from me up an electric light pole chasing birds. He rapidly reached the top and was unable to get down. In fact, his lead got tangled in the various wires, so he was stuck, hanging at one stage from his harness and in some distress.
A friend who was passing with his dogs called the police for help. In about 10 minutes, I had a visit from 3 or 4 Fire and Rescue vehicles and their crews, as well as at least 2 police cars. There seemed to be close to 12 or 15 people milling around and giving help and advice at one stage.
Getting cats off power lines is dangerous because of the proximity to live power lines. At one point, Ausgrid was asked to come to cut off the power so the crew could get up a ladder. In the event, one of the Fire and Rescue men climbed on the top of the large vehicle and used a long pole to untangle the cat's lead and harness so that he could be nudged down the pole.
All the people involved were kind, sympathetic and supportive as they assisted the cat and me. It was a pleasure to meet them, and I really appreciated their assistance.
Frances
Our Cover Photo is Milo on the pole and what Milo looks like when he is home.
ITC in the News and On TV
It was a big week for ITC last week. ITC was thrilled to be mentioned in a Crikey article about how In the Cove is an example of the new digital news movement where locals report on local news and provide community info. We love what we do, and thank you to all our amazing roving reporters.   You can read the article here.
The picture below is ITC with Andrew Denton. Andrew lived in Lane Cove when he first moved to Sydney from Bathurst. Unlike Tom Gleeson, he loves Lane Cove, and you can see ITC on ABC's brand new current affairs trivia show Win the Week. A trivia/comedy show about current affairs and ITC is a contestant as we are bona fide a big Trivia nerd (come and play with me at one of our local trivia nights at The Alcott Lane Cove or Longueville Hotel)
The show with ITC as an ordinary Australian was on air last Wednesday at 8 pm (it is on every Wednesday at 8 pm). You can stream it on iView if you missed it. Please watch and have a laugh at me or with me (either is acceptable). It is all about having a go—link to iView here.
ITC will be hosting charity trivia nights at The Alcott Lane Cove for local charities soon. The Alcott and ITC and Lane Cove locals raised over $10 000 for drought-stricken Cobar and Gunnedah two years ago, and The Alcott wants to help fundraise again.
ITC Podcast
We have now released our special  Lane Cove COVID19 Lockdown 2.0 podcast.  We tell you what you need to know about COVID19 in Lane Cove.  You can listen to the podcast here – you can listen to it on your desktop, iPad, iPhone, etc.
Crime and Incident Report
On 29 June 2021, at around 4 pm on Stuart Street Longueville, a man wearing a COVID19 black face mask and a black hoodie approached a teenager walking her dog. As he went to pass her, he tapped her on the backside. She was a bit taken back, thinking she had somehow knocked him. However, he turned around and grabbed her on the backside. He then walked quickly away. She was in shock and went straight home. The matter was reported to the police. If you live in Longueville and have CCTV – can you check to see if you have any CCTV that could identify the man. He may have walked around Kenneth Street or other Longueville Streets as well as Stuart Street. Please check around 4.00 pm.
If you have any CCTV, let us know, and we will pass it on to the police.
On 25 June 2021, the following was reported on Lane Cove Chat by ITC:
"I went to get some belongings out of my car parked on Flaumont Avenue in Riverview to notice my expensive shoes and camera missing.
If anyone has any CCTV or dashcam footage from Wednesday night to Today, that would be an amazing help!"
Are You Looking to Buy or Sell in Lane Cove?
In The Cove is now producing a weekly Lane Cove Property Update. See our latest update here. 
This is a sponsored post – Thank you to Bright Spark Power for sponsoring ITC.  We could not provide free local news and info without our fab LOCAL sponsors.
If you are selling, ask your agent if they are an ITC Lane Cove Property Guide supporter.

In the Cove is on Instagram
If you would like to follow ITC's travels throughout Lane Cove and see some beautiful pictures of where we live, follow ITC on Instagram
 here.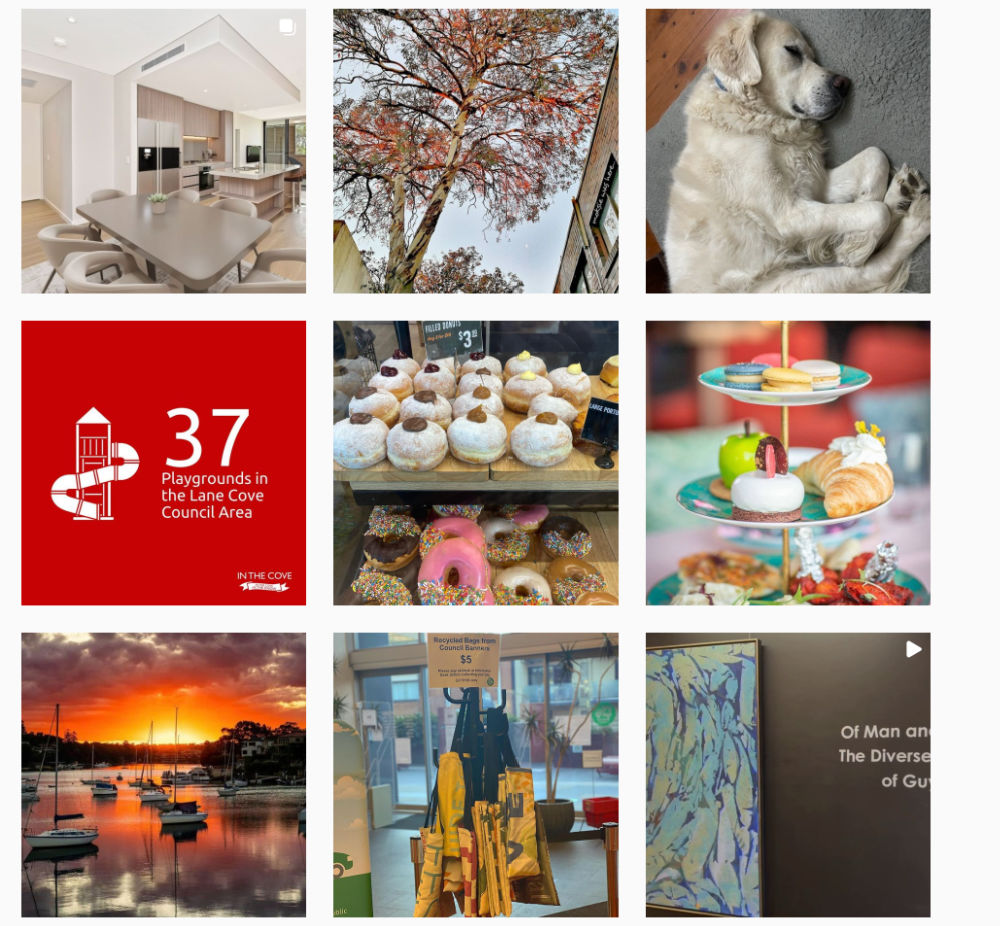 In the Cove Weekly News Blast
Have you ever heard people talking about a hot Lane Cove issue and wondered how they knew about it?  More than likely, they get our newsletter every Wednesday Night at 7.30 pm, and it has all the info that was on any of our social media platforms and more – so sign up now and never have FOMO (fear of missing out). SIGN UP HERE