We have now released our special  Lane Cove COVID19 Lockdown 2.0 podcast.  We tell you what you need to know about COVID19 in Lane Cove.  You can listen to the podcast here – you can listen to it on your desktop, iPad, iPhone etc. etc.
Where You Can Be Tested Near Lane Cove
This podcast was recorded on 29th June 2021.  Since that time, there is an exposure site in Lane Cove.
If you were at The Ampol Service Station on Burns Bay Road on Friday 25 June 1.45 pm – 2 pm, you are considered a casual contact. You must immediately get tested and self-isolate until a negative result is received. Please continue to monitor for symptoms and immediately isolate and get tested if they develop.
The closest testing centres with the quickest turnaround times information can be found here.  Please note that before this latest lockdown, results were coming back from private testing centres within six hours – they are now taking longer to come back.
Where Can I get  Vaccinated for Astra Zeneca?
The Ryde Respiratory Clinic has vaccination spots readably available for Astra Zeneca.    One ITC follower booked at 8.30 am in the morning and was vaccinated that morning.  Local doctors are also administering the vaccine, but you might be able to secure an earlier appointment at Ryde.
What about Pfizer?
One Lane Cove Medical Practice has told their patients that they will be able to offer the Pfizer vaccination for patients aged 40 – 59 years from 21 July 2021.
This consists of 2 vaccines, 3 weeks apart.
Check with your doctor to see if they will be able to book you in for Pfizer.
What Are Your Lockdown tips – Contact us on WhatsApp?
Do you have some lockdown tips? ( no tip too big or too small)
We want to hear from you, and you can leave us a voice message on our ITC's WhatsApp.
Just record a message on WhatsApp, and it will be included in next week's special Lockdown Podcast – you will be a star. Leave a message – start it with Hi, this is [insert name], and my lockdown tip is (we already know you are planning to leave a message saying this is insert my name LOL).
Just link up with us on WhatsApp – the good thing about ITC having WhatsApp is it will be easier to send us pictures and photos.
Put this number into your phone under In The Cove 0478 254 122
ITC on TV
You can see ITC on ABC's brand new current affairs trivia show Win the Week. A trivia/comedy show about current affairs, and ITC is a contestant. We are bona fide a big Trivia nerd (come and play with me at one of our local trivia nights at The Alcott Lane Cove or Longueville Hotel).  Link to iView here.
The show is on at 8.00 pm on Wednesday on ABC, or you can stream on iView if you miss it. Please watch and have a laugh at me or with me (either is acceptable). It is all about having a go.
PS ITC will be hosting charity trivia nights at The Alcott Lane Cove for local charities soon. The Alcott and ITC and lane cove locals raised over $10 000 for drought-stricken Cobar and Gunnedah two years ago, and The Alcott wants to help fundraise again.
Chalk It Up Lane Cove
All you need to do is a drawing on your driveway or the footpath outside your home/apartment that brings joy to others – rainbows, unicorns, butterflies, hearts and positive messages.
It does not matter if you live in a house or apartment. Everyone has a footpath outside their building. So go ahead and chalk up your driveway or footpath.  Please ensure that kids are supervised.
ITC wants to get the whole family involved with making a work of art that will bring a smile to faces.  Once you have created your masterpiece, please put it on your publicly displayed Instagram page (we can't access private Instagram accounts) with the hashtags #inthecove and tell us what age group/category.
We will be contacting local businesses to provide prizes in the following categories:
Under 5 years
6 – 12 years
13 – 17 years
Over 18/Adult
Family Entry (parent plus child/s)
Find out more here
Help Out Our Local Businesses
It is a tough time for our local cafes, eateries and retail stores.  ITC has put together a list of offerings from our local businesses.  Read our article here – bookmark the article as we have included specific links which enables you to click on the link next to the businesses and go straight to their booking sites.  Find out more here.
Below are some of the meals on offer – all can be delivered or picked up.
Do You have a Question About Lockdown?
We have your lockdown questions answered here – including the Lane Cove Council Services that have been closed during the lockdown.  Find out more here.
Library To Your Door
If you want to order some books during lockdown – then you can use Lane Cove Library's Library to Your Door – details here.
Sydney Community Services
If you have an elderly or vulnerable neighbour who needs help – please ask them to contact Sydney Community Services as they provide services such a Meals on Wheels and help with online grocery shopping.  You can contact them on (02) 9427 6425 or email at [email protected]
Listen to our podcast interview with CEO of Sydney Community Services here.
In the Cove Face Masks
If you would like to support ITC in bringing you free local news, you can become an ITC Member for an annual fee of $50, and you get a free ITC face mark – which are very comfortable.  Join here. 
Psst we only have about 10 face masks left – so order asap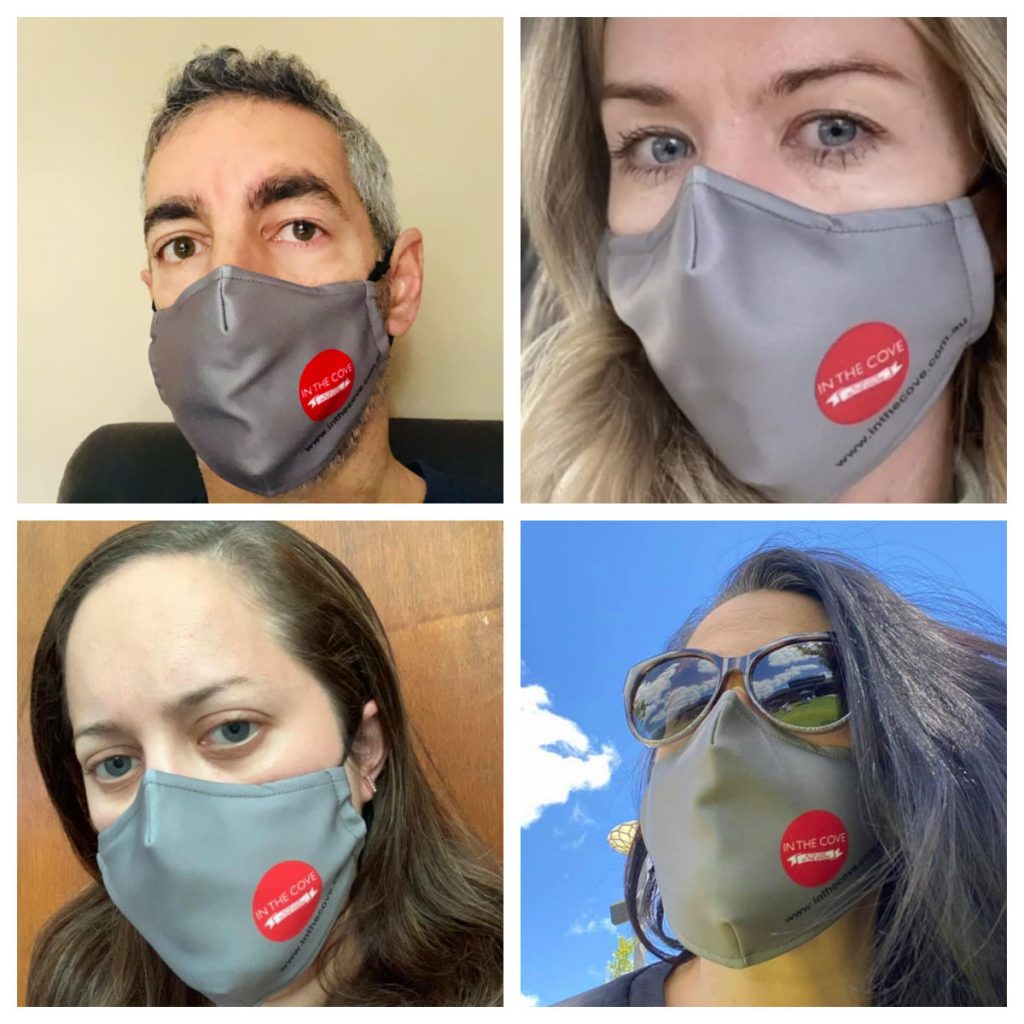 Are You Looking to Buy or Sell in Lane Cove?
In The Cove is now producing a weekly Lane Cove Property Update. See our latest update here. 
This is a sponsored post – Thank you to Bright Spark Power for sponsoring ITC.  We could not provide free local news and info without our fab LOCAL sponsors.
If you are selling, ask your agent if they are an ITC Lane Cove Property Guide supporter.

In the Cove is on Instagram
If you would like to follow ITC's travels throughout Lane Cove and see some beautiful pictures of where we live, follow ITC on Instagram
 here.