New Year's Eve is just around the corner, and fireworks are back on. There are several places in Lane Cove and Longueville to see the fireworks.
Where to See the Fireworks on New Year's Eve
Kenneth Street Longueville
The best place to see the fireworks is in Longueville.
This year the theme for the 9 pm fireworks is Welcome to Country – Gadigal land. Sydney-based artist Blak Douglas will be curating the fireworks.
The midnight fireworks display will mark the close of 2021 and celebrate the start of 2022. The complete program is here, and other information if you are looking to view the fireworks closer to the CBD.
Many families go to the 9 pm fireworks and then go home. Any side street off Kenneth Street in Longueville facing the harbour is ideal.
Fireworks will be limited to the area immediately surrounding the Sydney Harbour Bridge, therefore the views at the usual vantage points may be impacted.
However, it is highly recommended that you park in Lane Cove and walk to Longueville.  If you drive into Longueville, you will spend at least an hour after the fireworks trying to leave Longueville.
For years St. Aidan's Anglican Church at 1 Christina St Longueville held a street party and viewing area – however, due to COVID19 this was not held in 2020 and will not be held in 2021.
Other people like to see the fireworks from St Michael's Church.
Manns Point Greenwich
Manns Point Greenwich is also highly rated as a place to watch the NYE fireworks. You will need to enter Greenwich before the RMS road closures are in effect. These closures are to limit the number of vehicles entering the Greenwich Peninsula.

Lane Cove Council is coordinating road closures in Greenwich as part of the NYE 2021/22 celebrations at Manns Point, Greenwich. As there will be both 9:00 pm and midnight firework displays this year, the road closures will be in place from 6:00 pm. Council will continue with its modified Traffic Management Plan from 2020, with the road closure now smaller and impacting fewer streets within the peninsula. Road closures will be in place at George Street east of Manns Avenue; Albert Street at George Street; and Gother Avenue with one-way traffic at Manns Avenue (one-way southbound movements only); George Street (one-way westbound movement only); and St Lawrence Street (one-way northbound movement only).
Road closures will be in place from 6:00 pm on Friday 31 December.
Foreshore Parks and Reserves
Alcohol-Free Zones are again in place this New Year's Eve (NYE) across foreshore parks and reserves from 6:00 pm, 31 December 2021 until 9:00 am, on 1 January 2022. The consumption of alcohol in these areas is prohibited during this time.
Information from Hunters Hill Council
Hunters Hill is also very popular but you can only enter the peninsula if you are a resident or a resident comes and picks you up from the police checkpoint.
Hunter's Hill Council will once again be supporting NSW Police to manage public health & safety, and minimise traffic on New Year's Eve. This means that certain restrictions to parking and access will be in force. For full details and updates, visit https://www.huntershill.nsw.gov.au/news/new-years-eve-2021/
A detour will be in place at the Church St Overpass from 12pm with Woolwich Peninsula Resident Only vehicles granted access to the Peninsula beyond that point. THERE ARE NO GUEST PASSES THIS YEAR, collect your guests from across the Overpass.
Please observe the additional Clearway and No Stopping signs in place from 12pm.
There is no Park and Ride service available and no public transport on the Peninsula from 11am. No Rideshare or delivery vehicles will have access after 12pm.
Latest Information from City of Sydney on Fireworks – 31 December 2021
A series of special tributes will feature in tonight's Sydney New Year's Eve fireworks including acknowledgements to frontline workers and the Sydney Harbour Bridge's 90th birthday.
With just hours to go, the countdown is underway until one of the world's largest fireworks spectacular begins and heralds the start of a new year of hope for Australians and those watching around the world.
Sydney will look to uphold its reputation as the world's New Year's Eve capital with a celebration of the world's oldest living culture, pylon projections, lighting effects and two fireworks displays above Sydney Harbour.
"No one does New Year's Eve quite like Sydney," Lord Mayor Clover Moore said.
"If you have a booking at a restaurant or a free ticket to one of our harbourside parks, come in and enjoy what Sydney has to offer.
"For those staying home, they'll be able to ring in the new year with the fireworks airing on ABC and iView.
"2021 has been very challenging, and it's still presenting challenges even now. But this New Year's Eve will mark the beginning of what we hope will be an entirely new year – for us, and for the world."
In keeping with tradition, the night's celebrations will kick off with a smoking ceremony around the harbour, paying homage to the beauty and richness of our First Nations' cultural practices.
Animations of Aboriginal and Torres Strait Islander dancers will light up the pylons as part of a unique Welcome to Country curated by Blak Douglas. As the countdown to the 9pm Welcome to Country fireworks begins, 10 black and white images of distinguished local First Nations custodians will be beamed onto the pylons.
The 9pm fireworks are synchronised to an atmospheric soundtrack with a thumping dance beat that perfectly encapsulates Welcome to Country for the extravaganza.
The Welcome to Country will also feature on the ABC TV New Year's Eve broadcast and outdoor concert at the Sydney Opera House, with live performances by hip hop artists Dobby and Barkaa and Indigenous drag Queen Nana Miss Koori.
At 10pm a blue hue will descend across the harbour and around the foreshore as a special thank you to frontline workers.
Lighting director Ziggy Ziegler said the 'blue moment' is a mark of respect and intense admiration for frontline workers and their families.
"We know the hard work and inherent risk our frontline workers face every day and we want to acknowledge that," Ziggy said.
"So as a 'thank you' on New Year's Eve, the water will glisten as 5,000 lights on the Sydney Harbour Bridge and Luna Park Ferris wheel turn a brilliant blue, followed by a soft twinkling blue sparkle in unison with the pylon projections.
"At the same time, other sites around the harbour foreshore will shine with blue lights and projections, bathing Sydney in a swathe of blue to honour our fabulous frontline workers."
An event for frontline workers on the Cahill Expressway is also being organised by Transport for NSW.
The 'gratitude moment' will be followed by a tribute to mark the 90th birthday of the Sydney Harbour Bridge, with historic images of the bridge projected on to the pylons.
At midnight, the fireworks, projections and lighting show will ignite Sydney Harbour in a burst of celebrations to mark the start of the new year.
Six tonnes of fireworks, 25,000 shooting effects, 9,000 aerial shells, 80,000 pyrotechnic effects and more fireworks than ever before will be launched from the top of the Sydney Opera House sails, all synchronised to a soundtrack by The Presets.
The exclusive soundtracks, for the 9pm and midnight fireworks, will also air live on KIIS 1065.
Tickets are essential for many vantage points around the harbour. The City of Sydney's vantage point map has up-to-date information on where you can view the fireworks.
Local residents and the general public attending the City of Sydney's vantage points are encouraged to be fully vaccinated, look after one another, wear a mask if you can't social distance and plan your night.
If you don't have a vantage point ticket or venue reservation, or are feeling unwell, you are encouraged to stay at home.
For those planning to stay at home, you can see Sydney shine on TV or online. ABC TV will broadcast live from Sydney Harbour at 8.30pm. The 9pm and midnight fireworks will be live streamed at sydneynewyearseve.com/live-stream and on ABC iview.
For full event details visit www.sydneynewyearseve.com
Dinner Before Fireworks
The closest place to have dinner before seeing the fireworks in Longueville is at The Longueville Sporting Club (aka the Diddy).  The Bistro will be open between 12 and 9 pm.  Bookings are essential on 9427 2210 or book online here.
Latest Advice from NSW Health NYE – COVID SAFE
COMMUNITY URGED TO KEEP NEW YEAR'S CELEBRATIONS COVID-SAFE
NSW Health is urging the community to continue to practise COVID-safe behaviours while celebrating the New Year.
NSW Chief Health Officer Dr Kerry Chant said that while many people are understandably looking forward to celebrating the New Year, it is important to do so in a way that keeps people safe and minimises the risk of transmission.
One of the most effective ways of reducing the spread of COVID-19 is to socialise with others as much as possible outdoors, and ensure good ventilation when indoors.
"We know it's been a challenging year for everyone, and we understand people want to come together to celebrate the New Year. We thank the community for their incredible efforts to stay COVID-safe and ask them to continue these behaviours."
"But it's important to remember that COVID-19 is active in our communities and people are at an increased risk of contracting COVID-19, particularly in indoor environments," Dr Chant said.
"We're urging people to avoid mingling in large groups where possible and hold your events outside if you can. If you're inside, keep your gathering small and make sure the area is well ventilated by opening doors and windows."
If heading to a venue, use the Service NSW check-in app where available, wear a mask and practise physical distancing.
Rapid antigen testing can be an additional precaution that you can take if you are planning to socialise with large groups of people, particularly indoors, or interacting with people who are elderly or have health conditions.  Information on how to use rapid antigen tests is available on the NSW Government website.
Stay home and do not visit family, friends or go to social events if you are unwell. People should monitor for symptoms and undertake a PCR test if any occur.
NSW Health encourages everyone who is eligible to book into a NSW Health vaccination clinic or another provider without delay through the COVID-19 vaccine clinic finder."
Hosting a Party on New Year's Eve – Party Outside
If you are having a party at your house the NSW Health advice is to hold the party outside.
Make sure you stock up on dips and chips asap – we have been caught out in the past on New Year's Eve – the aisle at Woollies and Coles were very empty.
New Year's Eve Suppliers
We have a few tips on getting ready for the big night. Pop into Porter's Liquor Northwood and speak to them about your drink requirements. They offer glasses and free delivery, and you can return any alcohol you do not use (that has not been on ice and the labels are legible). They are so good at the party caper, that they can tell you how much each person will generally drink!!!!
Try out one of our caterers listed in our Business Directory if you need party food. Chargrill Charlies is a good option for chicken and salads. Chargrill Charlies is a good option for chicken and salads and lots more.  Just look at their catering range below.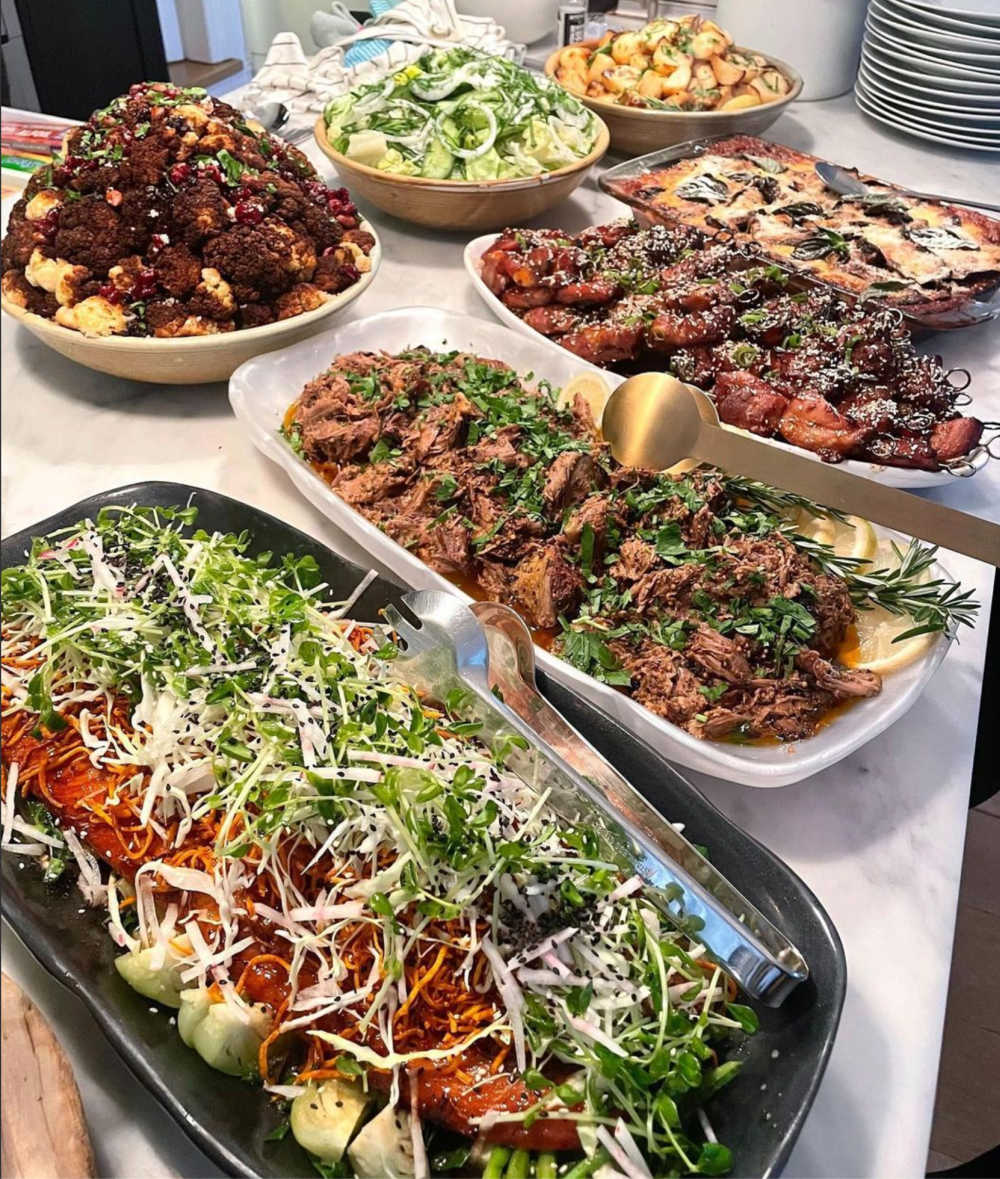 Want to make your party stylish – invite the team at Walkers Party Hire North Shore to help you out.  Check out this groovy glow in the dark furniture.  Perhaps you need a dance floor – no problems. Walkers can help you.
Porters Northwood sponsors this post.  They have been a long time supporter of ITC. Without the support of local businesses, we could not bring you all the local news and undertake our community and advocacy work (we are at every council meeting).
Contact Details
Address: 1 Northwood Rd, Northwood (opposite The Diddy)
Opening Hours: 9.30 am – 8 pm Monday to Saturday, 10 am – 8 pm Sunday
Phone: (02) 9427 1337 for home delivery or party services
Email: [email protected]
Order Online: www.shopmylocal.com.au
Facebook: https://www.facebook.com/portersliquornorthwood/
Instagram:https://www.instagram.com/portersliquornorthwood
---
Give ITC an End of Year Tip
Many of you have asked how you can support In the Cove.  Why not give us a tip??  Feel free to tip us if you have enjoyed our local news coverage – no amount is too small or too big.  Thank you so much to the people who have already supported us via our presspatreon account.  TIP Us Here.
Get Your Local News on Different Platforms
Are you an ITC SUPERFAN? We know many of you are! For those who are not, we have so many platforms to follow. Don't miss out!
Instagram – www.instagram.com/inthecove/
Newsletter – https://inthecove.com.au/sign-up-for-newsletter/
Lane Cove Chat by ITC– www.facebook.com/groups/itclanecovechat
Kids in the Cove – www.facebook.com/groups/861987681252413
In the Cove Podcast – inthecove.com.au/in-the-cove-lane-cove-podcast/
Weekly Lane Cove Property Update – https://inthecove.com.au/category/lane-cove-property/
As always, thanks to everyone for the support!!!!
Check out our Instagram Site click on the picture below.