Sunday 6th March 2022 is Clean Up Australia Day.
Every Lane Cove resident can get involved and register to help in a Clean Up event.  If you can't go to an organised event, then just grab a bag and some gloves and take the family for a walk along your street.  It is also not too late for your street to organise their own event and if you do we would love you to send us photos we can feature on In the Cove.
Clean Up Australia Day is the perfect day to get you and the kids involved in an activity that is for the greater good.  This year, Clean Up Australia Day is asking for data on the number of masks collected as part of a Citizen Scientist project (details below).
Lane Cove has a proud tradition of being involved in  Clean Up Australia Day.  For many years volunteers have cleaned up Batten Reserve Bushland and the surrounding streets. The event is hosted by The Stringybark Creek Residents Association and supported by the Lane Cove Sustainability Action Group. Young and old join forces in a massive clean up. Families and residents of all ages 2 years through to over 80 take part as well as the enthusiastic and very helpful Lane Cove Guides.
Where Is a Clean Up Australia Day Event Near Me?
Listed below is a link to Clean Up Australia Day events which have been registered on the Clean Up Australia website for the Lane Cove Council Area and Lane Cove North.
Stringybark Creek/Batten Reserve – POSTPONED UNTIL 27 MARCH 2022
The Stringybark Creek Residents Association (SBCRA) invites anyone from the Lane Cove area to help remove rubbish from the bushland around Stringybark Creek.  Read more here about the type of rubbish they have picked up over the years.
SBCRA has run this event every year since the beginning of Clean Up Australia Day.
Last year they had some 70 Volunteers who collected around 400 kg of rubbish from the surrounding area including Batten Reserve.
It's well organised and the event has become a tradition among many of their volunteers.
There is a sausage sizzle at the end for participants.
The Meeting place is the same as last year park at the western end of Johnston Crescent just opposite 60 Johnstone Crescent Lane Cove. 
Register here
Clean Up Australia Day 2021 -SBCRA Event
Blackman Park
Lane Cove Rotary Club members will be joining Lane Cove Cubs and Scouts.  They will meet in Blackman Park below the sporting fields, behind the Dog Park.
They will be concentrating on the Bushcare area they have been looking after alongside the river, so please wear a hat, old clothes and sturdy shoes & bring a water bottle.   Gloves provided.  They will be following current COVID protocols and check in will be via QR code.
Register here.
Epping Road Bike Path
This Clean Up will cover both sides of Epping Road from the Pacific Hwy to Centennial Ave.  You will meet at Cameraygal Park at the corner of Epping Road and Longueville Road
Register here.
Lane Cove River Kayak Club
Lane Cover River Kayak Club take to the water every year to clean up a local patch of the river. If you would like to join them on their clean up paddle, please email [email protected]
Burns Bay Reserve  – CANCELLED SITE IS WATERLOGGED
Tambourine Bay Sea Scouts Joey and Cub sections are hosting a Clean Up event at Burns Bay Reserve Lane Cove. All community members welcome!  Find our more about Burns Bay Reserve here.
Register here
Lane Cove Council is inviting you to join them at Lane Cove Council's Clean Up Australia Day event.
All equipment is provided (and sanitised) and each participant receives a complimentary snack.
Register here
Rotary Athletic Field, Mowbray Road West, Lane Cove North
Rotary Club of Chatswood Roseville, and friends, are planning to Clean Up the area around the Rotary Athletic Field on Mowbray Road.
Register here
Unmask the Problem
The last two years have seen significant increases in single-use plastics, alongside unprecedented numbers of face masks, takeaway coffee cups and food packaging littering our footpaths, parks and beaches.
Clean Up Australia is concerned we don't know the extent of the problem.  They know back in 2020, the World Health Organisation estimated that more than three billion single-use masks were thrown out across the globe every single day. However, locally, the extent of this problem remains unclear.
That's why on Clean Up Australia Day they are asking volunteers to unmask the impact of the problem by tallying the number of face masks collected and removed from the environment.
Everyone who registers to Clean Up Australia will be part of their Citizen Scientist project to count the number of masks removed from our environment.
Pip Kiernan, Chair of Clean Up Australia, says there's no doubt the amount of plastic waste has been surging because of the pandemic and there are concerns there will be long-term damage but at this stage there is no data to substantiate the impact to the Australian environment.
"Our environmental issues haven't gone away because of COVID. In fact, they've escalated because of the mountain of rubbish that's been created. That's why we're encouraging as many Aussies as we can to get involved on Clean Up Australia Day on Sunday 6 March this year."
Plastics in disposable masks can take up to 450 years to break down and researchers have warned that littered single-use masks could be releasing chemical pollutants and nano-plastics into the environment.
"Disposable masks don't belong in the environment and we are calling on volunteers to rally together and help us remove and count them on Clean Up Australia Day.
Our cover photo is from Clean Up Australia's Facebook Page.
Harbourcare Kayak x Clean up Australia Day –  24 March 9:00 am – 12:30 pm
Get in the Clean up Australia Day spirit this March and join Lane Cove Council's Harbourcare team for a kayak up the Lane Cove River, collecting marine litter along the river foreshore as we explore and protect this beautiful estuarine ecosystem.
Bookings essential: Book online from 24 February 2022 – Link here
Due to COVID-19, tickets are only available to fully-vaccinated* individuals. There is a preference to book in pairs from the same household, as you will be sharing double kayaks.
Double kayaks supplied (sport/touring design), medium level fitness required, a little kayaking experience preferred but not necessary.
Minimum age 11 years old. Under 16 years must be accompanied by an adult.
Bags, gloves and litter pickers provided.
Must wear enclosed shoes to attend. Wear sun-smart, light clothing that can get wet.
BYO water. COVID-safe & low waste snack & drink provided.
Exact event location will be provided upon registration.
No corporate bookings allowed; Max. 2 tickets per group.
---
Keep Local News Free
---
Many of you have asked how you can support In the Cove. It's so easy – tell your friends about us, follow us on a different platform or subscribe to our weekly news blast.
We now have a Patreon account  where you can sponsor us for any amount you like (this allows us to keep local news free – no paywall!!!)
ITC wants to make sure you get local news when you need it by employing local people to help us out. We need your help – yes, local business advertises with us, but this is our sole source of funding. Feel free to be a reader sponsor if you have enjoyed our local news coverage – no amount is too small or too big. Thank you so much to the people who have already supported us via our press Patreon account. Help Us Here.
Stay tuned. We will be announcing our In the Cove Intern programme soon – where we will take on a part-time PAID intern who lives locally and is studying either PR, Social Media, Communication or Journalism.   This is our way to give back to Lane Cove, and as you would be aware, we offer free advertising for all local jobs as we are passionate about local jobs for local people.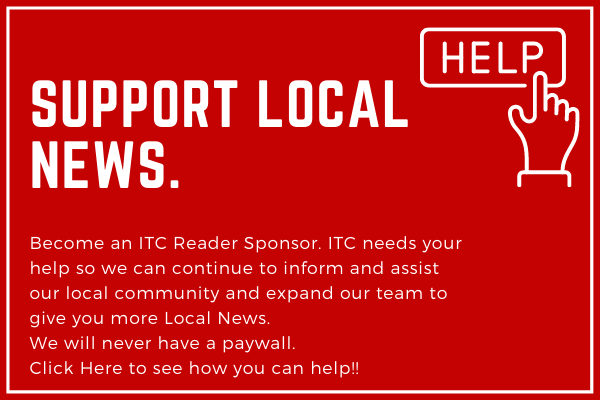 ---
Get Your Local News on Different Platforms
We have many platforms to follow, each taking a different take on Lane Cove News and Information. Don't miss out!
Facebook: www.facebook.com/inthecove