Here is the latest crime report from North Shore Police Area Command and also incidents reported to In the Cove.
North Shore Police Area Command Report
Aggravated Break Enter and Steal – Lane Cove North
Diamond rings and thousands of dollars cash in Australian and foreign currencies has been stolen during a break in at a home in Lane Cove North over the weekend.
Sometime during the evening of Saturday 5th March offenders have gained entry to a home on Gordon Crescent, Lane Cove North where they have rummaged through property belonging to the owners and have made off with cash and jewellery including wedding and engagement rings.
Police are asking for anyone that may have noticed any suspicious activity at the stated location during the given times and dates to please contact North Shore Police on 9414 8499 or Crime Stoppers (1800 333 000 or www.crimestoppers.com.au).
Assault – Chatswood
Police have charged a 14-year-old boy from Artarmon following the assault of another boy at a shopping centre in Chatswood last week.
Shortly after 4:00 pm Thursday 3rd March the boy from Artarmon approached 2 other boys inside a shopping centre on Anderson Street, Chatswood and demanded property from them.
The interaction was diffused without incident however a short time later the Artarmon boy has approached the same pair kicking one in the back before punching him in the face. Several adults intervened causing the Artarmon boy to flee.
The matter was reported to the police and following detailed enquiries, on Friday 4th March the Artarmon boy was arrested at Chatswood Interchange. He was taken to Chatswood Police Station, where he was charged in relation to the matter. He will face Parramatta Children's Court later this month.
ITC reported the following assault in February 2022:
Assault/Intimidation – Chatswood
Police have charged a 14-year-old Artarmon boy with a range of offences after an incident occurred in Chatswood last week where the boy chased several other teenagers while wielding a knife.
Around 3:00 pm, three local teens were at Chatswood Interchange eating a meal when they observed the Artarmon boy riding his bike nearby. The Artarmon boy has allegedly approached the three friends, produced a knife, and threatened the group, causing them to flee the area.
The three friends made their way to Chatswood mall, where a short time later, they observed the boy pedalling furiously towards them while holding the knife.
The friends again fled with one seeking refuge in a nearby shopping centre. The boy allegedly pursued the victim into the centre and threatened to stab the teen.
Witnesses alerted police, who arrived a short time later and arrested the boy who police will allege was also in possession of a toy gun at the time of the incident. The boy was charged with assault, two counts of intimidation and possession of a knife. He will face court next month.
Assault – Chatswood
Police have charged a 25-year-old Fairfield Heights man with violently assaulting another man inside a Chatswood shopping centre earlier this week.
Around 3:30pm Tuesday 8th March police received a number of calls from members of the public alerting them to an altercation occurring between two men at a shopping centre on Anderson Street, Chatswood.
Police attended the location and following some initial enquiries arrested the Fairfield Heights man. He was subsequently charged with assault occasioning actual bodily harm and intimidation. He was bail refused and will appear before Hornsby Local Court in relation to the matter.
Affray – North Sydney
Police have charged two 42-year-old males from South West Sydney with affray after they were seen by a large number of passers-by to be fighting in the middle of Blue Street, North Sydney.
Around 6:15 pm Monday 28th February witnesses contacted police after spotting the pair fighting on the roadway causing motorists to take evasive action to miss the melee.
Police arrived on the scene and found both men to be bleeding and have cuts to the face and head. After speaking with several witnesses police placed both men under arrest, they were taken to Chatswood Police Station and charged with Affray, they will both face Manly Local Court later this month.
Aggravated Break Enter and Steal – Mosman
Between 10:30 pm Monday 7th March and 7:45 am Tuesday 8th March 3 unknown male offenders gained entry to a home on Mandalong Road, Mosman. The offenders entered the property via the front door of the home while the residents were asleep upstairs. The offenders made off with the homeowners silver Audi which was later recovered abandoned in Five Dock.
Police are asking for anyone that may have noticed any suspicious activity at the stated location during the given times and dates to please contact North Shore Police on 9414 8499 or Crime Stoppers (1800 333 000 or www.crimestoppers.com.au).
DUI – Roseville
Police have charged a 28 year old Cranebrook man with a number of driving offences including driving while under the influence of alcohol after he was spotted by police driving in dangerous manner last week.
Police will allege that around 11:50pm Thursday 3rd March they observed the Cranebrook man driving his Ford utility along Archbold Road, Roseville in a dangerous manner. It will further be alleged that when stopped the Cranebrook man, who was the only occupant of the vehicle climbed into the rear seat of his vehicle and claimed to police that he had been kidnapped.
The Cranebrook man has then refused to undergo a roadside breath test. He was arrested and taken to Chatswood Police Station where he continued to refuse to provide a sample of his breath for analysis. Further enquiries revealed the man's licence to currently be suspended. He was charged in relation to the matter and will face court next month.
Incidents Reported to ITC
Sutherland Street
A Roving Reporter told us about the following incident in Sutherland Street on 10 March 2022.
Our roving reporter advised:
"At 12:52 pm we noticed a man, behaving oddly in our driveway.  Staring into our house.
He was wearing a black hoodie over his head and a surgical face mask.
I went out to check as his behaviour was just too odd. Also my side of the street doesn't have a paved sidewalk so we rarely get people on our side.
I noticed he was doing the same behaviour 2 doors up and at the next house the elderly neighbour caught him again staring in and asked him what he was doing.
He made an excuse and continued up the street doing the same thing.
I ran over and checked on her and felt it best to call OOO.
At that same time, I saw him enter the driveway of another house and disappear towards their property.  Told that to 000 operated.
She was amazing and she had the police in our street in under 10 minutes. Another police car arrived and they caught the man 10 houses further up the street.
He was arrested and will be charged with trespass.
Was very scary and confronting. Glad I checked on my neighbour and called 000.
Just a friendly reminder to us all to look out for each other.
Stay safe."
The following incident was mentioned on ITC Lane Cove Chat on 8 March 2022
"Be careful of an older man knocking on your door, my son answered and said he would get his dad and he has just walked into my house, till I said what are you doing and said he was here to fix a cracked bench. I said get out of my house, had no proof."
In response to this post another person asked:
"Did the man have longish white hair and a white beard? We had an older gentleman lurking around the back of our neighbours house about 10 days ago."
Tips on Reducing Crime
Lock all home windows and doors even when occupants are home during nighttime hours;
Lock all vehicle doors and windows when unattended;
Ensure items of value are not left in vehicles that are easily viewed. Ideally, don't leave any items of value in the vehicle;
If going on vacation, ensure a neighbour is tasked to clear your mailbox at regular intervals.
Report Local Crime Incidents
A reminder that it's important to report local crime incidents. You can report them to North Shore Police on 9414 8499 or fill out an online form.  It does not matter how small the incident is, you should report it as this helps with crime stats and police staffing numbers.
Keep Local News Free
---
Many of you have asked how you can support In the Cove. It's so easy – tell your friends about us, follow us on a different platform or subscribe to our weekly news blast.
We now have a Patreon account  where you can sponsor us for any amount you like (this allows us to keep local News free – no paywall!!!)
ITC wants to make sure you get local News when you need it by employing local people to help us out. We need your help – yes, local business advertises with us, but this is our sole source of funding. Feel free to be a reader sponsor if you have enjoyed our local news coverage – no amount is too small or too big. Thank you so much to the people who have already supported us via our press Patreon account. Help Us Here.
Stay tuned. We will be announcing our In the Cove Intern programme soon – where we will take on a part-time PAID intern who lives locally and is studying either PR, Social Media, Communication or Journalism.   This is our way to give back to Lane Cove, and as you would be aware, we offer free advertising for all local jobs as we are passionate about local jobs for local people.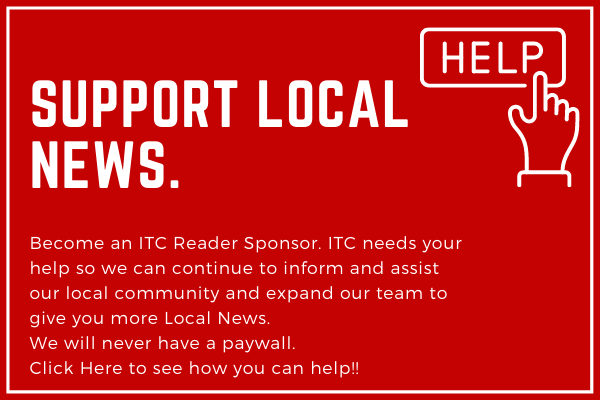 ---
Get Your Local News on Different Platforms
We have many platforms to follow, each taking a different take on Lane Cove News and Information. Don't miss out!
Facebook: www.facebook.com/inthecove