Welcome to our Week in Review; we hope you are staying safe and dry.  Our cover photo was taken by the Longueville Sporting Club yesterday (8 March 2022) around lunchtime.
Dehumidifiers and Damprid are the new RATS – everybody is looking for them.
A big shout out to all the SES Volunteers and, in particular, our local Willoughby Lane Cove SES unit for all their hard work.
A reminder from the SES that many of their calls have related to blocked downpipes or gutters filled with leaves and other debris, which causes them to overflow.  Once the weather has eased off, check your gutters and roof.
The video below is of a stormwater drain at Tambourine Bay Road Reserve. A long time Riverview resident said they have never seen so much water coming out of the stormwater drain. It's a good reminder to keep dogs and kids away from the reserves at the moment. It's dangerous to swim in stormwater as it moves swiftly and has some nasty bugs.
Local Flooding
We are aware a few Lane Cove properties received water damage due to leaking rooves or water seeping under doors.
Tannery Creek runs through Burns Bay Reserve, and water levels have been fluctuating.
The photo below was taken at 8 am on Tuesday 8 March 2022.
ITC took the photo below at 6 pm on the same day from the Bridge you can see in the above photo.
Interestingly the first tee at the Lane Cove Golf Club, which is usually the first to flood, had only a small amount of surface water.
Local Flooding in Willoughby
The SES took the photo below at the corner of Pacific Highway and Mowbray Road on Tuesday, 8 March 2022.
On Tuesday 8th March, Willoughby City Council posted the following on their Facebook page:
"We've seen some major downpours in our LGA today, flash flooding have occurred on the following roads:
Sydney Street
High Street
Underneath the bridge at Artarmon
Sailors Bay Road, after Woonona Rd
47 Edinburgh Rd, Castlecrag (Sugarloaf)
Penshurst and Oakville Road
Robert Street, Willoughby
Brand St, Artarmon – Near the Metro works
Boundary Street
Marlborough Rd
Ann St
The following parks have also seen some flash flooding today:
Calson Park
Warners Park
Artarmon Oval
Beachamp Oval, including the pavilion
Chatswood Oval"
There was also flash flooding at Macquarie Park.  Ryde SES took the photo below at midday.  The SES pumped a significant amount of water off Deburges Bridge.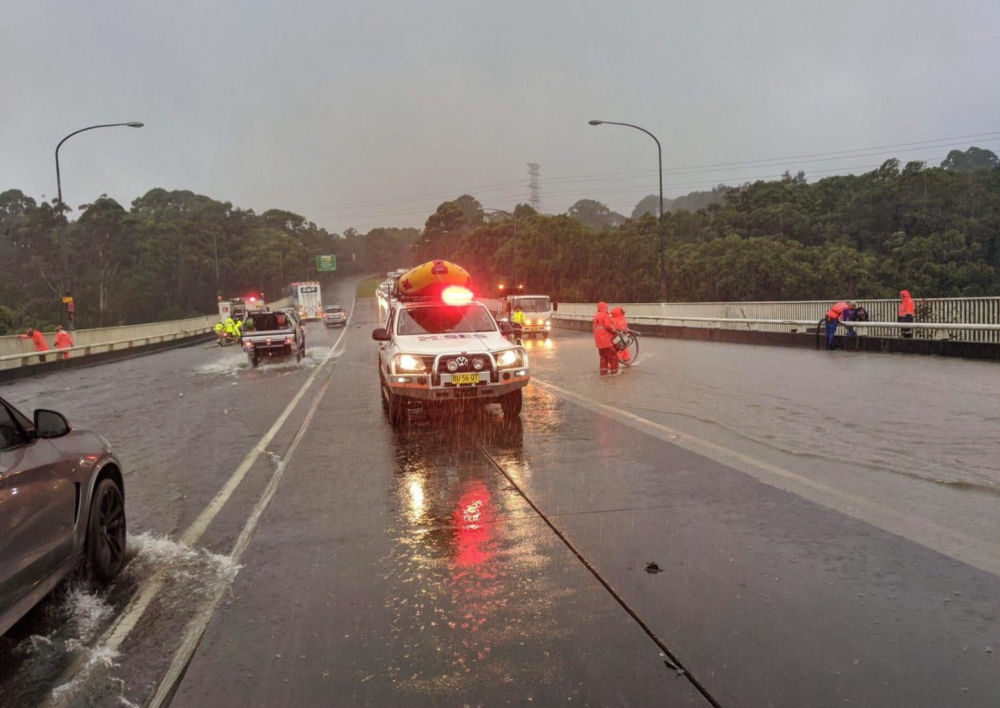 There was also flash flooding on the Roseville Bridge.  This photo was taken at around lunchtime on 8 March 2022.  The Bridge reopened to traffic later on in the day.
Flooding was widespread around Manly, and the Manly Dam is now at 100% capacity.  For more details on the Northern Beaches flooding read this update from our friends at  the Manly Observer (a hyperlocal news site for the Northern Beaches like ITC is for Lane Cove.)
Sandbags
On Lane Cove Chat by ITC, some residents asked where to find Sandbags.
Our local SES advised the following:
"Sandbags are now in very short supply, and remaining stock is being diverted to Manly for emergency measures. Sand is also sold out at most retailers.
The good news is that you can make your own "Sandbags". The bad news is that this is quite hard work and can get messy.
You will need several strong plastic bags – supermarket bags or strong bin bags are good. Ideally, also some plastic sheeting or tarpaulin. Plus, a shovel and soil or gravel from your garden.
Note: soil doesn't work in hessian bags because dirt will wash out through the gaps, but the soil will work in plastic."
Local Roads
Due to the intense rainfall, there a quite a few large potholes on Lane Cove roads, particularly along Longueville Road near Epping Road and at the other end near Northwood Road.
If you see a pothole, you can report it to Lane Cove Council by emailing [email protected].
Local Services
The Cleanaway Waste Transfer stations at Artarmon and Ryde has made the decision to only take waste from councils and commercial operators.  Domestic waste will not be accepted until further notice.  This decision has been made due to local weather conditions.
Flood Donations
Resilience NSW
urges community members not to donate unwanted goods to NSW communities affected by recent storms and floods. People wanting to donate goods or financial support are asked to take advantage of the established arrangements between the NSW Government and national non-for-profit GIVIT:
givit.org.au/storms-and-flooding.
Blackman Park Sinkhole
Works continue at the Blackman Park Sinkhole (see previous photos here).  On 4 March 2022, a large crane was on-site, lifting beams into position to provide extra reinforcement.  Today (9th March 2022) work is continuing on reinforcing the hole and unfortunately, as you get near the fence there is now a putrid smell (the sinkhole has become the sinkhole).
Lane Cove Golf Course 6 March 2022
Lane Cove Bowling Club – 2 March 2022
Myna Birds
Last Friday (4 March 2022) ITC was advised by several residents that there were sick and dying Indian Myna Birds in the Lane Cove Plaza.  We took a photo of a dead bird and a very sick bird and sent them to Lane Cove Council to investigate why so many birds were dying.  The Lane Cove Council advised:
"Following on from your enquiry yesterday, just confirming that if someone notices a deceased bird in the Plaza they can call 9911 3555 and staff will be able to alert someone to come and collect/dispose of as soon as possible.
Council is conducting a targeted control program for rodents and Indian Myna birds at The Canopy with plans to commence a program for Indian Myna birds in the Plaza later this month. In addition to competing with native wildlife, the Indian Myna birds spread disease, as well as degrade public areas and damage buildings with their droppings.
Our contractor has confirmed it is highly unlikely that there is a connection with yesterday's birds in the Plaza and our current program in The Canopy given the targeted process; the bait used is an oral application; and the bait has almost instant effects. They were not baiting yesterday.
If anyone has concerns that someone is conducting unauthorised baiting or causing harm to birds then the RSPCA is likely the best place to report as they have the authority on matters related to animal welfare."
ITC has asked Lane Cove Council some follow up questions and we will let you know when we receive further information.
Food Scraps Programme
Some Lane Cove residents have recently received a food scraps bin.  This bin has been supplied by NSROC.
The Northern Sydney Regional Organisation of Councils (NSROC) is comprised of eight councils from the northern Sydney area. NSROC member councils are Hornsby, Hunter's Hill, Ku-ring-gai, Lane Cove, Mosman, North Sydney, Ryde and Willoughby.
NSROC told ITC:
"The Food Scraps Project is designed to provide better evidence than is currently available to help develop a business case in the coming years to identify the type of waste collection service that will maximise environmental benefits at a reasonable cost to ratepayers.
The trial is funded by the NSW EPA as part of the support offered to councils that used Alternative Waste Treatment to process municipal solid waste.
A relatively small number of residential properties and some businesses will take part. These properties have been sent letters explaining the trial and advising them where to find more information.
Kitchen caddies and a burgundy-lidded waste bins have been delivered separately for those who are within the trial area. Each council's collection contractors delivered the burgundy-lidded waste bins in time for trial residents to begin using them from the week starting 7 March 2022.
Approximately 3000 households across four council areas were selected to participate in the trial. The households in the trial reflect different household types which are representative of dwellings in each council area and across the broader NSROC region. The properties chosen are located in conveniently sized clusters, across different suburbs, and the number was based on the available funding.
The trial will provide valuable data for our councils to inform the future of food waste removal, with a target of reducing food waste in landfill by 50% by 2030.
Food waste and other organic materials can be transformed into a resource by converting it into compost and this trial will help us understand how much food waste is available for this purpose. We will also be surveying residents following the trial to understand their experience and assess what went well or what could be improved upon. Once the trial results have been analysed, the councils will seek further information as required to make the best informed decision about future organics collections."
All residents taking place in the trial have been notified.
Beware of Fungus
The heavy rain has resulted in fungus/mushrooms popping up all over this place.  The Fairy Circle of mushrooms (pictured below) was spotted on Wood Street Lane Cove.  A quick reminder that dogs and people should not eat wild fungus/mushrooms as many of them are poisonous.
After nibbling on a mushroom from his garden, a Sydney man was recently hospitalised.
The communications director at the Food Safety Information Council (FSIC), Lydia Buchtmann, was quoted in The Guardian, and her advice is:
"Avoid touching or eating wild mushrooms. "It is almost impossible to distinguish a death cap or other poisonous mushrooms from edible ones,"
The FSIC noted last month that fruiting of death caps had occurred much earlier than usual, with reports of the mushrooms around Canberra and the Adelaide Hills region since Christmas.
Check your garden, especially if you have pets and small children, and remove any mushrooms using gloves wrap and dispose of in the garbage."
You can read The Guardian article here.
Some Good News – Local Teenager Found
You may have seen notices on our Facebook page about a teen missing from Lane Cove.  NSW Police advised the following on Monday 8 March 2022.
"Teen missing from Lane Cove Located Safe.
A teen missing from the Lane Cove area has been located safe and well.
The 14-year-old boy was last seen in Lane Cove at about 10 pm on Wednesday, 23 February 2022.
When he failed to return home, he was reported missing to North Shore Police Area Command officers, who commenced inquiries into his whereabouts.
Following inquiries and an appeal for information, the teen was located safe and well last night (Sunday 6 March 2022).
Police would like to thank the public and media for their assistance."
Traffic Chaos Monday 7 March 2022 Due to Harbour Bridge Crash
About 7.10 am (Monday 7 March 2022), emergency services were called to the Bradfield Highway after reports three vehicles had crashed, causing one to flip and catch fire.
Fire and Rescue NSW extinguished a fire.  A Lane Cove Local saw the fire from her office.
Two of the drivers – a man and a woman – were treated at the scene by NSW Ambulance paramedics. The man was taken to Royal North Shore Hospital and the woman to Royal Prince Alfred Hospital for treatment of non-life-threatening injuries.
The van driver was trapped and freed by rescue operatives before he was taken to St Vincent's Hospital in a serious but stable condition.
Sydney City Police Area Command officers established a crime scene, and all northbound and southbound lanes on the bridge were closed.
Local buses took commuters to North Sydney, and then commuters had to transfer to a train.
The crash resulted in heavy traffic around River Road, Penrose Street and Centennial Avenue Lane Cove as motorists took alternative routes to avoid the Harbour Bridge.
Locals who were already on the Gore Hill Freeway told us they were stuck for a considerable period of time.  One ITC reader told us:
"Just taken 1.5 hours in an Uber from Lane Cove to make the eastern distributor. Missed my flight, and now there is no traffic past the city."
Another reader told us:
"I left home at 9.30 am, got to Surry Hills at close to 11".
The driver was taken to hospital was in a serious condition, and the police were not able to speak to him or identify him.
An appeal was issued, and police released an image of a distinctive tattoo on the man's hand in the hope a member of the public could assist with identification.  This led to the police being able to identify the 19 year old driver.
The driver has now been charged with assault with intent to take/drive motor vehicle, dangerous driving occasioning grievous bodily harm – drive manner dangerous and negligent driving – occasions grievous bodily harm.  The Queensland man was refused bail and the matter will be mentioned before Central Local Court by way of bedside hearing today.
Prior to the incident, about 6.55 am on Monday 7 March 2022, a 27-year-old man was standing next to his vehicle ¬– a Toyota Kluger– on Sussex Street, when he was approached by an unknown male, who allegedly assaulted him and stole his keys before getting in the vehicle and driving away.  This was the vehicle involved in the incident.
Dashcam footage of the crash is below (warning it is confronting).
ITC was advised by a friend years ago to never drive in the lane next to the oncoming traffic on the Harbour Bridge, and we try not to do that.
Clean Up Australia Day
Several Clean Up Australia Day Events were cancelled or moved to another day due to the wet weather conditions.  The  Stringybark Creek Residents Association Clean up is now on 27 March 2022 – details here.
The Lane Cove Council Clean Up Australia Day event at Manns Point was cancelled. However, it looks like they will reschedule, so check the Council's website for details.
Thursday Night Trivia at the Diddy
Our week in review is sponsored by The Diddy and Lusso Kitchens.  Lusso Kitchens is located at the Diddy.  The Diddy is now hosting trivia on Thursday Nights at 7 pm.  Bookings are essential as trivia is proving to be very popular.  You can book here.
While you are showing off your smarts, you can tuck into a schnitzel from
Lusso Kitchens.
Keep Local News Free
---
Many of you have asked how you can support In the Cove. It's so easy – tell your friends about us, follow us on a different platform or subscribe to our weekly news blast.
We now have a Patreon account  where you can sponsor us for any amount you like (this allows us to keep local News free – no paywall!!!)
ITC wants to make sure you get local News when you need it by employing local people to help us out. We need your help – yes, local business advertises with us, but this is our sole source of funding. Feel free to be a reader sponsor if you have enjoyed our local news coverage – no amount is too small or too big. Thank you so much to the people who have already supported us via our press Patreon account. Help Us Here.
Stay tuned. We will be announcing our In the Cove Intern programme soon – where we will take on a part-time PAID intern who lives locally and is studying either PR, Social Media, Communication or Journalism.   This is our way to give back to Lane Cove, and as you would be aware, we offer free advertising for all local jobs as we are passionate about local jobs for local people.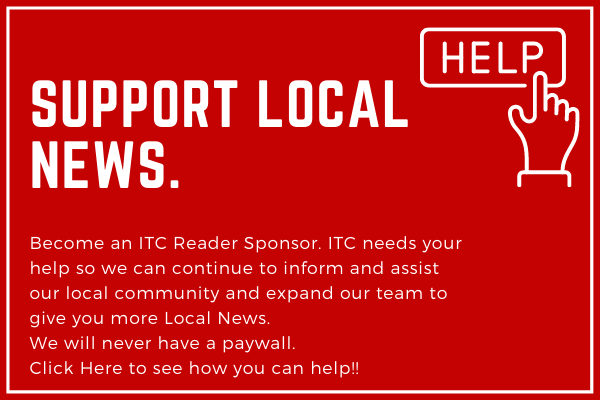 ---
Get Your Local News on Different Platforms
We have many platforms to follow, each taking a different take on Lane Cove News and Information. Don't miss out!
Facebook: www.facebook.com/inthecove