The Lane Cove Council March 2022 Meeting was held on 21 March 2022.  Below are the agenda items and have noted below the outcome of the meeting (ie if the motion passed or failed).
Listed below are the agenda items for the meeting.
Closed Item
The Lane Cove Council has a closed item on the agenda which means members of the public are excluded from the public forum.  The closed item relates to 266 Longueville Road Lane Cove.  Lane Cove Council has entered into a 99 year lease with Australian Unity to design, construct senior living including independent living units and aged care beds.
The following resolution was made:
Council resolved the motion of Councillor's Flood and Kennedy that Australian Unity be advised that Council:-
Does not agree to vary the Lease and Agreements For Lease terms;
Expects Australian Unity to meet its legal obligations;
Authorise the General Manager to write to Australian Unity on a without prejudice basis to explain Council's legal position and seeking to resolve the dispute; and
Authorise the General Manager and Mayor to determine an outcome acceptable to Council in respect of the dispute resolution processes and advise councillors of the proposal prior to finalisation.
The Development of this Lane Cove Council land has been controversial.  It is one of the last green spaces in Lane Cove.  Read more here.
Notices Of Motion
Notice of Motion – Thrive by Five Universal Childcare Recommendation
Councillor Flood is asking Lane Cove Council to support an initiative called Thrive by Five which is calling on Federal and State Governments to make early learning and childcare high quality, universally accessible and affordable – so that every child can Thrive by Five.
Resolved to Discuss at Council Workshop and then resubmit the Notice of Motion
Notice of Motion – Plant Protein Procurement Report Recommendation
Councillor Flood is asking Lane Cove Council to consider options to reduce meat consumption and promote plant-based alternatives at Council functions and events, as well as in Council managed facilities, to improve environmental, as well as human health and animal welfare outcomes.  Just as a side note ITC was at a Lane Cove Council workshop only this week and one of the participants remarked that there were no vegetarian options provided.
Councillor Flood made it clear that the notice of motion was to ensure that there were options for vegetarians and vegans at council events and it was not an attempt to remove meat from the menu.  Councillor Flood stated numerous times it is about having options.
The motion had an extended discussion after Councillor Bennison asked three questions and moved the following amendment:
An amendment was moved by Councillors Bennison and Brooks-Horn that Council undertake consultation with the community to determine if they would like plant-based proteins included in catering for all Council events and venues.
During his speech in support of the amendment, he referred to UK literature about Tofu being no good for developing brains and making them smaller.
ITC has done an extensive literature search and can not find anything to back this up.   ITC has written to Councillor Bennison and asked him to provide a link to the research he cited – we have not received a reply.
He also stated he was not keen on "farting cows causing climate change".
While searching for the research cited by Councillor Bennison, ITC did come across and a research paper – Khara T, Riedy C and Ruby MB (2021) The Evolution of Urban Australian Meat-Eating Practices. Front. Sustain. Food Syst. 5:624288. doi: 10.3389/fsufs.2021.624288
A summary of the findings included the following statement:
"Many participants expressed interest in cutting back further on meat consumption and adopting more plant-based foods but they also identified several challenges—e.g., limited access to plant-based ingredients and recipes, negative meanings associated with vegetarian and vegan diets, and a lack of competence in relation to preparing and consuming appetizing meals using plant-based foods.:
Councillor Bennison's amendment motion was lost.  The original motion was carried with a unanimous vote. 
Notice of Motion – Report Into Affordable Council Childcare Recommendation
Councillor Flood is seeking information so that councillors can better understand the role that Lane Cove Council could play in both offering more affordable options for local families on low incomes, and increasing the number of spaces available in Council owned facilities. Her motion states – It is important that Council does all it can to help close the gap for children from low-income households, ensuring that they do not fall behind from the outset.
Councillors Zbik and Bennison  moved the following amendment, that Council:-
Include in the draft Community Strategic Plan a goal to "support the provision of affordable childcare services that meet the needs of our community";
Following the result of the Federal election being finalized, Councillors receive a briefing on how anticipated Federal and/or State Government policies may impact the provision of affordable childcare in the Lane Cove LGA; and
Monitor for updates on plans for universal childcare at either State or Federal level and undertakes to make submissions to inquiries if opportunities are available.
The amended motion was passed unanimously
Officer Reports for Determination
Bob Campbell Oval Masterplan Re-design – Procurement of Landscape Architectural Consultants Recommendation
MOTION PASSED
Progression of a Sport and Recreation Facility Recommendation
Council is being asked to endorse proposed activities and indicative time frames for a facility to meet the demand for indoor sporting facilities in the Lane Cove area.  The timeline Councillors are being asked to adopt is below.
The motion was passed however it was noted that the report should be back to the council on 15 August 2022 or earlier if possible.  If the referral to the design and review panel impacted on the overall timetable then that step should be removed.  Lane Cove Council also confirmed they were pursuing additional capacity to meet short term training requirements for Netball in Lane Cove.
At the meeting Councillor Zbik said that even if the DA had been approved the Lane Cove Council's Major Projects area would not be in a position to start the project for this year as Council resources were all allocated to the development of St Leonards Over Rail Plaza.
There is now also another funding hurdle, as the money from the 266 Longueville Road Agreement for Lease referred to above has not been paid and the Lane Cove Council may need to undertake dispute resolution procedures (ie mediation or arbitration).
Naming of St Leonards New Green Space Recommendation
MOTION PASSED
Creation of a St Leonards South Coordination Unit – Further report Recommendation
The St Leonard's South precinct will have the most construction sites in the Lane Cove Council area.  There are 23 amalgamated sites within 8 hectares, with at least 1,974 dwellings to be constructed in developments ranging from 6 story's (25m) to 19 story's (65m).
It is expected that there would be a total of 11 Development Applications for the whole of St Leonards South Precinct.
Three development applications had been lodged and publicly exhibited. They are:-
DA21/99 –  21-41 Canberra Avenue and 18-32 Holdsworth Avenue (Areas 7-11);
DA21/162 – 13-19 Canberra Avenue (Area 5); and
DA21/187 – 10-12 Marshall Avenue and 1-3 Holdsworth Avenue (Area 12).
The remaining amalgamated sites are yet to lodge Development Applications with Council.
On 4 March 2022, DA21/99 for Areas 7-11 was approved by the Sydney North Planning Panel subject to recommended conditions.
Given the amount of development, Councillor Southwood requested that the Council investigate establishing a St Leonards South Coordination Unit.  The purpose of this unit would be to ensure that developers speak to each other and inform council of significant events that would impact locals and the road system.
The briefing report and recommendation does not support a coordination unit.   The report states:
"..it is the responsibility of Private Certifiers (appointed by the applicants) to ensure project coordination and management for their own sites. This would include the development of any subsequent plans/strategies associated with the development approval.
While Council's role in an overarching coordination of projects can only be very limited, staff will assist in the coordination of the individual projects where they can, continue to monitor the construction activity on a regular basis, check for compliance with conditions of consent, take rectification measures as and when needed.
To assist awareness in the community it is proposed that the approved Construction/ Demolition Traffic Management Plans be published on Councils website following the issue of the construction certificate."
Given the number of issues that have kept arising in Lane Cove North and recently the Pathways Development in Northwood, locals will need more support than having access to a Traffic Management Plan.  Read our article here about issues with the Pathways Development.
This matter will return to Lane Cove Council at their April Meeting with another report prepared by council officers looking into a committee like the one that was formed when the Mowbray Road area was rezoned to permit multi-storey apartments. 
Rates – Additional Special Variation for 2022-23 Recommendation
The officer's report provides the following background information:
"Council was advised of its proposed rate increase for 2022/23 in late 2021. IPART determined that Council was eligible for a rate increase of only 0.7%. In its determination, IPART also advised that Council would not be receiving an additional rate increase for population growth for 2022/23. The announcement of a 0.7% rate increase came as a major surprise to Councils throughout NSW as it was one of the lowest rate increases announced since rate pegging was first introduced in 1977.
Since the announcement, there has been significant concerns about the impacts of the low rate increase raised by councils, particularly given the increasing costs associated with providing essential services to the community. The OLG and IPART recognise that, due to the delayed council elections and the determination of the 2022-23 rate peg at a lower rate than councils had forecast, councils may not have had sufficient time to prepare special variation application within the normal timeframe. This may result in some councils not having sufficient funds to pay for required infrastructure and services. As such, the NSW Government and IPART have agreed to a one-off Special Variation to Rates round for the 2022-23 financial year only."
Councillors are being asked to endorse the following:
"That Council endorse making application to the Independent Pricing and Regulatory Tribunal, under Section 508(2) of the Local Government Act, 1993, for a permanent single year Special Rate Variation of 2.0% (including the rate peg of 0.7%) for the 2022/23 financial year."
Lane Cove Residents will be able to have their say on this rate increase.
Lane Cove Council will include commentary of the proposed application for a Special Variation to Rates during its public exhibition of the Delivery Program and Operational Plan (including Budget) which will commence in late April 2022.
The Revenue Policy section of the Operational Plan will specifically include commentary regarding the proposal to increase rates from 0.7% to 2.0%.
 IPART will separately be consulting with the community for a period of 3 weeks with respect to those councils that have sought application to increase rates.
MOTION PASSED
Lane Cove Community Land Plan of Management (Crown Reserves with Council Manager) Recommendation
The Draft Community Land Plan of Management (PoM) governs the use and management of community land. It is recommended that the Draft Plan and proposed categorisation of the Crown Land parcels be placed on public exhibition allowing the community the opportunity to comment on the content of the plan and categories.
In addition, Crown Land that has been identified as under Council control, as part of this process, be incorporated into Council's Community Land Asset Register using the average land value per square meter provided by the Valuer General as at 2016 for rating purposes.
If the draft PoM is amended following public exhibition, Council is required to obtain the Ministers consent to adopt the PoM. If Council makes no alteration post exhibition, a copy of report from the Public Exhibition must be submitted with the Council Resolution to Crown Lands for information.
MOTION PASSED
Proposed Voluntary Planning Agreement for Area 5 – 13-19 Canberra Avenue, St Leonards – St Leonards South Precinct Recommendation
MOTION PASSED
Review of Organisation Structure Recommendation
Lane Cove Council is restructuring the Environmental Health section with an even greater emphasis on Sustainability and Resilience. As reported to Council in 2021, Council is on track for the Council's operations to reduce its emissions in line with Council's declaring a Climate Emergency. Council's operations previously represented 2% of emissions within the LGA, from 1 July 2022 this will have reduced to 0.5%. In line with Council's overall emission reduction targets, a greater emphasis now needs to be placed on working with the community and businesses to reduce their emissions, which is more complex and requires significant community engagement.
Also Council, with the adoption of its first Resilience Plan, has recognised the importance of building community capacity to respond to a changing climate.
The Environmental Health Section will have its health regulatory responsibilities transferred to the Development Assessment section, with this section renamed Development Assessment and Compliance. As per the Local Government Award, a consultation process will need to be undertaken regarding the proposed change.
MOTION PASSED
Pecuniary Interest Returns 2022 Recommendation
Council Snapshot February 2022 Recommendation
Lane Cove Council publishes a snapshot every month which sets out what has been happening over the month from development applications, parking fines, waste and landfill reduction reports, reports on upcoming footpath maintenance.
Below are some of the stats of interest – these are for February 2022
Article originally published as Lane Cove Council March Agenda 2022 – get involved.
Updated after the Minutes of the Meeting were released on Thursday 24 March 2022 to include extracts of minutes.
Updated 28 March at 9.31 am to include a reference to an article found when undertaking a literature search.
 Keep Local News Free
---
Many of you have asked how you can support In the Cove. It's so easy – tell your friends about us, follow us on a different platform or subscribe to our weekly news blast.
We now have a Patreon account  where you can sponsor us for any amount you like (this allows us to keep local news free – no paywall!!!)
ITC wants to make sure you get local news when you need it by employing local people to help us out. We need your help – yes, local business advertises with us, but this is our sole source of funding. Feel free to be a reader sponsor if you have enjoyed our local news coverage – no amount is too small or too big. Thank you so much to the people who have already supported us via our press Patreon account. Help Us Here.
Stay tuned. We will be announcing our In the Cove Intern programme soon – where we will take on a part-time PAID intern who lives locally and is studying either PR, Social Media, Communication or Journalism.   This is our way to give back to Lane Cove, and as you would be aware, we offer free advertising for all local jobs as we are passionate about local jobs for local people.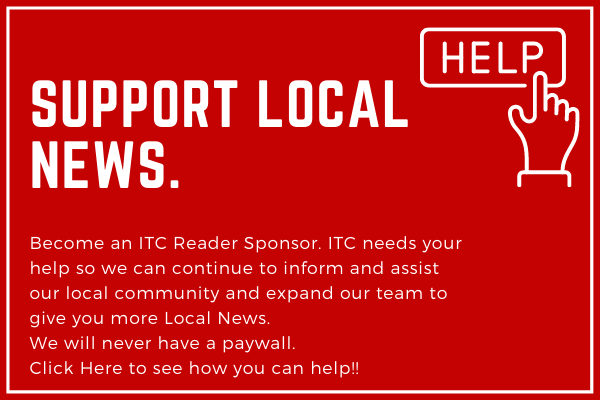 ---
Get Your Local News on Different Platforms
We have many platforms to follow, each taking a different take on Lane Cove News and Information. Don't miss out!
Facebook: www.facebook.com/inthecove