Immersive experiences at galleries and museums have become very popular in recent years. Much of this is achieved by high-end technologies working on a large scale to create a spectacle.
A Different Type of Immersion
The Turning-whisper to the silent earth is a different take on immersion as contemporary art.
It combines the analogue with the digital, juxtaposing physical and digital materialities. With a richly layered approach to content, The Turning responds intimately to the site and geography of the exhibition. Designed as an environment rather than a simple arrangement of artworks in a white cube, the exhibition responds to the unique architecture of the space, such as its moveable walls and transformed the gallery into a darkened space for an immersive experience of light, sound, moving image and sculpture.
Light Refraction Mechanisms
Central to the exhibition is two large scale light refraction mechanisms.  These mechanisms build on the work of the early pioneers of cinema whose magic "lanterns" (such as the zoetrope and the praxinoscope) transform the spaces in which they were exhibited, surrounding the viewer with animated light.
Inspiration – Greek Myths
The Turning is inspired by The Sonnets to Orpheus by Rainer Maria Rilke. Written in 1924, they are a homage to the Greek Myth of Orpheus – an ancient story whose key themes of human frailty, loss and power continue to resonate today.
For this exhibition, the myth is an allegory for the fragile state of interdependence that exists today between each other and our environment.  It draws from the rich metaphors of the sonnets and in so doing, evoke the unique rhythms and flows found in estuary environments such as the Lane Cove River in the creation of installation "assets" – light sculptures, photo-media, animation, film scapes and sound compositions. The assembly of these assets is carefully choreographed in the gallery space to make evocative relationships creating a new environment within the gallery – a timeless, meditative experience designed to resonate with different audiences.
Being Present
In an age when the digital is often equated with screen-time and online consumption, The Turning emphasises the importance of in-person, physical experiences through the spatialisation of animations, video projections and sound in combination with sculpture and sound.  All this is made possible by a highly interdisciplinary way of collaboration. The artist collaborative  tranSTURM includes, media artists, animators, sound artists, choreographers and architects. Their exhibition experience includes festivals such as VIVID Sydney and outdoor venues at the Newington Armoury and Sydney Olympic Park.
Free Entry
This is a unique exhibition that has to be viewed in person for a full experience. Visit The Turning-whisper to the silent earth at Gallery Lane Cove before it closes on Saturday 2 April 2.30 pm. Entry is free. The gallery is open weekdays 10 am-4.30 pm.
Guided Tour and Panel Tickets
Join the artists for a free guided tour on Saturday 2 April at 11 am followed by a panel discussion and Q&A on the Rainer Maria Rilke and Lane Cove River inspirations.  Book here for panel tickets.
The Turning-whisper to the silent earth is a Gallery Lane Cove curated program funded by Create NSW's annual organisation grant.
tranSTURM – Chris Bowman (Creative Director) in partnership with Anita Kelly, and in collaboration with Mike Day, Rachel Walls and Rachael Priddel with original sound composition by Roger Mills. 3D animation by Holger Deuter and Jason Benedek animating the choreography of Dean Walsh.
The information on the exhibition was written by Rachael Kiang Manager & Curator Gallery Lane Cove
Enrol in an Art Class or Workshop – Gallery Lane Cove
Gallery Lane Cove + Creative Studios is located in the building directly across from the Lane Cove Library.  Melbourne might have the Paris End of Collins Street, but Lane Cove has the Cultural Precinct in Longueville Road (Gallery Lane Cove + Creative Studios,  Lane Cove Library and the Living and Learning Centre all located on Longueville Road).
Gallery Lane Cove provides the whole community with opportunities to attend art workshops and term classes in printmaking (including screen printing), sewing, jewellery making, knitting, life drawing, painting and pottery.  ITC is especially excited about going to pottery/ceramic classes (ITC became obsessed with pottery after watching the Great British Pottery Throwdown – like MasterChef for potters).
If you would like to know the courses coming up and be notified when there is a new course Email Gallery Lane Cove and put 2022 Workshops in the subject line.  They will then get back to you and let you know what is coming up.  Find out more here.
School Holiday Workshops – Gallery Lane Cove
Join Gallery Lane Cove + Creative Studios to bring in the New Year with a fantastic array of Ceramics, Painting, Drawing and Sewing workshops for the kids.  Gallery Lane Cove also offers before and after school time care to help parents who do not work in Lane Cove.
Click on the below link to get all the info and to book into our jam-packed Easter School Holidays program.  Book soon as the holiday art programmes sell out quickly.
If you would like to use a course credit or Creative Kids Voucher towards any workshops please email us at [email protected]
Contact Details and Hours
Opening Hours:  10:00am – 4:30pm Monday – Saturday and 10.00 to 2.30pm
Gallery Lane Cove and In the Cove are community partners – Gallery Lane Cove is a not for profit organisation and we offer a discounted ITC Business Supporter package to them – this article is part of that arrangement.
Keep Local News Free
---
Many of you have asked how you can support In the Cove. It's so easy – tell your friends about us, follow us on a different platform or subscribe to our weekly news blast.
We now have a Patreon account  where you can sponsor us for any amount you like (this allows us to keep local news free – no paywall!!!)
ITC wants to make sure you get local news when you need it by employing local people to help us out. We need your help – yes, local business advertises with us, but this is our sole source of funding. Feel free to be a reader sponsor if you have enjoyed our local news coverage – no amount is too small or too big. Thank you so much to the people who have already supported us via our press Patreon account. Help Us Here.
Stay tuned. We will be announcing our In the Cove Intern programme soon – where we will take on a part-time PAID intern who lives locally and is studying either PR, Social Media, Communication or Journalism.   This is our way to give back to Lane Cove, and as you would be aware, we offer free advertising for all local jobs as we are passionate about local jobs for local people.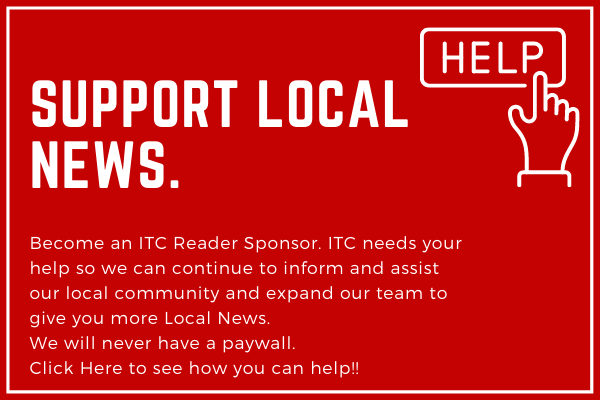 ---
Get Your Local News on Different Platforms
We have many platforms to follow, each taking a different take on Lane Cove News and Information. Don't miss out!
Facebook: www.facebook.com/inthecove