Our week in review is "top-heavy" with police incidents and investigations.  ITC is like the old neighbourhood watch in some ways; we report the issues so you can be aware of them.  It does not mean that crime in the Lane Cove area is increasing; you may be more aware of the issues because we have been reporting them.
However, ITC was very interested to see if there had been an increase in local crime, so we asked Anthony Roberts's office to find out if crime had increased in the Lane Cove electorate (which is larger than the Lane Cove Council Area).  If it has grown, will police receive more funding or resources?
A few weeks ago, we received the following update from the Crime Manager at Ryde Police Office Command:
"In relation to your enquiry relating to the crime statistics within the Lane Cove area, crime is generally stable within this area. A breakdown of crime within the Lane Cove electorate boundaries indicates that there has been a slight rise in residential break and enter offences which is likely reflective of the holiday period where residents are away for longer periods due to vacations and increased social engagements. The area continues to experience low numbers of business break and enter offences with no hot spots identified.
In respect to steal from motor vehicle offences, there has been a slight increase in the number of incidences. Once again this may be attributed to the holiday period and the effect of residents returning to work and parking their vehicles away from their home locations.
Another significant factor to consider when evaluating crime trends/patterns is the effect of lockdowns during the pandemic. These lockdowns led to a significant drop in all property crime types, and this needs to be considered when analysing crime trends over the past 3 to 6 months.
There are several factors that contribute to the crime trends within the Ryde Police Area Command, and it would be appreciated if you could re-enforce with your constituents the importance of crime prevention strategies such as: –
Locking all home windows and doors even when occupants are home during nighttime hours;
Locking all vehicle doors and windows when unattended;
Ensuring that items of value are not left in vehicles that are easily viewed. Ideally, don't leave any items of value in the vehicle;
If going on vacation, ensure a neighbour is tasked to clear the mailbox at regular intervals."
Blackman Park Sinkhole
Temporary fencing has been erected at the western end of Blackman Park, restricting access to the cricket nets, basketball court and part of the dog park, and parts of the car park beyond the toilets.
We asked Lane Cove Council for an update on the progress being made to re-open the park's western end.  A Lane Cove Council spokesperson answered our questions below:
"Why did the sinkhole happen? 
The sinkhole occurred due to the collapse of a stormwater pit at this location. The old pit was installed many years ago with concrete pipes used as raisers, which was a common practice in years gone by. The depth of the pit, the age and type of materials used, the surrounding ground conditions, and the amount of rain all contributed to its collapse.
What is the rectification plan?
Lane CoveCouncil will use precast concrete raisers to rebuild this stormwater pit on a solid concrete base. Two shoring boxes have been installed to stabilise this sinkhole and the surrounding field. Excavation is down to approximately 6metres from the surface. Once down to the invert of the pit, Council will then inspect the hole and pipes to ascertain their condition. This information will inform the best solution for reconstruction to minimise the risk of this happening again in the exact location.
How much will the costs be of rectifying the area?
The cost is still unknown as there are still many uncertainties relating to the condition of the existing pipes and surrounds. The process is slow due to the ground conditions and the volume of water that needs to be dealt with.
How long will the western part of Blackman Park be fenced off?
It is difficult to say due to the uncertainties mentioned and the ongoing inclement weather. We're working to finalise the works as soon as possible and will reopen the area to the public when it is safe to do so."
Bus Cancellations and Delays
As many of us head back to offices, the demand for public transport has increased.  For most Lane Cove residents, buses are the only available option.  At the start of this year, Busways became the operator of Region 7 (buses that service Lane Cove are part of Region 7).  Read more here about the contract being awarded to Busways.
Recently, ITC readers have raised issues about the reliability of the Region 7 service.  There were numerous complaints about Route 292 (which services Mowbray Road and Lane Cove North).  We asked Busways why services were being cancelled, and a spokesperson provided us with the following statement.
"Busways North West, like many other bus operators, has had driver availability impacted by COVID-19, as well as an industry-wide driver shortage.
We are continuing to manage COVID-related impacts on our services and our priority is to maintain the highest safety standards for our staff and customers while continuing to provide reliable and consistent services to timetable.
In the event where service cancellations are necessary, we do our best to minimise the impact on customers by preserving service coverage across the network and limiting cancellations to high-frequency routes during short windows in the morning and afternoon peaks."
We also asked Busways to confirm that staffing levels have not been reduced since they took over Region 7 – we were told that staffing numbers are the same as before, but they are having trouble recruiting drivers.
Update on Child Approach Case – Incident at Bus Stop
North Shore Police Area Command had previously confirmed that a child approach incident on 9 March 2022 had been reported to them, and they were investigating. North Shore Police Area Command released the following statement on their Facebook page.
Since the news of that investigation became public, police confirmed that they were also another incident reported to them on 18 March 2022. The police have NOT issued an update on that investigation.
The timeline of the incident and how it became public is in our article here.
Badloves at The Canopy
On Saturday night, the Badloves rocked The Canopy.  The weather cooperated, and the concert went ahead without a hitch. However, the possibility of rain meant that the crowd numbers were less than anticipated.
The next concert is the fundraising concert for flood-impacted communities with Christine Anu – more details here.
The Alcott Lane Cove is also holding a fundraising comedy night with $10 from each ticket sold going to the SES Flood appeal – more details here.
Fundraising Opportunity at the Alcott
The Alcott has a fundraising opportunity for local sporting groups/charities/community groups.
Expression of Interest to host Two -Up at The Alcott Lane Cove on ANZAC Day.
Monday 25th April from 2 pm.
The Alcott Lane Cove would like to provide a fundraising opportunity to a local sporting, charity, not for profit or community group.
The Alcott Lane Cove asks that the person(s) they put forward to host, has either previous experience in hosting two-up or would be highly confident in doing so.
The selected group will then have an opportunity to fundraise on the day.
The Sydney Edible Garden Trail – Costa in The House (well, the garden, actually)
Last weekend was The Sydney Edible Garden Trail (a community not for profit event whose founders included two Lane Cove locals).  Several Lane Cove gardens were open to the public, including Bridget Kennedy's garden and  Rose Moore's Riverview Garden (see our cover photo).
Check out Costa Georgiadis Official page to see Rose's garden!
Well done to the Edible Garden Trail team.
Business Alerts
Fuchsia Boutique Closing
Fuchsia Boutique is located on Longueville Road (not far from Aussie Lane Cove) and has been in Lane Cove for 55 years in four different locations.
The owners issued the following statement to clients:
"It is with great sadness that we send this message out regarding the closure of our beloved shop.
Like many others, unfortunately, the impacts of Covid have been far too significant on our business and we will need to close our doors after 55 years in the community.
On a positive note, it has been an absolute pleasure meeting and working with each and every one of you over the years. We will be holding a closing down sale.
We want to clear out all stock so feel free to come in and grab yourself some amazing items at discounted prices and share some final moments with us and our staff who have also seen us go through all the ups and downs of the last few years who without them, we would not have made it this far.
Thank you once again for supporting us throughout our years in service and we look forward to seeing you all soon.
The Fuchsia team
135 Longueville Road, Lane Cove"
Another business is closing due to COVID19 – the business has employed many Lane Cove locals over the years. Do pop in and say hello and have a chat, and check out the sale.
M S Cellars – Longueville Road
A Development Application has been lodged for a new bottle shop on Longueville Road (where the Goodwill Shop used to be) not far from Gazman.
It is called MS Cellars and is described as your personal wine store.
The concept drawing is below.
Child Car Seat Safety Checks – Until 30 April 2022
Lane Cove Council offers free child car seat fitting vouchers to people who live in the Lane Cove Council area.
A voucher entitles the recipient to have a restraint checked, refitted or fully fitted by a designated local Authorised Restraint Fitter. Vouchers must be redeemed by Saturday, 30 April 2022. For further information Council's Road Safety Officer on (02) 9911 3576 or email [email protected].
If you want to see which child car seat to buy, check out www.childcarseats.com.au.
The Huge Plant Sale is Back
Needs some new plants? Don't want to break the budget buying them? We have the solution!! The Huge Plant Sale is back on again on 10th April 2022.
Keith and Maureene, a retired couple, are avid gardeners and propagators. Twice a year, Keith and Maureene open their house and hold a huge plant sale. The sale is aptly called the Huge Plant Sale.
All proceeds from the Huge Plant Sale are donated to the National Breast Cancer Foundation (NBCF). They have raised over $100 000 for breast cancer since they started selling plants a few years ago.  Find out more here.
Local Sport
Lane Cove Tigers Rugby League
Lane Cove Tigers Rugby League are hosting a special free Come & Try junior league session for girls and boys aged 4 – 8 this Saturday at 9 am at Tantallon Oval.
This is a great opportunity to bring to come along, learn some skills, have some footy fun and see what it's like to be a Tiger. All players who participate will receive a free sausage sizzle on the day – WOOHOO!!
TINY TIGERS FREE SKILLS SESSION
Saturday 2nd April 9 am – 9.45 am
Tantallon Oval, Epping Rd Lane Cove
Boys and Girls 4 – 8 y.o
Free sausage sizzle for all participants
ALL WELCOME!
North Sydney Bears in Lane Cove
This Sunday, join Bears Legend Greg Florimo and North Sydney Bears players for a FREE & FUN skills clinic at The Canopy, Lane Cove.
ALL WELCOME!  Sunday 3rd April 10am – 12pm
Lots of prizes to be won!
Barney the Bear will be there to say hello.
Crime and Accident Reports
Incident Mama Hong
An update on last week's report of Mama Hong's is here.
Lane Cove Aquatic Centre – Items Being Stolen
The North Shore Police Area Command asked ITC to remind people about leaving their personal items like wallets and keys unattended at the Lane Cove Aquatic Centre. There have been a few incidents where wallets have been stolen when hidden under towels in the last month or so. Unfortunately, it's like, "If you leave it, they will come" (apologies to Kevin Costner).
When ITC published this information on our Facebook page, we mentioned people should use the lockers.
The last time we used the Lane Cove pool, there were lockers near the change rooms and the "play pool".   Our ITC readers immediately told us the lockers had been removed.
By removing these lockers, the general public (who were not Bluefit Gym members) did not have a place to store their valuables properly.
ITC spoke to Bluefit's general manager, and he told ITC that they are going to order lockers asap (obviously, some delays are getting some equipment due to COVID19.). They will be located where they used to be, on the pool deck near the free play pool.
Vandalism and Graffiti
North Shore Police Area Command Facebook Post – Malicious Damage
This week, the following request for assistance was posted on the North Shore Police Area Command Facebook page.
St Michael's Church Parish Hall Vandalism
Late Tuesday or Early Wednesday last week, two of the support poles to the awning on the Parish Hall were forcibly removed by persons unknown.
Several empty bottles of wine were left at the scene. Police have been notified.
Graffiti Old Caltex Site River Road – Wall of Trendsetter Travel
The old Caltex site is vacant, but it is still owned by Caltex. The Trendsetter Travel building white wall is now covered in Graffiti. See the picture below.
Spray Painting
Several drivers, who were stopped at the traffic lights near the Lane Cove Bus Interchange, observed a person spray paint the Interchange wall during daylight hours. The same person was also observed spray painting a building on Pacific Highway in the Lane Cove Council Area – police were notified.
Jack & Co Burns Bay Road
Our week in review is sponsored by Jack & Co Burns Bay Road.
Free Donut Friday at @jackandcofood LANE COVE is back!🍩
Last time they offered 500 donuts to celebrate the opening of the Lane Cove Store. Little did they know they would run out the door in record time. The Lane Cove Store is located at Burns Bay Road Lane Cove West.
They have decided to rerun it with 1000 FREE donuts at our Lane Cove Store. This is NOT an April fools joke.
They have partnered up with their mates at @bakedandco_hq to give away 1000 free iced rings donuts – no strings attached.
The donuts will be available until stocks last and as soon as the store opens at 6.00 am
Keep Local News Free
---
Many of you have asked how you can support In the Cove. It's so easy – tell your friends about us, follow us on a different platform or subscribe to our weekly news blast.
We now have a Patreon account  where you can sponsor us for any amount you like (this allows us to keep local News free – no paywall!!!)
ITC wants to make sure you get local News when you need it by employing local people to help us out. We need your help – yes, local business advertises with us, but this is our sole source of funding. Feel free to be a reader sponsor if you have enjoyed our local news coverage – no amount is too small or too big. Thank you so much to the people who have already supported us via our press Patreon account. Help Us Here.
Stay tuned. We will be announcing our In the Cove Intern programme soon – where we will take on a part-time PAID intern who lives locally and is studying either PR, Social Media, Communication or Journalism.   This is our way to give back to Lane Cove, and as you would be aware, we offer free advertising for all local jobs as we are passionate about local jobs for local people.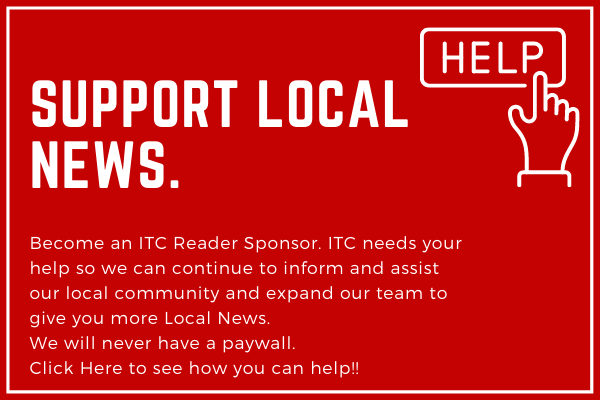 ---
Get Your Local News on Different Platforms
We have many platforms to follow, taking a different take on Lane Cove News and Information. Don't miss out!
Facebook: www.facebook.com/inthecove