Lane Cove's Annual Citizenship Awards were held on 18 May 2022 to recognise the outstanding contribution of individuals and organisations within the Lane Cove community.
Citizen of the Year – Michelle Casiglia
Michelle has been the President of the Lane Cove Concert Band (LCCB) since 2017, having been a graduate herself of the band's 2011 beginner program, Learn to Play Music.
"I had never played a musical instrument before but had always wanted to even as a child. I ended up with flute because there was one spare to hire, so I started learning at 38 years of age," she says.
LLCB is a fine-tuned operation that has more than 200 members across six bands. A fierce advocate for the band, Michelle, in consultation with the rest of the committee, worked tirelessly during the lockdowns to ensure members continued to meet and practice via Zoom. Online performances continued too, keeping everyone's spirits high and bringing a sense of normality to the band and its audiences.
Once face-to-face playing could recommence Michelle ensured that each band fully understood and followed COVID safe regulations to ensure everyone felt comfortable enough to attend rehearsals.
Each time you see the LLCB at Christmas Carols, ANZAC Day, Remembrance Day and in the Lane Cove Plaza, Michelle has been the person behind the scenes organising the event.
Michelle was also President of the Lane Cove Public School Band and during that time she helped put in place a music program that is the envy of many schools.
Michelle welcomes new players and fosters an atmosphere of inclusion and tolerance. She keeps the different parts of the organisational team informed and connected so the band runs smoothly. It is a huge effort and one that is done without expectation or remuneration.
Mike Taylor – Leadership Award
Mike is the founder of the 'Get That Job' program that is run in conjunction with Lane Cove Council. With a resume that spanned British Airways, BP Australia and PWC, upon retirement, Mike wanted to find a way to use his skills and background in career management to help local people find new opportunities or make a career change.
"I realised there was a group of people in Lane Cove who had been made redundant, or who were looking for a career change and I realised that I could prove useful to these people in some way," he says.
The free program has been very successful, running for the past four years. Mike says he is particularly proud of helping new immigrants or people whose first language isn't English.
Mike has helped people find positions in Lane Cove Council, NSW State Treasury, and private enterprises.  You can read more about Get That Job here, and information on the next session is here.
Ferg Brand – Community Service Award
In March 2005, Ferg became a volunteer trainer with Lane Cove Greenwich Computer Pals for Seniors, also known as the Lane Cove Seniors Computer Club, running two sessions per week for 13 years until its closure in September 2018. To keep the program alive, Ferg approached Lane Cove Library, where he offered 'Learn to Love Your Laptop' sessions for seniors. The sessions continue thanks to Ferg, who has taught more than 100 seniors how to be computer literate.
Angus Menzies, Young Achiever
Angus has committed seriously to his dream of competing in swimming at the Olympics and this year he won the gold medal for open age swimming in NSW, beating Matt Wilson, a former world record holder in the 100 m breaststroke. Angus is currently competing in the Australian Swimming Championships, which are also the Commonwealth Games Selection Trials.
Dan Graham, Access and Disability
Dan is a trained Theatre Director and Diversity in the Arts advocate. He is co-Chair of Artists with a Disability (part of the MEAA) and his work, which is informed by his own Neuro-Diverse experience, has taken him from Lane Cove across the world to places such as New York, London, Chicago, and Barcelona. Most recently, he worked on the 'Mad or Bad' show which explored neuro-diversity in Shakespeare and 'Sam I Am' in partnership with deaf artist, Sam Marin.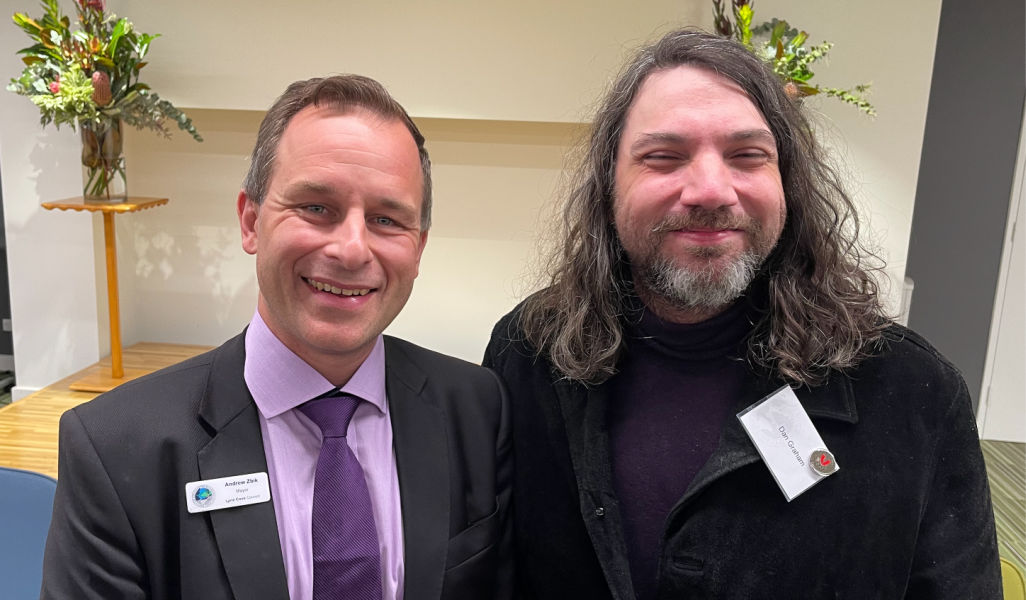 Colin Piper OAM, Music, Art & Culture
In January 2022, Colin was awarded the Medal of the Order of Australia (OAM) in recognition of his significant service to music and has now received this year's Lane Cove Music, Art & Culture Award. Colin has enjoyed an illustrious career in music with many strings to his bow. A teacher and conductor for many years (he has been a guest conductor with the Adelaide Symphony, Canberra Symphony and Ku-ring-gai Philharmonic Orchestras), he is also Patron of the Lane Cove Youth Orchestra.
Belinda Bernstein, Sports Award
Belinda joined the Lane Cove Netball Club as a player, parent and committee member in 2007. She coached teams, umpired, and played herself before taking on a decade-long presidency from 2009 to 2019. Belinda is now the President of Northern Suburbs Netball Association, the largest association in Australia with close to 5,500 members.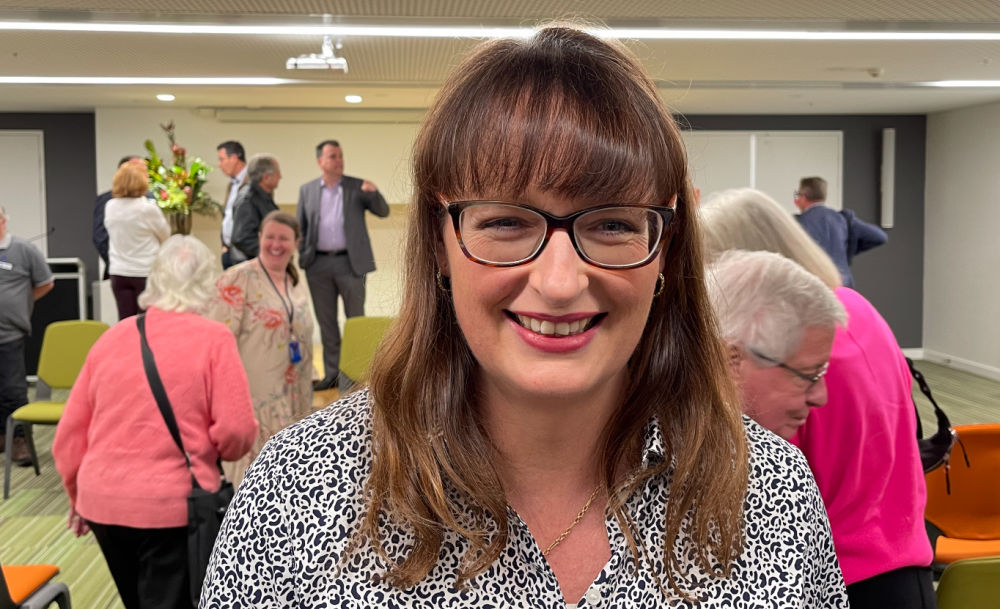 John Hayward, Sports Award
John sailed at the Lane Cove 12ft Sailing Skiff Club in the 60s and, in 1996, re-joined when enrolling his children in the Club's Learn to Sail program. In 2009, he co-founded the Club's RUST group (Retired and Unemployed Support Team), which continues to meet fortnightly to perform a multitude of tasks from cleaning and maintenance to the building. During his time, he has been the Hon Secretary, the Off Water Club Captain, Vice Commodore, and Safety Officer.  In 2010 the Club recognised his efforts by awarding him a Life Membership.
In September 2018, a fire ripped through a Lane Cove Skiff Club boat storage shed. Over 50 fibreglass boats, including Cherubs, Lasers, Sabots and Flying 11s, were destroyed when the shed caught fire. At 3.30 am, John was the first on the scene and worked with authorities, he quickly developed a rebuilding plan that was put into action.
Robyn Stutchbury, Community Service Award
Robyn has been living in Linley Point for the past 60 years and throughout all that time she has played an active role in community life. From 1965 to the 1980s, Robyn held various executive and committee positions with the Linley Point Progress Association.
She is the editor of the Linley Point newsletter, Linley Matters, and boasts over 50 years with the Lane Cove Bushland Society, not to mention being a member of the Lane Cove Swim Club and Lane Cove Art Society. She is also a member of the Lane Cove Council Age-Friendly Advisory Committee.
For the past 12 years, Robyn has given her time as a committee member and executive of Lane Cove West Residents' Association.
Stephen Miller, Workplace Award
Stephen is currently the school crossing supervisor at Lane Cove Public School and a Marriage Celebrant who has wedded many Lane Cove locals.
A long-term local, he was up until retirement the owner and CEO of an advertising and media agency.
Stephen reliably turns up in all weathers to assist with traffic management and ensure the safety of children and their parents during the busiest times of the day.
Stephen was nominated by the Lane Cove Public School parents, and they also recognised the work he has done in helping the school to fundraise.
When he's not on the crossing, he is also the TV critic for The Village Observer.
You can read more about Stephen Miller here.
Rachael Kiang, Workplace Award
Rachael is the manager and curator of Gallery Lane Cove + Creative Studios, where she has been curating exhibitions, creative programs, and overall operations since 2018.
Since that time, Rachael has expanded the number of classes on offer and put together a vibrant program that has put the gallery on the arts map.  Recently the Prescence of Mind Exhibition gained national attention ABC Radio National's The Art Show with Daniel Browning described the exhibition.
"Forget wine and cigarettes – how does mindfulness stimulate artists? Cindy Chen and Lachlan Warner are two artists whose Buddhist practice is foundational to their creativity. Curators Kath Fries and Rachael Kiang have included them in a new exhibition exploring the hot topic of mindfulness and meditation, called Presence of Mind."
You can hear the interview here.
Crando Kazuo Saito (aka William), Workplace Award
Crando Kazuo Saito has operated a Dojo (karate school) in the Lane Cove area for over 35 years.  He has gained extensive experience in several martial arts since 1957 and is currently the highest-ranking, 10th Dan Karate Master in Australia.  Saito has also dedicated a large amount of time to the study of various schools of Japanese Buddhism and currently is Ajari (Abbott) of Koyasan Shingon-Shu.
His passion to empower others, with over half a century of dedication and a positive mindset, is something all students aspire to. His Dojo currently operates out of Lane Cove West Bowling Club, where he continues to teach traditional Japanese martial arts.
Helen Smith, Sustainable Citizen
This year, Helen reached an impressive 20 years of voluntary service as a Bushcare volunteer in Greendale Reserve, Greenwich.
In addition, Helen started volunteering through the Bush Friends program in 2013 and has dedicated thousands of hours to restoring and regenerating Lane Cove's bushland. She also looks after her street's communal veggie patch.
Council Workplace Award – Michelle Greenfield
Michelle started her career with the Lane Cove Council as Bushcare Co-Ordinator.  She is currently the Bushland Interpretations Officer.  Her Wildlife Programmes are incredibly popular. The Elusive Echidna presentation was recently held with 150 participants.  She also co-ordinates Clean Up Australia Day, National Tree Day and was even the Golden Whistler Mascot.  Her work on Powerful Owls has been important and she has worked on several council publications including the recently updated Bushwalks Around Lane Cove 7th edition – Free Download
Council Workplace Award – Lane Cove Council's Tree Team – Alex Drenth, Alex Evered, Fletcher Gardner and Brad Tucknott.
The Tree Team is responsible for ensuring that Lane Cove remains known as Leafy Lane Cove.  However, with the recent wet weather, the Tree Team has been incredibly busy.  They work with emergency services in all kinds of weather and at all heights.  They recently worked quickly to clear a tree when a huge branch fell on a car on Epping Road.
Sustainable Organisation – Storage King, Lane Cove West
Storage King Lane Cove is incredibly generous to local community groups.  It provides free of charge storage space to the Lane Cove Sustainability Big Coffee Cup and also act as a drop off point for Uplift, Pass it on Clothing.  Storage King has sponsored the 1st Tambourine Sea Scouts, Lane Cove Rotary and Lane Cove Cricket Club
Outstanding Business of the Year – Charitable Support: Bakers Delight (Lane Cove)
Joyce Aimond, the owner of Bakers Delight, has been a businesswoman in Lane Cove for more than 25 years.  During this time, she has donated to local charities and has been a big supporter of Delvena Women's Refuge and NICU Food from the Heart.  She works with St Vincent De Paul to donate any bread left each day to the Matthew Talbot hostel.  She has also donated numerous prizes to local schools and sporting organisations.  She has also employed many Lane Cove locals.
Outstanding Business of the Year – In the Cove – recognised for Creating Community Connections
Thank you to the locals who nominated In the Cove for an award.  In the Cove was honoured to receive the award.  ITC's mission statement is to keep Lane Cove locals in the know and up to date on matters that impact them.  Now more than ever, locals want to know what is going on locally, and ITC is the only source of local news provided by Lane Cove residents.  We love what we do and thank you to all the people who stop us in the street and tell us how much they enjoy In the Cove.
The ceremony also included the Neighbour Day award, and we will be publishing an article on the Neighbour Day awards soon.
Help Support Local and Independent News
You can support us in three ways:
If you own a local business or a Lane Cove resident who owns a business, you can advertise with ITC – our packages start from a $30 monthly fee (for a 12-month commitment). Email us here for our rates card.
Buy the ITC  team a coffee – our office is nearly every coffee shop in Lane Cove, and we regularly meet locals at coffee shops – buy the ITC team a coffee (or two) here.
Become an ITC reader sponsor –  Feel free to be a reader sponsor if you have enjoyed our local news coverage – no amount is too small or too big. Thank you so much to the people who have already supported us via our press Patreon account. Help Us Here.