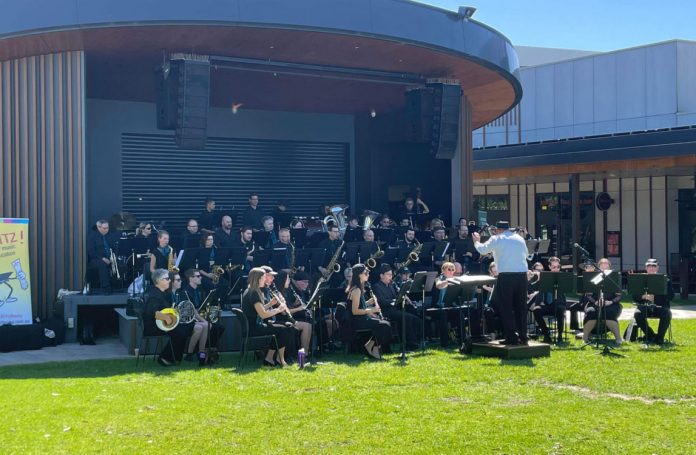 Welcome to our Lane Cove News week in review. It's been a big week of social activities in Lane Cove.
Halloween
Halloween was bigger this year.  More houses/apartments were decorated, some streets held Halloween get-togethers, and there were definitely more kids out and about trick-or-treating.  The ITC household set a record with 120 chocolates being handed out (and numerous more being eaten by ITC – whose bright idea was it to buy the kit kats?).  After two years of not being able to socialise with your neighbours, it was lovely to see the kids having fun.
The self-proclaimed wicked witch of Lane Cove North, Corrine Bozsoky, was a hit in Lane Cove North (bottom right).    Below are a couple of photos sent to us by locals.
Melbourne Cup
There were fewer people watching the Melbourne Cup in Lane Cove Plaza or The Canopy.
There are several reasons for that.  More locals are saying NUP to the CUP (judging by comments left on our Facebook page), and many residents (like ITC) would do their once-a-year flutter at the TAB and then stay around the plaza to watch the race and hopefully collect their winnings.  There is no longer a TAB in the Lane Cove Plaza (there are still facilities at the Longueville Hotel).   Venues such as The Alcott, some restaurants in The Canopy, the Longueville Hotel, and the Lane Cove Golf Club had good crowds.
These photos were taken at 2.58 pm on Melbourne Cup Day.
Have Your Say on the Melbourne Cup Screening of the Melbourne Cup at The Canopy, Lane Cove Plaza and other Council Open Spaces
At the Lane Cove Council September meeting, Greens Councillor Rochelle Flood proposed that Lane Cove Council no longer screen, promote, or advertise the Melbourne Cup on any public/council-owned property.
The motion also requested Lane Cove Council to investigate opportunities for other events or activities to be held on Melbourne Cup Day that better align with community and family values and help drive business/trade.
Several Lane Cove Councillors said although they had their own views on the Melbourne Cup, it should be up to the community to decide if they want to watch the Melbourne Cup in Lane Cove Council Open Spaces.
The following motion was passed:
Lane Cove Council:
Undertakes Community Consultation to ascertain whether the community would support Council no longer screening, promoting, or advertising the Melbourne Cup at The Canopy stage, The Plaza, or other Council open spaces from 2023 onwards; and
Investigates opportunities for other events or activities in the plaza on Cup Day that better align with community and family values, and help drive business/trade in the plaza.
For the Motion were Councillors Zbik, Southwood, Roenfeldt, Kennedy, Flood and Bryla (Total 6).
Against the Motion were Councillors Bennison, Brooks-Horn and Mort (Total 3).
Community Consultation has now opened.
To have your say on the Lane Cove Council Melbourne Cup Screening please make a submission by either:-
Email: 

[email protected]

, quoting SU9049; or
Post: Lane Cove Council, PO Box 20, Lane Cove NSW 1595;
Submissions must be received by Council before 5.00 pm, Friday, 09 December 2022.
Recycling Textiles
Dumping unwanted clothes/goods outside Lane Cove Charity Bins is an issue.  A new trial at the Community Recycling Centre in Artarmon may help to address this issue.
The Community Recycling Centre is trialling wearable textiles collections.
Locals can drop off 20kg of  clothing, shoes, handbags, belts and hats (in good condition) per customer per drop off. So you no longer have to search for a charity bin (and then be frustrated when they are invariably full).
The Community Recycling Centre is situated at 8 Waltham Street Artarmon – more details about the CRC here.
Well done to Northern Sydney Councils (including the Lane Cove Council) for this initiative.
If only we could come up with an easy way to recycle large volumes of sheets, towels, pillows and quilts. Recycle Smart does take linen and towels but does not collect pillows or doonas.  More information on Recycle Smart is here.
Business Alert
Majime Life
ITC has just heard about a locally owned online business called Majime Life!
Their founder told us:
"Majime Life was born in 2021 from a desire to showcase Japan's creations and ideas and learn more about its deep culture. Japan has so much to offer and especially in these times we know there are many who are eager to visit the land of the rising sun.
We plan to bring our customers the finest to the quirkiest of products, designs and ideas from Japan, even if it represents just a fraction of the ultimate experience of visiting there. We are just starting out with bento boxes, but as we grow as a small business, we will offer a wider range of unique products and experiences."
Great Christmas ideas!!
Lane Cove Yoga
ITC has just heard about Lane Cove Yoga.
Their motto is 'Yoga is for everyone means that irrespective of your age, strength, size, exposure to yoga, flexibility, or shape – Lane Cove Yoga will be a welcoming space for you and meet you with open arms exactly where you are at. By practising yoga, you will grow, develop, learn, be challenged, feel inspired, feel relaxed and live a fuller life of purpose and connection to yourself and your environment.'
You'll find Lane Cove Yoga upstairs in the Lane Cove Tennis Clubhouse. North end of Kenneth Street, (next to Central Park, opposite the REAR entrance to Jack & Co BP Service station).
Lane Cove Sport
Last Thursday, the Lane Cove Golf Club hosted the 2022 Lower North Shore Pro-Am.  Not even a quick downpour could stop the golfers during the middle of the day.  PGA Australia published an article on the event, and you can read the article here.
The Pro-Am is a charity event and the two charities that will benefit from the day are:
Phoenix House – For the past 30 years, Phoenix House has provided early intervention and support services to the most challenged young people living in Northern Sydney and delivered life-changing outcomes.
Delvena Women's Refuge – Delvena is run by Women & Children first and helps women, children and families feel safe, secure, connected and provided with opportunities and an environment to thrive.
The Lane Cove Golf Club has a junior golf programme, and below is Team Lane Cove, which recently participated in the Encourage Shield held at Cromer Golf Course.
Are you involved in a Lane Cove Sporting Club?  In the Cove would love to promote your club, events and teams – email us at [email protected], and we will publish the info in our week in review and on other platforms.
ITC Celebrates 10 Years of Local Lane Cove News
ITC was launched on 1 November 2012.   For the first couple of years, all costs were funded by the ITC family and a tiny bit of advertising.  However, it became apparent that Lane Cove locals wanted to know about local news, events, business, sporting triumphs, and more about local charities and community groups, so we established our website and started our weekly news blast.
Thank you to our foundation sponsors, local businesses and Lane Cove residents who have all been so supportive of In the Cove.
Recently we have grown our team – all Lane Cove Locals, and we want to do more in the community.  Our main source of revenue is local businesses – so please shop local and say thanks to them.  Recently we started two campaigns to supplement this revenue.  So if you want to buy us a small birthday present – feel free to hit the link below.
We will tell you more about our team (Renee Maxwell and Yumi Wong Pan) and some events we will be doing to celebrate ten years (including fundraising for charities).
Some of the highlights have been:
🎈Finally, getting Lane Cove Council to acknowledge there was a boomgate issue at Lane Cove Market Square.
🎈Fighting to have the Lane Cove Child and Family Health Centre upgraded for the hard-working nursing staff after a stand-off between Local and State Govt.
🎈Fighting for more public transport – including having Anthony Roberts arranging for Transport NSW staff to ride the bus with ITC to see the issues (stay tuned more on that later…)
🎈Working with Delvena Women's Refuge to raise money and provide them with a go to place when they need a specific item (and also helping them get their phone systems restored when they were told to wait six months and NBN would be coming).
🎈 Meeting so many new Lane Cove residents.
Food and Wine by the River Festival – Venue Change
Food and Wine by the River is on 6 November 2022. It will be held at Burns Bay Reserve (it has been moved from Tambourine Bay Reserve).
Put this into your diary now and enjoy the food and wine from the Mudge Region.
Read more here.
Greenwich Village Arts Trail
Greenwich Village Arts Trail  is on 5 and 6 November 2022.  So on the same weekend, you can visit the arts trail and go to the Food and Wine Festival.
Read more here.
Security, Crime, Incident and Accident Report
Accident Report
A roving reporter advised the following on Monday, 31 October 2022:
"There is an accident at the 'new' Tambourine Bay Road and Burns Bay Road lights. Not sure what happened, but it involved a motorbike and a car. There's a car stopped in the middle of the road, which is causing some traffic issues. I don't think anyone was hurt, but it's something to look out for, especially with people about for Halloween."
Crime Report – Number Plate Switch
We have been advised by a roving reporter about a number plate switch. A resident noticed their car's number plates had been switched. The new number plates were not securely fastened, and the front and back number plates did not match. The car was parked on the street in central Lane Cove (not far from the Lane Cove Village).
Police advised that criminals will steal a car. They will then look for a car that is similar to the one they have stolen and switch plates. When police use number plate recognition technology, they will not be aware a car is stolen. The stolen car is then used for another theft or a break and enter.
If you park on the street, park near street lights. Always check your car is locked and that you don't have any valuables on display.
After we warned our Facebook readers about this incident, the following comments were posted:
Crime Report – Uninvited Guest
Police have charged a 34-year-old Willoughby woman with breaking into a Greenwich home after the owners returned from holidays to find the woman had allegedly been residing in the property.
Around 7:10 pm Monday, 17th October, the Ronald Avenue homeowners returned to the property, having departed earlier this month on a family holiday. Police will allege upon entering the home, the owners discovered the Willoughby woman in the lounge room wearing clothes belonging to the homeowner. The woman was restrained, and police were called who attended and arrested the woman.
It will be further alleged the woman broke into the home and lived in the property and over the course of 6 days, prepared meals wore clothes belonging to the homeowner as well as drove and crashed a vehicle belonging to the homeowners.
The woman was charged with break and enter house, steal property in dwelling house and take and drive conveyance. The woman was refused bail and will next appear before Hornsby Local Court in December.
Tool Stolen or Picked Up By Mistake?
A Lane Cove local was working on his car on Avalon Avenue in Lane Cove West.  His black tool bag and socket sets were behind his car.  He was working under the bonnet for no more than a minute or two when he needed to grab some more tools.  Unfortunately, his tools were no longer there.  This was on Friday, 28th October 2022.  If you saw anything or have seen the bag or socket sets please email us at [email protected]
Cover Photo:  Our Cover Photo is the Cameraygal Wind Symphony and Stringybark Jazz Band playing at The Canopy
Week in Review Sponsor –  The Glasshouse Artarmon
The Norths Collective, which operates The Alcott, The Greens and Norths, has taken over and rebranded The Acre Restaurant at Home HQ in Artarmon.   They have come on board as an ITC Business Sponsor.  We are excited that they are supporting In the Cove as we have worked with The Alcott numerous times on charity events and fundraisers, such as raising money for drought-stricken Cobar and Gunnedah (and now they have floods).
Everyone who reads ITC will know that we are nuts about dogs (and in particular, Mr Doggy ITC).  We were excited to hear about Tails and Ales at The Glasshouse.
The Glasshouse Tails and Ales Details:
Bring your pooch & join the Glasshouse for an afternoon of Tails & Ales
Date: Sunday 13th November
Time: 11 am – 4 pm
Bring: Your furry friend
Enjoy: A gourmet sausage sizzle and a beer from the Stone & Wood bar
PLUS Live Music from 1 pm – 4 pm
Brought to you by Stone & Wood and Petstock Artarmon
Help Support Local and Independent News
You can support us in three ways:
Become an ITC reader sponsor –  Feel free to be a reader sponsor if you have enjoyed our local news coverage and would like to be an ITC reader sponsor. You can sponsor us with a monthly sponsorship fee.  We have reader sponsors who sponsor us for $5.00 a month and some who sponsor us for $100 a year – no amount is too small or too big. Thank you so much to the people who have already supported us via our press Patreon account. Help Us Here.
Buy the ITC  team a coffee – We now have a team, and they need to be paid – buy the ITC team a coffee (or two) and that will help us pay their wages and shout then a coffee Buy a Coffee here.
Do you own a Lane Cove Business or a Lane Cove resident who owns a business, you can advertise with ITC – our packages start from $30 monthly fee (for a 12-month commitment). Email us here for our rates card.