Lane Cove's Food and Wine by the River is on Sunday 6 November, at Burns Bay Reserve. 
The Food and Wine Festival has become one of Lane Cove's favourite events.
This year you will enjoy the wine and food from the Mudgee Wine Region.
Soak up the sunshine with friends and family while enjoying some of Mudgee Wine region's finest wines.
This is a family-friendly event, part of Lane Cove Council's annual Festival by the River, takes place at Burns Bay Reserve., from 11 am to 5 pm.
If you've never been to the Mudgee region then this is your perfect opportunity to discover a little bit more about one of regional NSW's favourite destinations.
Nearly 20 of the Mudgee region's wineries and local produce providers will head to Lane Cove for the event, along with other food stalls, live music, and activities for the kids.
Wineries include LMB Wines, Lazy Oak Wines, First Ridge Wines, Martins Hill Organic Wines, Yeates Wine, Robert Stein Winery, Burrundulla Wines, Gilbert Wines, Vinifera Wines, Elephant Mountain Wines, Slowfox Wines, Skimstone Wines, Bunnamagoo Wines, 791 Estate and Petersons Wines, along with local producers including Hop and Clover Brewery, Aril Estate, Rylstone Olive Press, High Valley Cheese, DOUGHH Company, Linda's Sweet Chili Relish and Milnes Providore.
The event is set to showcase the region's award-winning wine and food offerings, as Mudgee continues to prove popular with Sydneysiders and beyond, having been named Australia's Top Tourism Town two years running.
Pre Purchase Your Tasting Tickets
Free entry. Pre-sale wine tasting tickets are now available to purchase or you can purchase on the day.  ITC TIP:  It is better to purchase your tickets in advance as they ran out of wine glasses last year and some people could not purchase tickets on the day.
Food and Wine by the River is a licensed event with no BYO or glass permitted.
The event is free. Tasting tumblers and five tasting tokens can be purchased for $30.
Child and Pet Friendly
In addition, to live entertainment, this family-friendly event includes free face painting and games for the kids and, as long as dogs are on a leash, they can come too!
Free Shuttle Bus
There will be a free shuttle bus running from the Lane Cove Library down to the event so you can leave the car at home.
Car Parking
If you are coming by car, the free car parking is at St Ignatius Regis Campus (NOT the main campus).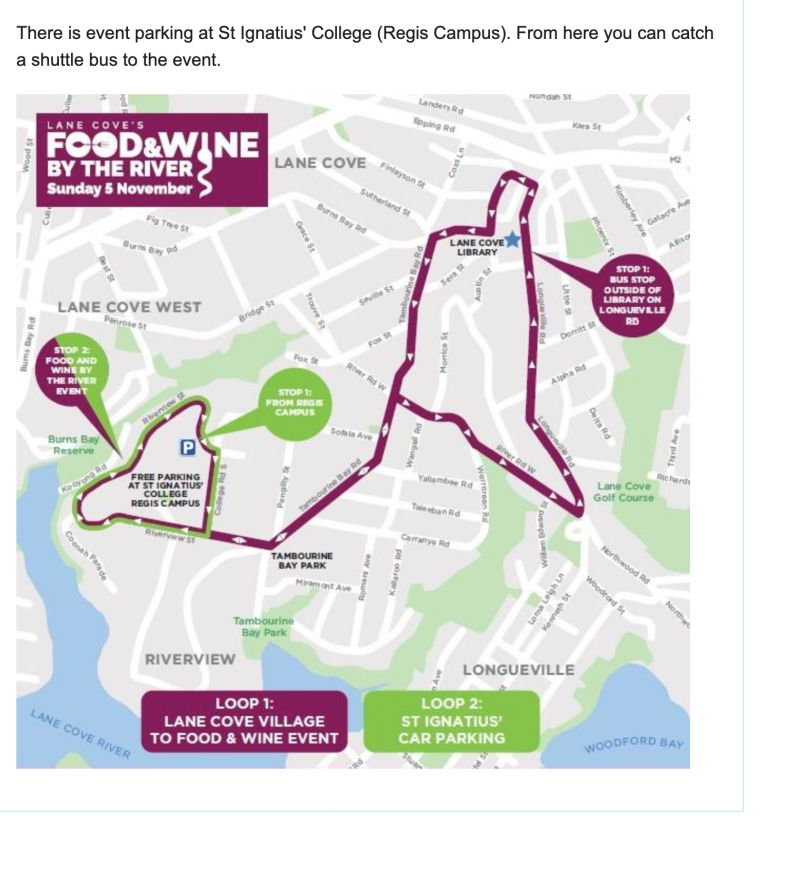 Public Buses
Walking or Parking in Lane Cove West 
You can also access the site from Burns Bay Road and Waterview Drive and Best Street.  Just a short walk to the fenced off area from these streets.
Lane Cove  Food and Wine Details
When: 5 November 2023, 11 am to 5 pm
Where: Burns Bay Reserve
Book Tasting Tickets Here: Visit Mudgee
Parking: Leave the Car at home and get the shuttle bus from the Library
Facebook: @visitmudgeeregion
Instagram: @mudgeeregion 
Cover Photo Source:  https://www.visitmudgeeregion.com.au/