Welcome to our February/March 2019 Lane Cove Business Round-Up.  If a business opened, closed, rebranded, was refurbished or achieved a milestone we will tell you about it.  We have previously reported that our local Businesses are struggling with the closure of the Rosenthal Avenue Car Park.  The big news is that a temporary carpark has opened in the Rosenthal Avenue Car Park Development.  There is space for 40 cars.  Just enter via Rosenthal Lane.  Our cover photo is the view of the Rosenthal Avenue Car Park redevelopment from inside Little Red Robin Restaurant on Little Lane.
Opened
A new alterations business has opened in Lane Cove in the old Ecodownunder premises (across from Go Vita Lane Cove and McGrath Lane Cove).  It's called Masterpiece.
Concierge Creatives
Concierge Creatives is a lifestyle management service making life simpler for busy individuals, professionals and families. Their discreet service helps with decluttering homes, personal home organisation, completing to-do lists, sourcing contractors and project managing renovations.
How did the business start?
A friend was in a 'time drought' and needed practical help to keep abreast of her new life as a single Mum. Concierge Creatives found the right staff to help her manage her lifestyle and give her back time some self care time, she now has time to exercise, go to beauty appointments and relax in her decluttered and organised house. They were also able to help her plan and brief contractors for upcoming renovations.
How do you do it?
Concierge Creatives clients put together a list of tasks or requests. They review the request and ask any questions required. They use their experience and open their creative black book to find the most appropriate service provider for the job. We manage the job from beginning to end. The client then pays for the request and any invoices from third parties.
What services do they offer?
Personal Assistance
Appointment scheduling
Dry Cleaning /Alterations
Personal Styling
Wardrobe organisation
Health and Fitness Services
Pay bills on your behalf
Recruitment of nannies, au pairs butlers, housekeepers and gardeners.
Home and Property Management
Organisation and decluttering
Project management of Interiors & Landscape Design
Garden Maintenance
Organise flower arrangements
Organise Christmas tree and decorate it for you.
Shopping
Personal Shopping
Shopping for Gifts and hard to find items
Event planning
Organise birthday and anniversary parties and surprises.
Recommend the best caterers and party suppliers.
Carry out venue inspections
Contact Concierge Creatives with your to do list today. Then watch that to do list shrink.
Instagram:@conciergecreatives
Coming Soon
Xtend Barre will open soon near Anytime Fitness.  Xtend Barre introduced the first Barre programme into Australia.  Find our more here.
Cyroclinics will also be opening soon.  They are also located near Anytime Fitness.  What is cryoclinics?  Find our more here.
A new Bathroom and Shower Showroom will open in the old Claphams Second Hand Shop on Burns Bay Road Lane Cove West very soon.
Closed
Lime Leaf Fruit Market have closed. Lane Cove has lost another independent business. Emma and Vince worked hard to bring fresh fruit and veggies to Lane Cove. It got harder and harder for them and foot traffic dropped and dropped. With so many Lane Cove residents giving up on parking in Lane Cove a small mum and dad business suffers. Thank you to Emma and Vince for all the community work they did in Lane Cove. They acted as a drop off point for North Shore Smiles to You and always donated a fruit basket to local charities. ITC enjoyed working with Emma and Vince on some our fresh fruit/veggies articles (in particular the fruity Christmas Wreath).
The High Tea Garden on Longueville Road has closed. The scones were yummy and if you like them they are now at Haymarket.
Expansions
Fit Lane Cove has undergone some major changes.  They now have Exhale Mind and Body Studio incorporated into Fit Lane Cove.  Their creche has been totally renovated and the Creche is open on Saturdays (so mum and dad can exercise together #winwin).  The new Exhale Lifestyle Studio, a dedicated Yoga, Pilates, Meditation and Barre Studio for its members. A unique urban sanctuary where their members will experience over 8 different styles of classes to discover the complete Mind and Body experience.  The good news is that when you join Fit Lane Cove you automatically become a member of Exhale.
Batch By Batch situated in Northwood (bespoke chocolate gifts for Easter and Mother's Day) has opened up a beautiful pop up shop in the QVB building.
Zjoosh has opened a new shop in Cronulla at the Southgate Plaza.  This is Zjoosh's 14th store in Sydney and it all started right here in 2066.  Well done to Zjoosh team.  Read more about Zjoosh's founder Kellie Rigney here.

Refurbishments
Jack and Co Convenience Store in Northwood has undergone some major refurbishments with a larger chilled food section.  On your way home you can pick up chilled Lasagne, Pizzas, Arancini Balls and much more to reheat at home.  They also now stock the Bread and Butter Project sourdough bread.  The Bread and Butter Project is a social enterprise which trains refugees to become bakers.  But wait there's more…. Nutella Donuts like you have never tasted before (ITC's tip take them home and microwave them for 20 seconds and watch that Nutella ooze out like Mt Vesuvius).
Businesses We Just Heard About
Brandy Candy is a Lane Cove business where you can impress your guests with personalised candy at your next event.
Corporate events | Wedding | Birthday | Baby Shower
Handmade & packaged in Australia
3 weeks turnaround time
100% Australian ingredients
1% of your payment is donated to charitable organisation (you can nominate)
Vegan
Free delivery Australia wide
Sugar-free option upon request
Questions about ordering? Feel free to send them an email, get in touch via their Contact Us page, or give them a call on +61 4157 11911!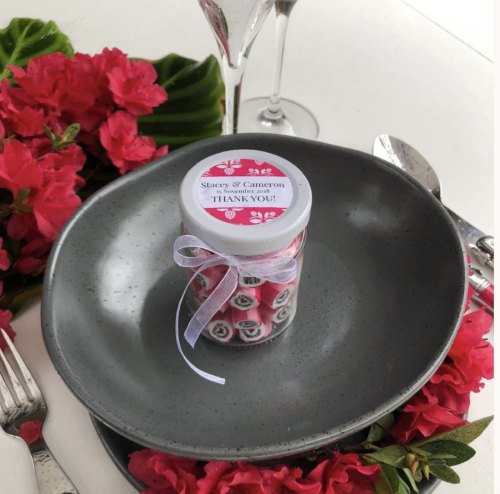 Sydney by Kayak is a family run business, offering exclusive, small group kayak tours and locals paddles on beautiful Sydney Harbour, Australia. Husband and wife team (and Lane Cove Locals) and Head Kayak Guides, Laura and Ben, run daily Sunrise Tours (with coffee!) as well as morning coffee paddles, ice-cream tours, brunch tours, fitness classes and community clean-up paddles.
Sydney by Kayak is still fairly young, officially launching in 2013. The vision was to create exclusive, small group tours, offering not only a guided paddle, but a complete experience on Sydney Harbour. Everything from fresh, hot coffee on the water, stable custom-made kayaks, memorable photos and experienced, qualified and friendly guides. They  are proud to offer great kayaking adventures that are a wonderful way to enjoy the magnificent waterways of Sydney Harbour.
BoldnBolder
Lane Cove Local Christine has launched www.boldnbolder.com she sells cutting edge, minimalistic, bold jewellery pieces that will take you from night to day for that effortless look.
As a Lane Cove local, Christine would like to also offer free shipping + 10% promo code BOLDLAUNCH. Every piece comes with a suede pouch, care instruction and personalised thank you card.  Mothers Day Gift Idea……???
Ovl.
Ovl for mum's mission is to inspire you to be the very best version of yourself. You're incredible – and it's time you knew it.
The oval has long represented the journey of motherhood in ancient cultures. It's the shape of our ovaries, our eggs, the amniotic sac and our full pregnant bellies. It's the perfect symbol for what we stand for. The Ovl Collection isn't just another jewellery company. It's a movement.
Lane Cove Businesses for Sale
A cafe located on Longueville Road is for sale – more details here
A pizza restaurant on Longueville Road if for sale – more details here.
An Asian Grocery Store on Burns Bay Road is for sale – more details here.
iStudio the mobile phone store on Burns Bay Road is for sale – more details here.
Lane Cove Premises for Rent
Are you looking for premises on Longueville Road – you can lease the old Ziera Shoes/High Tea Garden premises – details here.
Are you looking for a restaurant to lease in Lane Cove?  The old Caesars Pizza Shop is for lease – details here.
Awards
A big congratulations to Amanda Bracks – Founder and Owner of Soulful Fitness. In April Amanda was inducted into Fitness Australia's Roll of Honour for her contribution to the Fitness Industry and the studio won the Boutique Fitness Business of the year.
Milestones
SRM Lawyers have just celebrated 5 years in Lane Cove.  SRM Lawyers are ITC's legal eagles – check out some of their articles below:
New Business Directory Listings
Scott Chartered Accountants is a chartered accountancy firm based in Lane Cove. Formerly operating under Brian A Scott Chartered Accountant, Brian commenced operations in 1980 after obtaining experience and qualification through Yarwood Vane and Hungerford, Hancock & Offner.
Specialising in a broad range of areas, we have served Lane Cove and greater Sydney for over 30 years.
Taxation compliance and advisory for individuals, companies, trusts and partnerships
Superannuation compliance and advisory – SMSF income tax return preparation and audit
Business Advisory – management accounting and business consulting including strategic planning, benchmarking, budgeting, cashflow forecasting, risk management, business valuation and controls review
Estate Planning – retirement and succession planning and estate taxation review
Audit & Assurance – as a registered company auditor, services include corporate audit and assurance and financial services licence audit.
Cryoclincs Australia is the leader in delivering cryotherapy treatments to Australians to assist with:
body shaping
fat cell reduction
cellulite reduction
sport and muscle related recovery
anti-ageing
injury and ailment management including the treatment of arthritis and inflammation
We're so pleased to be offering this service to Lane Cove and neighbouring residents from mid-April 2019. Our ultimate aim is to assist our clients attain their body goals and feel more confident in their body.
We are currently offering pre-sale deals on treatments – please visit us our booth at 71 Longueville Rd to discuss our treatments and offers.
What is Cryotherapy?
Cryotherapy is a treatment that uses a method of localised freezing temperatures to achieve various health benefits for the human body. At Cryoclinics, we leverage cutting edge technologies to deliver:
Whole body cryotherapy through the use of our state-of-the-art cryosaunas – for efficient body recovery and pain relief for sore joints.
Cryolipolysis – a medical treatment used to reduce and eliminate fat cells. Its principle relies on controlled cooling to a temperature of +5 to −5 °C for the non-invasive localised reduction of fat deposits which allows our clients to reshape their body contours and shape.
What other services do we offer?
We also offer fat cavitation treatments, which use ultrasound waves to break down fat cells.
Skin tightening and cellulite treatments.
Xtend Barre Lane Cove is excited to offer a premium fitness service to Lane Cove and nearby residents from mid-April 2019. We are currently offering great pre-sale membership deals so please visit our booth at 71 Longueville Rd to find out more or to sign up!
The Xtend Barre method combines elements of Pilates and dance to create a dynamic and safe workout. Where other barre programs focus only on the small movements, Xtend Barre's diverse programs focus on movement of the whole body, delivering cardio, strength, endurance, and flexibility.
As our programs are low-impact in nature, they are suitable for everyone – whether you're coming back to regular exercise or you're looking for an all-body workout to round out your existing regime.
We guarantee experienced and passionate instructors that have extensive training, and we ensure a workout that will leave you coming back for more. This will be our first of five studios we are opening, and we are excited to be servicing Lane Cove as our first community!
We know squeezing a workout into a busy day isn't easy so we want to you to make the best of that hour. You'll walk out of any of our classes – Xtend Barre, Xtend Suspend, Xtend Stick, Xtend Sweat – invigorated, heart rate accelerated, calories burned, daily goal achieved.
Whether you've danced before or never danced in your life, our classes are a great workout and feature a combination of cardio, resistance and strength training. We hope to see you at class!
Stephen Miller – Marriage Celebrant
By choosing me, I know you will look back fondly and remember how you selected a celebrant who not only presented a beautiful ceremony, but more importantly, genuinely cared just as much about your special day as you did yourself. Contact me today to arrange an obligation free chat, I'm really friendly and have an even friendlier labradoodle who loves to be petted!
Tennisense delivers quality tennis instruction to any skill level or age in a personable, fun and energetic environment.
Jareth Magnus is founder, head coach and manager of tennisense. Jareth has been a tennis instructor for over 16 years, having worked nationally and internationally. Jareth has honed his coaching skill into one that delivers quality both in the knowledge of the game technically, strategically and in the way he communicates that knowledge to all levels and ages. Jareth has learnt over the years to coach all types of tennis players from the social hit and gigglers, to the competitive winners, so whatever tennis player you are, Jareth can tailor his lesson to suit your needs. See some of the recommendations below from satisfied clients. 
Tennisense offers: 
Private Lessons
"Cannonball" Red Ball 6-7yr old
"Wild Cards" Orange Ball 8 – 10 yr old
"Satelite" Green Dot Ball 10 -12 yr old
"Masters" – Open Ball – 12yr old and up
Ladies Clinics
Racquet Restring
Racquet Advice
Other services (available days/times subject to request):

Elite Junior Squad
Junior Match Play
Men's Breakfast Comp
Ladie's Social Match Play
With a background in architecture and fine art we love colour pattern and interesting textures. Having this background we design for our Australian lifestyle where connection from interior to exterior is so important with sheltered spaces allowing creation of ambience. Contact us to find out our range of services to structured suit your budget and project scope.
Tucked in a lane way in busy Lane Cove, Birdwood Cafe is a coffee focused cafe from the team at Double Roasters.  They know their coffee as the they also run Double Roasters, a coffee wholesaler in Marrickville.
The range of coffee blends offered at Birdwood is extensive. Flight Path, Double Roasters' house blend, is used for milk-based coffees. There are also rotating single origins every week for black coffees, and two or three single origins each day.
The food menu includes a divine smashed avo on toast, a pork-belly sandwich done with house-made kimchi and aioli, and Cauliflower bowl just to name a few.
The cafe has an indoor-outdoor dinning room.
Our company provides high quality IT support to small businesses and home users throughout Sydney NSW. The business was formed with the goal of providing "corporate quality" IT support to small businesses and home users without the associated high costs.
We are able to monitor and manage all our client's computers, offering a service to pro-actively work on them preventing problems before they occur – saving time and money. Most problems can be fixed remotely, often within minutes, but we also have engineers based in Sydney, ready to visit clients when needed.
Our staff understand people and business, not just technology. We don't belittle our clients, we work with them to achieve their goals through technology, not despite it. And we don't try to confuse with industry jargon or techno-babble.
What services do we provide?
IT Troubleshooting and repairs
After hours in home service
Computer 1-1 training a speciality
Virus detection, removal and protection
Preventative maintenance
Data recovery and backup
Hardware recommendation and supply
New PC set-up
Network installation and maintenance
Software supply, installation and set-up
Upgrades
System specification, installation & maintenance
Help, advice and training
VoIP – Internet phone system installations
Advertise on In the Cove
Your business can be featured above if you become an ITC Community Business Supporter. Did you know you can advertise on In the Cove? Yes, you can!!  In fact, advertising is our only revenue. At this stage the ITC team is 1 fulltime and 2 part time Lane Cove mums. We would love to do more and bring you more but we need your help. Spread the word about ITC and let local business owners know that ITC is your source of local business news. If you would like to advertise with us please email us here for a Media Kit. All community groups and sporting groups can advertise their events free of charge on ITC so don't forget to email us with your events.  All local jobs can be listed for free on In the Cove – our motto local jobs for local people. List your jobs here.
---
Do you have a local issue you would like help with? ITC is here to help just email us at [email protected]