September is a big month in Lane Cove.  This week, the Lane Cove Festival kicked off in style with several big events including the Coffee Carnevale and the Lane Cove Fun Run.
Challenging Windy Weather
On Friday afternoon damaging winds swept across Sydney causing chaos.  ITC braced for a flurry of reports about trees blocking road and power outages.  Lane Cove seemed to have escaped with only minor damage.  The noticeboard next to the Lane Cove Library suffered damage.  The SES attended to secure the noticeboard with ropes.
Earlier in the week (and after rain) a large tree fell down at the intersection of Russell St and River Rd Greenwich.
Longueville Police Chase
On Monday 2nd September there was an attempted robbery at the Caltex Service Station Northwood.  Five police cars and the police chopper were involved in the manhunt.  The police arrested a man and a woman in Longueville.  Read more here.
Hunters Hill Fire
A two storey home was gutted by fire in Hunters Hill this week.  The flames were visible from Lane Cove.  At the time of the fire, the owners were overseas, and no-one was injured.
Events
The Lane Cove Festival kicked off this week.  The Festival continues throughout September and there are events for everyone (many of them free).  Find our more here.
Historical Connection Under the Stars
One of the first events was the Historical Connection Under the Stars.  ITC follower, Corinne Fisher, described the event as follows:
"What a total treat this event was at Carisbrook Historic House tonight, celebrating Aboriginal culture on a beautiful spring evening! Big thanks to Lane Cove Council, the volunteers at Carisbrook House and the talented Aboriginal crew who put this on – the wonderful performers who shared so generously of their culture and the Aboriginal catering team. We won't forget the smoked gum and the lemon myrtle cheeses!"
Coffee Carnevale
On Saturday 7th September the Lane Cove Plaza was pumping.  There was colour and movement with Brazilian Dancers, Chai Tea tasting workshops, Tea Ceremonies and Coffee Tastings.  Lane Cove Baristas were put to the test and the winner was Hosik from Ground Café.
The Lane Cove Fun Run
The Lane Cove Fun run goes from strength to strength each year.  Runners could register to take part in a 5km run or a 2km run (or both).  1744 people registered.
This event is sponsored by so many local businesses and without their support an event like this could not go ahead. The set up costs are huge.   Congratulations to the runners. The top ten runners in the 5km and 2km are listed below.
Well done to the hard working Lane Cove Public School organisers and volunteers – you do a great job and thanks for letting In the Cove be a part of it. We got some great photos and we will share them for you on In the Cove very soon.  Lane Cove Mayor Pam Palmer was there, and councillors David Brookes Horne and Andrew Zbik ran in the race.
Lane Cove Council
Lane Cove Council has advised that the log sculpture at Central Park in Longueville is now open to enjoy! You are welcome to sit, climb and enjoy this tree sculpture. Read more here.
Lane Cove Council announced this week that 20 new car spaces have been created at Blackman Park bringing the total number of car spaces to 250.
Stage 2 of Mindarie Park began construction last week. Major earthworks are currently being undertaken and should be completed in the next few weeks.
In the next few months, Lane Cove Council will begin installing parkour activity equipment, a multi-games arena, an amphitheatre and small stage as well as additional barbecues and picnic settings.
The remainder of the stage 2 and stage 3 works are expected to be completed in May 2020. Read more here.
Sports Update
It's that time of the year to start thinking about playing Cricket. Lane Cove Cricket Club is currently recruiting players for this summer of cricket. Last year the LCC had a really strong girl's cricket programme and they would love to see girl's cricket get even stronger in Lane Cove.   An information session is being held this Thursday night (12th September 2019)
Crime/Accidents/Incidents
The Power of Social Media
Local Niroshen Abbey contacted In the Cove and told us that his expensive mountain bike was stolen from his home near the Lane Cove Public School.  Niroshen wanted the bike returned as it had great sentimental value to him.  He received the bike from the Make a Wish foundation.  So many people shared our post and Niroshen also posted on several other social media sites.  As a consequence of this publicity Niroshen was contacted with information on his bike.  This information led to the
Police charging a 16-year-old boy from Riverview with property offences after he was found to be attempting to sell stolen goods online.
Around 11:00am Tuesday 3rd September plain clothes police met the 16-year-old at Wollstonecraft Railway Station. Police will allege they located the mountain bike in a nearby vehicle being used by the 16-year-old and another male.
The 16-year-old was arrested and taken to Chatswood Police Station where he was charged with 1 count of goods in custody suspected being stolen and 1 count of attempting to dispose of stolen property. He was refused bail and will face Surry Hills Children's Court.
More Bicycle Thefts
Make sure you secure your bicycles.   ITC has been advised of a few bicycles being stolen this week.  One Merida Ladies Crossway bike was stolen from Landers Road.  The owner went inside to briefly grab an item and came back and the bike was gone.  Another bike was stolen from a locked security cage (the cage did not have a roof).
Mailbox Thefts
Mailbox Theft is still happening in Lane Cove. An ITC roving reporter found discarded envelopes while walking near Best Street Lane Cove. The envelopes are from numerous streets. Most of the envelopes are from apartments in Cox's Lane. You will see they many have been ripped open and the "non interesting mail" has been discarded (you think they would have taken the Lane Cove Council rates notices and paid it). The roving reporter has notified police. Read our tips on how to reduce mailbox theft here.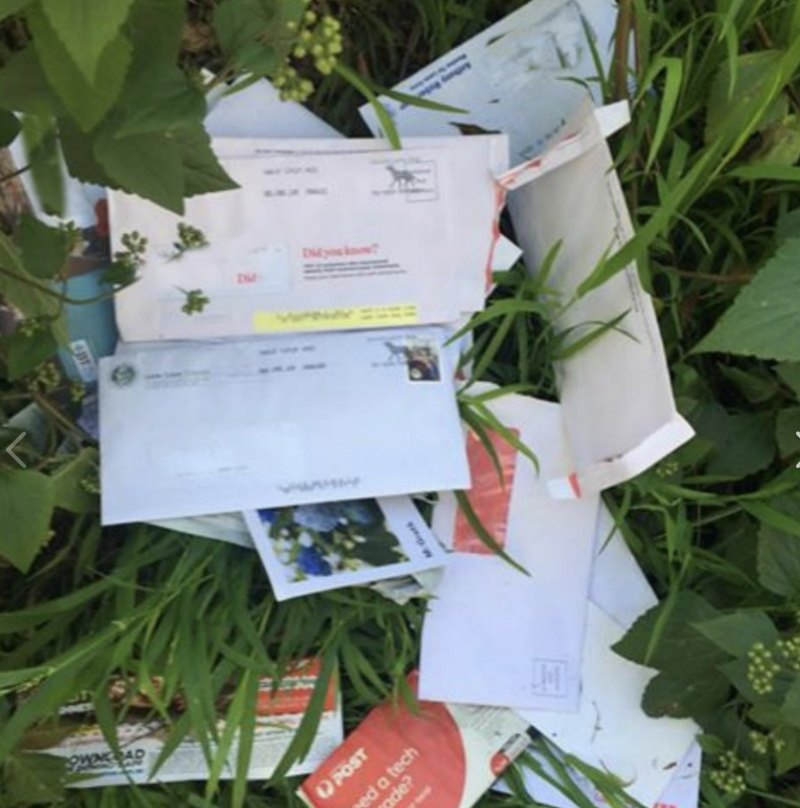 Man Pleads Guilty to Making a Threatening Phone Call to Anthony Roberts' Office
Simon Squires the man who made a threatening phone call to our local member Anthony Roberts' office has pleaded guilty. A conviction was not recorded however he was ordered to be on good behaviour for 12 months. If he fails to comply with this order he will forfeit $500 and could face further penalties.
Mr Squires also consented to an AVO which will prevent him from contacting Mr Roberts. Read our original article on the incident here.
Coles Car Park Incident
A truck hit a pillar under the Coles Car Park (see below).  This is such a tight spot for drivers. ITC is sure truck drivers will be pleased when Coles relocates to The Canopy in June 2020 (aka the Rosenthal Avenue Car Park Development)
This week in reviewed in sponsored by Chimu Adventures.  Check this out!!!!
The iconic Australian singer-songwriter, Paul Kelly is joining Chimu Adventures in Antarctica! Are you going to be one of the 200 lucky guests watching an intimate Paul Kelly performance in the icy wilderness of Antarctica? Set to sail in March 2021, this voyage will sell out fast. Hit this link for more info.
https://www.chimuadventures.com/en-au/antarctica/songs-south
All their voyages operate under strict environmental protocols, include carbon offsetting, and are expeditions of education and inspiration.
Give Lane Cove FOMO the Flick
To make sure you don't miss Lane Cove info sign up to our newsletter. It comes out every Wednesday Night at 7.30pm and includes a wrap up of everything posted on our Facebook site in the previous week.
Read this week's newsletter
Did you know that In the Cove has an instagram page? Yes we do and we feature pictures from our roving reporters and our ITC team that do not appear on our Facebook page. Follow us on @inthecove