Please see below our daily update regarding Lane Cove and other important COVID 19 news.  If you know elderly or vulnerable people in the community who do not have access to social media, then please ask them to sign up to our newsletter, and we will provide information to them via our newsletter. Sign Up here.
Everyone can help prevent the spread of COVID-19 by practising social distancing, thorough hand washing, cough etiquette and staying home unless it's essential. To learn how to protect yourself and others, click here.
COVID 19 Cases NSW
As at 8 pm, Thursday 16 April 2020, an additional 29 cases of COVID-19 have been diagnosed since 8 pm 15 April, bringing the total to 2,926
During that time, 4,988 people were tested, almost 1,800 more tests compared to the previous 24 hours.
| | |
| --- | --- |
| Confirmed cases (incl. interstate residents in NSW health care facilities) | 2,926 |
| Deaths (in NSW from confirmed cases) | 26 |
| Cases tested and excluded | 152,376 |
| Total persons tested | 155,302 |
There are currently 217 COVID-19 cases being treated by NSW Health. This includes 26 people being treated in Intensive Care Units, with 19 of those requiring ventilators.
There have been 14 more confirmed cases of COVID-19 at the Anglicare Newmarch House aged care facility in Caddens, since yesterday, bringing the total to 29 cases (10 staff and 19 residents) as of 8 pm 16 April. Visitor restrictions remain in place, and contact tracing continues.
The source of the initial infection is under investigation. All residents and staff have been tested, with results pending. Confirmed cases currently have mild, or no symptoms.
A 7-week-old baby boy has been confirmed as a COVID-19 case and is a family contact of known cases. The baby, who has only mild symptoms, was taken to a hospital in south-western Sydney for a precautionary assessment, but he was not admitted. This family cluster is not currently linked to any other known clusters.
A 42-year-old man is the youngest person to die of COVID-19 in Australia. The man was an Artania cruise ship crew member. He passed away in WA and was from the Philippines.
COVID 19 Cases Lane Cove Council Area
There were 37 confirmed cases in the Lane Cove Council Area as at 8 pm 16 April 2020.
The number of cases by postcode were:
Lane Cove 2066 – 16 cases
Greenwich and St Leonards South and other suburbs in  2065 – 21 cases
The Lane Cove Council area and includes the suburbs of Greenwich, Lane Cove, Lane Cove North (part), Lane Cove West, Linley Point, Longueville, Northwood, Riverview and St Leonards (part).
You can check these figures daily here.
Lane Cove/Greenwich Are Not Considered Hotspots
The North Shore Times Digital Edition published on 17th April at 3.43 pm reported that Lane Cove has emerged as one of the latest COVID 19 "hot spots".  You will see from the table below that the Lane Cove Council Area figures have been hovering around the same number with only slight variations. The Hotspots listed by NSW Health do not include  2066 or 2065 postcodes.
Greenwich is a suburb within the Lane Cove Council Area, but it is not within postcode 2066. Greenwich's Postcode is 2065. This postcode includes Crows Nest, Greenwich, Narremburn, St Leonards and Wollstonecraft.
Lane Cove Local Government Area
Date
(as at 8 pm on that Day)
Number of Confirmed COVID 19th Cases
Lane Cove LGA
16/4/2020
37
Lane Cove LGA
14/4/2020
37
Lane Cove LGA
10/4/2020
40
Lane Cove LGA
07/4/2020
39
Lane Cove LGA
06/04/2020
38
Lane Cove LGA
04/04/2020
33
Lane Cove LGA
01/04/2020
29
Lane Cove LGA
27/03/2020
21
NSW Health notes state:
"This data includes confirmed COVID-19 cases only (based on the location of usual residence). Cases without a NSW residential address are not shown. The case definition of a confirmed case is a person who tests positive to a validated specific SARS-CoV-2 nucleic acid test or has the virus identified by electron microscopy or viral culture, at a reference laboratory. The details on the source of infection are subject to change as public health investigations and case interviews are ongoing. Case counts reported for a particular day may vary over time due to ongoing investigations and case review."
COVID 19 Hotspots
NSW Health has listed the following areas for increased testing and surveillance:
Blacktown Local Government Area
Byron Shire Local Government Area
Cumberland Local Government Area (and all of postcode 2145 including the suburb of Westmead)
Greater Taree former Local Government Area (Manning)
Inner West Local Government Area
Lake Macquarie Local Government Area
Liverpool Local Government Area
Penrith Local Government Area
Randwick Local Government Area
Ryde Local Government Area
Waverley Local Government Area
Woollahra Local Government Area
New Screening Measures at NSW Public Hospitals
In response to COVID-19, NSW Public Hospitals are now conducting temperature checks on all staff, patients and visitors upon entry to the hospital. If you have a medical appointment at a NSW Public Hospital allow extra time to be screened.
Screening involves temperature checks and questions seeking an individual's potential for contact with a COVID-19 positive case.  Hospital Staff will be screened daily.
Sydney Community Services
Sydney Community Services (SCS) are working hard to provide for the elderly and vulnerable in our community. They are a local not-for-profit organisation that helps residents to live a quality and independent life in their own home and in their community.
They provide Local Support for Local People.
Now more than ever, they are providing meals and assistance to the elderly and the vulnerable.
They provide a service where they will shop for locals, or they will assist local seniors by shopping online for them.  Online Shopping can be daunting for some segments of society.
You can help SCS by either:
Donating via their website here; or
Donating Food and Grocery Items or Supermarket Vouchers.
Donations can be dropped off at their office at Pottery Lane (i.e. the Little Street Car Park across from the pool).
If you still have a job and can afford to donate some items, they would love you to drop off the following:
Sydney Community Services is also assisting Delvena Women's Refuge (located in Lane Cove) with sourcing food and other donations.  You can also drop off donations for Delvena.  They are looking for:
Why Social Distancing is Important
How is your social distancing going?  You can probably measure 1.5 m by eye now.  Why is it necessary? The chart below prepared by the Australian Government shows how less exposure to others means you might not catch COVID 19.  However, the fewer people you have had contact with means fewer people for the government to trace and track.
The More People You Meet the More the Tracing Team has to Trace
Since March, the NSW Health COVID-19 Contact Tracing team has been scaling up public health resources to trace and contact people across NSW who are at risk of COVID-19 to minimise the spread of the infection.
Director of Contract Tracing Carolyn Murray said contact tracing is used to combat infectious diseases like measles but has been scaled up to respond to the COVID-19 pandemic, with the development of a central NSW Health Contact Tracing team.
"We've grown to a team of around 150 working day and night to follow up people who have been in contact with people diagnosed with COVID-19," Ms Murray said.
"At any one time, we can be working virtually across a number of workplaces, with the capability of making up to 1,300 calls to the community a day."
Ms Murray said when someone is diagnosed with COVID-19, the first step is an in-depth interview to understand their movements and who they have been in contact with while infectious.
"The contact team will call individuals identified by the COVID-19 case, provide them with instructions for self-isolation, and offer further support for the isolation period," Ms Murray said.
"The aim is to have them isolated for the full incubation period of 14 days, so that should they develop symptoms themselves, they won't have exposed anyone else to the virus."
The infectious period is currently defined as 24 hours prior to the patient developing symptoms, however, you can be infectious without having symptoms this is why it is important if you are a close contact you follow the self-isolation advice.
Ms Murray said empathy and ongoing support were a critical part of the team's training and ongoing duties throughout the contact tracing process.
"An incredibly significant element of this is ensuring we engage with people in a compassionate and supportive way," Ms Murray said.
"Although our primary objective is contact tracing, we also need to support the person in question and make sure they have the information and advice they need given the experience can be very difficult for some to cope with, particularly if they live alone or have pre-existing conditions.
"We treat each case individually, for example, if someone needs help with groceries, or they might need further one-on-one phone conversations with a trained mental health professional – then they get the support they need to make these obligations a bit easier."
The NSW Government has announced a $2.3 billion stimulus package in relation to COVID-19, including $800 million for NSW Health to significantly increase capacity in NSW public hospitals, particularly within ICUs and emergency departments.
Public Infringement Notices
As at Friday 17th April 2020 at 2pm Police charged six people under the Public Health Act 2010 (NSW) and issued 24 COVID-19 related Penalty Infringement Notices (PINs) for offences. (24 hour period).
Since 17 March 2020, police have issued 66 Court Attendance Notices and 560 PINs for breaches of the Public Health Act.
Below are a sample of the PINS issued (many of them are being issued after police stop someone for a traffic infringement, and the person cannot provide a reasonable excuse for being away from home)
About 3 am, officers from Northern Beaches Police Area Command attended a service station on Pittwater Road, Brookvale, when they saw a Holden Commodore utility at the bowser. Police spoke to the occupants – a 24-year-old Green Valley man and a 33-year-old Busby man – who could not provide police with a reasonable excuse to travel. Both men were issued $1000 PINs.
About 5.20 am, officers attached to Campbelltown City Police Area Command stopped a blue Nissan Navara utility on Tamborine Drive, Minto, and spoke to three occupants. The female passenger – aged 24 – had previously been issued a PIN on Saturday 11 April 2020 for not complying with a ministerial direction. Due to the occupants being in the vehicle without a reasonable excuse, the woman was issued a second $1000 PIN for not comply with noticed direction re s 7/8/9 – COVID-19 and two men – aged 20 and 23 – were issued warnings.
Officers attached to Mid North Coast Police District stopped a Ford Territory station wagon with four occupants on Gordon Street, Port Macquarie, about 12.50 am for the purpose of a random breath test. A 21-year-old man had previously been issued a warning for breaching the Minister's direction on Wednesday 1 April 2020, while a second man – aged 23 – and a 17-year-old girl had also been issued a warning on Thursday 9 April 2020. All four people, including a 15-year-old boy, were unable to provide a reasonable excuse for being out with each other. The two men and teenage girl were issued a $1000 PIN. The teenage boy received a warning.
About 5.15 pm, officers attached to Sydney City Police Area Command spoke to a man sitting with a group of other people at Little Hay Street, Haymarket. The man had previously been warned by officers attached to Eastern Suburbs Police Area Command on Tuesday 7 April 2020 at Bondi for breaching the Health Act and was subsequently issued a $1000 PIN.
Just before 4.30 pm, officers from Sydney City Police Area Command were patrolling Darling Harbour and spoke to a 29-year-old man sitting in the centre of a water feature using his mobile phone. The Redfern man allegedly told officers he was meditating. He had previously been issued a warning under the Ministerial Direction and was issued with a $1000 PIN.
Just after 9 am, officers attached to Ryde Police Area Command spoke to a 25-year-old man at Hornsby Railway Station. He was issued a warning after telling officers he had travelled from Wyong to have lunch with his brother. About 9.45 am, officers spoke to the man again on-board a train at Epping. He allegedly told them he was travelling to Central to collect money from a friend and was subsequently issued with a $1000 PIN.
About 1.50 am, officers from Central West Police District were patrolling Calarie Road, Forbes, when they spoke to a 22-year-old man, who was walking on the road with alcohol bottles. When asked where he was going, police allege the man did not provide a reasonable excuse under the Public Health Act. The man was issued a $1000 PIN. Police had issued the man with a warning last Friday (10 April 2020).
About 3.30 pm, officers from Sydney City Police Area Command issued a $1000 PIN to a 54-year-old man after he was found drinking alcohol in the Royal Botanical Gardens. Police had previously warned the man on Sunday (12 April 2020).
About 6 pm, officers from Lake Illawarra Police District were patrolling when they stopped a 25-year-old man outside a home on Pur Pur Avenue, Lake Illawarra. He allegedly told police he was visiting a mate. Checks revealed the man had received two prior warnings on Saturday (11 April 2020) and Wednesday (15 April 2020) and was subsequently issued a $1000 PIN.
Anyone who has information regarding individuals or businesses in contravention of a COVID-19-related ministerial direction is urged to contact Crime Stoppers: https://nsw.crimestoppers.com.au. Information is treated in strict confidence. The public is reminded not to report crime via NSW Police social media pages.
Forward Planning Framework – Pathway
National Cabinet met again on 16th April 2020.  The National Cabinet agreed to a framework for future actions to plan the pathway for the next steps in responding to the virus and conditions for relaxation.
National Cabinet agreed that any changes to the current measures must be underpinned by a strengthened public health response for case and contact identification and management, continued surge capacity in the healthcare system and a clear communications plan.
The Australian Health Protection Principal Committee (AHPPC) assessment is the precedent conditions required for change were unlikely to be in place within the next four weeks and cautioned against any material change in measures in this time. In other words, the Stay at Home order will not be lifted before mid May 2020.
However, if Personal Protective Equipment (PPE) supply could be assured, there could be further consideration of recommencing some high-value health service activity, including elective surgery.
National Cabinet agreed to baseline measures remaining in place for the next four weeks, with individual states and territories who have put in place extended measures beyond baselines, to consider these measures based on up to date data and circumstances.
National Cabinet agreed to AHPPC advice on seven precedent conditions to any further relaxations, with work to continue over the next four weeks.
Situational awareness of current measures and their impact – sophisticated surveillance of disease incidence and spread, health system status, public health capabilities, stocks of material and community adherence to public health measures.
Finalised surveillance plan – enabled with adequate resources.
A better understanding of the implications of the modelling and a better understanding of the characteristics and transmission of the virus.
Complete maturation of public health capacity – including the capacity to conduct testing more broadly; and public health workforce and technology for contact tracing, data collection and analysis.
Advanced technology for contact tracing – the role of a mobile phone application should be wholly explored, as it could be a valuable tool in contact tracing if numbers increase and the application is widely taken up. This would act to complement and augment our current public health contact tracing strategies and enable scale-back strategies.
Assurance of adequate health system capacity – should control measures fail, there must be assurance that the system will cope with any surge in cases, including the requirement for hospital beds, ventilators, PPE and ongoing workforce training.
Assurance of supply lines for – PPE, pathology consumables, ventilators.
Leaders noted the AHPPC advice on international strategies being used to address COVID19 include an 'eliminate' strategy, 'suppress' strategy and 'controlled transmission' strategy.
National Cabinet agreed that Australia will continue to progress a successful suppression/elimination strategy.
Leaders noted the AHPPC advice that there are very different epidemics occurring in different countries, which are closely aligned with the relevant local public health responses, including physical distancing measures, testing and contact tracing measures as well as broader health system capacity.
Measures taken during the response to suppress the COVID-19 pandemic in Australia are aimed at protecting the most vulnerable population groups from severe illness and mortality by reducing transmission in the general population and ensuring health system capacity.
National Cabinet agreed to meet again on Tuesday 21 April 2020.
Lane Cove St Vincent's De Paul
As ITC previously reported  Lane Cove 's St Vincent's De Paul is closed.  There are signs advising goods should not be left out the back or the front of the shop.  This has not stopped illegal dumping.  Lane Cove Council has been advised that goods have been dumped.  The statement below is on St Vinnes website:
"As we all respect our wider community by staying safe indoors, we understand it's an ideal time for a spring clean so have been working to provide a solution while we're closed. We've had lots of feedback that our customers and supporters would still love to donate to us so we've launched our new donation collection service, Donation Stations across Sydney. Each of these donation drop-off points are now ready to accept quality donations of clothes, bric-a-brac, books and household items.
We are welcoming quality donations now for when it's time to re-open, as our shops raise essential funding for our community services which serve people facing poverty, homelessness and disadvantage.
For larger items, like furniture, we ask that you call ahead on 9350 9660 so we can assess our capacity to take them.
For your peace of mind, our Donation Stations are designed with social distancing measures in mind to reduce risks as much as possible, so we ask that people donate at these specific sites, rather than leaving items outside of the shops, donation bins or on the footpath.
Donations Station Sites – Open 9 am – 3.30 pm daily
| | | |
| --- | --- | --- |
| Site | Address | Location |
| Brookvale | 24 Roger Street, Brookvale | |
| Burwood | Clarendon Place, Burwood | Back Gate |
| Crows Nest | 8 Willoughby Lane,Crows Nest | Roller Door |
| Greystanes | 433 Great Western Highway, Greystanes | Left hand side dock |
| Hornsby | Jersey Lane, Hornsby | Back Gate |
| Mt Pritchard | 248 Humphries Road, Bonnyrigg | |
| Sutherland | 710 Old Princes Highway, Sutherland | Driveway |
| Waverley | Judges Lane, Waverley | Back Gate |
Here are some handy tips on donating responsibly to help you get started:
All Donation Stations are open 9 am – 3.30 pm daily, please come during these hours to ensure we can accept your donation.
It's never okay to leave goods outside bins or in front of charity shop fronts. If the bin is full, don't leave your goods – donate at the donation station or come back later.
Rubbish and damaged items belong in the garbage bin, not in a charity bin or donation station. If you wouldn't give a second-hand item to a mate, don't donate.
If it's dirty, damaged or dangerous, we won't be able to accept it. If you do have items to dispose of that are not appropriate for donation, contact your local council to arrange a council pickup or to find your nearest waste station."
NBN and COVID 19
ITC has had many reports of NBN and Internet connections dropping out for hours or days.  NBN is now releasing weekly reports on upload demand.  View the latest here.

Lane Cove Local offers Help For People Looking for Work
In these crazy times, many in our community are trying to manage isolation, home-schooling, social distancing and other COVID 19 initiated changes to our lives. Some are also trying to work through the impact of job loss.
If you have experienced a recent job loss and are finding the thought of applying for jobs and going to interviews daunting, please feel free to drop Jo Newton an email [email protected]
I've spent my career in HR and recruitment and am happy to provide some free, confidential advice around resume writing and preparing for interviews.
Here's a bit of info on me https://www.linkedin.com/in/jo-newton/
Don't Ignore Symptoms – COVID 19 is Not the Only Life-Threatening Emergency
The Australian Chronic Disease Prevention Alliance (ACDPA) is concerned some people are overlooking their existing chronic conditions and even failing to call triple zero (000) for an ambulance in an immediate life-threatening emergency. This delay could put them or their loved ones at risk of disastrous consequences, lengthier hospital stays and even death.
ACDPA Chair Sharon McGowan said it was vital people sought urgent medical help when it was needed.
"If you, or someone with you, requires urgent medical help, do not hesitate to call triple zero (000)," Ms McGowan said.
"I understand some Australians may be concerned about being a burden on our doctors and nurses at this busy time or be worried about contracting coronavirus in hospitals.
"But essential services are still running in our hospitals, and every precaution is being taken to protect patients and their families throughout the entire health system."
Many patients with chronic conditions, like diabetes, kidney disease, heart disease and cancer need ongoing treatment and care to manage their health. Other conditions like heart attack and stroke require immediate medical attention.
It is essential for Australians to know that they can keep accessing regular and emergency care during this time.
Ms McGowan added the health system is still available for medical emergencies, life-sustaining treatments like dialysis and transplant care, as well as ongoing care for those with existing medical conditions.
"I am hearing heartbreaking stories of people who are risking their lives unnecessarily by not calling an ambulance in a medical emergency," Ms McGowan said.
"This includes two patients with stroke who stayed at home where their conditions worsened, instead of presenting to hospital. Stroke is a time-critical medical emergency, and as each minute passed, their brain cells died.
"This is incredibly distressing because these patients could have received time-critical treatment but are enduring much more serious disabilities as a result of the delay".
Hospitals are taking a raft of precautions to maximise safety in COVID and non-COVID areas. They are also minimising the length of stay for patients, with Telehealth consultations (phone or video appointments) available for follow-up care. They are also planning for worst-case scenarios that will help ensure essential emergency and urgent services remain open.
Ms McGowan reiterated people must always call triple zero immediately in a medical emergency, no matter where you live or what age you may be.
"Don't wait until it's too late," she said.
Reasons to call triple zero (000) for an ambulance include:
Chest pain or chest tightness.
Sudden onset of weakness, numbness or paralysis of the face, arm or leg.
Breathing difficulties.
Unconsciousness.
Uncontrollable bleeding.
A sudden collapse or unexplained fall.
Unexplained fitting in adults.
Injury from a major car accident.
A fall from a great height.
Serious assault, including stabbing or shooting.
Severe burns, particularly in young children.
Infants who are fitting or have an ongoing fever
A Lane Cove Activity to Do with Kids These School Holidays
Even though  Lane Cove Council's outdoor nature events have been cancelled or postponed due to the escalating response to COVID-19, we shouldn't forget how being in nature can help ease our anxieties and stress. Even the greenery of your own garden can provide mood-boosting benefits. Here are some events you can take part in while you are self-isolating.
Wild about Lane Cove Photo Challenge: 1 – 30 April
Take some time to explore and capture the many beautiful aspects of Lane Cove's natural spaces as part of Council's Wild About Lane Cove photo challenge. Spend time in your garden and discover its riches! Photograph what birds and insects are visiting, which mushrooms are growing or where spiders are weaving their webs. Try to find and take photos of the features suggested in the photo challenge. For example, can you discover a small creature, a beautiful native flower, life-giving water or maybe something which feels soft?
Upload your best pictures to Instagram, tag @lanecovecouncil_ and #WildAboutLaneCove and go in the draw to win great prizes! Photos must be taken in the Lane Cove LGA. Find out more
Lane Cove Guides and Resources
ITC has put together numerous guides to help out our local businesses, to make it easier for you to shop and for kids to have fun. The guides are listed below. We hope you find them useful.
Mental Health Support
If you aren't feeling yourself lately, the Way2Wellness team are available to listen. Talk to a trained mental health supporter using a free and confidential wellbeing service.
For more information, visit: www.way2wellness.org.au or call: 1300 120 446 to chat.
Closest COVID 19 Testing Clinic
There is a COVID 19 Testing Clinic at Royal North Shore. These clinics are currently assisting with the assessment and testing of people with fever, cough or flu-like symptoms who are returned travellers or a contact of a confirmed case.
NSW Health Advice on Social Distancing
Everyone should practise social distancing, as it reduces the potential for transmission.
Social distancing is an effective measure to reduce the potential for transmission, but it is recognised that it cannot be practised in all situations.
Social distancing includes:
avoiding places where it is difficult to keep the appropriate distance away from others
attempting to keep a distance of 1.5 metres between themselves and other people where possible, for example when they are out and about in public place.
do not shake hands, hug, or kiss people who do not live with you.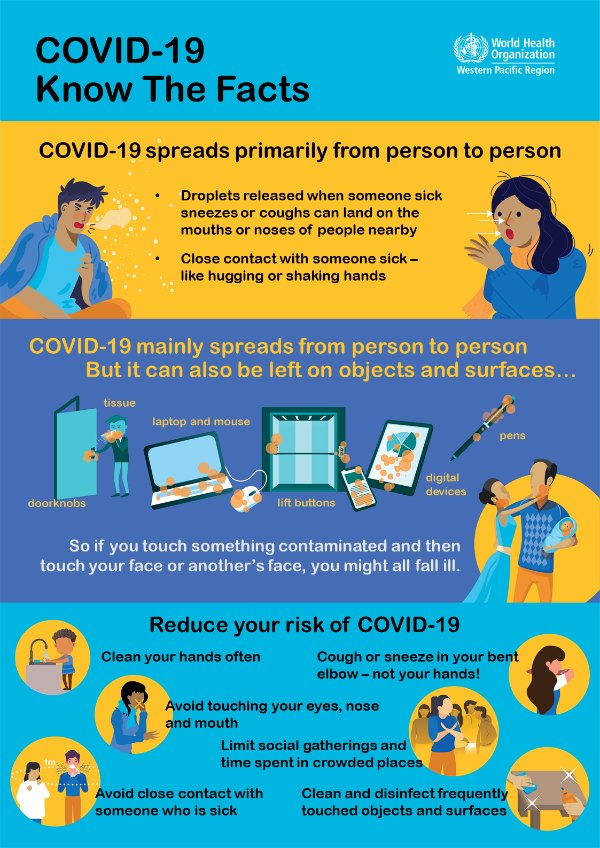 Be a Lane Cove Legend
To make sure you don't miss Lane Cove info sign up to our newsletter. It comes out every Wednesday at 7.30 pm and includes a wrap up of everything posted on our Facebook site in the previous week.
Did you know that In the Cove has an Instagram page? Yes, we do, and we feature pictures from our roving reporters and our ITC team that do not appear on our Facebook page. Follow us on @inthecove