Are you ready to spoil Dad this Father's Day.  Due to limited seating in restaurants and cafes we suggest you book now to reserve a spot on Father's Day.
You can have breakfast, brunch, lunch and dinner for dad for by dining-out, food delivered to your home, pick up or catered at home.
Psst… if you are looking for some great LOCAL Father's Day Gifts check out our Father's Day Guide here.
---
 Lane Cove Dining
---
The Alcott
Celebrate Dad in a COVID safe environment at The Alcott.
Sunday Roast $30 + $8 Pints
Our A la carte menu will also be available all day.
To ensure a COVID safe environment:
*Temperature checks on arrival
*Removed furniture to ensure social distancing
*Permanent COVID safety marshall on duty
*Use of VIRASAN disinfectant (kills any trace of COVID in 60 seconds) on all tables and chairs between guests
*Hand sanitiser stations throughout venue
*Safety screens at reception and ordering points
Bookings are essential. Please call 9428 5155 to secure your spot. Maximum bookings of 10 people.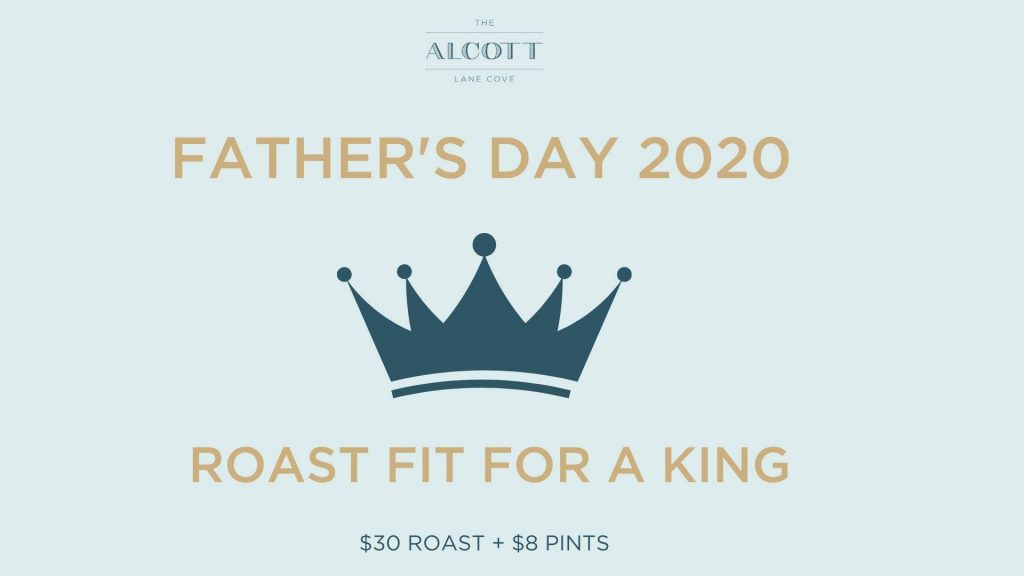 ---
Father's Day Roast Lunch open from 12pm Sunday 6th September. For all the Dad's and our loyal roasters, of course, we will be doing our pork and lamb Roast with all the trimmings. Available dine-in or Takeaway. Book now by phone or email.
Address:  Shop 1/96 Longueville Road  Lane Cove NSW
Website: Shortieslanecove
Facebook: @ShortiesLaneCove
Instagram:  @ShortiesLaneCove
Email:  [email protected]
---
Longueville Hotel
We're shouting all dads this Father's Day!
All dads will receive a complimentary schooner of Stone & Wood Pacific Ale when you book a table to dine in with us on Sunday 6th September and purchase a meal.
Bookings are essential, visit our website to secure your spot!
---
 Little Red Robin Restaurant
Book now for Father's Day lunch – Sunday 6th Sept. Enjoy their new degustation menu. Find out more
here
.

Address:  4/85 Longueville Road, Lane Cove  (enter via Birdwood Lane)
 0294189529
 Littleredrobinrestaurant
 littleredrobinrestaurant
 ]littleredrobin.net.au
ITC Business Community Supporter: Little Red Robin
Licensed:  Fully Licensed
---
Longueville Sporting Club AKA The Diddy
Our Father's Day tradition with Frenchies Brewery is back! All Dads dining with us on September 5th and 6th will receive a complimentary Frenchies' Pale Ale with the purchase of any crêpe or galette.
Frenchies Bistro and Brewery is a local brewery based in Rosebery and owned by two Frenchmen, Thomas and Vincent. They cook everything from scratch with fresh produce and craft their own beers. The fine dining French cuisine is designed to match the beers, but also wine.
We've partnered with them to offer well-deserving Dads Frenchies' delicious Pale Ale. One of their most popular beers, the Pale Ale is packed with citrus flavours and backed by a delicious maltiness. The floral flavours go perfectly with orange. That's why we recommend having it served with our Crêpe Suzette, which is made with orange segments, candied orange zest, orange caramel sauce & Grand Marnier.
---
Treat dad to a lovely night out at Lillah's Kitchen or dine-in at home one of the Family Plates like the Gourmet Feast:
12h Slow Cooked Lamb Shoulder 300g
Shawarma Chicken Skewer 250g
Fried Cauliflower Falafel
Hummus, Baba Ghanoush & 4 Falafels
Mejadara Rice & Fattoush Salad
Harissa Potato & Smoked Garlic Dip (Toum)
2 Persian breads
Serves 4 adults
Pre-order now on our website (LillahKitchen.com) or call us on 02 9588 1411.
Address:  128 Longueville Road Lane Cove NSW
Facebook: @LillahKitchen
Instagram:  @Lillahkitchen
Email:  [email protected]
---
We will be providing a complimentary beer on arrival for father but we are only open for dinner on Sunday.
Address:  Shop 5, 79-83 Longueville Road Lane Cove
Phone: (02) 8041 3307
Facebook: @KasinaKoreanEatery
Instagram: @KasinaKoreanEatery
Licensed:  Fully Licensed BYO Wine only
---
Wok Passion has a wide range of Asian specialities such as Kung Po Squid, Sambal Seafood and Yin Yong Kailan. The Wok Passion Specialty menu, includes Steamed Fish, Curry Fish Head/Fish Fillet in Hot Pot, Singapore Chilli Sauce, Salty Fish Pork Belly in Sizzling Dried Chili Hot Pot, Red Curry Duck and Vegemite Crunchy Pork Belly.
They are offering home delivery and takeaway.

Address: 111 Longueville Rd, Lane Cove NSW 2066
Phone: (02) 9420 9567
Instagram: @wokpassionlc
---
Show dad how much you love him with some really yummy food from Encasa. You can dine in or takeaway. We will prepare, cook, present and clean up. Place your order now, we would hate for you to miss out.
Address:  132 Longueville Road  Lane Cove NSW
Phone: (02) 9418 8577
Website: EncasaLaneCove
Facebook: @Encasa
Instagram:  @EncasaAustralia
---
Pho Sam is about providing good and healthy Vietnamese inspired cuisine.  If you Dad loves Vietnamese, this is the place in Lane Cove to try.
Address: 19 Burns Bay Rd, Lane Cove NSW 2066
Phone: (02) 9427 1655
Facebook: Pho Sam Lane Cove
Website: Pho Sam
Instagram: Pho Sam
---
Foogoo is a modern Asian restaurant. The name Foogoo is a play on the words Food Good (and the food is good). They serve Yum Cha and modern Chinese and also some of your favourites like Kung Pao chicken.
Home Delivery and Takeaway Orders available.
Address:  94B Longueville Road Lane Cove NSW
Phone: 02 7900 7081
Facebook: @Foogoo
---
The Ground Caffe
We have a father's day special dish for father's day weekends (both sat and sun). Pulled Pork Benny
Slowly Cooked Pork with chipotle and smoked barbeque sauce, two poached eggs, baby spinach, on toasted English muffins, with sriracha or plain hollandaise sauce.
Available for dine in, pick up, takeaway, online delivery via ubereats, Deliveroo and menulog
---
Roasted Chicken, a beautiful salad and delicious roasted veg… that would make Dad happy! You can choose to Grab and Go by ordering on their app.
---
They have takeaway and delivery options for coffee and food and of course cakes and pies.  Call them on 9420 9895 for pick up or order via uber eats.  They are located in the same arcade as Bakers Delight.
💡Got a cake idea for your love one? The Cake Man will bring it to reality.💗

Address: 5A/23 – 25 Burns Bay Road Lane Cove (park at The Canopy)
Phone: 02 9420 9895
Email: [email protected]
Instagram: @thecakemansydney
---
Dad Box
---
Jon-Patrick Catering
"Dad Box" contains the following:
Caramel Slice

Lamington

Vanilla bean scones with triple berry jam and chantilly creme

Tomato galette

Ham & cheese croissant (tomato & cheese alternative)

Three types of wraps: (egg,rocket & mayo, Cajun chicken with rocket & mayo & roasted vegetable & salad)

Tea & napkins.
All beautifully packaged and delivered to you on Fathers Day for $40.00pp
(The box featured in the photo is a serving for 2).
To order yours email [email protected]
---
At Home Dining
---
Have a meal catered at home with Bern the Chef.
---
A Cut Above Catering
Let A Cut Above Catering take the stress out of Father's Day. They can deliver a 2 or 3 course meal ready for you to serve.
For example, try  Moroccan Slow Cooked Lamb with Pomegranate & Labne served with Spiced Cauliflower & Chickpea Salad with Lemon Tahini Dressing. You'll find their Shared Platter menu at www.acutabovecatering.com.au
---
Food and  Wine Dad
---
Porters Northwood
Keep your Dad in good spirits this Father's Day with a wide range of gifts on offer at Porter's Liquor Northwood. Whether he loves a smoky whisky, an infused gin, a great vintage bottle of red from our cellar, or a selection of craft beers, we can help you find the perfect gift for any budget. If you know what you want – just ring ahead on 9427 1337 to order and we can deliver it to you for free within the local area.
Address: 1 Northwood Road, Northwood/Longueville NSW 2066
Phone: 02 9427 1337
Website: Porter's Liquor Northwood
Facebook: Porter's Liquor Northwood
Instagram: @portersliquornorthwood
---
Bird and Barrel
Pack no 1.
The Road to discovery Trio $140
For the wine loving Dad who seeks a road less travelled, three outstanding examples of lesser known but emerging wines.
Pack no 2.
Japanese Whisky and Beautiful Reds $170
He who apricates the very best will truly understand the masterpiece of Japanese Whisky making not to mention two elegantly crafted premium regional red wines
Pack no. 3
The Award Winners Trio
Each of these wines is the leader in its field, either recognised by the most respected wine writes or decorated at major wine shows.
Truly impress Dad this year with a gift from our range. We have 3 brand new gift packs perfect for the special men in your life.
Delivered in our premium pine boxes this gift is guaranteed to knock Dad's socks off!
We delivery Australia wide and shipping is free to NSW or ACT on orders over $120.
---
Jack & Co. has new jams and relishes range! They are all sourced from top notch quality products direct from growers in the Mid North Coast! It's just another addition to Jack & Co's Paddock to Plate range. Great gift ideas, or just keep for yourself.  You might also want to look at their Jack and Co Coffee or bake Dad some yummy Choc Chip Cookies for Fathers Day
---
LV MEAT MASTERS
"Any man can be a father, but it takes someone special to be a dad." Celebrate this father day safely with your love ones at home. Why not spoil your DAD with a steak to share. LV MEAT MASTERS have 3 DELUXE GIFT PACKS include TOMAHAWK PACK ($49.99), WAGYU PACK ($59.99) and LAMB PACK ($59.99) with free delivery
That will surely make it special
Make your dad feel like a winner this Father's Day!
Order your pack online, in store or by phone 9420 2739
Order today as packs are limited!
---
---
Father's Day Visitors
---
Hotel Urban
What better a gift than to give Dad (and Mum?) some time off with drinks on arrival and breakfast for 2 included from $149 – Promo code – WINTER
Lane Cove Breakfast and Brunch Ideas
---
We have so many great cafes in Lane Cove and brunch is an area where some of our shine.
We have put together a list of our favourite brunch dishes in Lane Cove and you can read about them here.
In the Cove Local News – Get in Every Wednesday!!
To make sure you don't miss Lane Cove info sign up to our newsletter. It comes out every Wednesday at 7.30 pm and includes a wrap up of everything posted on our Facebook site in the previous week.
Did you know that In the Cove has an Instagram page? Yes, we do, and we feature pictures from our roving reporters and our ITC team that do not appear on our Facebook page. Follow us on @inthecove
Want to find out what your neighbours are chatting about – head over and join ITC Lane Cove Chat – also if you have lost anything or found something this is the place to post.