According to statistics released by Transport for NSW, in a year marked by COVID-19 restrictions, hundreds of more people have taken to NSW waterways.
More and more people are getting into water sports and water activities around Lane Cove.  This has led to an increase of dinghies and kayaks around popular spots such as Burns Bay Reserve, Woodford Bay and other local areas.
Register Your Dinghy
Lane Cove Council released the following statement:
"Dinghy numbers are increasing across the local government area and are sometimes stored on sensitive bushland areas or other inappropriate locations. Any dinghy stored along any of Council's public foreshore areas must be registered with Council or risk being impounded. Registration is free – owners simply need to complete the Dinghy Tag Application Form at www.lanecove.nsw.gov.au/boating. Registered dinghies will receive a tag to place on their vessel.
Dinghies must be registered by 1 March 2021 – any untagged dinghies found after this time may be impounded by Council. If you require further assistance please call Council's Open Space and Urban Services team on 9911 3555."
Safety
NSW Maritime Executive Director Mark Hutchings has welcomed the popularity of boating but this has meant Transport for NSW's Boating Safety Officers have had even more reason to ensure on-water safety is top of mind during the traditionally busy summer boating months.
At the end of November, there were 682 additional holders of general boating licences across the state, with an additional 1282 boats registered in NSW compared to the same time in 2019.
"Anecdotally, vessel usage has increased significantly during COVID-19 – including existing vessels being used more often, as well as new vessels out on the water," Mr Hutchings said.
"Starting in March 2020 and continuing right through winter and into spring, statistics show an uptick in both boat licences and registrations, which likely relates to COVID-19 causing an increase in interest in boating as one of the remaining leisure options."
Mr Hutchings said in NSW, there are no restrictions which currently apply to recreational boating when those onboard are members of the same household.
"If those onboard are not members of the same household, they should maintain a physical distance of 1.5 metres from others, as is reasonably practicable and always remember to practice good personal hygiene."
He said it was important new boaties focused on following the NSW boating rules and any local waterway restrictions, such as speed limits.
"Sydney Harbour is for everyone to share, regardless of the size of the boat you are in," Mr Hutchings said.
Robert Sanasi took delivery of his first boat – a modest 5.7 metre motorboat – and was issued a mooring licence after successfully passing the test for his boat licence a couple of months earlier.
"We are empty nesters and recently moved to Lane Cove and it seemed like the thing to do. In March there wasn't much to do, so my son and I got our boat licences," Mr Sanasi said.
"We aren't your typical boaters, though – a lot of people have had boats in the family. Whereas, I have zero boating history, so I've hired a guy for six one-hour slots to teach me gradually what to do on my own boat.
"If you make a mistake on land, the consequences are different."
For more information on safe boating, visit the Maritime and COVID-19 boating update websites.
Fishing
Authorities are also targeting offences relating to fishing.
On Sunday evening (10 January 2021) Police from the North Shore Police Area Command participated in a multi-agency operation targeting offences relating to fishing.  A 27-year-old Fairfield man was fined for having undersized fish near the Harbour Bridge and a 76-year-old Dundas Valley man was fined for catching undersized fish at Balmoral Wharf. A man and woman were fined for not having a fishing licence.
Cunninghams Reach is a popular spot to fish in Lane Cove. Cunninghams Reach is accessed from Burns Bay Road via a loop road below Figtree Bridge. This is a small grassed area with sandstone rocks to Lane Cove River.
Sailing
Learning to Sail is a popular activity for Lane Cove locals.  There are three sailing clubs in the Lane Cove Council area.
The Lane Cove 12ft Sailing Club,  Greenwich Sailing Club and Greenwich Flying Squadron have learn to sail courses for kids.  Both boys and girls enjoy these courses.
The current patron of the Lane Cove 12 Ft Sailing Club is Adrienne Cahalan OAM.  Last year she was inducted into the Sailing Hall of Fame.  You can read more about Adrienne here.
Get out enjoy the water and have a safe time.  PS if you don't want to hit the water, you can always run or walk around Lane Cove – further details here.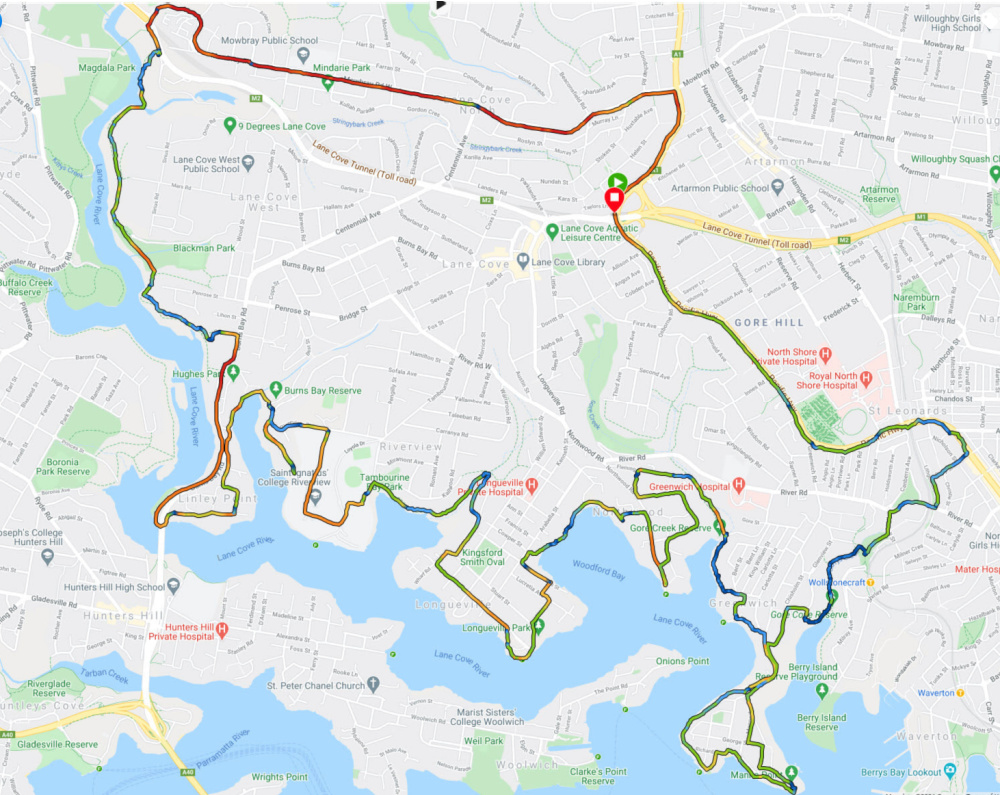 Local News At Your Fingertips
In the Cove is run by locals. It is the only online hyperlocal news and media business based in Lane Cove.  We provide local free news – we do not have a paywall and will never have a paywall.