Rules
The rules are pretty simple:
It would be best if you ran as close as possible to the boundary line of the Lane Cove Council region (see map below).

However, you must stay on public property (roads, parks, trails, footpaths, stairs, etc.) with no running through private land or dangerous terrain.

It must be completed as a single running loop but can be run in either direction.

You can start and finish from wherever you like as long as you finish at the same point where you started.
Some Factors To Bear In Mind
There are a few things worth noting on the route:
Needless to say, the running terrain is widely varied if you want to stay true to the boundary lines. We are blessed in this area to have an abundance of harbourside parks and trails so if you're not an experienced trail runner you may prefer to stick to the roads (this will actually add some distance to the run though !).

There is a 100m section of trail between Epping Road and Stringybark Creek (Ventemans Reach) north of Blackman Park that is still closed (and has frustratingly been so for years !). The alternative is to continue up Epping Rd and turn right into Sam Johnson Way.

There has also been a recent closure on the trail south of Blackman Park (Lovetts Reserve) for about 150m before reaching Burns Bay Rd. When I did this run the fencing had been removed on the trail just before Cope St but was still in place up at Burns Bay Rd. The alternative is to take the trail up to Cope St and onto Burns Bay Rd.  Find out more here.

Saint Ignatius College Riverview is closed due to COVID19 so you will need to divert around the school.

And the last and most obvious piece of advice is, be prepared for lots of up and downhill running! (I recorded approximately 600m of vertical over the 28km route).

Always take plenty of water, and you can stop along the way to buy some water at Hughes Park Centro – see more here.
Always let someone know you are doing this challenge and make sure they can find you on Find my iPhone or Life 360.
The Route
So if you're keen to take on the challenge, you can see the route that I chose to follow in the map below…..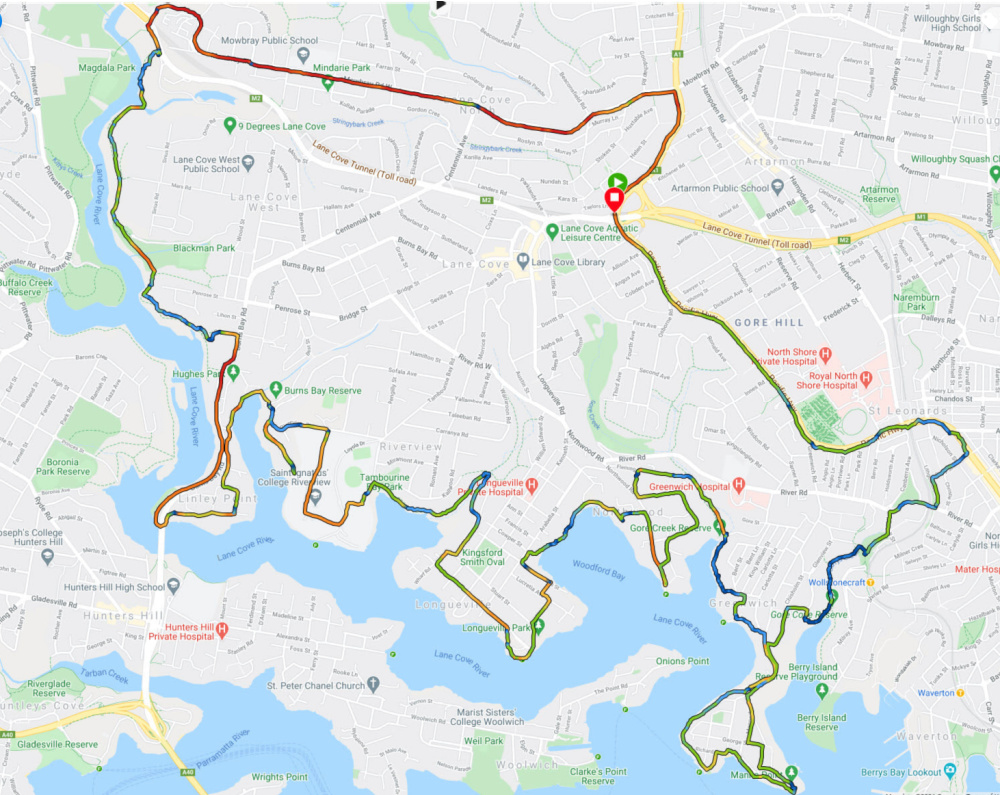 Just in case you're wondering, the different colours indicate the pace Andy was running at (e.g. Red = fast, orange = medium, green = slow, blue = very slow !). This will give you a rough idea of the terrain and/or gradient on the route.
Bragging Rights
You can brag about your achievements on
Lane Cove Chat by ITC
. We will pin this article to the top of the page, and you can tell people about it in the comments.
Walk Don't Run
If running is not your thing, then walk it and tell us how long it took you.
Other Lane Cove Running Suggestions
Andy has put together some bush trail runs, hill runs, and stair climbs and they are all LOCAL.
Top 10 Stair Runs in Lane Cove
Top 10 hills to run in Lane Cove
Top 8 trail runs for more details.
As a bonus, Andy has also put together some local bike-riding routes for you.  More details here
Andy is the Running Coach for the North Shore Running and Fitness Group and Personal Trainer at the affiliated Sydney Performance Lab.
Whilst heavily immersed in the running concept of "longer is better", with numerous marathon, Ironman Triathlon and trail ultramarathon finishes, Andy still thrives on testing his performance with races of any distance and loves to share his passion for running, health and fitness with everyone around him!
Contact Details
Website: nsrunningfitness.com.au
Email: [email protected]
Mobile: 0412 522 047
Facebook: https://www.facebook.com/andrew.smith.395454