Twenty Years ago, Jason Moufarrege became the owner/manager of Eyes on Lane Cove.  This is a huge milestone, and we thought we would celebrate it by interviewing Jason and offering our In the Cove readers a discount.
To celebrate, Eyes on Lane Cove is offering the "In the Cove" community a $100 discount promotion.  Just mention this article when you pop into Eyes on Lane Cove to get the discount.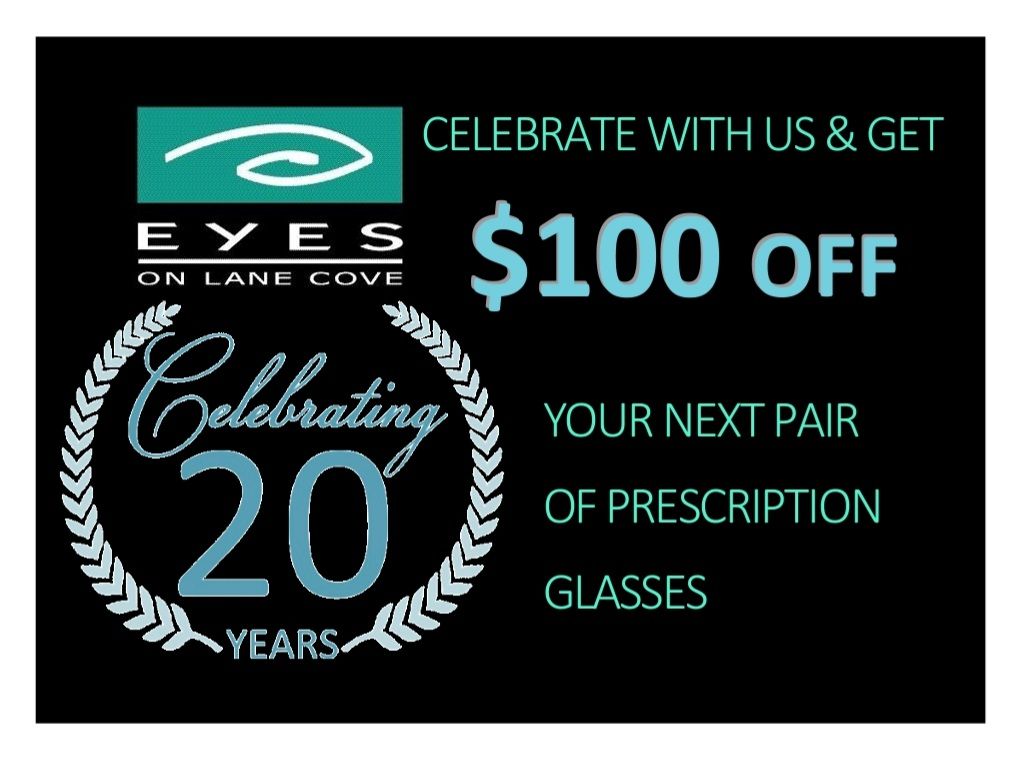 Eyes on Lane Cove is located on Longueville Road Lane Cove at the entrance of the Lane Cove Arcade.
We asked Jason a few questions about Eyes on Lane Cove.
What Did you Do Before Buying Eyes on Lane Cove?
After working for another optometrist for five years, it was time to fulfil my vision to own and operate my own practice.
Why did you Decide to Buy Eyes on Lane Cove 20 Years Ago?
The vibrant village atmosphere of Lane Cove attracted me to acquire and build up the established business of Eyes on Lane Cove.  I recognised the potential to provide stylish and quality eyewear. The family-orientated location was a definite bonus.  I have watched Lane Cove grow and evolve and see kids grow up and become my adult clients.
We are an independently operated business that allows us to offer premium service to our client's satisfaction and provide competitive prices. Our team of fully experienced optometrists, dispensers and staff are more than happy to ensure that your whole family's optical needs are always met.
How Often Should People Get Their Eye Sight Tested?
Routine eye exams are an integral part of good healthcare. In some cases, serious eye or medical problems are first discovered in a routine exam. In fact, the earlier a potential problem is diagnosed, the better the prognosis for treatment. This is especially true of amblyopia ('lazy eye'), strabismus (misaligned eyes) in children, and glaucoma in adults. Many eye problems are asymptomatic, or silent and depend on a thorough eye examination for diagnosis.
For people between the ages of 5 and 40, a routine eye exam is recommended every 2-3 years to detect problems such as refractive errors. Eye exams are recommended every 1-2 years for people over age 40 when there is an increased prevalence of glaucoma, cataracts and other eye conditions. We provide exams for children and have a great selection of stylish kids frames.
Corrective lenses, whether glasses or contacts are worn by millions of people for clearer vision. Our practice is fully equipped to cater for all-optical requirements.
Our Services include:
Excellent service from a professional and friendly Optometry Practice
Comprehensive Eye Examinations Bulk-Billed
Glaucoma & Macular Degeneration Checks
Diabetic Retinal Eye Examinations
Experienced team
We cater for adults & children
Great selection of frames & lenses
Contact Lens Examinations & Fittings
For an appointment, please call (02) 9418 3329. Eye examinations are bulk-billed. On-line health insurance claims are also available.
What Can People Do To Protect Their Eye Sight?
Regular check-ups and wear appropriate eyewear, i.e. prescribed spectacles/contact lenses, sunglasses outdoors, and safety glasses for tradespeople. Also, do what is recommended by their optometrist.
Is it true that after 43, men's eyesight dramatically change?
"Life may begin at 40", but a fact of life is that eyesight does deteriorate for both men & women after 40 – sorry!
Have you ever had anyone who just walked in and said, I want glasses to look smart but don't need them?
Of course, on some occasions, people buy glasses who don't need them but just want them to look smarter, mainly for a job interview (or work) or just to accessorise.
Do you try to employ locals?
Absolutely (all of our staff live locally) – we like to support the local community spirit.
Finally, which celebrity would you like as your patient?
Why do we need celebrities at our store?  We feel all our clients are VIP's.

Contact Details
Address: Shop 8, 115 Longueville Road, Lane Cove NSW 2066
Phone: 9418 3329
Website: Eyes on Lane Cove
Eyes on Lane Cove is an ITC Business Supporter.