Phew, where do we start?  It has been a HUGE week in Lane Cove. Lane Cove was the lead item on Channels 9 and 7 news on Thursday.  There was also numerous Lane Cove Festival events this week. Friday 27th September 2019 was also the last day of Term 3 (we think our cover photo says it all).
Lane Cove Manhunt
Thursday 26th September 2019
Just prior to 4pm on Thursday 26 September 2019 NSW police approached a man on Longueville Road.
After a short interaction with the man regarding an ongoing investigation, he allegedly produced a screwdriver before fleeing the scene.
Officers from North Shore Police Area Command assisted by Polair, the riot squad and the Police Dog Unit, established a perimeter to locate the man.  The police closed Longueville Road near Birdwood Avenue and at Central Avenue from 4.00pm until just after 6.30 pm.  They also closed Pottery Lane.
The search concluded with no arrest. Read more here.
Friday 27th September 2019
Following further inquiries, officers from Central Metropolitan Region Enforcement Squad approached a man on the beach at Sandringham in Sydney's south, about 1.45pm.
When approached, police will allege the man fled the scene, swimming out and boarding an unmanned boat that was moored a short distance offshore.
Officers approached the boat via jet ski and were allegedly threatened by the man, before Oleoresin Capsicum spray was deployed.
The 48-year-old man was arrested and taken to St George Police Station where he was charged with two counts of use offensive weapon to prevent lawful detention, enter vehicle or boat without consent of owner/occupier, four counts of break and enter house and steal, larceny, two counts break and enter house with intent (steal), two counts of dishonestly obtain property by deception, and goods in personal custody suspected being stolen.
An outstanding warrant was also executed.
Lane Cove Festival Events
The Lane Cove Festival wrapped up this weekend.
Bike Week Breakfast
Lane Cove Council organised a free breakfast, coffee and free bike maintenance for users of the Epping Road Bike Path.  ITC bumped into Josh from Renegade Cycles and a few local bike path users enjoying the breakfast.
Screen on the Green
To celebrate the last day of Term 3, the Lane Cove Council held a movie night in the Lane Cove Plaza.  Two cult movie classics, Labyrinth and Bill & Ted's Excellent Adventure, were shown.  There was free popcorn, beanbags and glow in the dark furniture (if you want them for an event they can be hired from @walkers party hire north shore).
Judy Bailey's Big Band
The last event of the Festival was Judy Bailey's Big Band.  According to a few reports it was a very loud and some people moved to restaurants located away from the Lane Cove Plaza.  However others loved the big band sound.  The Lane Cove Council gave away over 80 small azalea plants at the event. The giveaway celebrated the completion of the planting of hundreds of new azaleas along Epping Road.
Tradie Suffers Electrical Shock
A Tradie received an electrical shock while working on the new Pilates Reformer Studio at Fit Lane Cove in Lane Cove Market Square.  The Ambulance attended and took the tradie to Royal North Shore Hospital.  Eyewitnesses said he was sitting up on the stretcher and talking on his phone as he was being wheeled to the Ambulance.
Lane Cove's Bella O'Grady Selected in Australia's Athletics 2019 World Cup
Congratulations to Lane Cove's very own Bella O'Grady for being selected to represent Australia in the 2019 Athletics World Championships in Doha. She will be competing in the 400M individual event (and we all know that is one HARD race to run!!!). ITC first found out about this talented athlete when Bella represented Australia at the Under 20 World Athletics Championships.
Bella's career all started at the Northern Suburbs Little Athletics Centre at Rotary Field.
The Little Athletics Season has just started, and you can still register here.
Follow Bella on Instagram at https://www.instagram.com/bellaogrady/
Pictures Athletics Australia and Bella O' Grady Instagram
Lane Cove Junior Golfers Win Tyro Shield
Lane Cove junior golfers recently competed in the Tyro shield against local clubs such as Northbridge. Cammeray, Roseville, Wanderers and a second team from Lane Cove known as Lane Cove Red.
The kids known as the Lane Cove Blue won the Tyro shield hosted by Jack Newton Junior Golf.
Lane Cove Council to Share Library Services with Hunters Hill Council
This week Hunters Hill Council unanimously voted to share library services with Lane Cove Council from 1 July 2020. Lane Cove Mayor Councillor Pam Palmer said she is looking forward to working with Hunters Hill Council to provide its community with a range of library services.  Hunters Hill Council will pay a fee to access our library resources.  Previously Hunters Hill Council paid a fee to access Ryde City Council's library.
Watch Out Funnel Web Season Has Started
A roving reporter posted on ITC Lane Cove Chat that Funnel Webs are already out and about this season in Lane Cove. If you see a Funnel Web inside your house, there are safe ways to catch them and deliver them to the reptile park.
Funnel Webs tend to come out after a heavy rain period (as their homes have been flooded). They like cool, damp environments and they are usually spotted in pools, bathrooms or the laundry. Read more here.
Lane Cove is Tops with First Home Buyers
According to an article published on news.com.au, Lane Cove is high on the list for first home buyers.  Read the article here.
 Lane Cove Pool Construction Update
Thank you to Roving Reporter Jenny for snapping this photo showing the progress on the Lane Cove 50m Outdoor Pool.
Lane Cove Council hopes to have you back swimming 50m laps in the 2020/2021 summer season.
Jenny is a long time ITC supporter and she is also heavily involved with Lane Cove Rotary. Lane Cove Rotary is working hard on preparing for the big Lane Cove Rotary Fair with Sustainability Lane – 13th October 2019. Find out more here.
Business Alert
Batch By Batch 's retail store was located at 14 Northwood Road Northwood. Their lease ended and they decided to vacate the premises. They will concentrate on their very successful pop up stores. The pop up stores will be located in Chatswood Chase and QVB in the four weeks leading up to Christmas.
Pathways Property Group are forging ahead with their plans to build a 130-bed residential aged care facility at 274 and 274a Longueville Road and 4-18 Northwood Road, Lane Cove ("Northwood Shops Planning Proposal").
This site is currently occupied by six buildings (including the Metro Service Station aka Speedway Petrol Station and the Riverview Vet). The planning proposal for these shops is still with the Department of Planning and it could be at least another year before anything happens to this area. Read our update on this development here.
Elia the new bathroom/kitchen/laundry showroom will be opening on Burns Bay Road (the Old Claphams Antique Showroom) in about two weeks' time.
According to their Facebook page:
Elia passionately transforms the home by challenging the ordinary.
Directors Najee and Anthony Elia launched the company on the back of decades of family experience, knowledge and a journey illuminated by inspiration.
Through years of research and development, the Elia brand was born from an obsession with design, style, functionality and enduring quality.
Elia offers a vast range of products from the world's most renowned bathroomware brands, while foregrounding innovation. With the client remaining at the heart of Elia, we enable an expression of individuality and creativity to create their ideal bathroom.
Our state-of-the art showroom in Lane Cove will include its own private design space for homeowners, builders, designers or architects to meet and collaborate on projects with the complete range of materials, colour samples and displays to visualize at their fingertips.
Welcome to a new frontier of the bathroom industry. Elia has dared to challenge the ordinary in the pursuit of making your next bathroom project extraordinary.
Welcome to Lane Cove Elia.
Coming Soon
Lane Cove Council is running a Shop Local campaign and you can win prizes.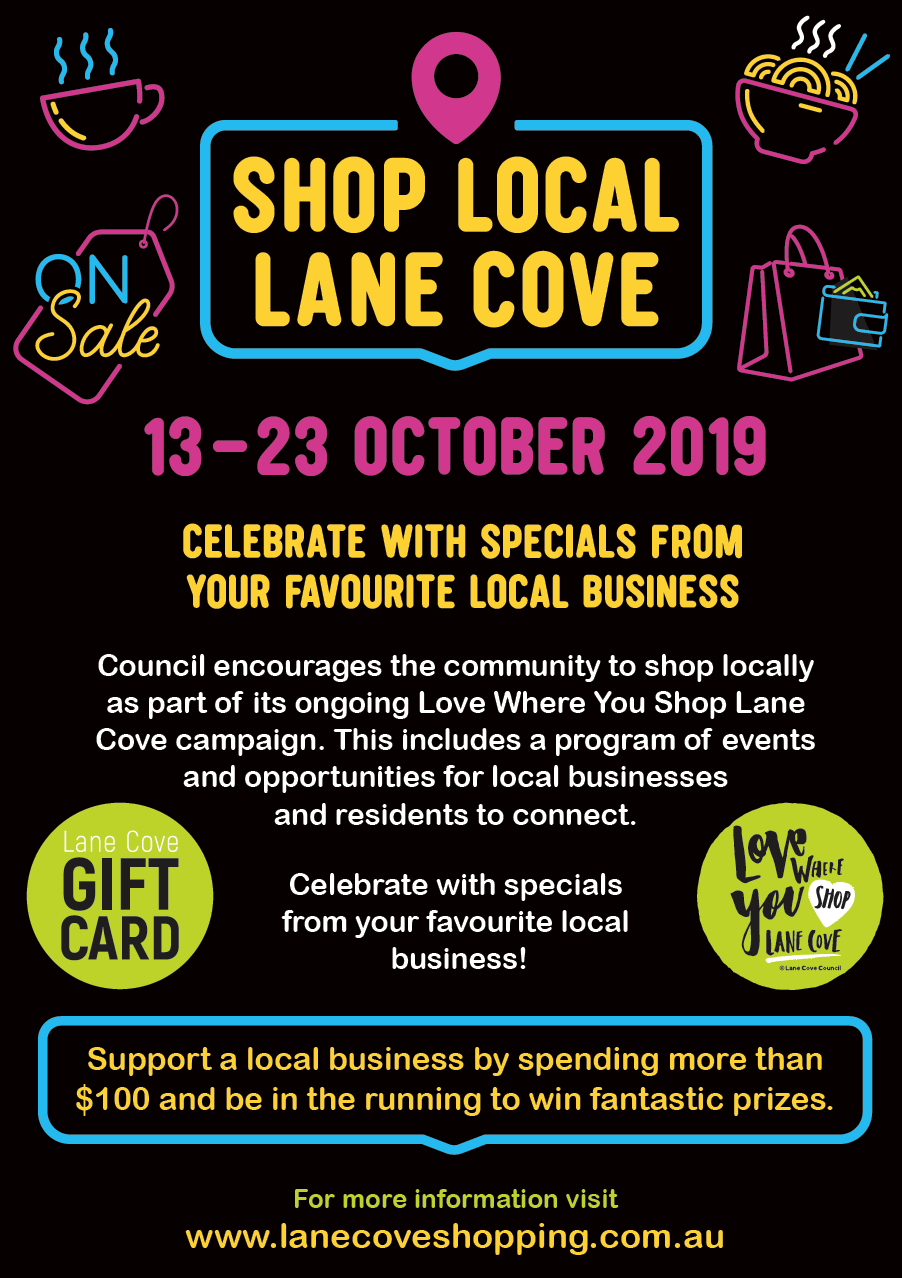 Swooping Magpie – Burns Bay Road
There is a swooping magpie just outside the Lane Cove Bowling Club on Burns Bay Road. He or she has been attacking cyclists and pedestrians. Find out what to do if you have been swooped here.
ITC Launches Thursday Traffic Tips
ITC has launched a new feature on our Facebook page – Thursday Traffic Tips. A few weeks ago we found out that not many people were aware of the 3m Double Line Parking rule or that a straight yellow line on the road means NO STOPPING. For many of us it has been a while since we passed our driving tests and rules do change. We want to inform you of those changes so you can avoid an infringement notice.
This week the NSW State Government changed the rules in relation to slowing down  to 40 km per hour when passing a stationary emergency vehicle with flashing lights. The rule will still apply when there is a stationary emergency vehicle stopped with flashing lights where the speed limit is 80kms per hour or below.  The rule does not apply where the speed limit is 90km per hour or above.  This rule also now applies to Tow Trucks with flashing lights (the Tow Truck industry has been advocating for this change after a fatality a few years ago).
If you missed it – here is our article on the 3m Double Line Parking Rule.
Also be aware the Lane Cove Council Rangers have increased their patrols around the Lane Cove Village outer areas (such as Burns Bay Road after the Tambourine Bay Road roundabout). They are marking tyres and you will be fined if you exceed the 1 Hour Parking Limit.
A spokesperson for Transport for NSW advised ITC that the Red Light/Speed Camera is now operational at the Figtree St/Centennial Ave intersection.
They advised ITC as follows:
"The new camera will operate in warning mode for one month during which time drivers caught speeding or running red lights will be sent a warning letter to encourage them to change their behaviour. Fines and demerit points will be sent to drivers who offend at this location following the warning mode period.
Once operational this camera will capture cars running the red light and/or speeding from Figtree Street into Barwon Road and cars running the red light and/or speeding turning left or right into Centennial Avenue.
Transport for NSW is not considering dedicated right turn traffic signals at this intersection based on the good sight distance to oncoming traffic for those wishing to turn right, a review of the crash data at this intersection which has shown a mix of crash types with no clear trend. The red-light speed camera will be monitored closely to determine its effect on the crashes at this intersection – the new camera is expected to address the crashes currently experienced."
Transport for NSW will continue to monitor this intersection.
Road Safety Executive Director Bernard Carlon said:
"We know that red light and speed cameras work to slow drivers down and reduce dangerous red light running, reducing the number and severity of crashes, and save lives. This has been demonstrated both in NSW and worldwide. The NSW Government's 2017 speed camera review found that there has been an 85 per cent reduction in fatalities at fixed speed camera locations, and a 54 per cent reduction in fatalities at red-light speed camera locations."
He further said: "Every cent from speed camera revenue goes into the Community Road Safety Fund, which is used to fund important safety programs such as road safety upgrades, high visibility police operations, raised pedestrian crossings and school zone flashing lights."
Crime/Incidents/Accidents
Break In
The police were back in Lane Cove this morning (Sunday 29th September 2019).
Cellarbrations Lane Cove was broken into (they are located under Coles). The robbers knew what they wanted and only stole cigarettes.
Azaleas Stolen
A roving reporter sent us the following:
"Do you think a green thumb would go nicely with prison greens? Lane Cove Council has recently re-planted azaleas in the garden beds along Epping Road. Unfortunately a number of the new plants near the Coxs Lane bus stop has been stolen. The theft has been confirmed by Lane Cove Council. If anyone has any information about this, council would like to speak with you. Also, we're not ones to suggest 'planting evidence' but if you have seen some freshly planted azaleas anywhere around the Cove, this may also be useful information for council. The plants are around 15 – 30cm and have likely recently flowered."
Lane Cove Tradies Beware
A local plumbing company contacted ITC to advise that two of their trucks were broken into last weekend. They wanted other local tradies to be aware that this is happening in the Lane Cove Council Area.
Blackman Park Joggers
A few weeks ago we reported about someone stealing valuables while people were playing sport at Blackman Park. A roving reporter told us the following:
"Hi ITC, I wanted to notify ITC about items going missing this morning. I was running and working out in Blackman Park just before 8am and left some items, namely a water bottle, towel and small dog treat pouch on the gym equipment. I made a jogging circuit of the park, returned to my spot to fine everything gone. I asked the rangers and other Park users but no one one saw anything. Would you please warn the community and also ask for these items to be returned if they were taken by mistake? Nothing of value but it is inconvenient"
Farran St Lane Cove North Robbery
A Farran St business was robbed.  Thieves stole property valued at more than $9000. The break in occurred between 6 pm on 20th September 2019 and 21st September 2019. The thieves entered the premises by forcing open a rear ground floor door. Police are asking for anyone that may have noticed any suspicious activity to contact the Lower North Area Police Command on 9414 8499 or Crime Stoppers.
School Holiday Activities Guide October 2019
Whoa! Term Three is finished. There is still time to plan a few activities for the kids to help ensure you all have a fun couple of weeks off school.  There are so many fun things to do in Lane Cove and we have them listed here.
Lane Cove Must Do Events October to November 2019
In the second half of the year, Lane Cove has some brilliant events.  Get your diary out now and save the dates.  You will not want to miss these events. Further details here.
This week in review is sponsored by Sarah Folwell.  Sarah Folwell is a Traditional Chinese Medicine Practitioner and Remedial Massage Therapist (with many years experience in Pregnancy Massage).  One of the many services Sarah offers is prebirth acupuncture. Read more here.
Contact Details
Sarah Folwell is an ITC Gold Supporter and without the support of our advertisers ITC could not undertake the community and advocacy work we do.
Every patient should seek advice from their Medical Professional to confirm the procedure is appropriate for their particular circumstances.
In the Cove is In the Know and you could be as well…
In the Cove publishes new content every day. It could be an article, an event, a job or local info. To make sure you don't miss this info sign up to our newsletter. It comes out every Wednesday Night at 7.30pm and includes a wrap up of everything posted on our Facebook site in the previous week.
Read this week's newsletter
Did you know that In the Cove has an instagram page? Yes we do and we feature pictures from our roving reporters and our ITC team that do not appear on our Facebook page. Follow us on @inthecove