At this morning's COVID19 Media Briefing NSW Chief Health Officer Dr Kerry Chant announced the Lane Cove Local Government area is now considered a virus hotspot.
The NSW Government want more people to undertake COVID19 testing.  To encourage this testing they are naming "hotspots".  By doing this they want people who live in a hotspot to have a COVID19 test even if they only have mild symptoms like a sore throat or a runny nose.
Latest COVID 19 NSW Cases
As at 8 pm, Saturday 25 April 2020, an additional eight cases of COVID-19 had been diagnosed in NSW since 8p m 24 April 2020, bringing the total to 3,002.
During that time, 5459 people were tested, compared to 4840 the 24 hours before.
| | |
| --- | --- |
| Confirmed cases (incl. interstate residents in NSW health care facilities) | 3,002 |
| Deaths (in NSW from confirmed cases) | 36 |
| Cases reported recovered | 2,208 |
| Cases tested and excluded | 195,713 |
| Total persons tested | 198,715 |
There have now been 2,208 people who have recovered from COVID-19 in NSW.
There are currently 182 COVID-19 cases being treated by NSW Health. These include 19 people being treated in Intensive Care Units, with 15 of those requiring ventilators.
NSW Health is urging people with symptoms, including mild symptoms, to be tested to ensure as many cases of COVID-19 in the community are identified as quickly as possible.
Latest COVID 19 Lane Cove Local Government Area Cases
Postcode 2066 – 16 Confirmed Cases
Postcode 2065 – 22 Confirmed Cases
These numbers have remained very consistent over the last week.
NSW Health is targeting areas where there have been locally acquired cases as this points to community transmission.
NSW Health in their 27th April 2020 press release noted:
"This is particularly important in several new areas following a small number of locally acquired cases. These include:
City of Lithgow Local Government Area
City of Blue Mountains Local Government Area
Hornsby Shire Council Local Government Area
Lane Cove Council Local Government Area
Northern Beaches Council Local Government Area
These, and all areas of concern for community transmission in NSW are listed on the NSW Health website: https://www.health.nsw.gov.au/Infectious/diseases/Pages/covid-19-latest.aspx#increased"
What are the Closest COVID 19 Testing Centres?
A drive through clinic has been established at Ryde.  Click here to find out where it is and what you need to bring.
Royal North Shore Hospital
Acute Services Building Patient Transit Lounge,
Reserve Road, St Leonards NSW 2065
8am-8pm, 7 days
Ryde Hospital
Denistone Road, Eastwood NSW 2122
Access via Ward 6
10am-8pm, 7 days
​Ryde Respiratory Clinic Book Appointment First
11 Khartoum Road, Macquarie Park NSW 2113​
​8am-5pm, 7 days
St Vincent's Hospital
(East Sydney Community and Arts Centre)
34 Burton Street, Darlinghurst NSW 2010
Access from Palmer Street entrance.
9am-4pm, 7 days
​Summer Hill drive-through Clinic
​7 Prospect Road, Summer Hill, NSW 2130
Stop at covered area and wait for staff instructions.
​8:30am-4pm, 7 days ​
Sydney and Sydney Eye Hospital
Bicentennial Eye Clinic, 8 Macquarie Street, Sydney 2000
Ground Floor North Block
10am-6pm, Monday-Friday
According to information on the Sydney North Health Network site pathology requests are needed as follows:
NSW Health COVID-19 collection centre North Ryde, Macquarie Hospital, Cnr Coxs Road and Badajoz Road – 8:30am – 5:00pm. All patients must have a pathology request form for coronavirus testing prior to calling the Douglass Hanly Moir Booking Hotline.
To arrange an appointment please call the Douglass Hanly Moir COVID-19 Booking Hotline on 1800 026 622.
Patients are advised to wear a mask.
NSW Health COVID-19 collection centre St Leonards, Royal North Shore Community Health Centre, 2C Herbert Street – 8:30am – 5:00pm. All patients must have a pathology request form for coronavirus testing prior to calling the Douglass Hanly Moir Booking Hotline.
To arrange an appointment please call the Douglass Hanly Moir COVID-19 Booking Hotline on 1800 026 622.
Patients are advised to wear a mask.
4cyte North Ryde drive-through testing: GPs can fill out an electronic pathology request form here and ensure they follow the referral requirements at 4cyte.com.au/Covid19_Location_North_Ryde.php
Laverty North Ryde drive-through testing: see referral instructions here.
How Did the Lane Cove Local Government Area Become a Hotspot?
Every day ITC receives a media release from the NSW Health setting out the new COVID 19 cases.  Their media department also provides ITC (and many others) with a link to the confirmed COVID 19 cases per Local Government Area.
The confirmed COVID 19 cases include ALL cases in the 2066 and 2065 postcode
Lane Cove Council Area
The Lane Cove Council area includes the following suburbs:
Lane Cove
Lane Cove North (part)
Lane Cove West
Linley Point
Longueville
Northwood
Riverview
Greenwich
and St Leonards (part) -called by the Lane Cove Council St Leonards South. If you would like to know more about St Leonards South and the current over development issues read here)
Lane Cove Postcode 2066
The Lane Cove Postcode 2066 includes the following suburbs (according to Australia Post)
Greenwich Postcode Part 2065
As you can see from above Greenwich is a suburb within the Lane Cove Council Area, but it is not within postcode 2066. Greenwich's Postcode is 2065.
Postcode 2065 includes the following suburbs (according to Australia Post)
ITC drilled down into the data and noted that patients with confirmed cases of COVID 19 for patients who live in Crows Nest, Greenwich, Narreburn, St Leonards and Wollstonecraft are all being attributed as living in the Lane Cove Council Area.  This is incorrect as some of those patients live in the Willougby City Council Area or North Sydney Council Area.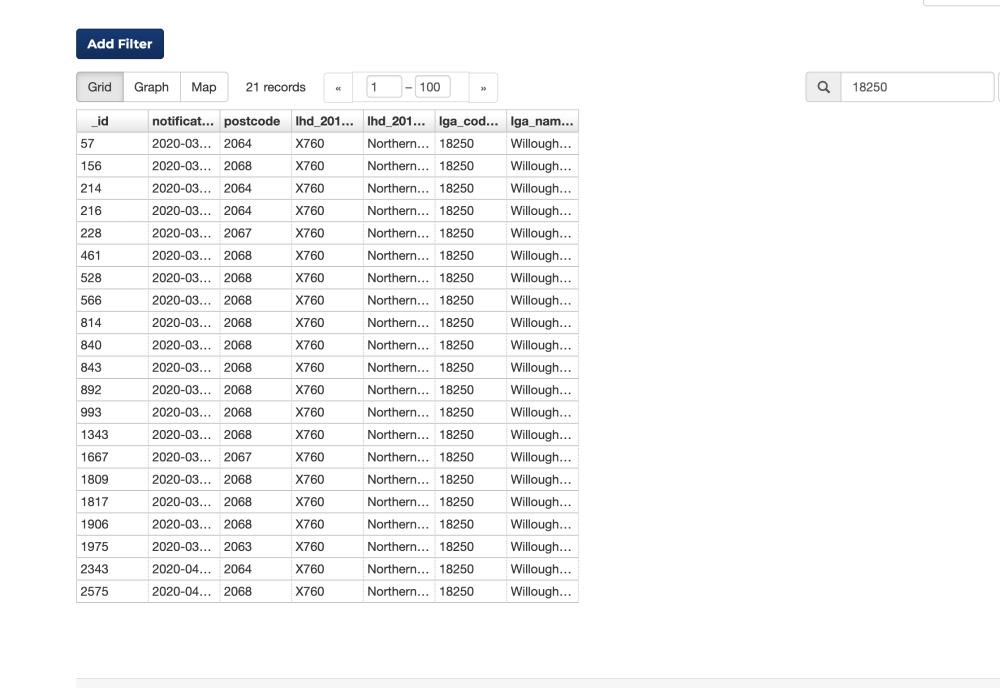 LGA Centroid
The NSW Health Page notes lists the Confirmed Cases has the following explanation for where a postcode like 2065 spans more than one Local Government Area:
"This data includes confirmed COVID-19 cases only (based on location of usual residence). Cases without a valid NSW residential address are not shown. When a postcode of a case spans across more than one LGA, the case is counted under the LGA of the centroid of the postcode. LGA 2019 boundaries. The case definition of a confirmed case is a person who tests positive to a validated specific SARS-CoV-2 nucleic acid test or has the virus identified by electron microscopy or viral culture, at a reference laboratory. The details on source of infection are subject to change as public health investigations and case interviews are ongoing."
Do I hear you ask what is a centroid?  That is a great question.  A centroid, in this instance, is defined as the geometric centre of the postcode.  Where is the geographic centre of Postcode 2065?  Well, according to NSW Health it is Greenwich – which is why it is impossible to say the exact confirmed COVID 19 cases for Greenwich.
What Does This All Mean?
People want to know how many confirmed COVID 19 cases there are near them.  If there were an app called Covo Near Me, it would probably be in the top 10 downloaded apps.ITC could not find a Covo near me app. There is the official Australian Government COVID 19 app you can download the official government "Coronavirus Australia" app in the Apple App Store or Google Play, or join our WhatsApp channel on iOS or Android.
Download the COVID 19 APP
The COVIDSafeapp is now available to download.
As at 10:30 PM 1 million Australians have now downloaded and registered for the #CovidSafeapp – please join us and help protect ourselves, our families, each other but above all else our nurses and doctors

— Greg Hunt (@GregHuntMP) April 26, 2020
The COVIDSafe app is part of the Government's response to slow the spread of COVID-19.
This is the Government's reasoning for developing the app
"Having confidence we can find and contain outbreaks quickly will mean governments can ease restrictions while still keeping Australians safe.
The new COVIDSafe app is completely voluntary. Downloading the app is something you can do to protect you, your family and friends and save the lives of other Australians. The more Australians connect to the COVIDSafe app, the quicker we can find the virus.
For detailed questions and answers about this app, see our COVIDSafe app FAQs.
What COVIDSafe is for
The COVIDSafe app helps find close contacts of COVID-19 cases. The app helps state and territory health officials to quickly contact people who may have been exposed to COVID-19.
The COVIDSafe app speeds up the current manual process of finding people who have been in close contact with someone with COVID-19. This means you'll be contacted more quickly if you are at risk. This reduces the chances of you passing on the virus to your family, friends and other people in the community.
State and territory health officials can only access app information if someone tests positive and agrees to the information in their phone being uploaded. The health officials can only use the app information to help alert those who may need to quarantine or get tested.
The COVIDSafe app is the only contact trace app approved by the Australian Government.
How COVIDSafe works
When you download the app you provide your name, mobile number, and postcode and select your age range (see Privacy). You will receive a confirmation SMS text message to complete installation. The system then creates a unique encrypted reference code just for you.
COVIDSafe recognises other devices with the COVIDSafe app installed and Bluetooth enabled. When the app recognises another user, it notes the date, time, distance and duration of the contact and the other user's reference code. The COVIDSafe app does not collect your location.
To be effective, you should have the COVIDSafe app running as you go about your daily business and come into contact with people. Users will receive daily notifications to ensure the COVIDSafe app is running.
The information is encrypted and that encrypted identifier is stored securely on your phone. Not even you can access it. The contact information stored in people's mobiles is deleted on a 21-day rolling cycle. This period takes into account the COVID-19 incubation period and the time it takes to get tested. For more, see Privacy.
When an app user tests positive for COVID-19
When someone is diagnosed with COVID-19, state and territory health officials will ask them or their parent/guardian who they have been in contact with. If they have the COVIDSafe app and provide their permission, the encrypted contact information from the app will be uploaded to a highly secure information storage system. State and territory health officials will then:
use the contacts captured by the app to support their usual contact tracing
call people to let them or their parent/guardian know they may have been exposed
offer advice on next steps, including:

what to look out for
when, how and where to get tested
what to do to protect friends and family from exposure
Health officials will not name the person who was infected.
After the pandemic
At the end of the Australian COVID-19 pandemic, users will be prompted to delete the COVIDSafe app from their phone. This will delete all app information on a person's phone. The information contained in the information storage system will also be destroyed at the end of the pandemic.
Deleting the COVIDSafe app
You can delete the COVIDSafe app from your phone at any time. This will delete all COVIDSafe app information from your phone. The information in the secure information storage system will not be deleted immediately. It will be destroyed at the end of the pandemic. If you would like your information deleted from the storage system sooner, you can complete our request data deletion form.
Privacy
Your information and privacy is strictly protected.
Read the COVIDSafe Privacy Policy for details on how personal information collected in the app is handled.
A Privacy Impact Assessment was commissioned to ensure that privacy risks have been addressed. See the Privacy Impact Assessment Report and our Agency Response.
The Health Minister has issued a Determination under the Biosecurity Act to protect people's privacy and restrict access to information from the app. State and territory health authorities can access the information for contact tracing only. The only other access will be by the COVIDSafe Administrator to ensure the proper functioning, integrity and security of COVIDSafe, including to delete your registration information at your request. It will be a criminal offence to use any app data in any other way. The COVIDSafe app cannot be used to enforce quarantine or isolation restrictions, or any other laws.
The App has been backed by the AMA and Nobel Prize Winner and immunologist Peter Doherty.
Keep Remembering to Social Distance No Matter What The Stats Say
It's interesting to know the number of confirmed cases in our area.  However, do not put too much emphasis on how many or how few cases there are.
The virus can be spread by people who have confirmed cases and by asymptomatic people (i.e. showing no symptoms).
According to Reuters and SBS, China will now also be reporting asymptomatic cases after the public wanted to know more.  Read the SBS article here.
Everyone can help prevent the spread of COVID-19 by practising social distancing, thorough hand washing, cough etiquette and staying home unless it's essential. To learn how to protect yourself and others, click here.
Lane Cove Guides and Resources
ITC has put together numerous guides to help out our local businesses, to make it easier for you to shop and for kids to have fun. The guides are listed below. We hope you find them useful.
Sydney Community Services
Sydney Community Services is located in Lane Cove and has a long history of providing services to the aged and people living with a disability including social activities, gardening, home nursing, podiatry, Community Care Advisory, clean sheets and towels, home-delivered meals, home modifications and maintenance, flexible respite, carers support, shopping services, community and engagement programs, medical transport and assistance in daily life.
Sydney Community Services (9427 6425) is a central source for anyone in Lane Cove or Hunters Hill who either need to self-isolate or choose not to go outside as they worry they are at risk of the Corona Virus.
If you are a neighbour of someone who may be at risk, please check they are ok and let Sydney Community Services know if they need to be on the vulnerable list.
Be "In the Know" with In the Cove
To make sure you don't miss Lane Cove info sign up to our newsletter. It comes out every Wednesday at 7.30 pm and includes every article published in the previous week and all Lane Cove News, Events and more.
Did you know that In the Cove has an Instagram page? Yes, we do, and we feature pictures from our roving reporters and our ITC team that do not appear on our Facebook page. Follow us on @inthecove