Tis the season to shop local, and how about supporting a local author at the same time?  It's hard work writing a book, and the royalties from a book are really open pocket money (unless you are Stephen King or J K Rowling).
Burns Bay Bookery is an independent bookstore located on Burns Bay Road (not far from Harris Farm). They take great pride in stocking books written by Lane Cove Locals.  They also tell the author to let ITC know about their books, and we are always more than happy to write about a local author and give them some free publicity (just another way ITC can give back to our local community).  Burns Bay Bookery supports ITC by being an ITC Business Supporter.
Below are some of the books and authors we have featured recently.
Do yourself a favour and pop into Burns Bay Bookery and grab a copy of one of these books.  There are books for kids, teens and adults.
Aura Parker – Meerkat Christmas
Aura Parker is one of Lane Cove's most prolific authors.
Aura Parker recently released her sixth children's book, Meerkat Christmas.
In 2016, Aura released her debut title, TWIG. The book was very popular and was nominated for a 2017 CBCA Notable for Early Childhood.
Since then, she has released more magical children's books – Cocoon, Meerkat Splash, Goodnight Glow Worms, The Silly Seabed Song and now, her second meerkat story, Meerkat Christmas.
The first, 'Meerkat Splash' was a CBCA Notable book and won Speech Pathology Book of the Year 2020 for speech and language development – birth to three years. It has super cute meerkats and a fun rhyming story that won't drive you crazy to read a hundred times, which could happen! Aura illustrates her books with watercolour paint, pen and coloured pencil using both traditional and digital techniques.
Perfect for the Christmas stocking, 'Meerkat Christmas' is a great story for 0-5 years.
Find out more about these books by clicking the links: Good Night Glow Worms, The Silly Seabed Song, Cocoon, and TWIG,
Find out more about Aura Parker here.
Aura Parker's Contact Details
Website: Illustrated.com.au
Facebook:  @Aura Parker
Instagram: @AuraParker
Serena Geddes
Serena Geddes is a local writer and illustrator.
One of the books she illustrated was Hijab Girl.
This book is about an eight-year-old called Melek. She cannot find a character in a hijab for her Book Week Parade. She can only find characters who wear a hood or scarf like Little Red Riding Hood. This inspires Melek and new girl Tien to write and illustrate their own story.
Larrikin Puppets transformed the story into a musical puppet show which debuted in Brisbane during Book Week 2022.
Serena Geddes began illustrating picture books in 2009 and has illustrated over seventy titles. These include the middle-grade series Lulu Bell, Totally Twins and Pepper Creek Ponies.
Some picture books she haas illustrated include Hope is a Spark, Dad I Love You (available at Burns Bay Bookery), and Why I Love My Mum.
You can find out more about Serena Geddes here.
Serena Geddes – Contact Details
Website: www.serenageddes.com
Instagram:  serenageddes_illustrator
Facebook: Serena Geddes 
Alan Sunderland
Alan Sunderland is a Lane Cove local, journalist and children's author who has published a book series –  My Australian Story.  Alan's latest book, Six Seconds about the 1989 Newcastle Earthquake.
The main character, Michael, is a 10-year-old boy growing up in Newcastle. He has a perfectly normal childhood – going to the beach, riding his bike, going to school with friends.
But his mother is a journalist at the local newspaper. So he gets to read about all sorts of dangerous and worrying things happening in the world, from car crashes and storms to huge international events like Tiananmen Square. That makes him more and more worried about the world, and he withdraws into his shell a little as many kids do when confronted by worry and trauma.
But then, late in the year, the Newcastle Earthquake happens, and Michael is suddenly confronted by a real disaster that affects his own family. In dealing with it, Michael discovers strength and determination he never knew he had, and all of a sudden, the world doesn't seem so daunting.
Alan has also recently released a book for all community journalists like In the Cove. It's called The Ten Rules of Reporting.  If you know someone who would like to start a site like In the Cove in their local area, then this is a must-read book.
You can read more about Alan Sunderland here.
The Book is available at Burns Bay Bookery, and you can purchase it online here.
You can find out about Alan's other books here.
Alan Sunderland's Contact Details
Website: https://www.alansunderland.com/books
Mick Liubinskas
Mick Liubinskas is a Lane Cove local and author of the book She's Building A Robot.  It's is a novel aimed at girls and focused on technology.
She's Building A Robot is an inspirational book for girls who love STEM.  It will inspire girls all over the world to become the next-gen of women innovators.
After standing up to the school bully, AZ finds herself suddenly entered into a robot-building competition.  AZ and her new friends, face hackers, crashes, and explosions and learn what it takes to build a robot against all the odds. As the adventure unfolds, you'll learn about leadership, teamwork, and so much more.  AZ, the protagonist, is smart but has hidden her talents. Her first robot goes wild, leading her to a wonderful female mentor. She convinces a techy-girl and a quirky non-gender student to join her team. By working hard, solving puzzles and dealing with disasters like being hacked and a robot crash, they bring Ada to life.
The big finale is the three-day robot competition which includes rapping, solving riddles and a dangerous obstacle course. AZ is initially not confident leading or taking action but becomes tough and decisive in the end. Along the way, she builds friendships, character and skills for technology and leadership.
You can read more about Mick Liukinskas here.
Mick Liukinskas Contact Details
Website: https://shesbuildingarobot.com/
Instagram: @mickjl
Linkedin: @mliukinskas
Philip Coleman
Kids love reading about trucks and cars and now they can read about Charlotte the Cement Mixer.  Charlotte's Dream is written by Phillip Coleman and illustrator Monica Gonzales Caton.
It's a children's story and picture book for kids under 7.
Charlotte was a busy cement mixer truck. She loved her job delivering concrete around Sydney but sometimes dreamed of something different.
The story follows Charlotte and her human friends Oliver,  Amelia, Mia,  William, Emma and Noah as she is transformed into a tourist vehicle and lives a very different life.
Charlotte travels around Australia exploring our unique landscapes and wildlife.
The book can be viewed and purchased online here and is also available at Burns Bay Bookery.
You can find out more about Philip Coleman here.
Eda Utku
Eda is a Lane Cove Local and writer.  Her business Write Publish Grow helps people write their own memoirs – a gift to their family.
This year Eda Utku published Live the Gift.
"Live the Gift" is made up of the stories of the people who have built businesses where they share their humanity and creative gifts with the world. Among its pages you'll find a Malaysian pop singer who connects us with our dreams, a dream interpreter, a Rich Witch, stand-up comics, speakers, dancers, gazers of starry nights and many more…
Some of the Lane Cove Locals who are in the book are Nacho Pop, Bridget Kennedy and Simon Kennedy to name a few.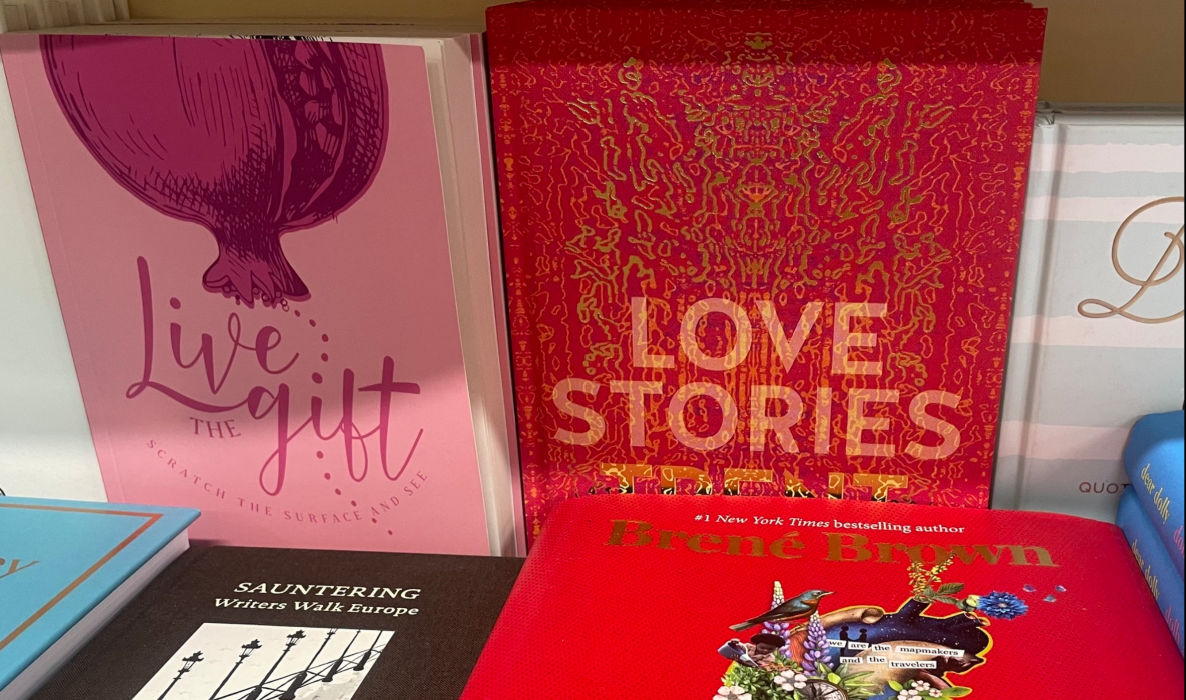 Eda Utku Contact Details
Facebook: WpGrower
Instagram: writepublishgrow
Website: writepublishgrow.com
Toby Roberts
Toby Roberts is a Greenwich local and author of the memoir Two Mums and a Dad.
Two Mums and a Dad is a memoir about Toby's teenage years growing up with a lesbian mum in the 1980s in Beecroft.  You can purchase the memoir locally at Burns Bay Bookery (who are fabulous supporters of local authors).
Two Mums and a Dad has been described as a delightful coming of age memoir that explores the angst of puberty, school, sport and bad 80s fashion. Beneath the humour and quirky characters, reminiscent of Netflix's Sex Education series and just as awkwardly funny, lies a deeper reminder of the human need to pursue more authentic lives, and the capacity for people to surprise us by accepting love in all its forms.
Over time, the bravery and decency of Toby's two mums win admirers and supporters in unlikely places, from rugby-playing schoolboys to deeply religious stay-at-home mums.
You can read more about Toby Roberts here.
Toby Robert's Contact Details
Vanessa Ryan-Randall
Lane Cove Local Vanessa Ryan-Randall has taken her love of bees to the next level.  She has released a book called Bee Detectives, published by CSIRO.
When Olivia and Hamish see a smoky haze coming from their local park, they're ready to spring into action! But it's not a fire – it's a nest of Australian stingless bees that needs their help.
Kids join Olivia and Hamish as they learn about the bees in our backyards. From Blue-banded and Teddy Bear to Carpenter and Leaf-cutter bees, our two budding Bee Detectives discover how our native bees live, what they like to eat and the important work they do to pollinate plants.
Kids will explore the wonders of Australia's native bees – and be inspired to become a Bee Detective, too. It's a real buzz!
The book introduces kids to different types of Australian native bees and gives fascinating facts about how they live.
Aspiring Bee Detectives can learn how to help native bees and attract them to your backyard.
The Book features detailed illustrations to help kids identify native bees they might find.
The book will be stocked at the Burns Bay Bookery from 1st April 2021.  You can also purchase online here.
You can read more about Vanessa Ryan-Randall here.
Vanessa Ryan Rendall Contact Details
Website:  www.vanessaryanrendall.com
Instagram: @vanessaryanrendall
Email: [email protected]
Facebook: @educateempower11/
Lindsay Holliday
Lindsay Holliday is another local and she has written a book call Danger Versus the Ranger
It's about eleven-year-old Danger who moves into his Gran's house with his dog Jett, his Mum (a community liaison police officer) and Dad (a maths professor).
It's the summer holidays and he ventures into the local Sydney neighbourhood to explore.  He sees Kookaburra Island tantalisingly close and forms his first plan to buy a boat to get to that island.  The trouble is he has no money.  Undeterred he starts his first money-making job, dog walking for Jo, a local.
The Ranger, who he meets early on in his exploration and a stickler for rules and regulations, is keen to ensure that Danger follows the rules for dog walking and more so when he thinks Danger is running an "unlicensed" dog walking business.
With the help of new friends, Charlie and Jimbo (who Danger helped by standing up to the local teenage bullies) and Jo, he outwits the Ranger.  Danger is well on his way to becoming an integral part of the local community and buying his dream boat.
You can read more about Lindsay Holliday here.

Lindsay Holliday's Contact Details

Website: www.dangermedia.com.au
Facebook: dangerbooks and lindsayholliday
Instagram: danger_books_
Simon Kennedy
Simon Kennedy is a Lane Cove Local and a hilarious man.  For nearly 20 years he has been an international headline comedian, presenter and writer; Simon is one of Australia's most insightful and versatile entertainers.  He is in constant demand as a comedian for corporate events and the comedy circuit. He also keeps very busy as a voice-over artist (he has a studio at home) and writer for television, radio, and print.
As seems to be the case for many comedians, Simon's life has been tinged with sadness and grief, and twenty years ago, on September 11 2001, Simon's life changed forever.
Simon's mum, Yvonne, worked hard all her life. She dedicated her life to helping others through more than 30 years of service to the Australian Red Cross, both as a volunteer and staff member.
After she retired, she planned an amazing trip of a lifetime to the United States.
She had a fabulous time and was on her way back to Australia. On September 11 2001, she boarded American Airlines Flight 77. This was the plane that crashed into the Pentagon.
There were no survivors, and Simon's mother was the only Australian on board.
Some of Yvonne's personal objects were recovered from the crash site and have been donated to the National Museum of Australia. ITC highly recommends you read the page dedicated to Yvonne Kennedy on the National Museum of Australia's website. It's fascinating.
There is also a memorial to Yvonne at the Pentagon.
Simon has documented his feelings in a book called 9/11 and the Art of Happiness. It's an amazing insight into survival and regrowth following a devastating tragedy. How do you forgive anyone who commits a random act of deadly violence against a family member? How do you learn to be happy again?  Simon writes about resilience, success, happiness, and the art of letting go of bitterness and hatred.
ITC interviewed Simon on our Podcast, and you can listen to him here.
Website: www.simonkennedy.com
Audible:  9/11 and the Art of Happiness
Kindle:  9/11 and the Art of Happiness
Also Available on Apple Books
Guy Hallowes
Guy Hallowes is a long time Lane Cove local.  He is also an established author and his latest book Joeis his seventh book. Five of Guy's books are set in Africa and two in Australia.
The story of 'Joe' starts in Kenya and is a story about a young boy being exploited by the people who should have been looking after his welfare. He then looks for a way out and joins a group of people smugglers.  They overcome innumerable difficulties and eventually make the dangerous journey across the Sahara desert to the Libyan coast joining thousands of others hoping to find their way to a better life in a western democracy.
Joeis an adventure story. It has been extensively researched and explores the reason why a person would leave their homeland, their family and friends and make the ridiculously dangerous journey across the Sahara.
I spent most of my life in various parts of Africa before migrating to Australia. I was born and brought up in Kenya, and have lived and travelled in many African countries so have a deep understanding of the continent.
You Can Read More About Guy Hallowes here.
All books are available from Burns Bay Bookeryin Lane Cove.
Help Support Local and Independent News
You can support us in three ways:
Become an ITC reader sponsor –  Feel free to be a reader sponsor if you have enjoyed our local news coverage – no amount is too small or too big. Thank you so much to the people who have already supported us via our press Patreon account. Help Us Here.
Buy the ITC  team a coffee – our office is nearly every coffee shop in Lane Cove, and we regularly meet locals at coffee shops – buy the ITC team a coffee (or two) here.
Do you own a Lane Cove Business or a Lane Cove resident who owns a business, you can advertise with ITC – our packages start from $30 monthly fee (for a 12-month commitment). Email us here for our rates card.