Welcome to our Lane Cove News Week in Review.
COVID19 Update
Anyone who has been in Victoria on and from 13 May 2021 should check the Victorian Department of Health and Human Services website regularly and immediately follow the relevant public health advice if they have been to any of the listed venues of concern. If you attended any of these venues at the specified times, please contact NSW Health immediately on 1800 943 553.
Venues of concern continue to be identified, and the associated advice for people who have attended them can also change in the rapidly evolving environment. It is important to check the website regularly to see if new venues of concern have been added and if the advice for people who have been to existing venues of concern has been updated.
Anyone who arrived in NSW from Victoria since 4 pm on Thursday 27 May 2021 must remain at their home or place of residence in NSW for the seven-day duration of the Victorian measures.  You are only permitted to leave your places of residence for limited reasons, including shopping for essential items, medical care including COVID-19 vaccinations, caregiving, outdoor exercise, and essential work or education if it cannot be done from home.
Nobody subject to the stay-at-home measures in Victoria should travel to NSW unless permitted to do so.
If you have any symptoms, get tested – testing turnaround at some local testing stations is around 6 hours.  More details here.
Early Morning Fire Alarms in Lane Cove Central Area
Residents who live in central Lane Cove have complained about a fire alarm going off in The Canopy complex in the early mornings. ITC was contacted by residents living in  Finlayson Street, Birdwood Avenue, and Epping Road. ITC contacted both the Lane Cove Council and Coles Supermarkets to determine why the alarms were going off and what was being done to stop the false alarms. Coles acknowledged they had an issue with the fire alarm and issued an apology. Read More here.
NSW Government Audit Report 2020
This week the NSW auditor-general released the results of financial audits of the local government sector for the year ending June 2020.  The report stated that 53 councils had a high-risk finding and one council (the troubled Central Coast Council) had an extreme risk finding.  Lane Cove Council recorded one high-risk finding – below:
"Lane Cove Municipal Council (new finding) Council did not have a robust process to review restrictions associated with land holdings in the prior year land revaluation process, resulting in a $9.8 million prior period error."
The finding relates to Land owned by Lane Cove Council.  The valuation of a particular parcel of land was overstated as there were restrictions on its use that should have resulted in a lower valuation.
You can read the full report here
Homophobic Graffiti Impacts Local LGBQTI Family
A Lane Cove LGBQTI family woke up on Saturday morning (29 May 2021) to see a homophobic slur painted outside their driveway. The following was posted on Lane Cove Chat by ITC.
"Hi, there fellow Lane Covians. Sadly, our wonderful community is not free from homophobia and hatred. This is not a random and once-off graffiti incident because the people (or teenage boys -13/14-year-olds in Lane Cove West) who did this knows us. If you are outraged about this happening in this day and age, please have a chat with your son and explain that this foolish behaviour hurts. And talk to them about how an LGBTQI family in their community might be feeling this morning waking up to this in their front yard. #wecandobetter #lanecove #lgbtqifriendly"
This incident follows another recent incident in the Lane Cove Council area where tyres were slashed at a house displaying a rainbow flag – more details here.
It's such a shame to see this in Lane Cove. Bullying and name-calling of any kind are really not acceptable.
Update on the Old Coles Building on Burns Bay Road
This week we found out that the refurbished Coles complex will be named Lane Cove Central, and the owners are searching for speciality stores and eateries to complement the anchor tenant, Harris Farm Markets.  We were told that ⁠@raywhitelnsgroup has leasing opportunities for a mix of speciality stores, eateries, medical, fitness and essential services with only 5-7 speciality retail spaces available!⁠
⁠
 Background Information Here.

Update on the Old Flannerys/Thomas Dux Building
We understand that an Agreement for Lease will be signed shortly, and the new tenant will start fitting out soon.  We will let you know more once the documentation has been signed.
Update on the Next Generation Boarding Houses Planned for Mindarie Street Lane Cove North
Last year the Land and Environment Court gave the owner of 47 and 51 Mindarie Street approval to construct two next-generation boarding houses on these blocks (details in this article)
This week the Sydney Morning Herald/The Age reported:
"Staldone Pty Ltd has sold a 557 sq m site with a development application approved 27 self-contained studio apartment development at 51 Mindarie Street to an inner west developer for $3.1 million. Demi Carigliano and Anthony Pirrottina from Knight Frank negotiated the sale." Link to article here (paywalled) 
The block located at 47 Mindarie Street has also been listed for sale.
Business Alerts
The New Daily has reported David Jones is pulling the plug on its partnership with BP. This means the David Jones selection at BP Artarmon (which is on the Pacific Highway in Lane Cove North – Lane Cove does not end until The Great Northern on that side) will be removed in the next couple of months.   More information here.
We have just heard about Spanish MI located a hop skip and a jump from Lane Cove in Crows Nest. They have just opened their doors, and it's the first Spanish Boutique Academy for kids in Sydney!! There are so many advantages of being bilingual, and they make it happen by teaching Spanish through comprehensible input in a fun and engaging manner.
The Sydney Library of Things
You may have seen ITC's article on The Sydney Library of Things.  It's a library where you can borrow useful household items.  So instead of rushing out and buying an item you only use a few times, borrow it.
It was a dream, and Bridget Kennedy and a group of volunteers, including ITC, have been working on this project. The North Sydney Council loved the idea and provided a space, and The Sydney Library of Things will be opening very soon. Our hope is that the Lane Cove Council will come on board, and we can expand the concept. Well done to Bridget Kennedy, a former Lane Cove Council Citizen of the Year (read more here). We will let you know more soon.
By the way, please follow  The Sydney Of Library Things Facebook page to keep up to date or their Instagram page.
No Dog Rule on Sydney Ferries to be Enforced
Do you often catch the ferry or rivercat with your dog? Sydney Ferries will enforce the no "walk-on" dogs rule from 1st July 2021.  If you disagree with this approach, you can sign a petition here.
Register Your Dinghy
A roving reporter advised:
"For anyone with a small tender, dinghy, canoe, kayak or other watercraft, stored near Lane Cove waterways (Burns Bay boat ramp, Tambourine Bay etc.), rangers have applied impound notices on them unless you register your watercraft with LC Council and tag it to evidence. To their credit, the registration appears to be free. Link here"
Local Sport
Lane Cove Cats AFL Club
We had to share this photo of Lane Cove Cats AFL Club player Mila. This is what the Lane Cove Cats said about Mila:
"Mila was awarded the Tayla Harris courage award. She'd copped a knee to the nose but didn't even complain about it. She just got to the next contest. And there is more than a passing resemblance in this shot below."
We could not resist showing you the original Iconic Tayla Harris Photo next to the magnificent Mila.
The Lane Cove Cats AFL Club continues to go from strength to strength.
Photo by Simon Latus.
Lane Cove Golf
Five local girls have recently joined Lane Cove Golf Club and are already progressing from clinics into club golf. Lane Cove is one of 40 golf centres across Australia participating in the Australian Golf Foundation Junior Girls Golf Scholarship program.  Read more here.
If you're involved in local sport and would like to tell ITC about one of your players, coaches or volunteers, please email [email protected] with their story.
Lane Cove Crime/Incident and Accident Report
Lane Cove West
Two females and a male were arrested around 11pm on 22 May when they were observed scaling a fence into an industrial site.   Plain clothes Police were patrolling in the area when they first noticed an 18 year old woman climbing the fence.  Police spoke with the three young adults who said they were attending a party being held inside one of the units in the industrial site.  Police were able to verify this with the business owner and the three people were released from custody.
Artarmon
A 31 year old woman was arrested in Hampden Road on 23 May.  Police stopped to speak with the woman after she was observed walking along the street and behaving suspiciously.  She was found to be in possession of stolen mail and was arrested and taken to Chatswood Police Station where she was charged with Goods in personal custody suspected being stolen.  The woman was refused bail until she is due to appear in court in June.
Cover Photo
Our cover photo is The Canopy stage, all set up to hear Lane Cove children's voice sing songs as part of the The Gai-mariagal Festival (formerly the Guringai Festival) raises awareness of Aboriginal and Torres Strait Islander people living in the Northern Sydney region. The Festival involves numerous community groups and Councils, including Lane Cove Council.
The Alcott
This week in review is sponsored by The Alcott Lane Cove.  They have recently released a new menu (read about it here), and their Gin Cocktails has created a stir in Lane Cove.
Contact Details
Contact Details
Address: No. 1 Birdwood Avenue, Lane Cove NSW 
Phone: (02) 9428 5155
Website: www.thealcott.com.au
Facebook: @thealcott
Instagram: @thealcott
ITC Business Community Supporter: The Alcott
Are You Looking to Buy or Sell in Lane Cove?
In The Cove is now producing a weekly Lane Cove Property Update. See our latest update here. 
If you are selling, ask your agent if they are an ITC Lane Cove Property Guide supporter.

In the Cove is on Instagram
If you would like to follow ITC's travels throughout Lane Cove and see some beautiful pictures of where we live, follow ITC on Instagram
 here.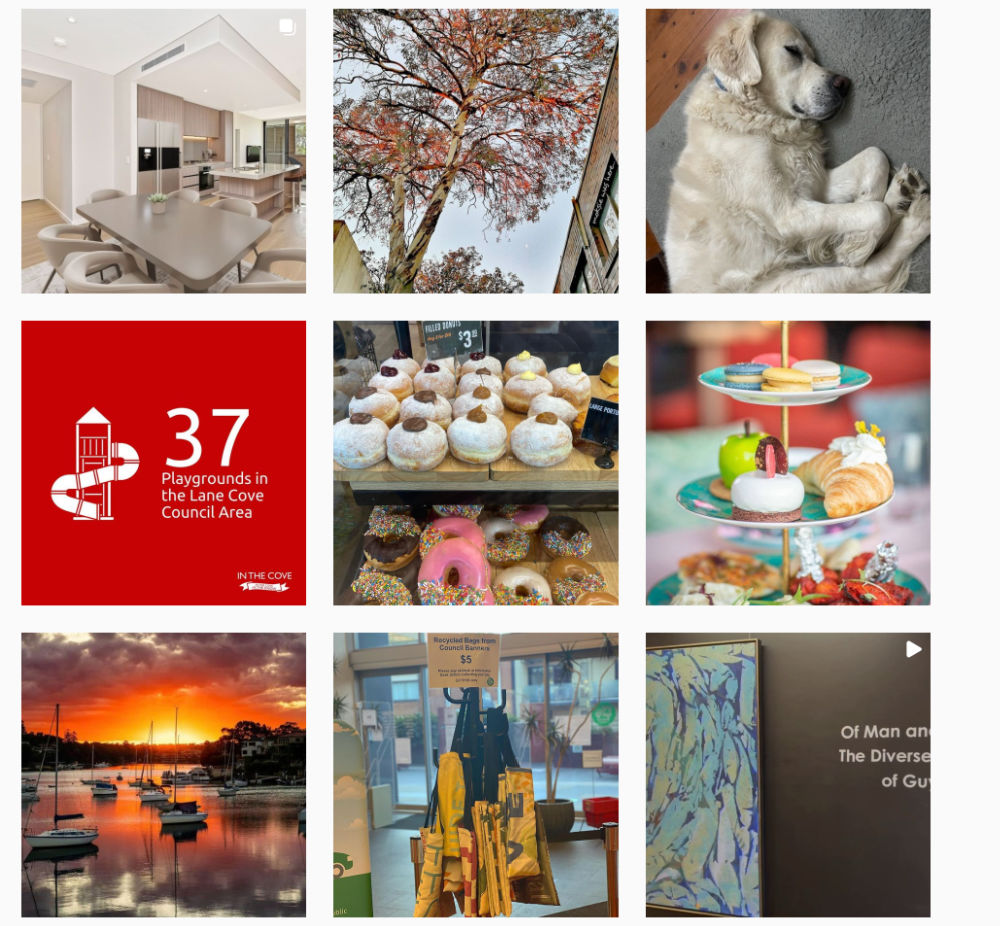 In the Cove Weekly News Blast
Have you ever heard people talking about a hot Lane Cove issue and wondered how they knew about it?  More than likely, they get our newsletter every Wednesday Night at 7.30 pm, and it has all the info that was on any of our social media platforms and more – so sign up now and never have FOMO (fear of missing out). SIGN UP HERE