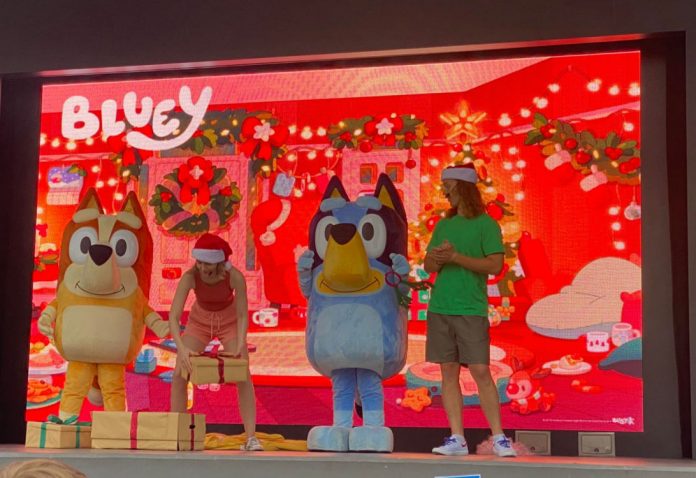 Welcome to our Lane Cove Local News week in review, where we tell you what has happened over the last seven days in Lane Cove.
This week The Canopy was packed with excited kids (and parents) as Bluey visited Lane Cove (see our cover photo).
Lane Cove Council Elections
The Lane Cove Council Elections were held on 4 December 2021.  The Lane Cove Council is made up of 9 councillors from 3 Wards.  Central Ward Candidates have been decided, but the 3rd councillor in East and West Ward has yet to be finalised.  Read more here.
The Lane Cove Council election hit a new low with allegations of posters being ripped up and a candidates car being egged. Read more here.
Someone had to do it – ITC was out on election day sampling snags at the election booths. Well done to all the volunteers behind the BBQs. There were snags at Lane Cove West Public and Mowbray PS and Greenwich Public School and cakes at St Andrew's Church Longueville. The polling booths are not crowded. Many people voted before or have voted via ivote as they were away.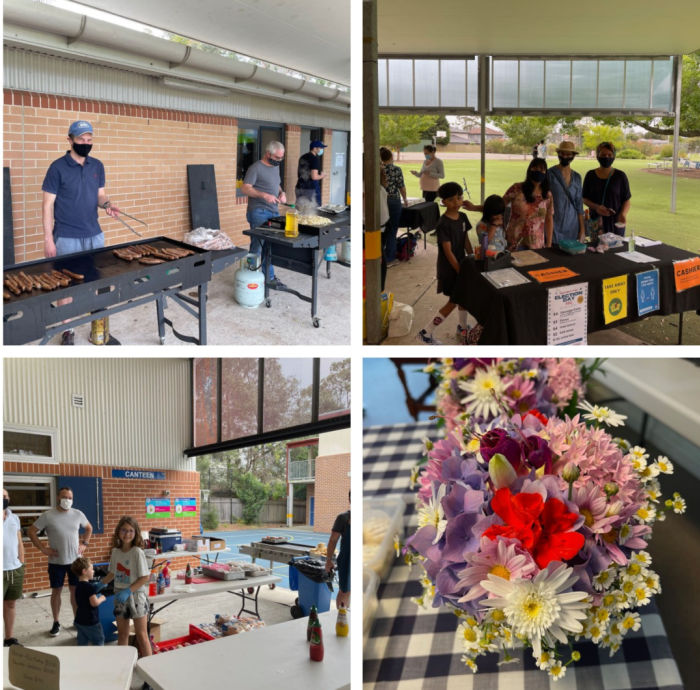 40A Cope Street Retirement Village
We have had a few enquiries about the retirement village planned for 40A Cope Street Lane Cove. The development obtained a Site Compatability Certificate earlier in the year but have not lodged a DA. However, they were quoted this week as still saying the development is in the pipeline.
Lane Cove Sports and Recreation Facility DA
The North Sydney Planning Panel was to meet on 7 December to make a recommendation about the Sports and Recreation Facility planned at the Lane Cove Golf Course on River Road.
The meeting was cancelled after numerous residents noted that the Lane Cove Council was in caretaker mode. They queried if it was appropriate to hold the panel meeting during the caretaker period as Lane Cove Council submitted the DA.
Noise
It's the season where you will be hearing fireworks – if you want to know where the fireworks are coming from, you can search the Safework register here.
The Australian Army has advised that there will be more training manoeuvres until mid-December.
Australian Defence Force personnel will conduct counter-terrorism training in the greater Sydney metropolitan area and the Jervis Bay area of New South Wales from mid-November to mid-December 2021.
"The training will be conducted during the day and night.
The public should not be alarmed if they see or hear military helicopters, vehicles, watercraft, unmanned aerial surveillance systems and military personnel carrying weapons.
Blank and paint ammunition will be used during some aspects of the training.
People who see the training should not be concerned that any of the locations are under any form of actual threat.
This essential training is vital to maintain Australia's world-class military capability. It is not a part of the Australian Government's COVID-19 response. The training is being conducted in a manner that accounts for COVID-19 restrictions and good health management processes.
Defence is unable to provide media access or further information, including specific timings, regarding this training in order to protect operational tactics, techniques and procedures"
Recycling Nespresso Pods
ITC was contacted by Pure Flowers who advised the following:
"I really appreciate your help in letting locals know that we offered this service and thank you in advance for updating your information in regards to recycling service
As you are aware, we support local schools, requests for various fundraising projects, volunteer floral work/donations etc.
Customers can now take their pods to Chatswood Nespresso ( we collected a huge volume of pods while they were closed during lockdown!! ).
I really appreciate your help in letting locals know that we offered this service and thank you in advance for updating your information in regards to recycling service."
One of the reasons for suspending this service was that the boxes are incredibly heavy to move and it is time-consuming organising pick up and delivery etc.
Recycle used Nescafe coffee pods using the collection bin in the foyer of the Civic Centre (Lane Cove Council Chambers). ITC has suggested that a recycling centre should be set up in The Canopy near the management office. We will be pursuing this idea once Council elections are over.
Snakes and Spiders
NSW Health released the following information this week:
"With summer well and truly on the way, NSW Health is once again warning communities to be on the lookout for the slithery serpents and eight-legged critters.
According to figures from the Australian Institute of Health and Welfare, people in NSW are among those most likely to be bitten by snakes and spiders when out and about.
"We have some of the most venomous critters in the world, from the brown snake to the funnel-web spider, but thankfully, plenty of antivenom available to treat any bites," said Genevieve Adamo, Senior Poisons Specialist at the Poisons Information Centre.
"While bites from these types of creatures are rare, it's important to know what to do and act quickly, as it could just save your life or the life of a friend or loved one."
With the recent mouse plague and the wet and humid weather, wildlife experts have predicted an increase in numbers of both venomous snakes and spiders.
NSW Health urges people to remember the following advice if they get bitten:
For snake bites – seek immediate medical attention, even for a suspected bite. If someone has collapsed following a snake bite, start CPR immediately, this can be lifesaving. If someone is bitten, you should keep them still, call an ambulance and apply a pressure immobilisation bandage. Tight tourniquets should not be applied, and the bite site should not be washed, cut or sucked. Symptoms from a venomous bite can include nausea, vomiting and a headache, however, first aid should be applied regardless of whether these symptoms are present.
For spider bites – most spider bites are harmless. However, if a person has been bitten by a big black spider or funnel web, it is a medical emergency. If someone is bitten you should keep them still, call an ambulance and apply a pressure immobilisation bandage, with a further bandage to the entire limb. A bite from a funnel-web can cause severe pain, sweating, vomiting, difficulty breathing and muscle twitching. A redback spider bite may result in pain and redness, but it is not considered life-threatening, so does not require bandaging.
"Snake season usually peaks in late December and January, but we have already seen an increase in snake bites from this time last year," said Ms Adamo.
"The most important thing to know in a situation like this is how to perform the correct first aid. This can make a significant difference to treatment and outcomes."
For further information visit: https://www.poisonsinfo.nsw.gov.au/Frequently-Asked- Questions/Have-I-been-bitten-by-something-poisonous.aspx or call 13 11 26.
If you see a snake in your backyard Sydney Wildlife will remove them – more info here.
If you see a funnel web, details on capturing it for venom extraction are here.
New COVID19 Omicron – Chatswood Venues of Concern
NSW Health has advised the following venues of concern in Chatswood for the Omicron COVID19 variant.  At this stage, no one has been hospitalised with the Omicron variant.
Recent Positive Cases in Lane Cove Council Area
Below are the number of new cases in the Lane Cove Council Area between 1 December and 7 December 2021.  NSW Health advised today:
"The number of COVID-19 cases reported has increased in recent days. NSW has not reported more than 400 cases in a day since mid-October 2021. Recently the virus has spread among vaccinated people at a range of indoor settings, where people are socialising, including pubs, nightclubs and parties.
The vaccine is effective at protecting against severe disease, but while the risk of transmission is reduced, spread can still occur among fully vaccinated people. It is very important that people planning to attend venues or functions protect each other by using QR codes, physical distancing and wearing masks as much as possible, and practising hand hygiene. If you are feeling unwell, please do not attend social gatherings – stay home and get tested."
Source: https://data.nsw.gov.au/search/dataset/ds-nsw-ckan-aefcde60-3b0c-4bc0-9af1-6fe652944ec2/details?q=
COVID-19 cases and tests by local government area as at 8 pm 07/12/2021 Last 4 Weeks Data
Set out below are details of the COVID19 cases recorded in our LGA, which includes all suburbs with a 2066 postcode and 2065 postcode (which includes Greenwich and other suburbs not in the LGA). These stats do not include that part of Lane Cove North located in Willoughby City Council (for those who live on the Mowbray school side of Mowbray Road).
Last 4 Weeks Data
| | | | |
| --- | --- | --- | --- |
|   | Cases* | Total tests | Test rate (per 1000) |
| Hornsby | 22 | 24,916 | 164 |
| Hunters Hill | 21 | 6,013 | 401 |
| Inner West | 142 | 50,451 | 251 |
| Ku-ring-gai | 48 | 29,814 | 234 |
| Lane Cove | 28 | 14,747 | 367 |
| Mosman | 18 | 5,656 | 183 |
| North Sydney | 28 | 11,668 | 156 |
| Ryde | 37 | 28,665 | 218 |
| Willoughby | 23 | 12,505 | 154 |
The tables show the location of residence by Local Government Area (LGA) or local health district (LHD) of locally acquired COVID-19 cases in the last four weeks. It is based on the date the person first developed symptoms. When no date of symptom onset is available (it is either under investigation by public health staff or the person tested positive without showing symptoms), the date of the positive test is used. Infections are not always acquired in the place of residence as people often travel outside their area for many reasons (e.g. work, school and shopping). Cases without an NSW residential address and people who were exposed interstate or overseas are not shown. Case counts may vary over time due to ongoing investigations and case reviews.*Includes all locally acquired cases (known and unknown source)
 Source:  https://www.health.nsw.gov.au/Infectious/covid-19/Pages/stats-local.aspx
Active Cases in Lane Cove Council Area
The data below the number of active cases  (active cases are cases where a person is in isolation and is being managed by NSW Health).   Note NSW has changed the way it is reporting cases – see notes below.
Lane Cove has 92.4% of its eligible vaccination double jabbed.  It looks like we will not make the 95% as vaccination rates have slowed significantly.
For everyone in NSW 12 years and older, these vaccines are now available:
Moderna (Spikevax) – for 12 years+ from pharmacies
Pfizer (Comirnaty) – for 12 years+ from pharmacies, GPs, and NSW Health vaccination clinics
AstraZeneca (Vaxzevria) – for 18 years+ from pharmacies, GPs, and NSW Health vaccination clinics.
If you have any questions about which vaccine you should receive, speak to your GP.
There are appointments available this week in Lane Cove for AZ, Pfizer and Moderna.
Now is the time to look into getting your booster shot –
details here.
NSW Health has now published Vaccination rates by LGA.  Link to stats here.
The official vaccine booking link is here.
There are also various other tools available such as Covid Queue and Covid-19 Near me – which show you vaccinations and testing locations and availability.
Local vaccination info here:
Local Testing info here:
How to Wear a Mask Properly here:
Booster Shots
It's now more than ever important to get your booster jab. If you had your 2nd jab over six months ago (different rules apply to the immunised compromised), you are now eligible for your Booster shot – so please make a booking.  Details here.
1st Tambourine Bay Sea Scouts – Three new Queen's Scouts – the first in 26-years
1st Tambourine Bay Sea Scout Group is pleased to announce the presentation of three Queen's Scout awards.  The NSW Chief Commissioner, Neville Tomkins OAM JP, presented the awards at a ceremony at Tambourine Bay on Friday 3 December 2021.
The three Queen's Scouts, Rob Mueller, Duncan Loane and Tim Battle, each completed a two-year program of outdoor activities, leadership development, community service and personal growth despite the challenges of bushfires, floods and COVID lockdowns.
The 1st Tambourine Bay Venturer Unit caters for youth aged 14-17.  The programme combines outdoor adventure, leadership development, artistic endeavours, community involvement and a range of other activities based on individual interests.
The Queen's Scout Award is recognised throughout the Commonwealth as the highest youth award achievable in the Scouting movement.  There have only been twelve prior Queen's Scouts awards achieved at Tambourine Bay in its 67-year history, the last being in 1981.
Summer School Holiday Activities
School holidays are fast approaching. As you know, activities book up VERY fast! We have a list of local activities to make your kids break fun and exciting! 
Find out more here.
Did you know you can use The Active & Creative Kids vouchers to pay for so many of the below activities? The Active program provides two $100 vouchers for parents, guardians and carers of school-enrolled children to use towards sport and active recreation costs each year.
The Creative kids voucher can give one $100 voucher per year to put towards the cost of lessons and fees with registered providers.
Vouchers are valid from January to December, and Voucher 2 is valid from July to December.
Support Local
ITC has launched our Christmas Gift Guides.  This year, we ask you to pledge to shop local and help support our businesses that did it tough during the lockdown.
We have put together a special Lane Cove Christmas Section on our website, and we would love you to check it out.
You can check out our Christmas section
here
Jobs
There are plenty of jobs in hospitality at the moment.  Check out our jobs board here.
Live Music is Back
This week in review is sponsored by The Alcott, and live music is back.   They also have trivia, poker, comedy nights and more.  Check out their What's on section here.
Police Report
Media information North Shore PAC 8th December 2021
This week's North Shore PAC Crime Report:-
Drug Possession – Chatswood
Police have charged a 47 year old Lane Cove woman after uncovering drugs concealed within a Christmas card in Chatswood last week.
Around 8:00am Tuesday 30th November police stopped and spoke with the woman on Victoria Avenue, Chatswood. At the time the woman was in possession of a trolley which police will allege was filled with a large amount of stolen property. Police will further allege that upon searching the woman they located, concealed within a Christmas card, a small bag containing a crystal substance believed to be Ice. The woman was arrested and taken to Chatswood Police Station where she was charged with possession of a prohibited drug, possession of a restricted substance and 2 counts of being in possession of stolen goods. The woman was refused bail and will face court in January.
Puppy Scam – Mosman/Neutral Bay
Police are investigating following an increase in people falling victim to puppy scams.
A 30 year old Mosman woman recently lost $650 while attempting to purchase a Cavoodle online from a supposed seller in Tasmania. While on Friday 3rd December a Neutral Bay woman lost $2100 when she attempted to purchase a Schnoodle. Police suggest if you are seeking to purchase a dog or any pet online to first seek advice from a local vet or breeders association before approaching a seller.
Boat Trespass – Greenwich
Around 10:30pm Friday 3rd December police were alerted to an incident onboard a boat moored in Greenwich Bay. The boat owner who was asleep onboard the vessel at the time awoke to sound of people moving around on the upper deck of the boat.
The owner spotted two young males onboard and confronted the offenders who promptly began to flee, during the calamity one of the males fell into the water before both males scrambled into a white canoe. The pair were last seen paddling toward Shell Park. Police are investigating and anyone with information that may assist police with their enquiries is urged to contact Crime Stoppers on 1800 333 000 or www.crimestoppers.com.au.
Assault – Cremorne
Around 3:00am Sunday 5th December police were patrolling along Military Road, Cremorne when they spotted a commotion occurring at a fast food outlet. Police stopped and spoke with a with a 17 year old male from Mosman. The Mosman boy advised police that he was assaulted by another male after the pair got into an argument over what was the superior local boarding school. Police are investigating and anyone with information that may assist police with their enquiries is urged to contact Crime Stoppers on 1800 333 000 or www.crimestoppers.com.au.
Assault Police – Chatswood
Police have charged a 26 year old Rosebery man and a 64 year old Chatswood woman as part of a 3 day operation, conducted last week, aimed at reducing incidents of family and domestic violence by targeting repeat offenders
Around 1:15pm Thursday 2nd December, police attended an address on Victoria Avenue, Chatswood. Upon arrival at the address police located the Rosebery man, who by being at the address was in breach of a court appointed Apprehended Domestic Violence Order. Police will allege the male violently resisted being placed under arrest, at the same time the Chatswood woman allegedly spat on police and threatened to assault them. Police deployed Oleoresin Capsicum spray and effected the arrest of the man and woman. Both were taken to Chatswood Police Station, the male was charged with contravene apprehended violence order and resist officer in execution of duty, he will next face court in January. The Chatswood woman was charged with assault police, resist arrest and intimidate police she will face court later this month.
Aggravated Break Enter and Steal – Lane Cove North
Sometime between 8:30pm Sunday 28th November and 6:30am Monday 29th November unknown offenders have entered a home on Coolaroo Road, Lane Cove North while the homeowners and their young children slept. The offenders have made off with a large amount of property including a laptop and watch. The offenders also made off with the family's Mercedes V250 van.
Police are asking for anyone that may have noticed any suspicious activity at the stated location during the given times and dates to please contact North Shore Police on 9414 8499 or Crime Stoppers (1800 333 000 or www.crimestoppers.com.au).
Gelato Time
Make your own Gelato and Sorbet at home.  A Lane Cove company now sells Gelato and Sorbet Kits which the kids will love.
Considered Italy's all-time favourite frozen dessert, gelato has been winning over the hearts and taste buds of Aussies for over 50 years.
Now thanks to one innovative Lane Cove based company, Gelato Time, you can make 100% fresh Italian gelato in the comfort of your own home in under 30 minutes!
With a variety of packages available, including equipment, gelato mix, toppings and everything you need to make delicious, affordable gelato at home, Gelato Time offers the ultimate Christmas gift and the perfect activity.
For everyone to enjoy these school holidays.

Contact Details:

Give ITC an End of Year Tip
Many of you have asked how you can support In the Cove.  Why not give us a tip??  Feel free to tip us if you have enjoyed our local news coverage – no amount is too small or too big.  Thank you so much to the people who have already supported us via our presspatreon account.  TIP Us Here.
Get Your Local News on Different Platforms
Are you an ITC SUPERFAN? We know many of you are! For those who are not, we have so many platforms to follow. Don't miss out!
Instagram – www.instagram.com/inthecove/
Newsletter – https://inthecove.com.au/sign-up-for-newsletter/
Lane Cove Chat by ITC– www.facebook.com/groups/itclanecovechat
Kids in the Cove – www.facebook.com/groups/861987681252413
In the Cove Podcast – inthecove.com.au/in-the-cove-lane-cove-podcast/
Weekly Lane Cove Property Update – https://inthecove.com.au/category/lane-cove-property/
As always, thanks to everyone for the support!!!!
Check out our Instagram Site click on the picture below.